A delightfully warm tingle trickled into my muscles alongside the unmistakably invigorating scent of pepper. The sensation was as novel as it was relaxing. An experienced therapist was easing the natural coconut oil infused with the island's famous spice, grown just meters away, across limbs too-often hunched at a computer screen. The signature treatment relies on Swedish techniques of gently stretching, gliding and kneading motions that simultaneously pushed tension out of my muscles while invigorating my nervous system and displacing toxins. Having filled out a preference form before the treatment, and thanks to the therapist's perceptive fingertips, the soreness in my shoulders I'd arrived with had vanished and been replaced with a subtle aroma of tangy pepper.
There are several Fusion Resorts across Vietnam including Fusion Resort Cam Ranh, Fusion Maia Da Nang, Fusion Suites Saigon, Fusion Suites Da Nang, and each is unique in their offering of minimum two complimentary spa treatments per night. Tailored for each destination, the long list of options at their Phu Quoc property includes Thai fusion and one titled the Tradition of Vietnam. A number of wraps, facials and scrubs rely on local ingredients, such as pepper and aloe grown at the resort, turmeric, rice powder and citrus fruits to improve skin health and appearance. Several treatments also lavish one's nails, feet and hands with attention.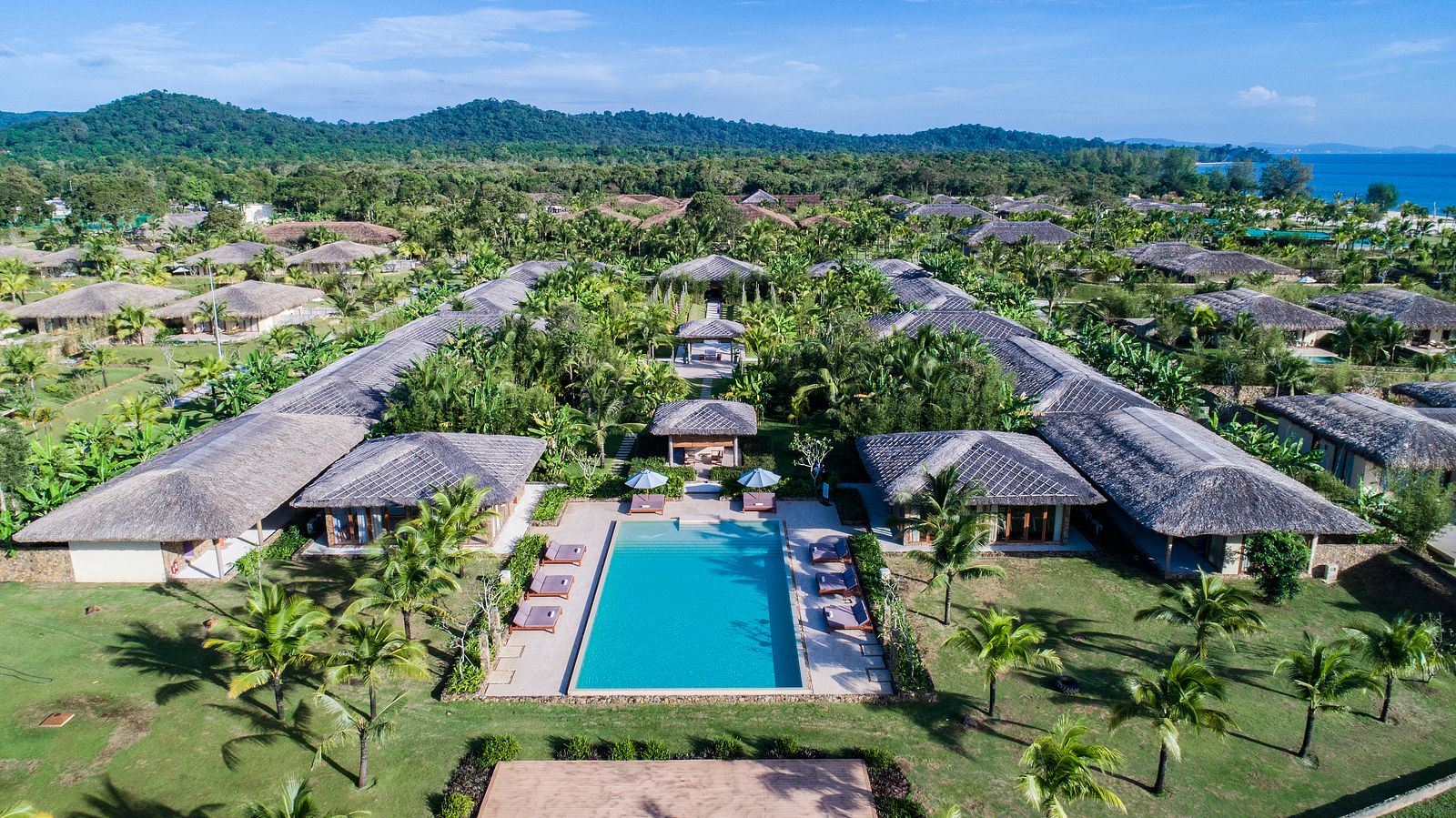 Wellness Beyond the Spa
Peter Neto, the resort's general manager, explained to Saigoneer during a recent visit that global trends are changing, and guests from Vietnam, Europe and across Asia are increasingly looking for their vacations to not just provide relaxing breaks, but opportunities to return to their daily lives healthier than before.
To satisfy these desires, in addition to the spa, a number of other activities focus on pursuing physical and spiritual health. Guests can book expert-led tai chi and meditation classes or join one of the free yoga classes that emphasize different goals, including energizing, relaxing, balancing and stretching. Daily personal training sessions, stand-up paddleboat lessons and snorkeling classes offer more fast-paced forms of wellness. A large exercise room filled with top-of-the-line equipment, a 5.3 km private road for hiking and cycling, as well as a tennis court and kayaks, soccer balls and volleyballs for rent all appeal to people who prefer their vacations with a little sweating. A variety of board games and books, in addition to basic Vietnamese lessons, let one work out their brain muscles too. Additionally, a full program of games and activities for children are offered to give parents some time alone.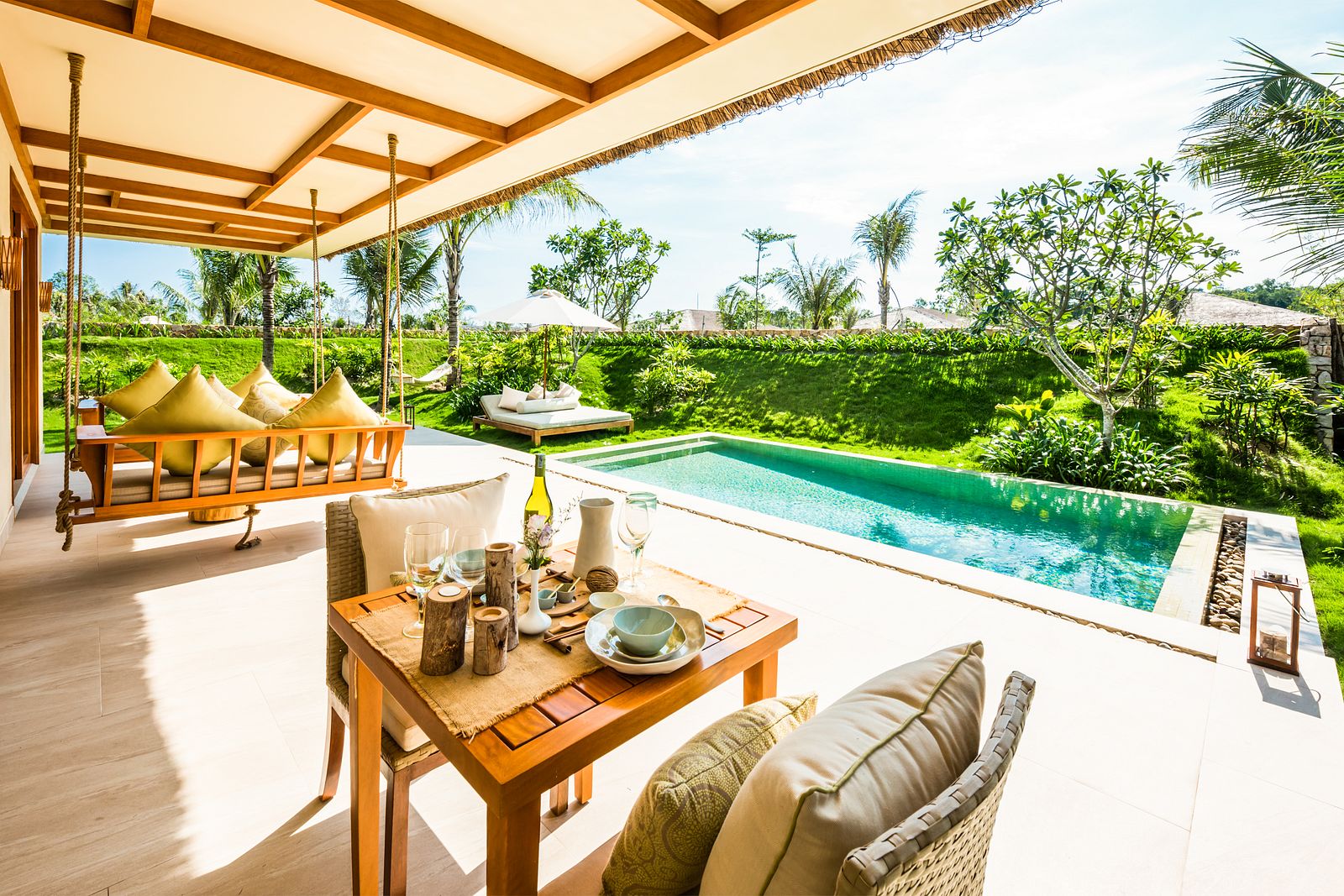 Arranging the spa treatments and activities is made especially easy thanks to the resort's dedicated Fusionistas. When checking in, every guest is met by a staff member that other hotels might call a concierge. In addition to explaining the general basics, such as facility locations and restaurant hours, they exchange phone numbers and explain that they can be reached for assistance at any time. During our visit, Iwas eager to test this out and sent a WhatsApp message to my Fusionista inquiring about the sign in the room banning durian and mangosteen. Within minutes, Nguyen messaged back to explain that the juice from mangosteen can stain sheets and, well, you know durian can be quite stinky.
Beyond arranging wellness activities and answering all fruit-related inquiries, the Fusionistas can give advice to anyone wanting to venture outside of the resort. Situated at the northern end of the island away from the hectic construction and tourism commotion, outside exploration gives people an opportunity to explore verdant landscapes, visit a fruit and honey farm or a golf course, or find a variety of entertainment activities. Because they live and play in the area, the Fusionistas can recommend the best small restaurants that cater to locals.
Healthy, All-Day, Anywhere Dining
Of course, no one needs to leave the resort to enjoy fresh, local food and European favorites. Fusion Resort Phu Quoc contains four restaurants, including a pool bar. Secret Garden, a centrally located venue whose high wood ceilings and rustic floors, hanging lanterns and garden surroundings call to mind an exotic jungle retreat, serves a variety of Vietnamese and Cantonese dishes.
Phu Quoc is famous for the seafood filling its tropical waters, so it makes sense that the resort has a restaurant specializing in it. Overlooking the shimmering water in which they were caught, Pezca offers fresh lobster, tuna, snapper, cobia and prawn, as well as grilled meats and pizzas.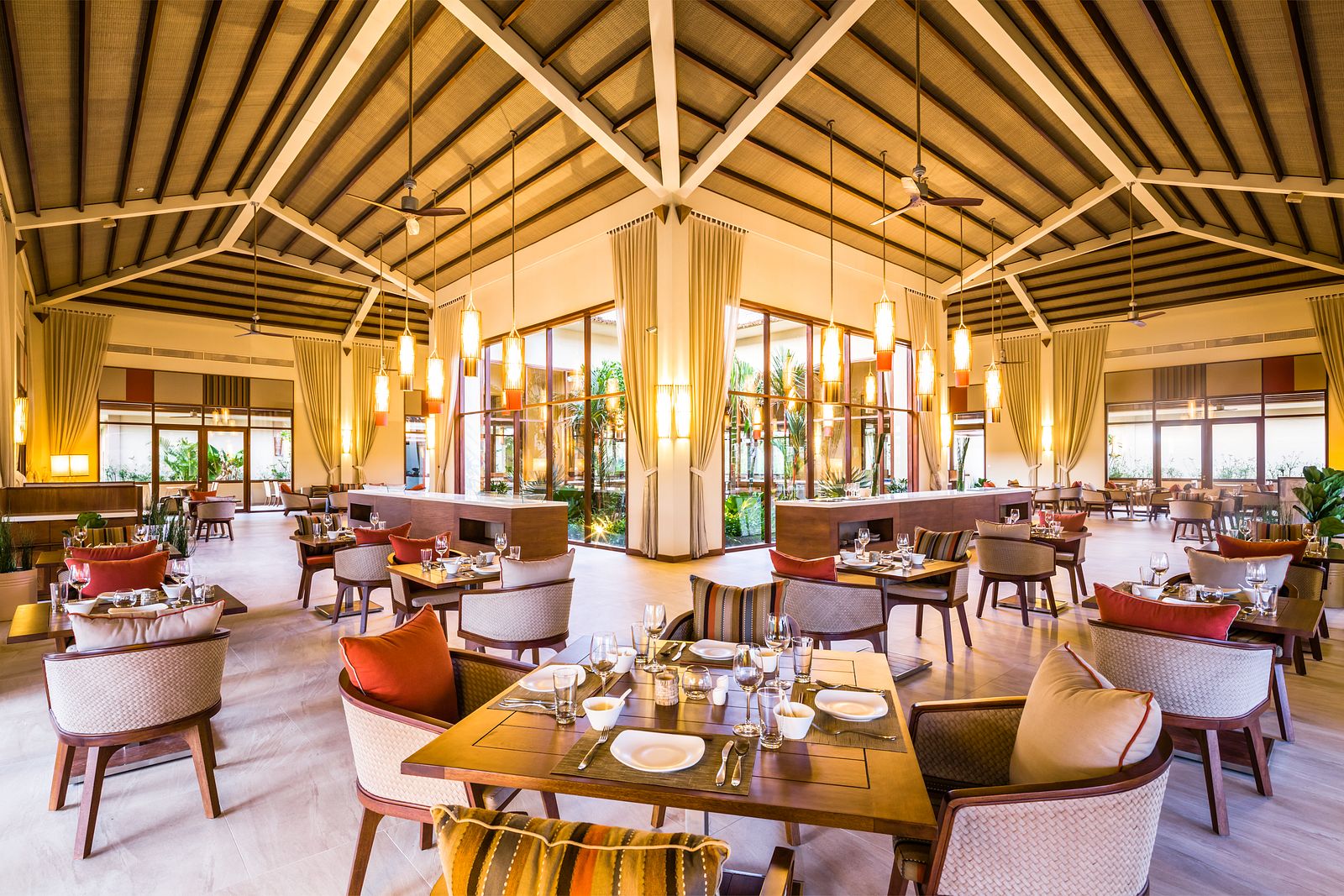 Finally, Soul Kitchen's menu contains lighter sandwiches, salads, pastas and side dishes to complement its large drink list, which includes cocktails boasting local flavors. Consistent with the resort's wellness aims, each restaurant tries to use as many organic, sustainable and local ingredients as possible while featuring many vegetarian dishes across all cuisines.
While each of the restaurants features sleek, comfortable interiors showcasing Fusion's signature modern and bright aesthetic, Fusion sets itself apart from other accommodations thanks to their all-day breakfast service. One can order a full western or Vietnamese breakfast whenever and wherever they'd like including in the restaurat, the privacy of their villa, by the pool, or even down on the beach with the sand in their toes at any time of the day or night. The platter of bread, pastries, fruits, eggs and meats that were promptly delivered to my room was perfect for relaxed nibbling while floating around in my private pool under the moonlight. The Fusionistas can also help arrange romantic candlelit dinners on the beach or in a flower-filled grove as well.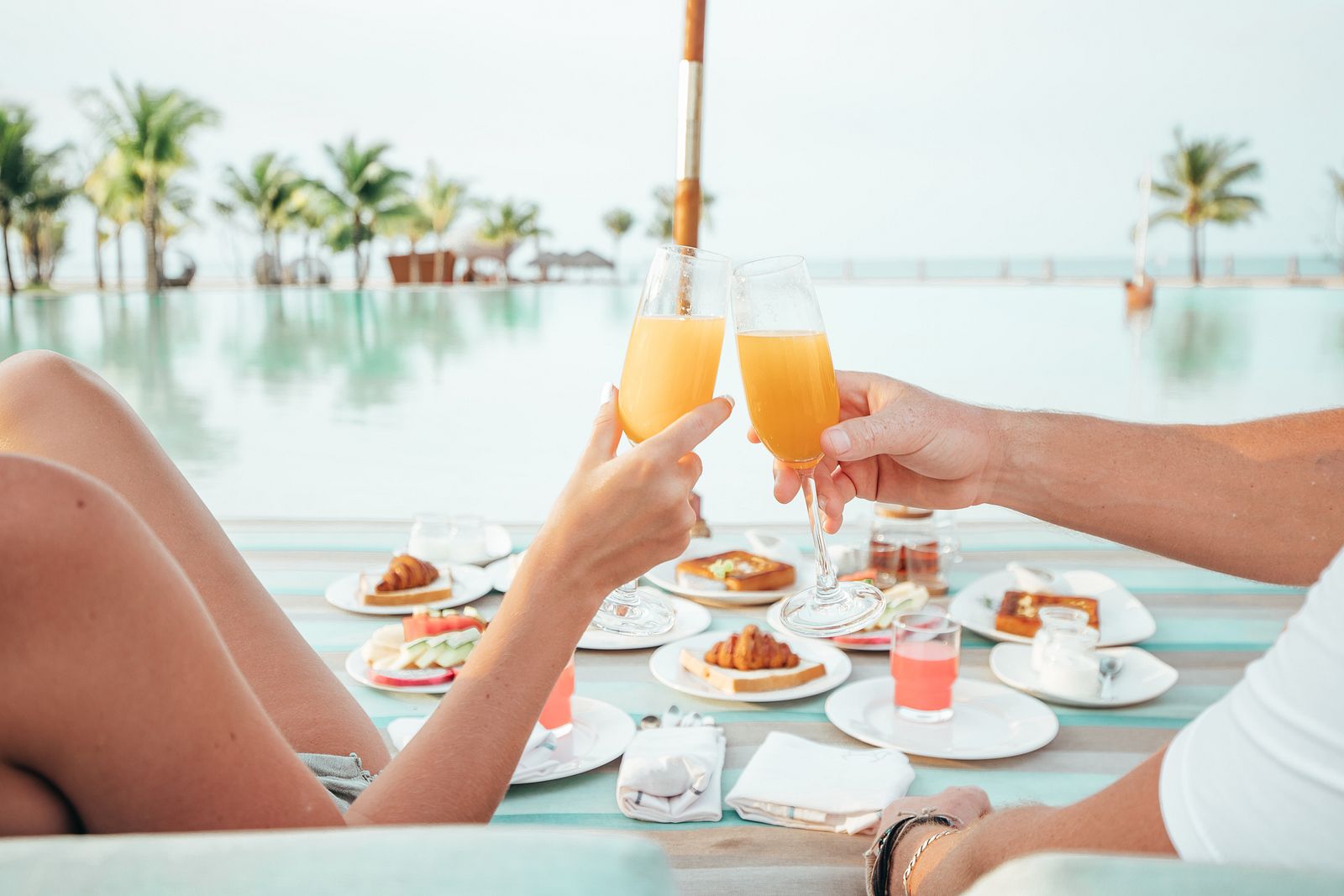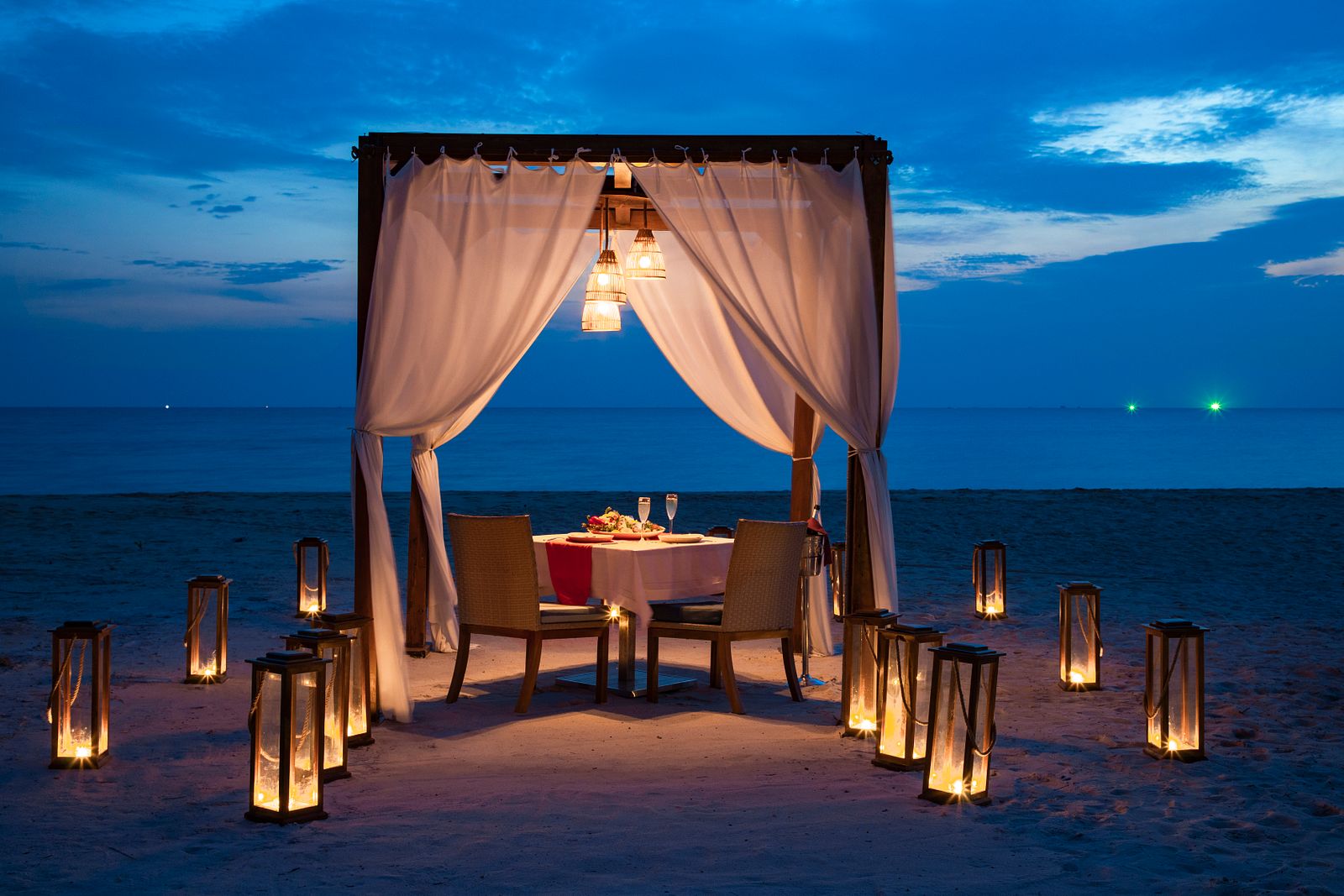 People often take holidays to recover from the stresses of daily life, but seeking wellness involves more than a simple change of venue. Fusion Resort Phu Quoc's complimentary spa treatments, activities and meals collaborate with the exceedingly serene environment to create a tropical escape that serves as an elixir for both mind and body.
+84 297 3690 000
Vung Bau Bay, Cua Can Village, Phu Quoc Island, Kien Giang Province, Vietnam

10.307573, 103.875870