Last week, a group of tourists had the bright idea to start a fire in an ancient Muong house to cook up some corn. Why not? Corn is delicious! Unfortunately, the house was made of wood and quickly went up in flames. And the kicker – instead of telling museum staff, the group ran to their cars and drove off.
The stilted house, located in northern Hoa Binh city, was the last remaining of its kind. Donated to the Muong Cultural Space Museum by a local official, it housed numerous, irreplaceable artifacts and had been preserved for many generations.
On the evening of October 24, without permission, a group of four tourists built a fire inside the wooden structure to cook corn. When the fire began to spread, the group panicked and ran to their cars.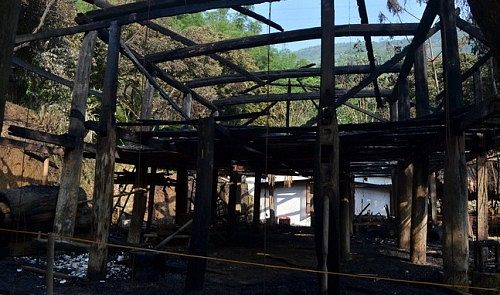 As museum staff noticed the fire and commotion, they attempted to block the fleeing tourists by stepping in front of their cars. Instead of stopping, they drove straight for the staff who scrambled to get out of the vehicle's path.
While unable to stop the cars, they were able to record one of their license plate numbers.
The frame of the house was left intact but the interior, along with hundreds of artifacts, including sets of gongs, shotguns, bronze items, potteries and rattan household pieces were completely destroyed.
Damages were estimated at VND1 billion but don't account for the loss of priceless cultural artifacts.
This is why we can't have nice things…

[Tuoi Tre]
---
Related Articles:
---