Nguyễn Thúc Thùy Tiên has become the first Vietnam representative to win the crown at Miss Grand International.
On the evening of December 4, Vietnamese fans were overjoyed to watch that special moment when the host announced that Tiên is Miss Grand International 2021, beating over 60 contestants from other countries. The grand finale took place at the Show DC Hall in Bangkok, Thailand.
Apart from the top honor, Tiên will also receive US$40,000 in cash. As the pageant is themed around humanitarian issues and peace, past winners were usually involved in promoting the competition's "Stop the wars and violence" campaign, as well as the tourism of host countries following their crowning.
Netizens attribute Tiên's victory to her superb language abilities and articulation during the speech and Q&A section of the grand finale; she's widely considered the Vietnam representative with the most proficient English to date. During the Top 5 interview round, all representatives were asked to choose one person with whom to discuss world problems to make a change. Tiên answered with the creator of the AstraZeneca/Oxford vaccine and said that she would like to give thanks to the team for releasing their invention without seeking profits.
Across the span of the beauty competition, Tiên frequently answered interviews in Thai instead of English and quickly became a fan favorite among local supporters. In the speech section, after completing her address on the importance of peace and sympathy, Tiên ended with the Thai version of "Make the world a better place for everyone."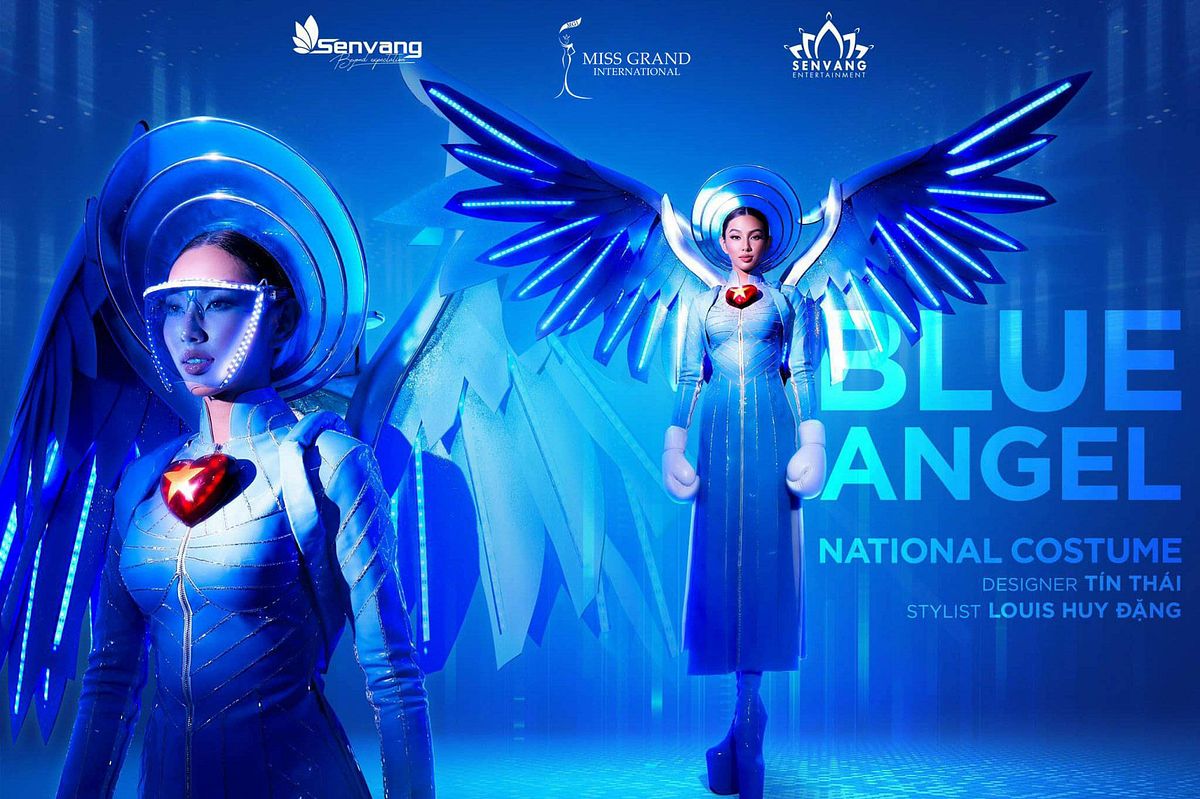 Efforts to endear herself to Thai fans culminated in her national costume winning the popular votes. For the costume segment of the finale, Tiên wore a light blue gown inspired by the protective suit commonly worn by frontline workers in Vietnam. The outfit also featured a snake-wrapped syringe at the back, a nod to the medical symbol caduceus.
Nguyễn Thúc Thủy Tiên was born in 1998. She was enrolled in the French Literature program at the HCMC University of Social Sciences and Humanities after graduating high school, but has since switched to Hoa Sen University to study hotel management and hospitality. In interviews, Tiên shared that she started learning Thai one month before participating in Miss Grand International and planned to spend one year in Thailand.
Miss Grand International was created by Thai media mogul Nawat Itsaragrisil in 2013. It has been well-received in pageant-centric countries in Southeast Asia and the Americas, though the competition is not without controversies, such as the decision to organize the pageant in 2019 in Venezuela amid the country's ongoing political crisis.
[Top photo via Cong An]