At 12:45pm yesterday afternoon, a 110-year-old French colonial villa in Hanoi collapsed, killing two and injuring several others.
According to Zing, the villa was being used by the Vietnam Railways Corporation (VNR), which housed a project management office there.
Around 12:35pm, VNR employees began to notice cracks in the walls of the building, reports VN Express. Most of the 35 employees within the building were evacuated just moments before it collapsed, sending the roof and top floor of the three-storey villa tumbling onto the street below.
Following the incident, rescue teams arrived on the scene to search for those trapped beneath the rubble. Initially, five victims were rushed to hospital, including a 47-year-old woman who later succumbed to her injuries.
By early evening, the collapse had claimed another casualty, and the number of critically injured had climbed to six. At present, at least two people are still missing in the wreckage.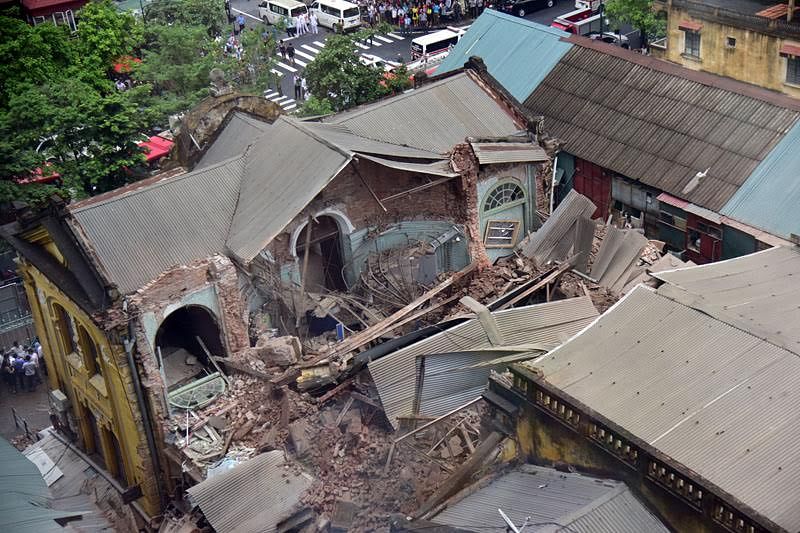 Around the site of the collapse, streets were closed off as emergency response vehicles appeared with dozens of rescue workers and clean up crews. The incident affected not only those within the villa but also the surrounding area, which is home to approximately 20 families.
While there is not yet a definitive answer as to why the villa collapsed, VNR Deputy General Director Doan Duy Hoach speculated that the capital's recent rainstorms caused leakage in the building, further deteriorating its aging frame.
Hanoi police have since echoed Hoach's theory, suggesting that bad weather compromised the structural stability of the building, which was last renovated in the 1990s, however authorities are still investigating the incident.