Quy Nhơn has far more to offer than beautiful beaches. Travelers up for some adventures and a willingness to traverse into greater Bình Định Province will discover some of Vietnam's best museums, aesthetically stupifying artifacts, oddities and opportunities to engage with cultural traditions.
Vestiges of the Past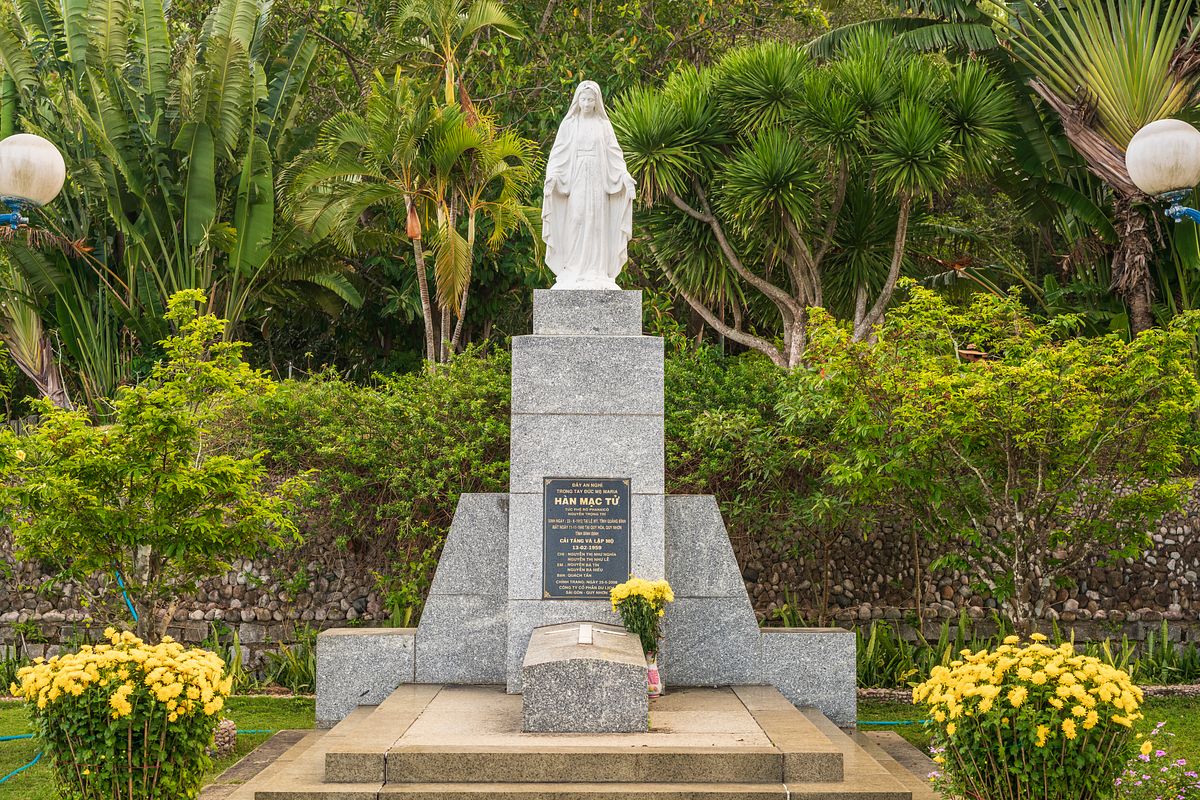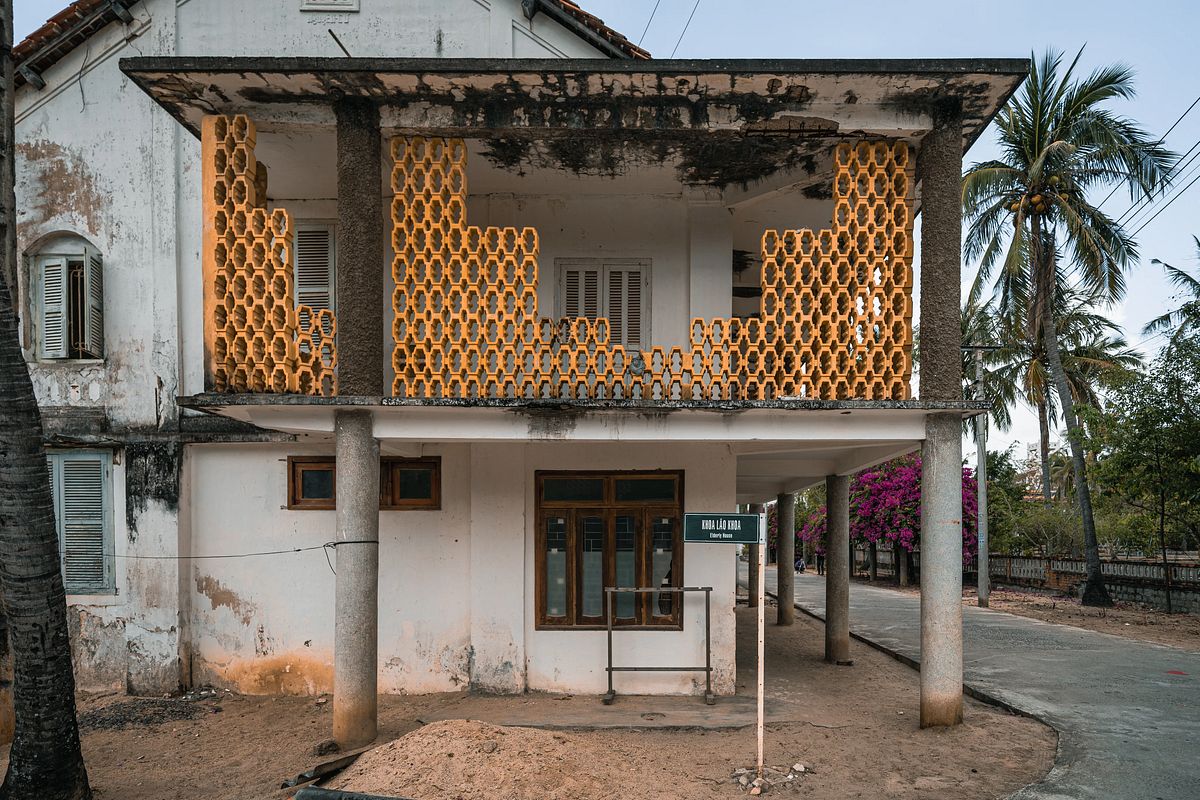 Quy Nhơn's most famous (adopted) son is without question the poet Hàn Mặc Tử. Anyone moved by his surreal offer to sell the moon should visit a recently erected monument set atop one of the more picturesque outlooks in the city. The path behind the monument leads to a fantastic sunrise hiking trail as well as the Quy Nhơn Quy Hoà leprosy village. Inside the village one can enter Hàn Mặc Tử's former home which contains some of his personal items. A stroll around the seaside hamlet that was once an important leprosy colony reveals utterly unique 1930s architecture, a somewhat perplexing collection of busts of important scientists and some zombie movie-esque discarded medical equipment.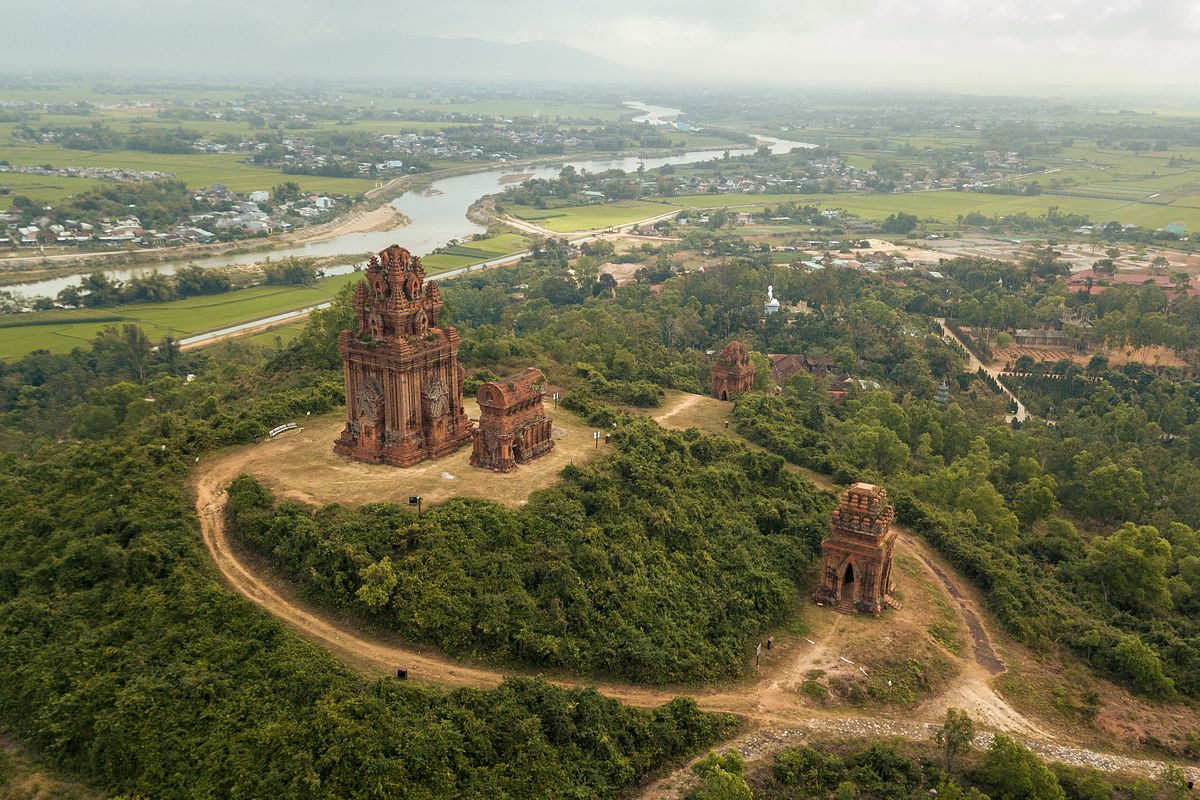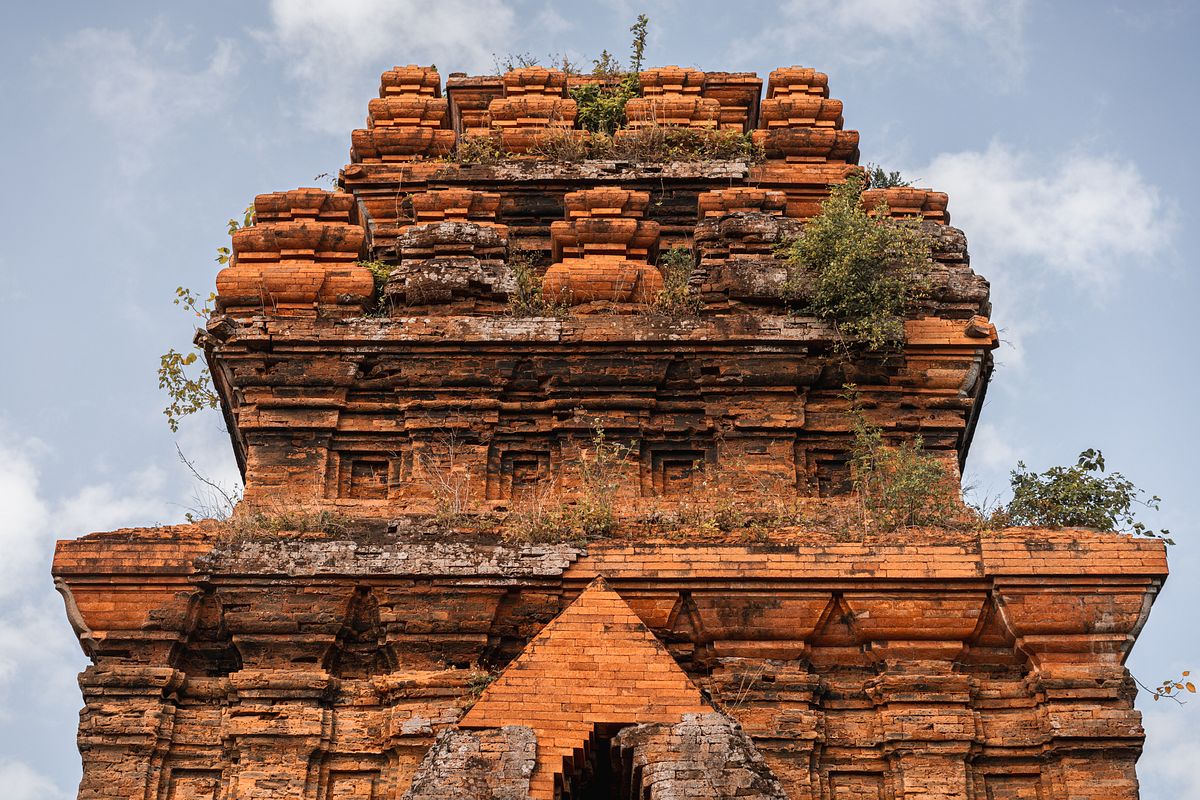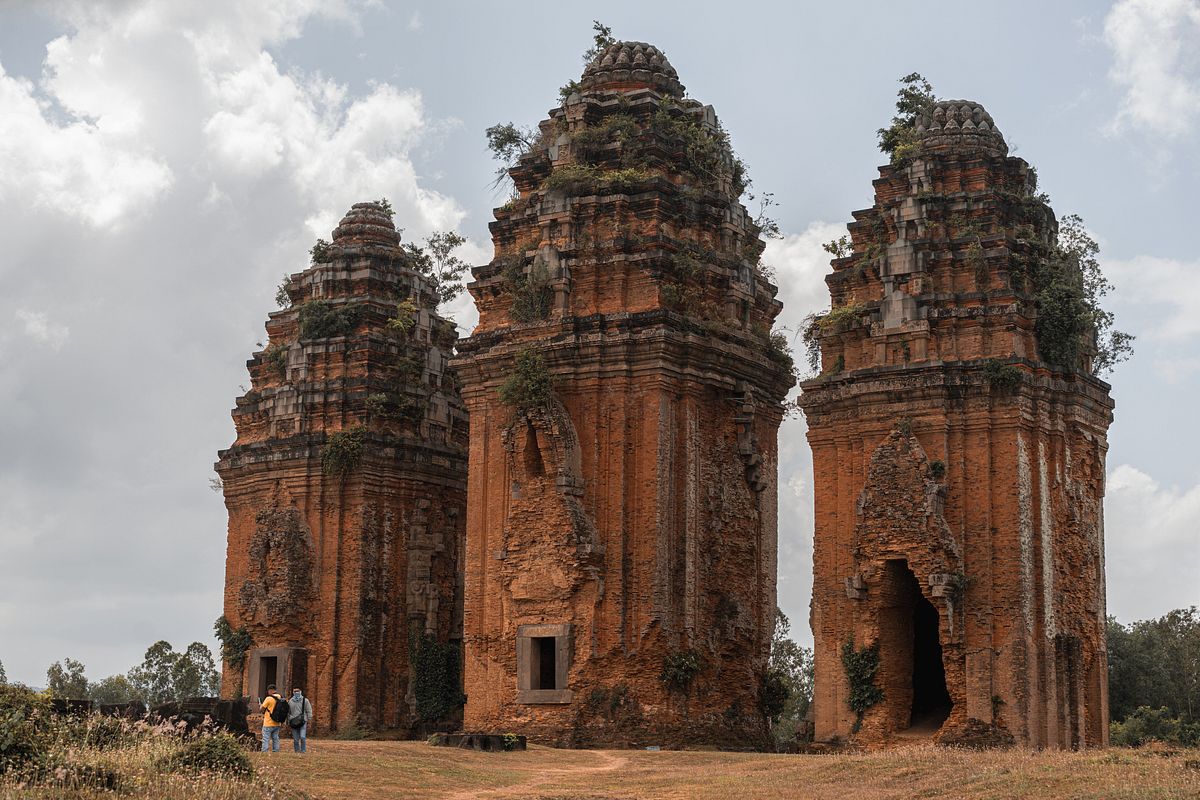 Going back further in time, Bình Định contains some of the most enduring proof of the Champa Empire's presence in Vietnam more than 600 years ago. Throughout the province, massive orange-brown towers rise into the sky, stone testaments to the impermanence of nations and by extension, ourselves. Two of the best Saigoneer visited, Tháp Chăm Bánh Ít and the Dương Long Towers, require a little time to reach but are particularly worth it at sunrise and sundown. Those on a tight schedule, or a desire to stay off a motorbike, can still get a great glimpse of the Chăm architecture via the downtown Quy Nhơn Tháp Đôi.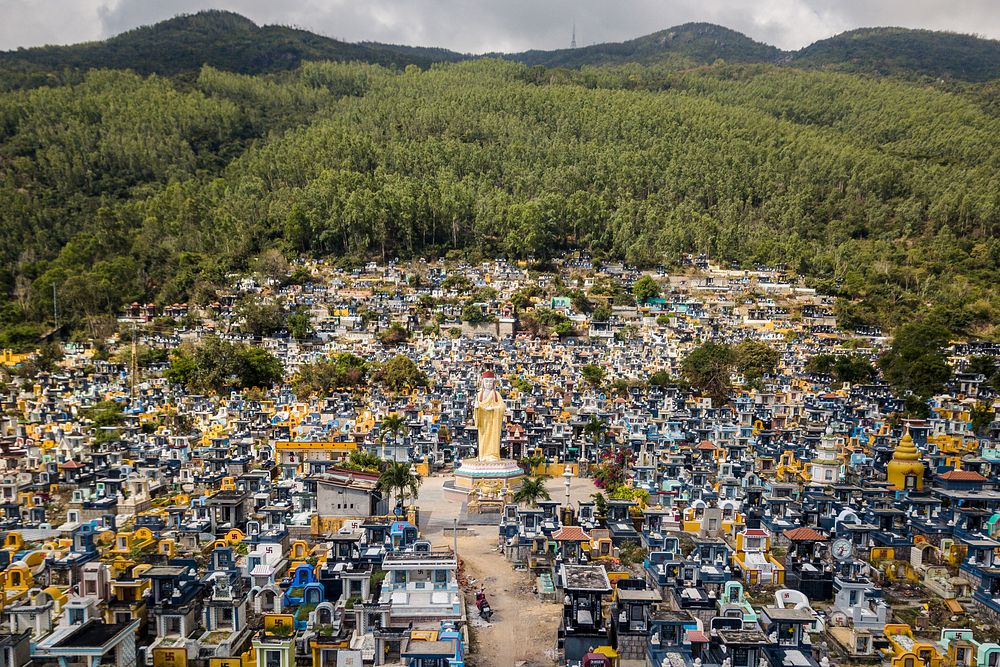 A less conventional but equally thought-provoking site to check out is the Nghĩa Trang Cũ Quy Nhơn, or Quy Nhơn Old Cemetary. The sprawl of graves seems to defy borders as its sweeps up the hillside. Its unmitigated growth ignores regulations, hinting at the effect of unrestrained development in the city.
Invitations to Experience Culture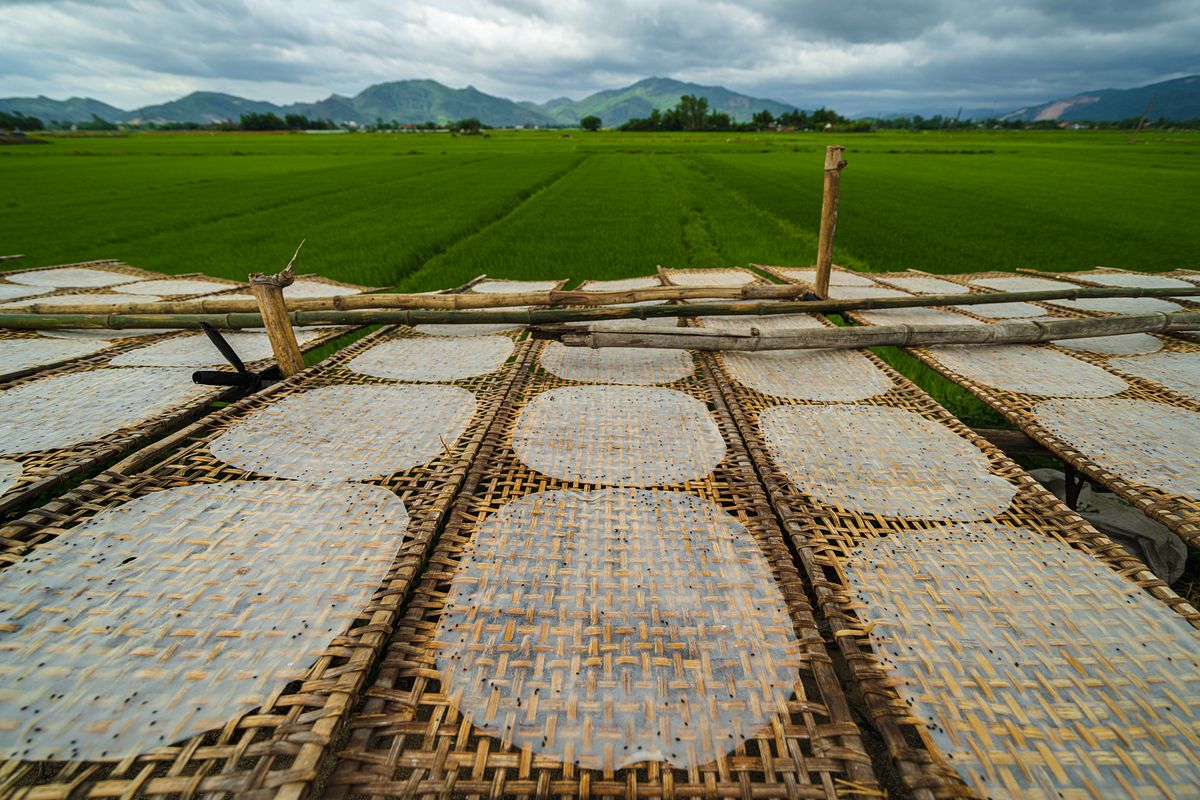 A fire fed by peanut shells and rice husks, nothing but agricultural castoffs, contributes to the bánh tráng's smoky crunch. Sitting at the flames every morning from 4 am to 10 am, an individual can make up to 500 a day. After drying in the sun, they are sold to wholesalers before undoubtedly making their way to markets and restaurants across the province where they are a staple of many meals.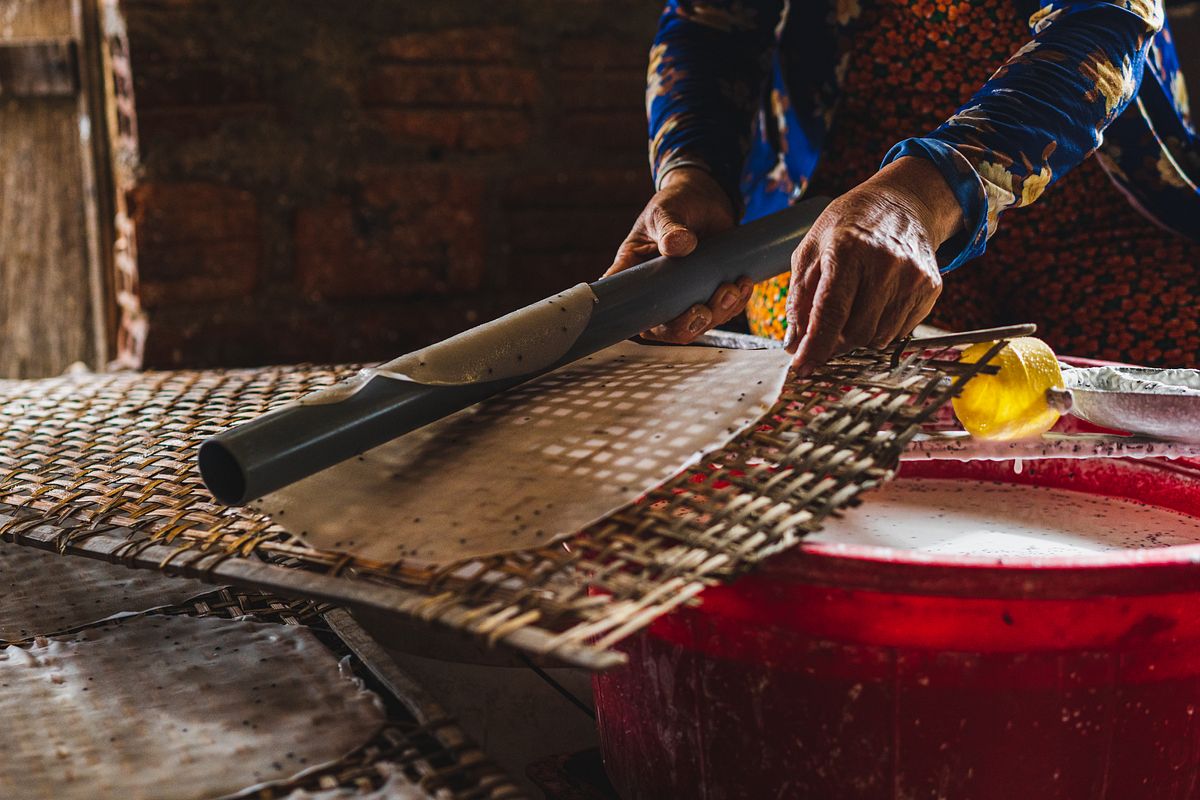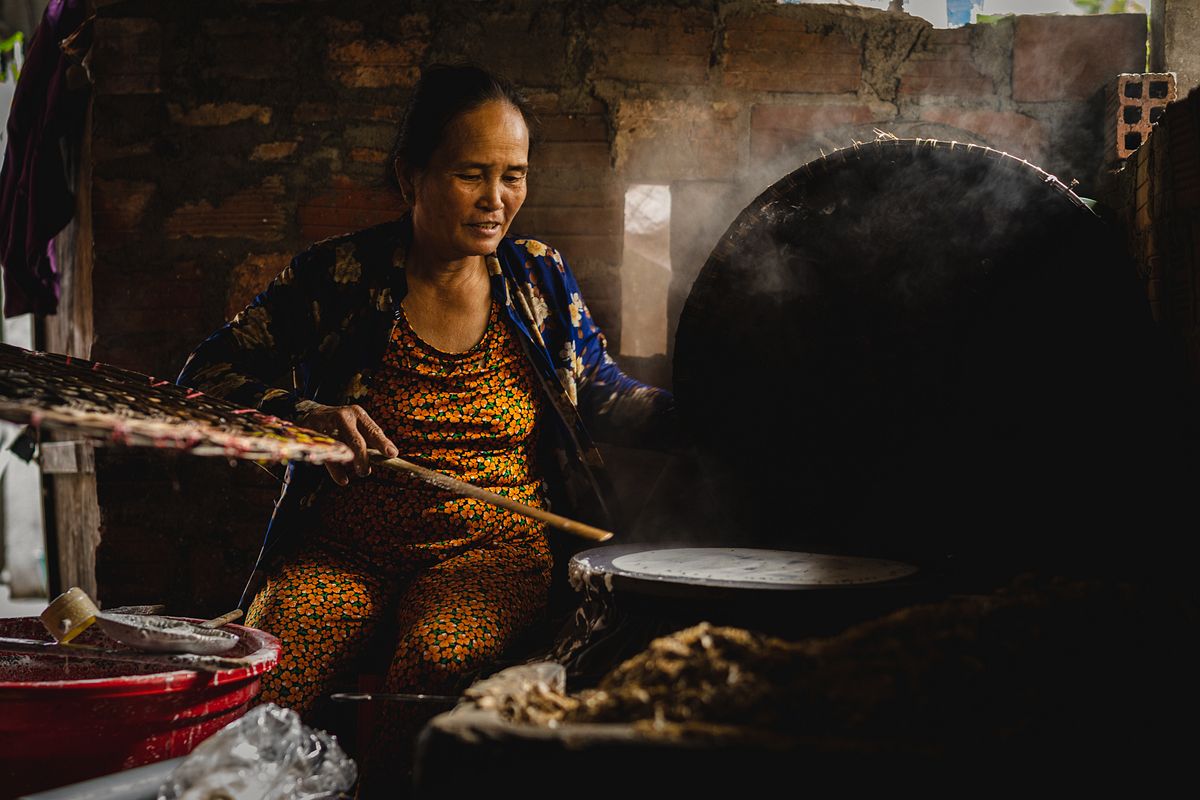 The bánh tráng "craft village" Saigoneer recently visited is a simple example of how time-honored trades continue to allow people to make a living. The woman who invited us into the humble room beside her house has been doing it for 20 years and when she is too old to continue, the younger generation will continue, she claimed.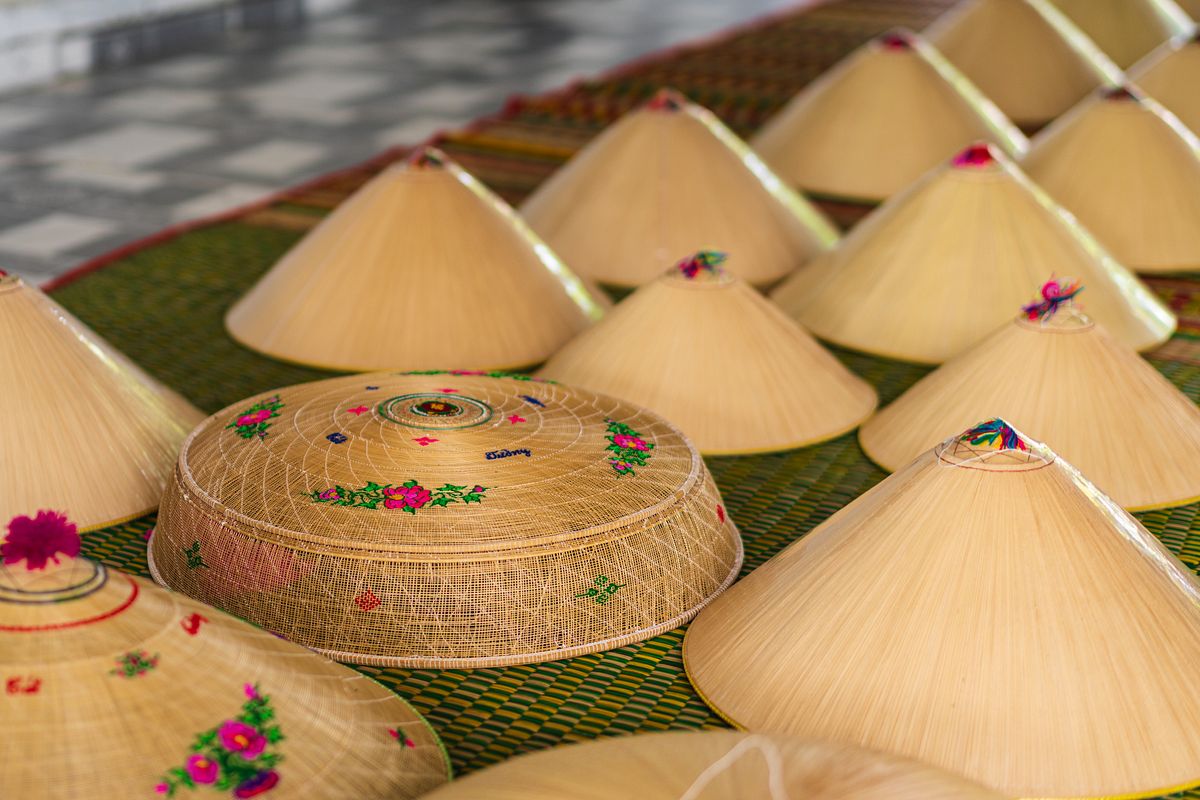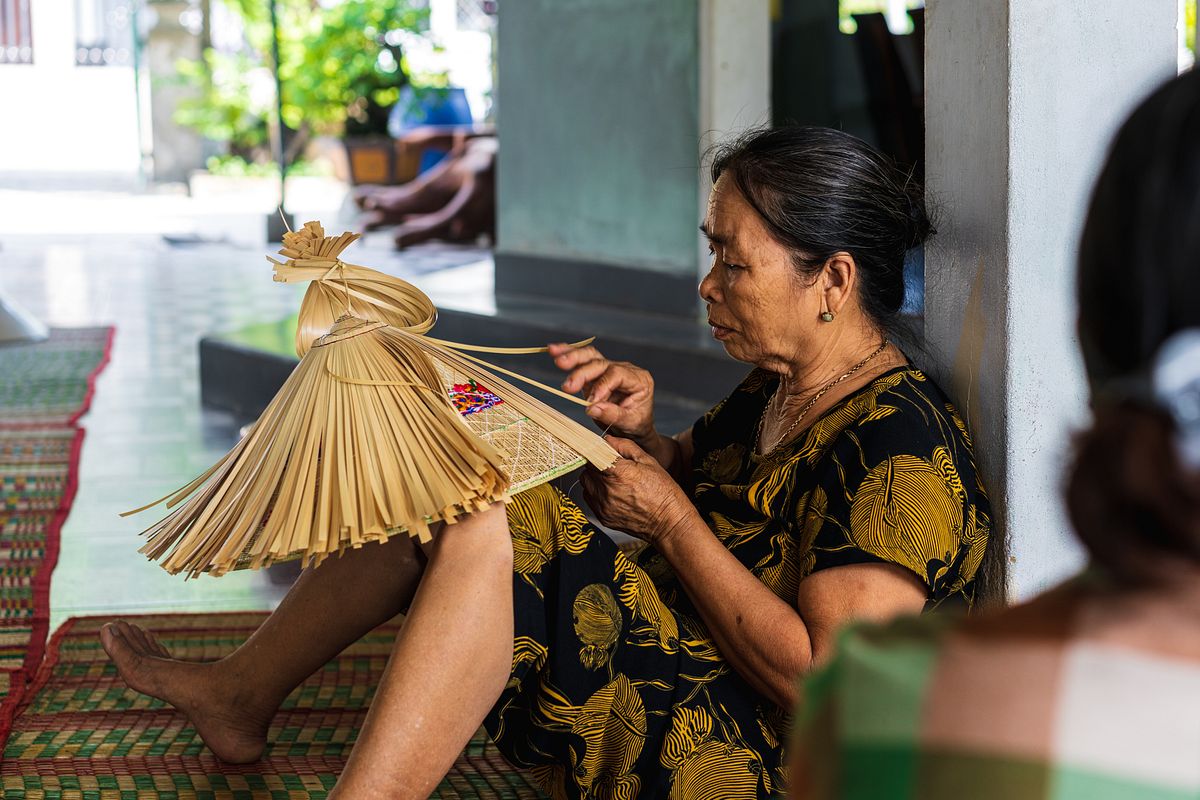 This style of artisanal production inheritance is also found in Phú Gia, a hamlet renowned for making nón ngựa, a particular version of nón lá. Knowledge of how to produce them stretches back 300 years and the oldest practitioner today is 73-year-old Đỗ Văn Lan. Standing beside some of his most impressive pieces, he explained that the intricate 10-step process relies on local plants and careful laced embroidery. Translating to "horse hat," they owe their name to the fact that they are sturdy enough to be worn even when riding a horse. If made well and properly cared for they can last for upwards of 200 years.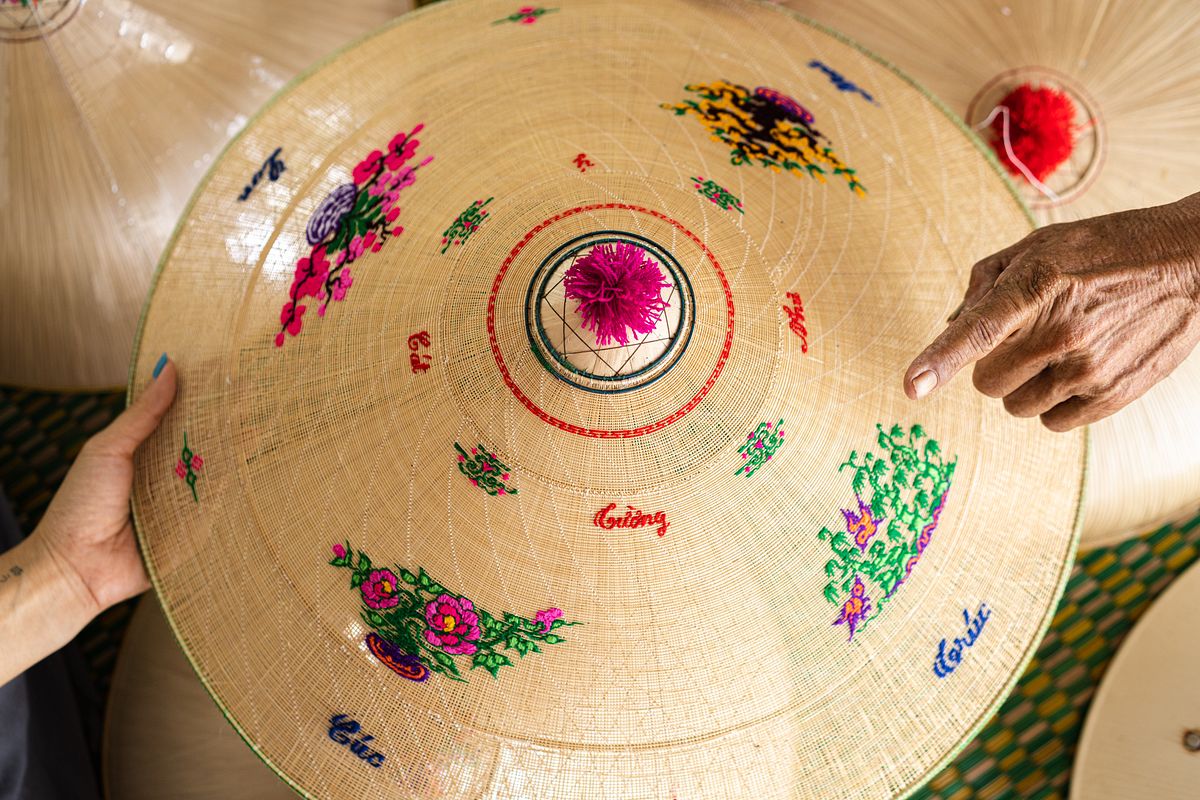 These two, regionally-famous, trades are simultaneously lucrative elements of the local economy and tourism opportunities. While it may require support from a Vietnamese speaker and some assistance with directions, if you find yourself at a traditional craft operation you will be welcomed in warmly to learn about a unique element of Bình Định culture alongside rural hospitality.
World-Class Museums

When Saigoneer traveled 45km outside the city to the Quang Trung Museum (Bảo tàng Quang Trung) we didn't expect much. We were shocked to discover an expansive structure set on gorgeous grounds dedicated to telling the story of Nguyễn Huệ, the renowned general who once united the entire country. While it features some terrific artifacts of the era, the real standouts are the humungous handpainted murals that make the military genius's defining victories come to life.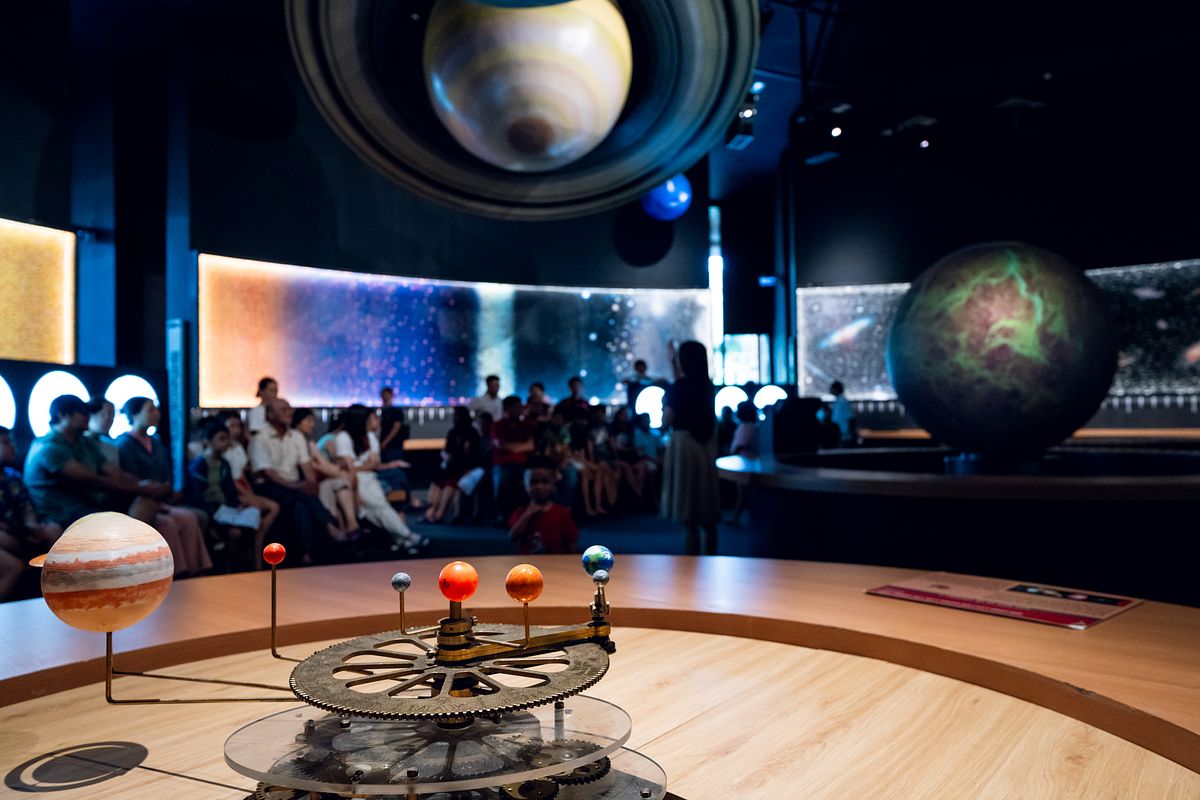 No less impressive, the ExploraScience Quy Nhơn​ closer to the city center provides visitors of all ages with an opportunity to learn about science. From the history of Mars exploration to the principles behind fiberoptics to the butterfly lifecycle a Van de Graaff generator, the museum provides information across a wide range of scientific disciplines. Large and particularly modern, it is on par with similar museums around the world. (Be mindful of its rather finicky opening hours, however).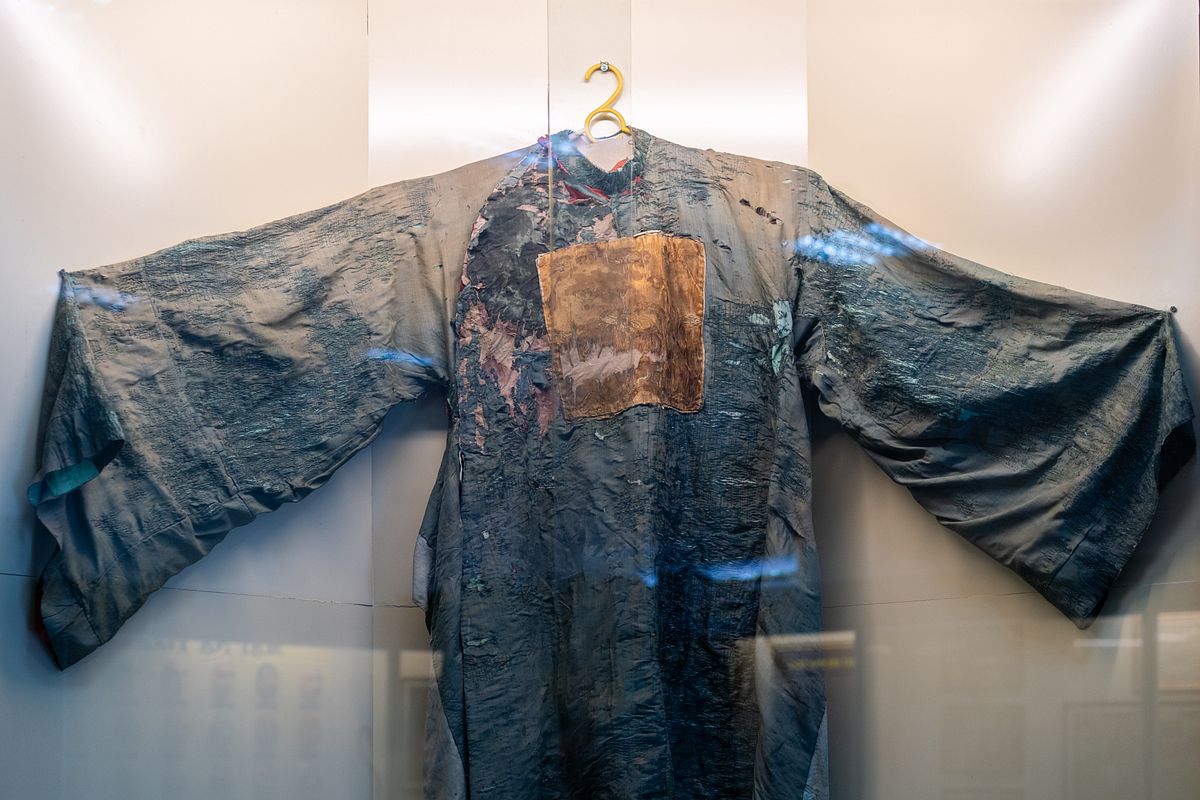 The Bình Định Musem in the center of the city in no way compares to the above, but if you find yourself looking to avoid the scorching afternoon sun for half an hour, it's certainly worth your time as well. It includes a handful of artifacts focused on the Chăm period, wars with France and America and Hồ Chí Minh's impact on the province.
Opportunities for Luxurious Leisure
Of course, not everyone travels to Quy Nhơn to race from craft village to tower, museum to hiking trail. It does have spectacular beaches after all. While they are empty during midday's unmerciful sunrays, at dusk and dawn they fill with swimmers, people playing sports and local families lounging around.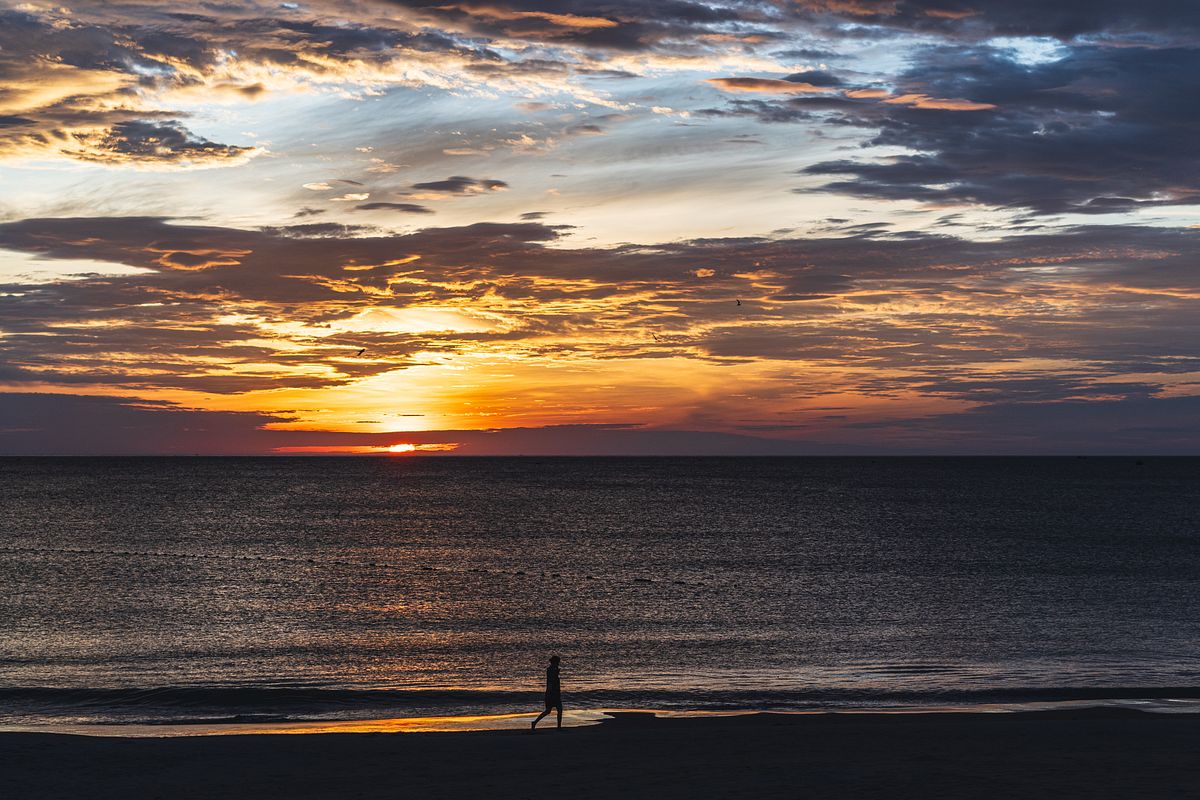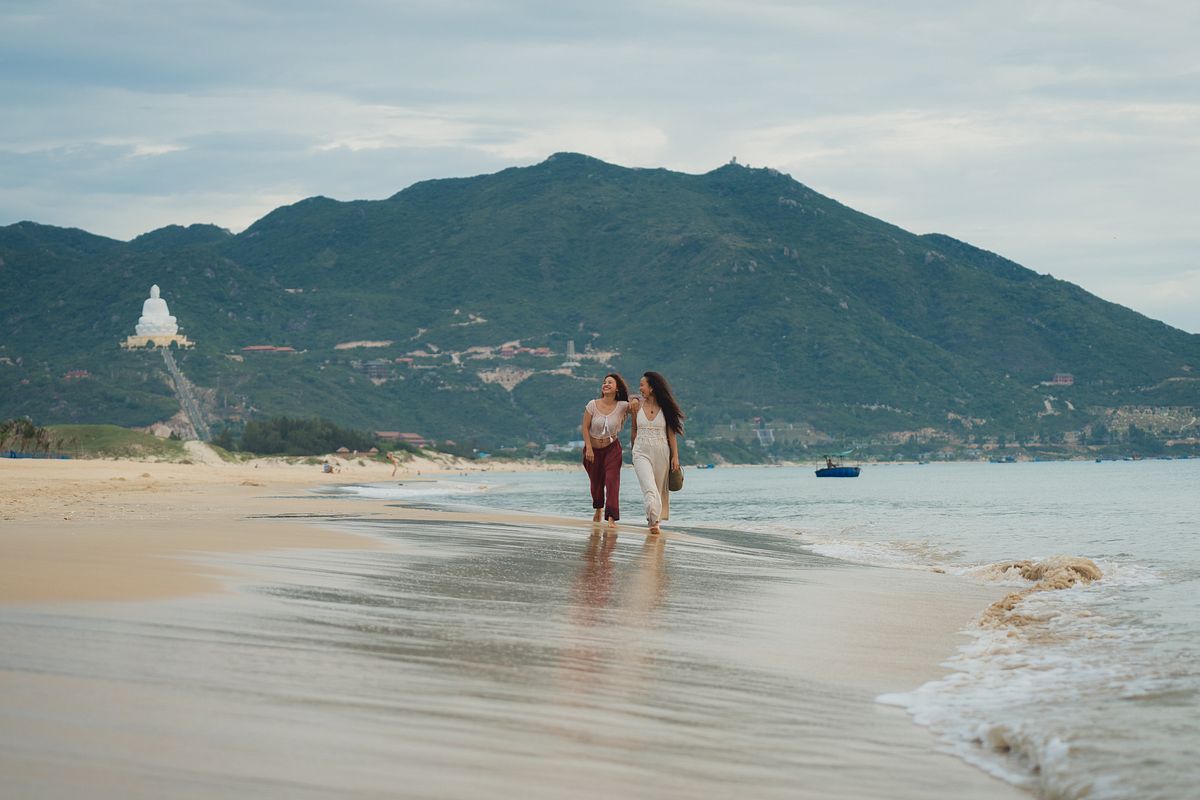 If that beachscape sounds too crowded, there are other options. Virtually empty beaches extend to the north and south of the city, including a private expanse in front of Maia Resort Quy Nhon. Those staying at the resort get more than just an idyllic view and empty waters, however. A range of ways to savor the waves are provided, including complimentary kayaking, paddle boarding and volleyball.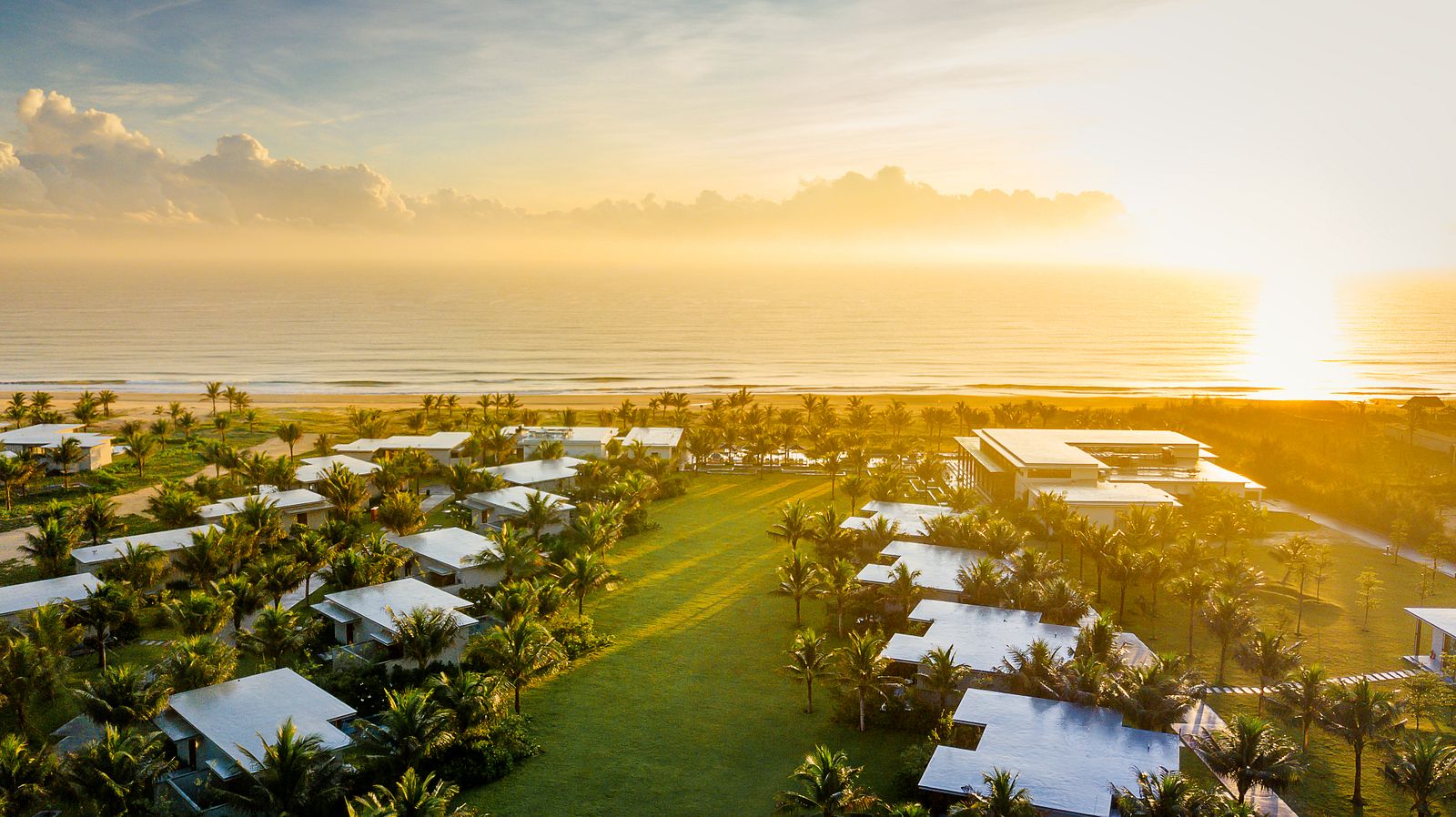 While change is on the horizon, the recently-opened Maia Resort Quy Nhon represents a drastic shift in available accommodations in the area. As a Fusion property, Maia emphasizes wellness through its half-board concept that is included with every night stay. The concept applies to the fresh and nourishing cuisines served in its two restaurants that balance innovation, tradition, nutrition and visual vibrance; Vẽla spa that offers treatments inspired by local customs, energies and ingredients; the verdant, flowering tree-filled grounds, and the villas with private pools and calming decors.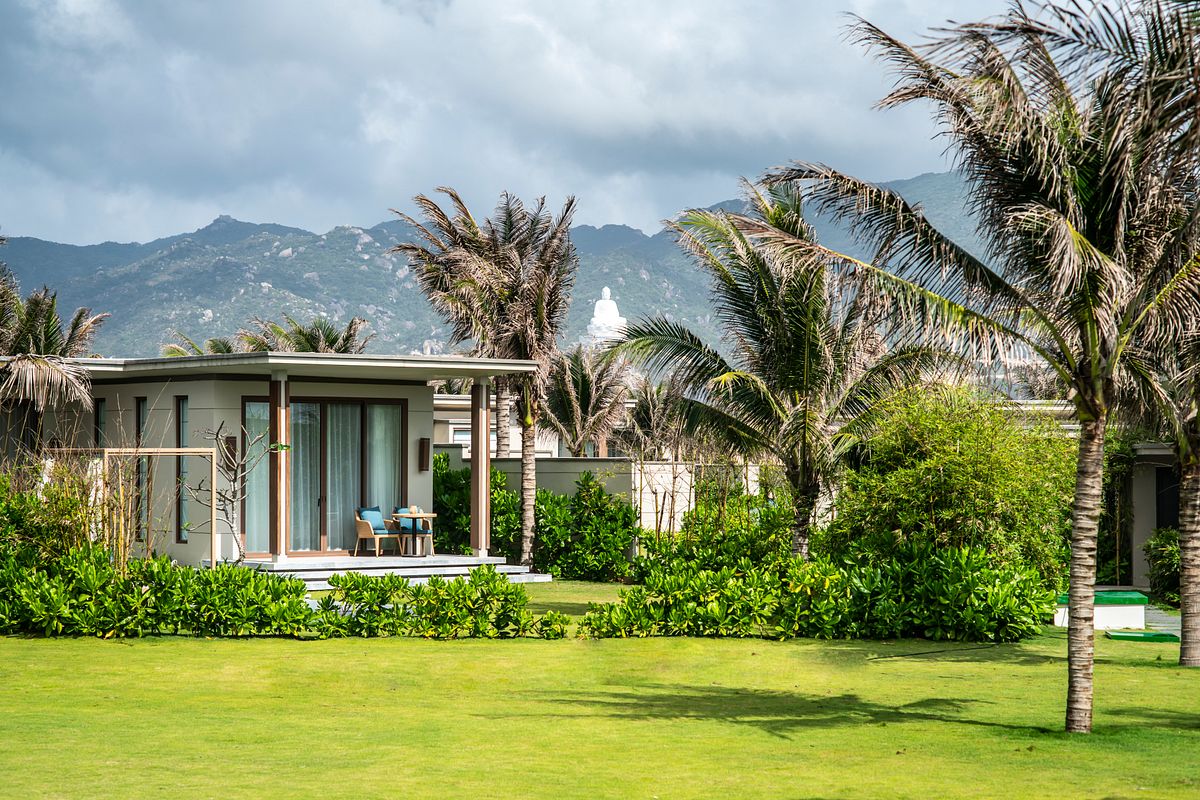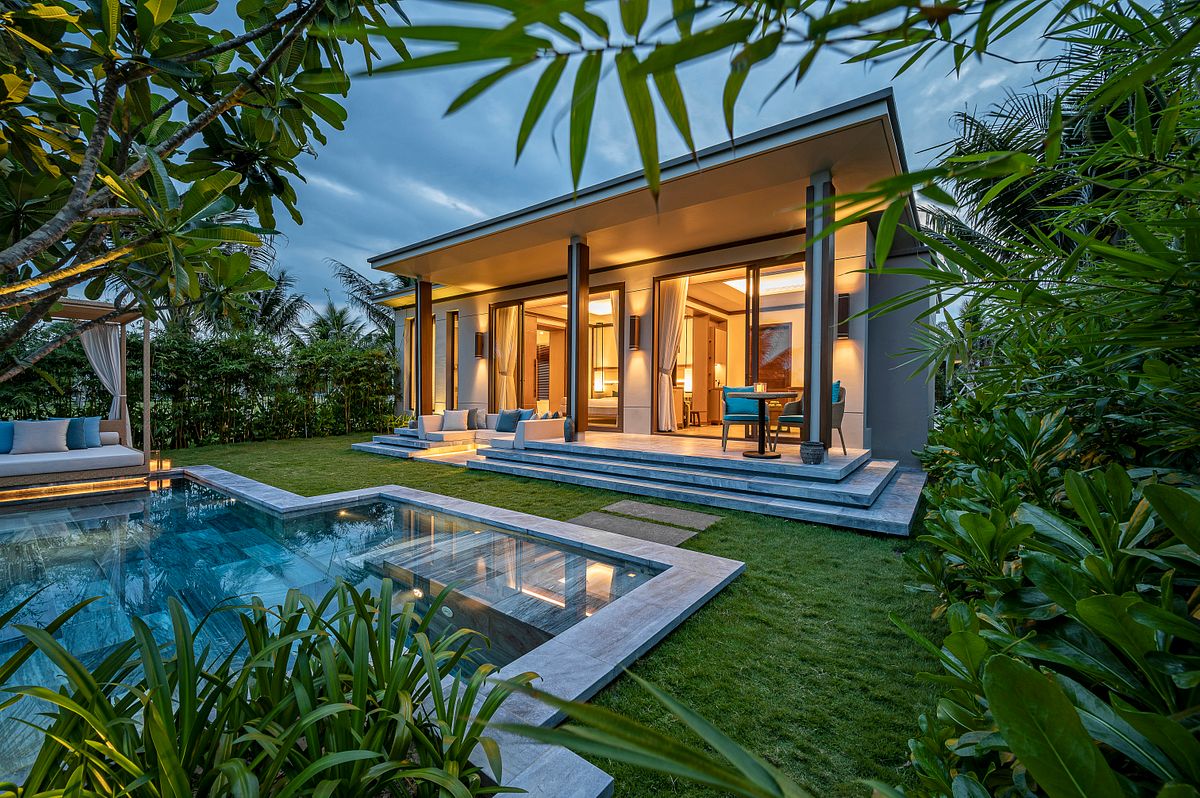 After busy days trying to explore all the adventures and experiences that Quy Nhơn has to offer, there is no more relaxing destination than Maia. Or one might prefer to simply stay at the resort and rest in the comfortable surroundings; that works too. After all, Quy Nhơn seems to have something for everyone.