It's only February and already an international murder mystery has dominated Southeast Asian news.
The incident in question is, of course, the peculiar assassination of Kim Jong-Nam, the eldest half-brother of North Korean leader Kim Jong-Un, who was killed by two female suspects at Kuala Lumpur International Airport (KLIA) on February 13, according to TODAY.
Grainy video footage of the attack has since been circulating on the internet, depicting a woman in a white top grabbing Jong-Nam's head from behind. Moments later, she disappears through an exit, and Jong-Nam reports the incident to airport security.
Jong-Nam was at the Malaysian airport for a flight back to Macau, where he lived, according to police official Fadzil Ahmat. "The deceased...felt like someone grabbed or held his face from behind," Fadzil told Reuters. "He felt dizzy, so he asked for help at the...counter of [the airport]."
"He told the receptionist at the departure hall that someone had grabbed him from behind and splashed a liquid on his face," Fadzil added.
Jong-Nam was then escorted to an airport clinic where his condition deteriorated. He then died in an ambulance on the way to Putrajaya Hospital, reports the news source. Malaysian police said the victim was carrying a passport under the name Kim Chol with a birthdate that made him 46 years old.
On Wednesday, Jong-Nam's body was sent to a second hospital, where an autopsy was carried out but, according to the Japan Times, the results were deemed inconclusive. A second autopsy was conducted on Friday night and Malaysian officials are expected to release the results as early as Wednesday of this week, reports the Straits Times.
Malaysian authorities, however, have not officially confirmed the identity of the body, despite South Korean reports claiming that fingerprints point to Kim Jong-Nam being the victim. Malaysia was adamant that it would not release the body until it receives DNA samples from his next-of-kin to verify Jong-Nam's identity. According to the South China Morning Post, Jong-Nam's son, Kim Han-Sol, may have arrived in Malaysia early this morning to verify his father's identity, however this could not be confirmed.
According to a police statement, Reuters reports, on Wednesday, February 15, a female suspect was detained at KLIA. Local media had earlier released a CCTV-captured image depicting a young Asian woman wearing a white shirt with the letters "LOL" printed on the front.
The report also stated that when caught, she was carrying documents under the name Doan Thi Huong, with a birthdate of May 1988 and birthplace in Nam Dinh province. Vietnam has since requested consular access to the suspect in order to verify her identity, according to VnExpress.
"Right after the information related to the arrest of a suspect who carries a Vietnamese passport named Doan Thi Huong surfaced, the [ministry] has instructed the Vietnam Embassy in Malaysia to urgently work with local organs to verify the information," Vietnam's Foreign Ministry said in a statement, according to the news outlet.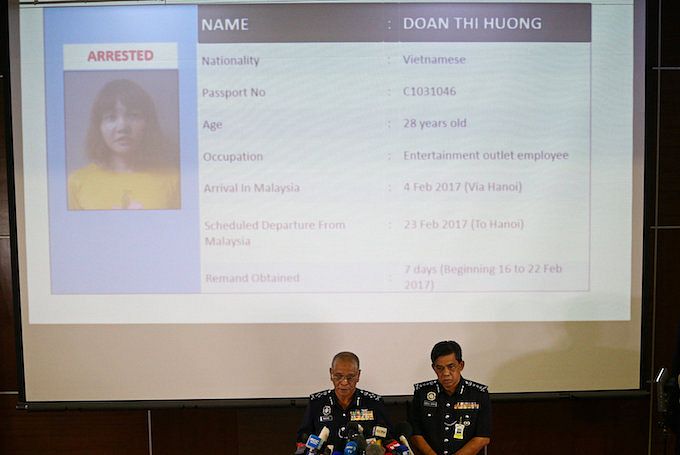 "However, according to Malaysian authorities, since this is a serious case within seven days no consular access to the detainees is allowed," the statement reads. "Therefore, there hasn't been any headway made on the verification process so far."
A Hanoi man recently came forward and identified himself as Huong's brother. The initial description he provided of his sister appeared to match that of the female suspect, reports VnExpress.
"We only hear on the internet and everyone else hears on the internet but judging from the picture it looks like her. I can't be a 100% certain because we haven't met her yet," the brother told the news source.
On February 16, Channel News Asia also reported that Malaysia had arrested another suspect believed to be connected with the murder. The media source quoted the local inspector general of police as saying the female suspect was carrying an Indonesian passport at the time. Her personal identification suggests that she is 25-year-old Stiti Aishah. The young woman's Malaysian boyfriend, 26-year-old Muhammad Farid Jalaluddin, was also taken in to custody to assist in the investigation, according to a police statement released at 7:30pm last Thursday.
Most recently, on Saturday, February 18, local police said that a North Korean had also been arrested due to suspected involvement in the incident. According to Reuters, he was identified as Ri Jong Chol, born in 1970. A police statement said that the man was apprehended on Friday night in Malaysia's Selangor state.
Intelligence agencies in both the US and South Korea initially suspected that the murder had been carried out by two female North Korean agents.
Last Wednesday, Reuters cited multiple Malaysian government sources as saying that North Korea spent hours attempting to talk Malaysia out of carrying out an autopsy on Kim Jong-Nam. However, Malaysian authorities refused the request.
On the North Korean end, it should come as no surprise that local media reportedly did not mention the assassination. Last Saturday, North Korea declared that it would "categorically reject" Malaysia's autopsy on Jong-Nam and accused the Southeast Asian government of "colluding with outside forces", according to Reuters.
Malaysian Health Minister Dr. S. Subramaniam shared with state news agency Bernama that officials were only waiting for the release of the toxicology report to complete the autopsy. The story continues to develop.
[Photos via CNN and Taiwan News]