When asked what one should do when visiting, Quy Nhơn, one of Saigoneer's favorite cities, the answer is simple: eat!
Situated beside a placid stretch of ocean with fertile soil sloping down from the mountains inland, Quy Nhơn has all the basic ingredients needed to be a foodie haven. Understandably, seafood is the most obvious and abundant treat. Fresh fish, shrimps, snails, oysters, lobster and clams require little accouterment when served at the many simple plastic chair and inox table spots along the beach and throughout the city. Astonishingly cheap and agonizingly flavorful, anyone visiting from a landlocked city should have at least one meal consisting of the day's catch.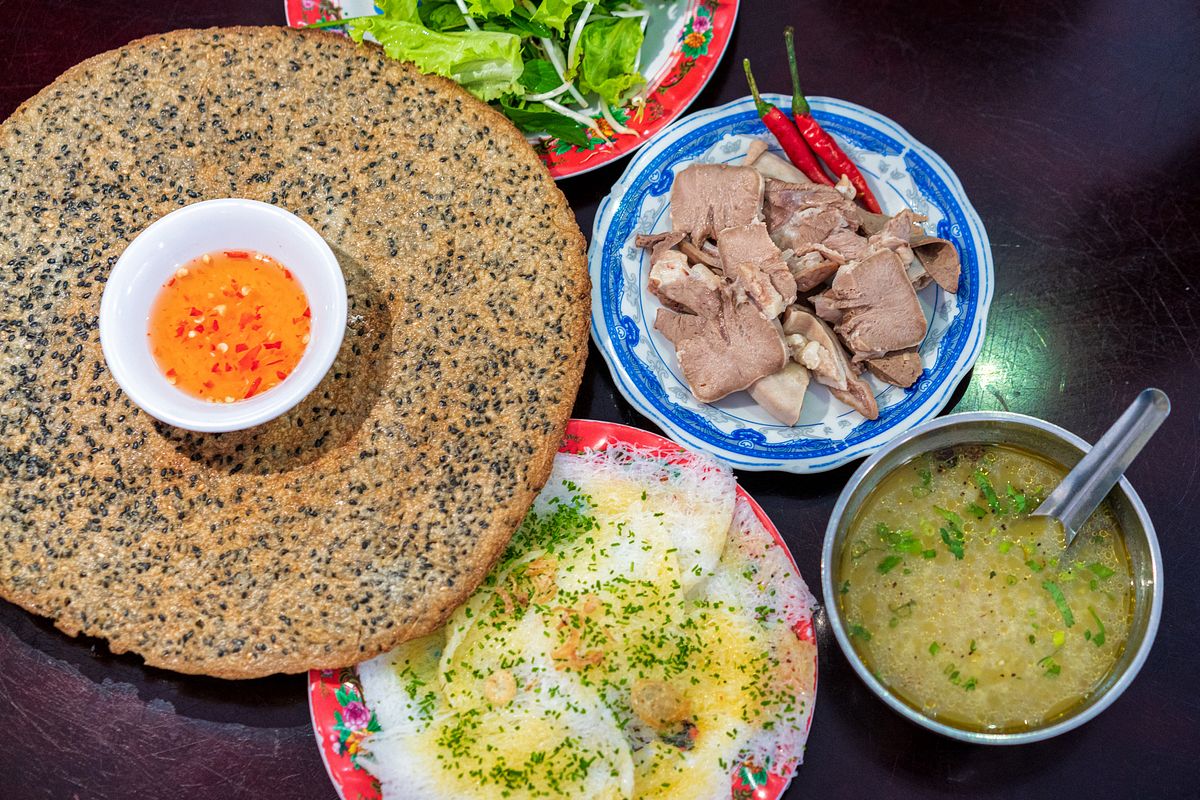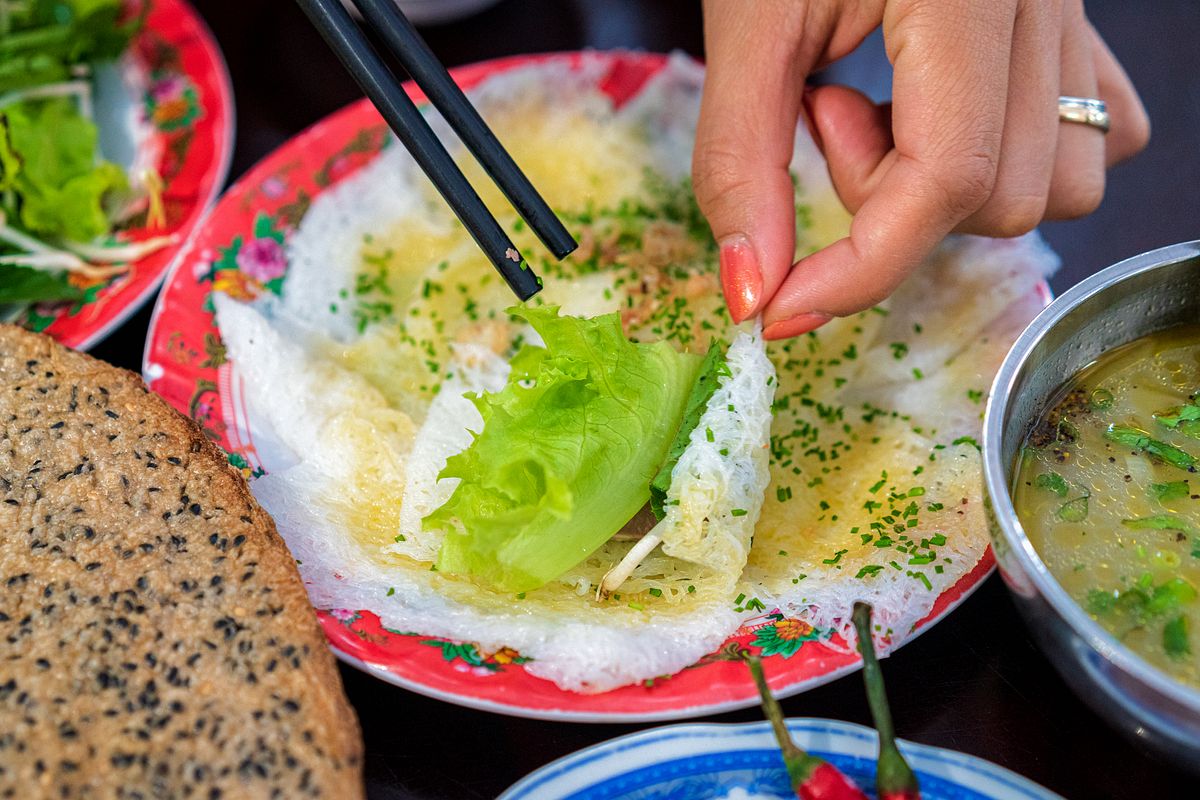 Of course, beyond merely grilling or frying whatever is brought up from beneath the waves, Quy Nhơn has developed its own specialties over the centuries. One of the most unique staples is bánh hỏi cháo lòng. True to its name, it combines woven pads of thin vermicelli noodles with nutritious swine organs including intestines, tripe, liver, tongue and heart. Served with a plate of herbs and hearty rice porridge it's a filling breakfast that can be found at no-nonsense family restaurants throughout the cities.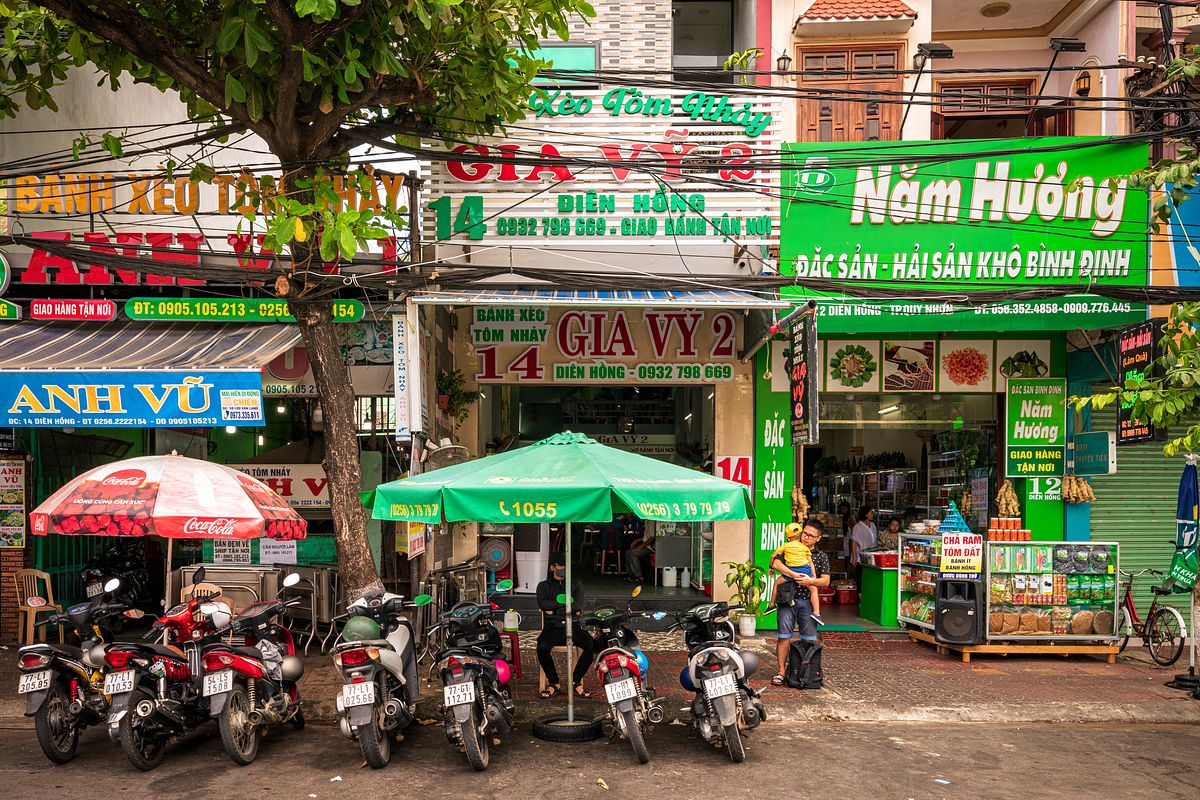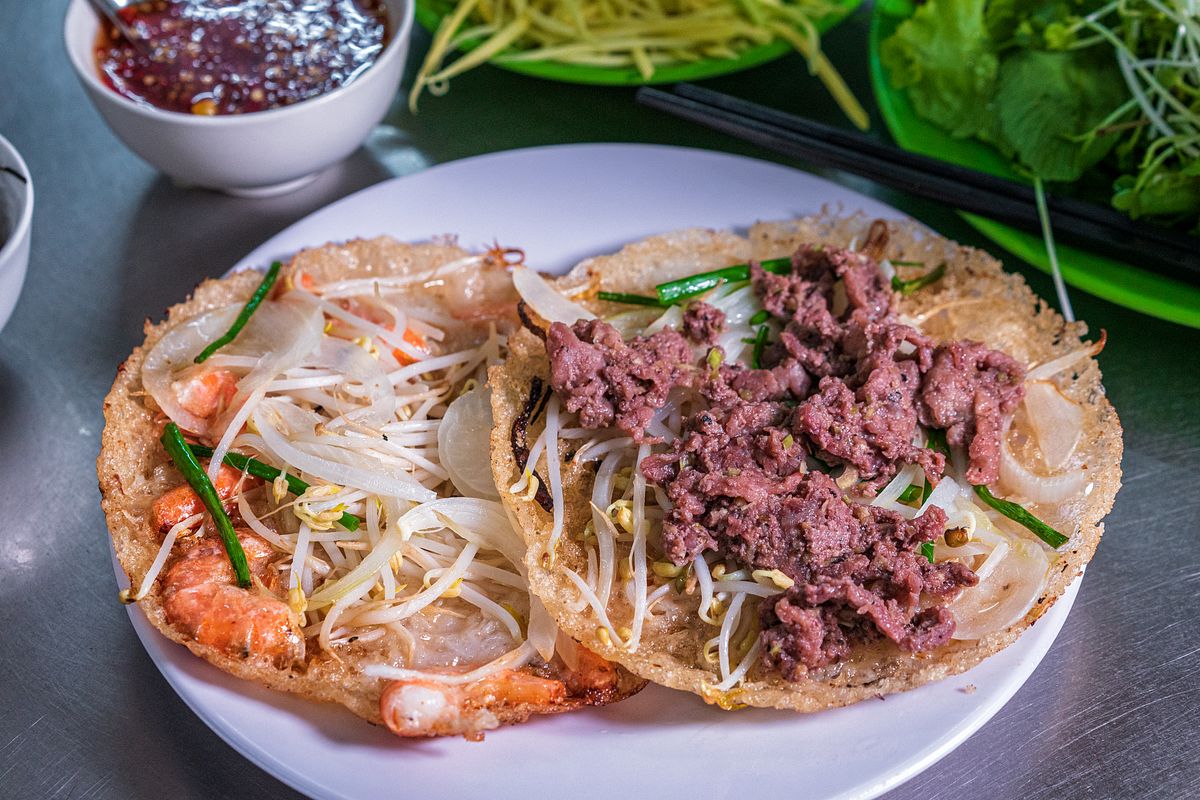 Another of the most renowned dishes in the city is bánh xèo. While the savory folds of fried batter filled with meat and vegetables can be found throughout the nation, a unique variation was born in Bình Định's capital. Reportedly invented at Bánh Xèo Gia Vỹ two decades ago, bánh xèo tôm nhảy forgoes the familiar shrimp and instead opts for beef and/or squid. An unctuous peanut dipping sauce further elevates and differentiates it.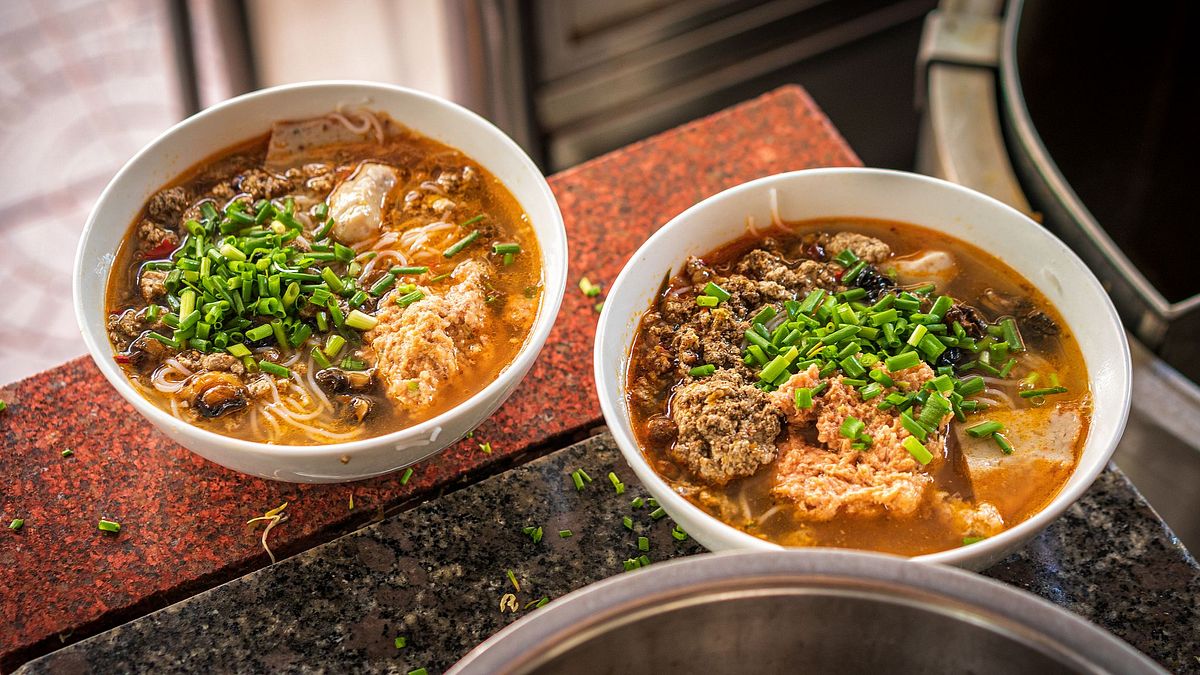 Similar to bánh xèo, bún chả cá is served all across the nation with specific ingredient alterations made based on regional availability and preferences. We particularly enjoy the extra pizzazz added to the bowl of fish cake noodles at Bún Cá Thùy. A succulent smoky flavor joins the chili paste with sugar alongside dill, cilantro and bana leaves. Their thập cẩm bowl further interprets the dish with a wide range of toppings that includes snails, trotters, jellyfish, minced freshwater crab, dill, mango and peanuts.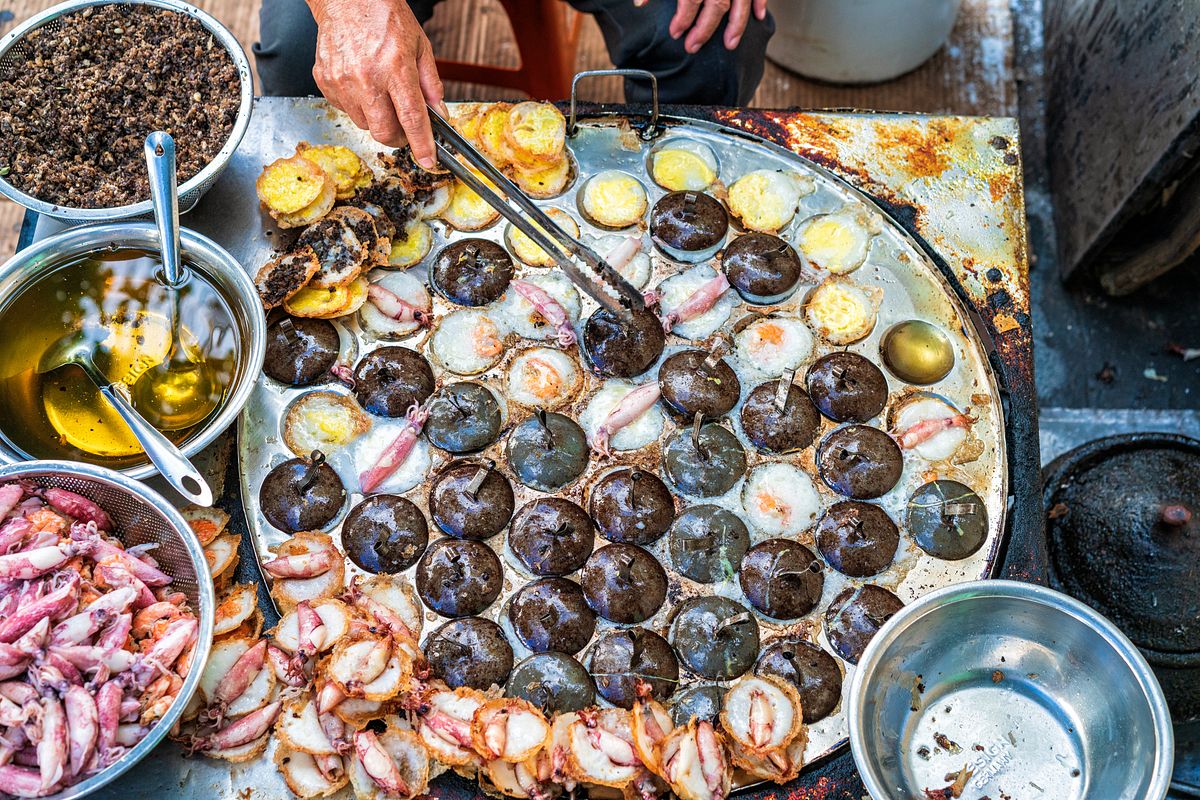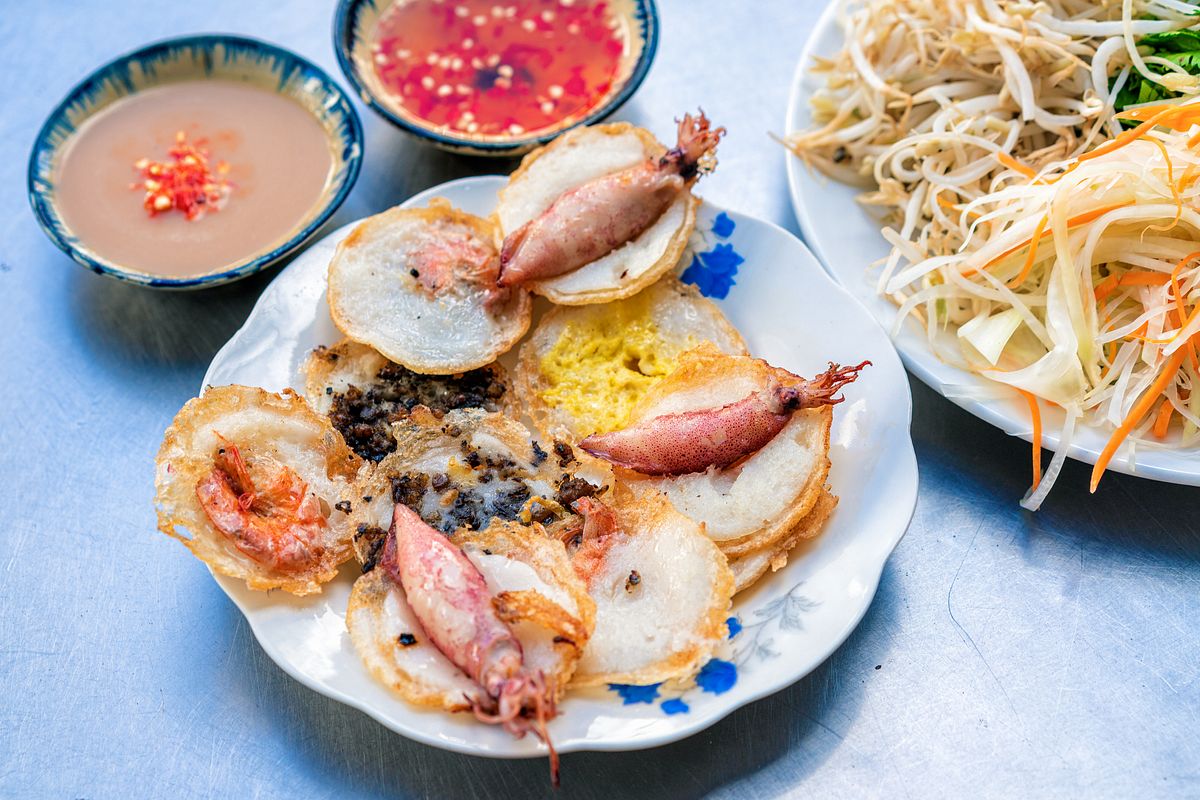 One particular spot in Quy Nhơn gives bánh khọt a similar makeover. The nameless eatery found at 19 Hàn Thuyên was founded by a Vung Tau native who adopts that city's famous dish to local pallets via the inclusion of shrimp, beef and peanut sauce. In our eyes, it gives the more conventional version a real challenge for bánh khọt supremacy.
As Quy Nhơn develops and the world becomes more connected in general, more non-Vietnamese restaurants are opening. From quesadillas to teokbokki, sushi to spaghetti, delicious international items are easier to enjoy than ever. So following the advice of a few friends who live in the city, we checked out a few favorite foreign spots. And while they might not stand out amongst Saigon's overabundance of global restaurants, in a small city they represent exciting arrivals for locals and an appealing source of variety for tourists.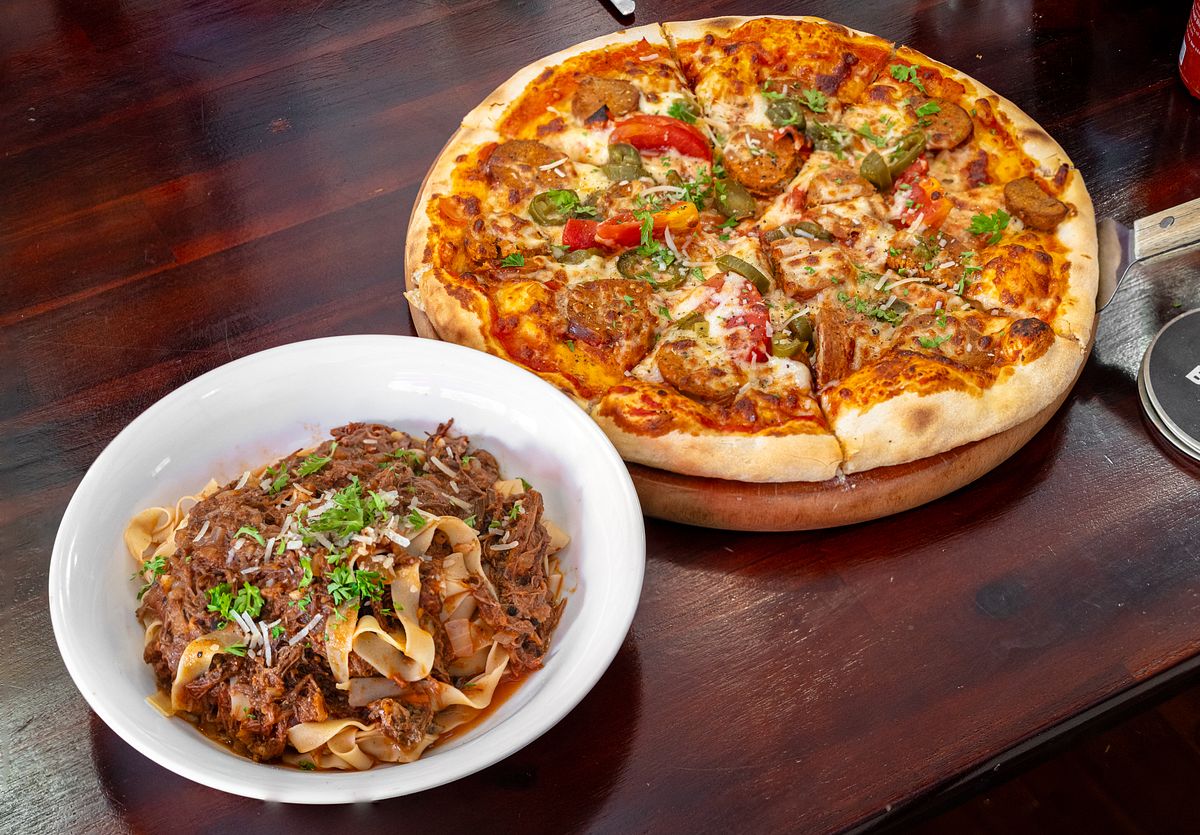 Sisters Tavern opened in 2017 and stands as the city's premier pizza restaurant as well as a prime spot to enjoy craft beer. The handmade and perfectly cooked pizzas come topped with a wide array of conventional toppings as well as some surprising elements such as camembert cheese, pulled pork, and beef shin. Sister boasts a similarly wide selection of pasta sauces and noodle types as well as salads and steak.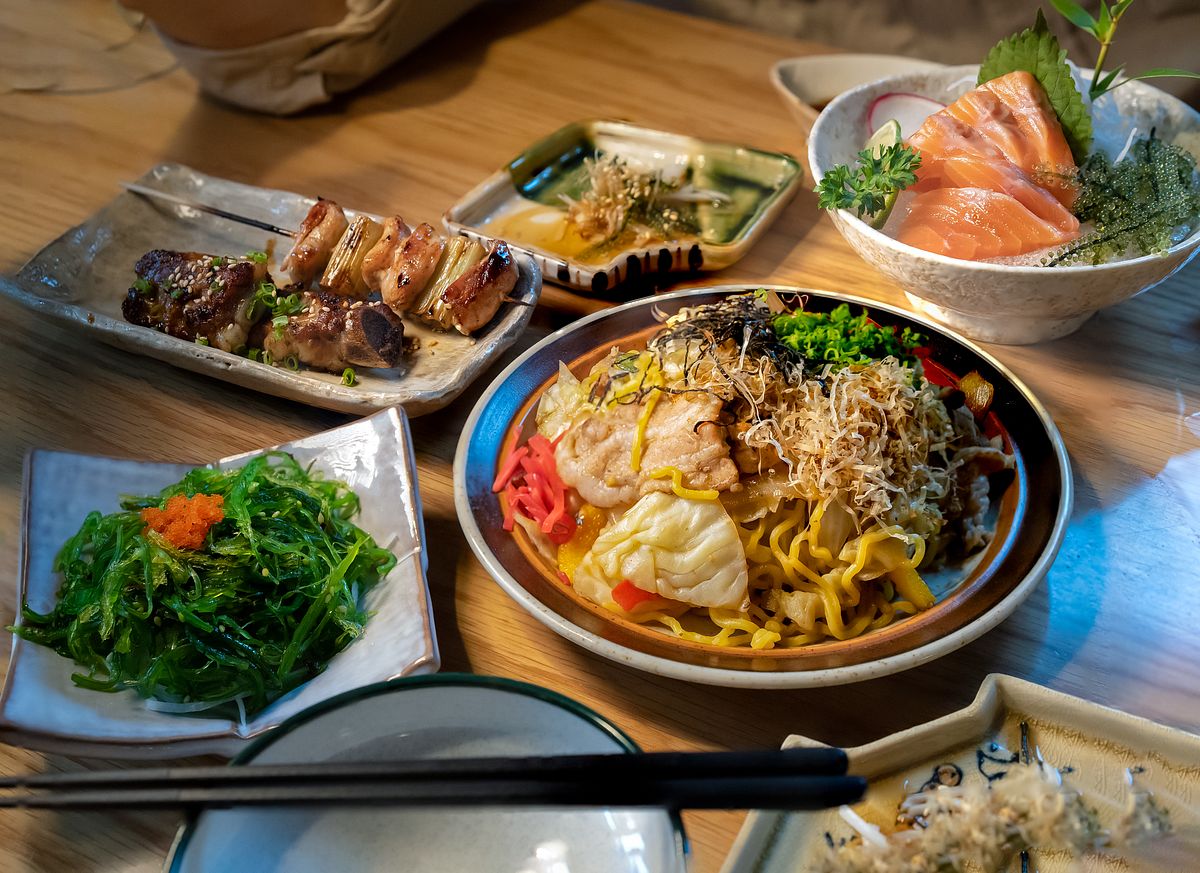 Sushi can be found at several places in Quy Nhơn, and Wara Wara supplements the raw fish options with a full array of izakaya bites and an expansive alcohol menu that includes homemade rice wine. Meat skewers, salads, fried snacks, noodles and seafood served in small, sharable portions transport diners to intimate Japanese establishments.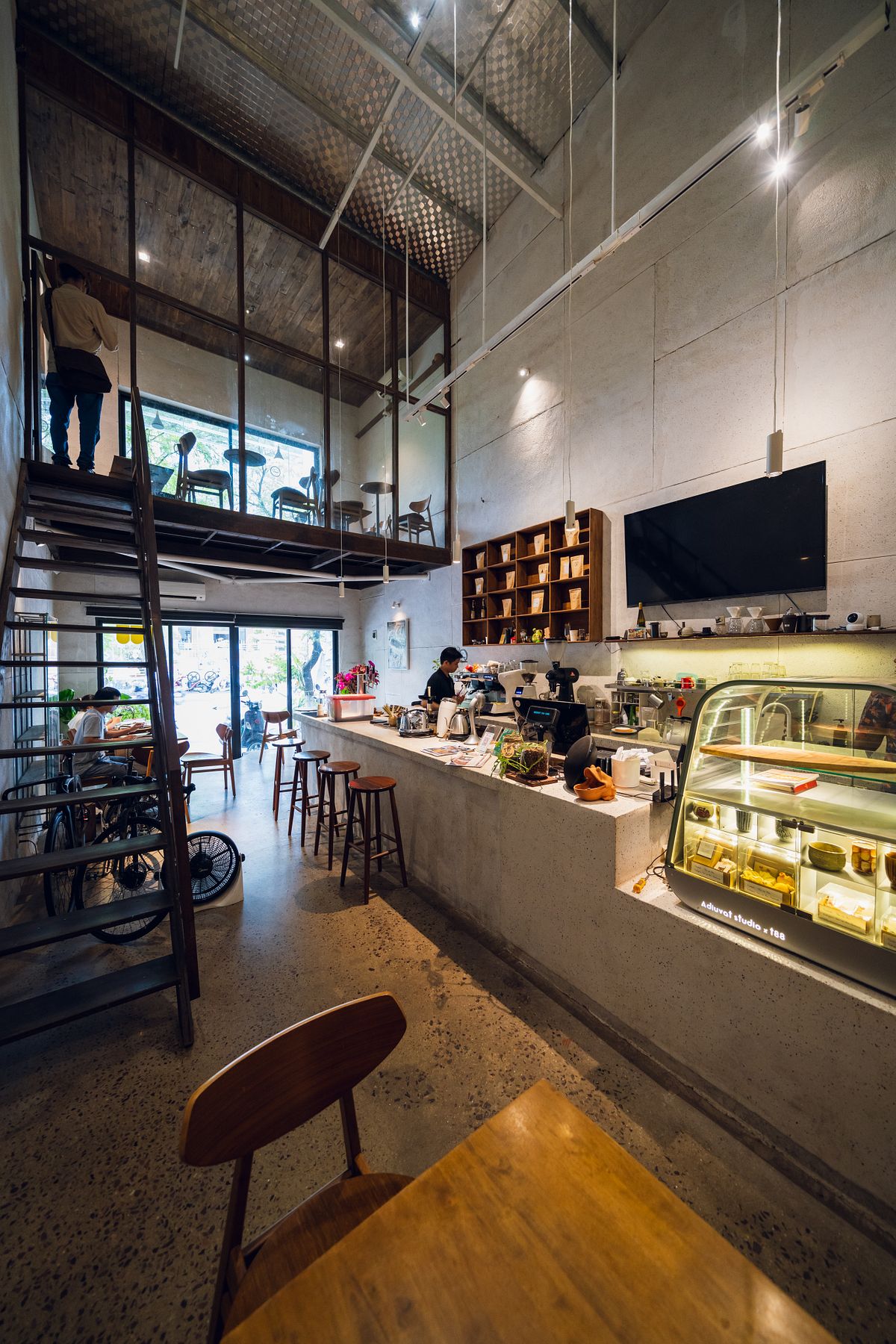 Quy Nhơn's coffee culture is also evolving as evidenced by Adiuvat, a coffee roaster that prepares small-batch, dark-roasted coffee drinks. The austere, industrial decor and emphasis on bean origin, as well as nitro preparation, would seem perfectly at home in a trendy D1 neighborhood but is instead found a few meters from the beach.
Exploring the city and gambling on recommendations for humble, family-operated spots is a great way to immerse oneself in Quy Nhơn's culinary traditions. But there is also something to be said for comfort, service and a bit of luxury. Maia Quy Nhon, Fusion's flagship culinary-led resort a bit north of downtown, emphasizes dining experiences that include local favorites and international surprises.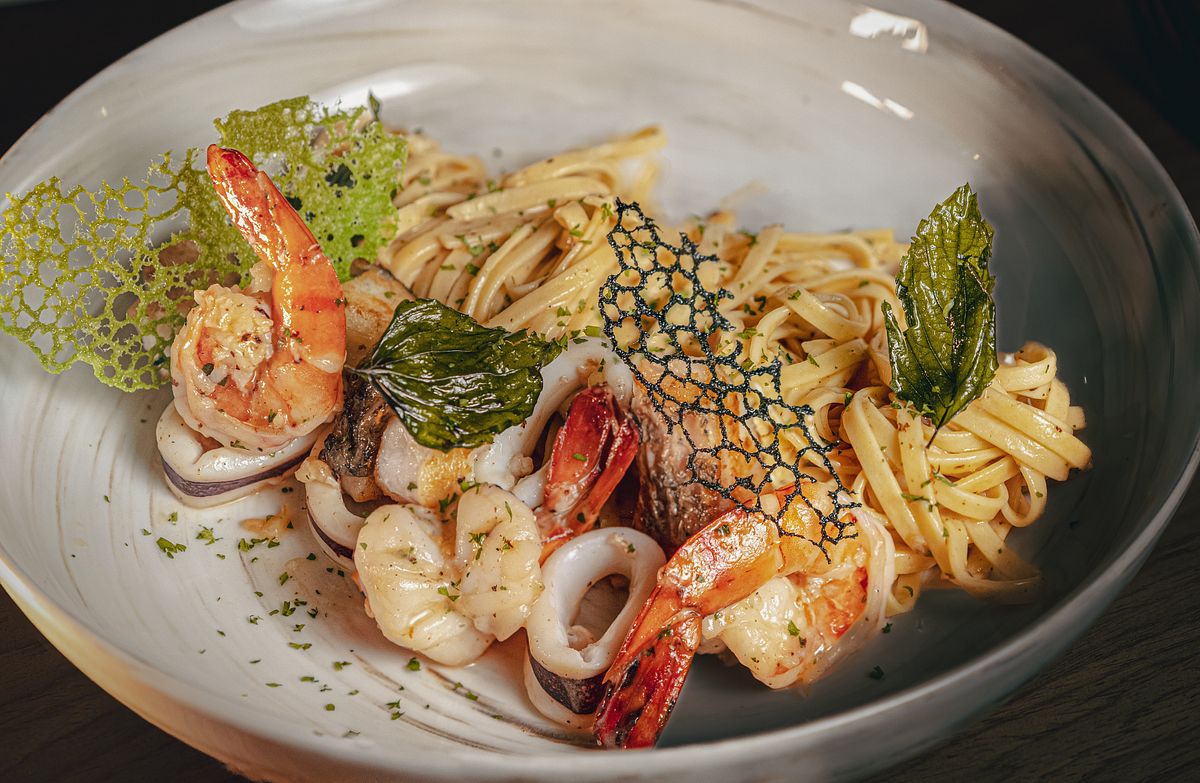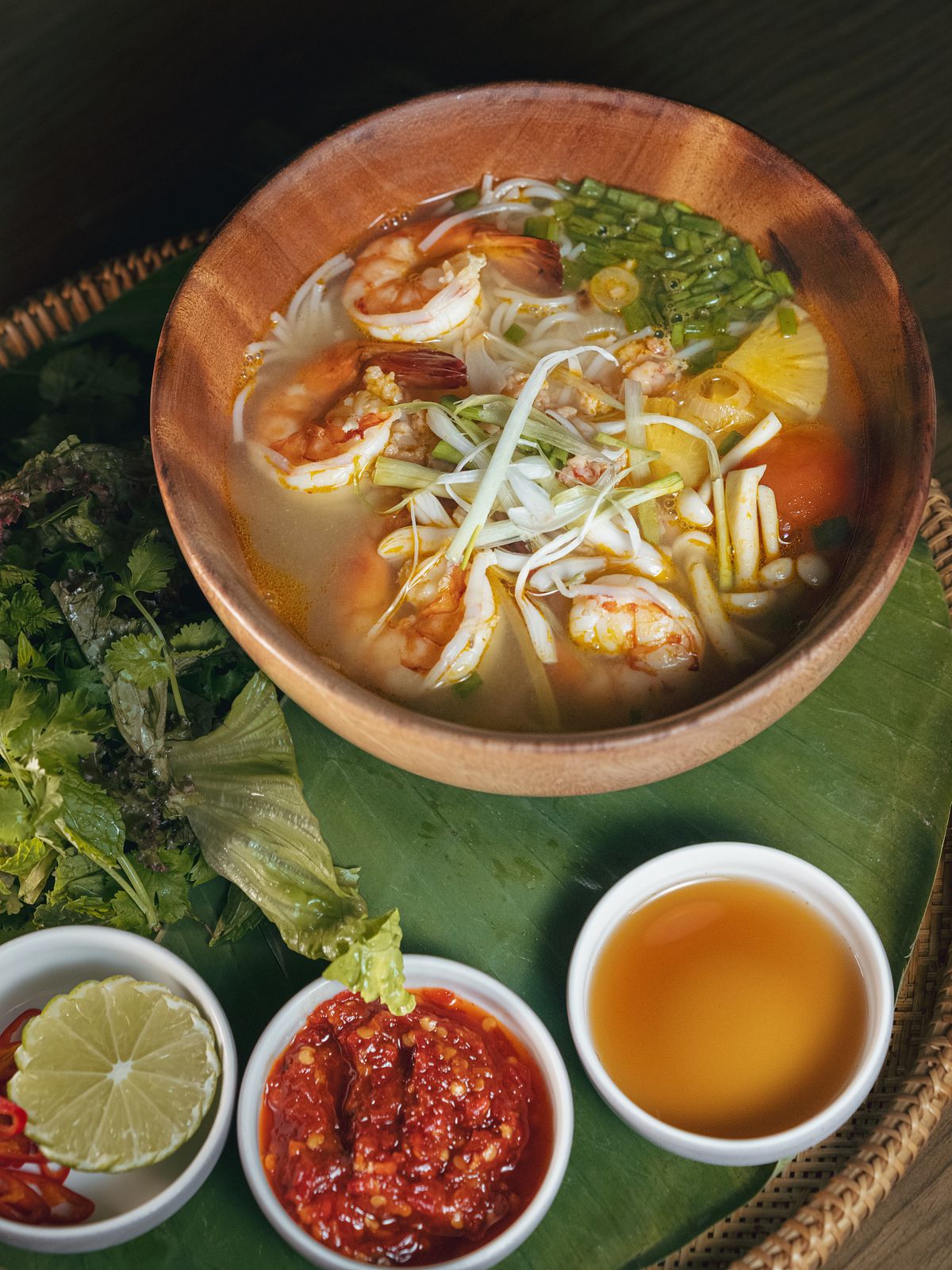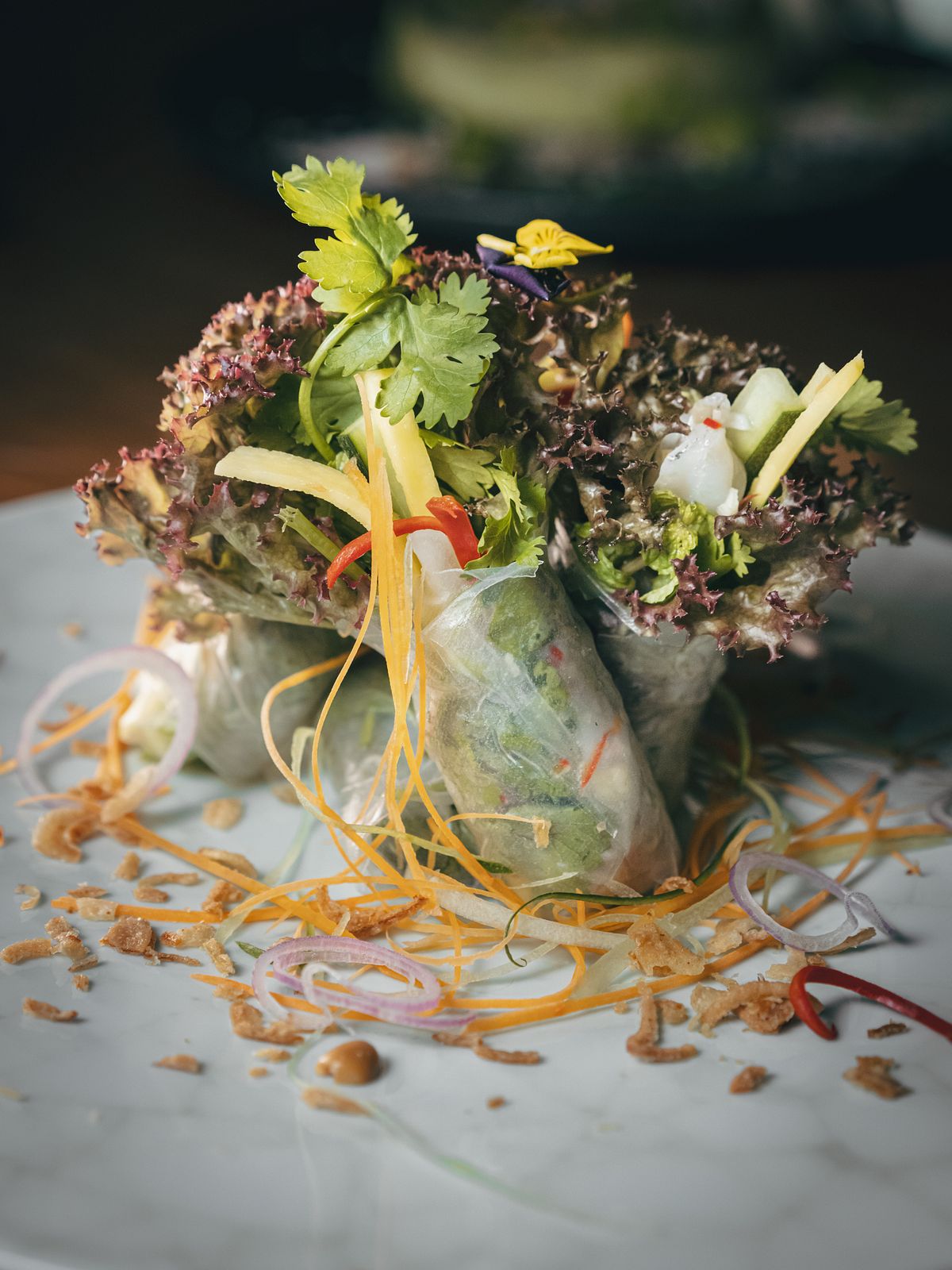 The resort's main restaurant Vị embraces Quy Nhơn's exquisite flavors and ingredients via local mainstays such as bún tôm Bình Định, bánh hỏi thịt heo and canh chua cá chẽm. Each is prepared with carefully sourced ingredients and recipes developed by a culinary team that grew up enjoying them. They also do a good job delivering authentic international dishes that take advantage of the region's fresh seafood. The menu also includes items that will appeal to travelers of all ages, such as steaks, sandwiches, pizzas and salads as well as indulgent desserts.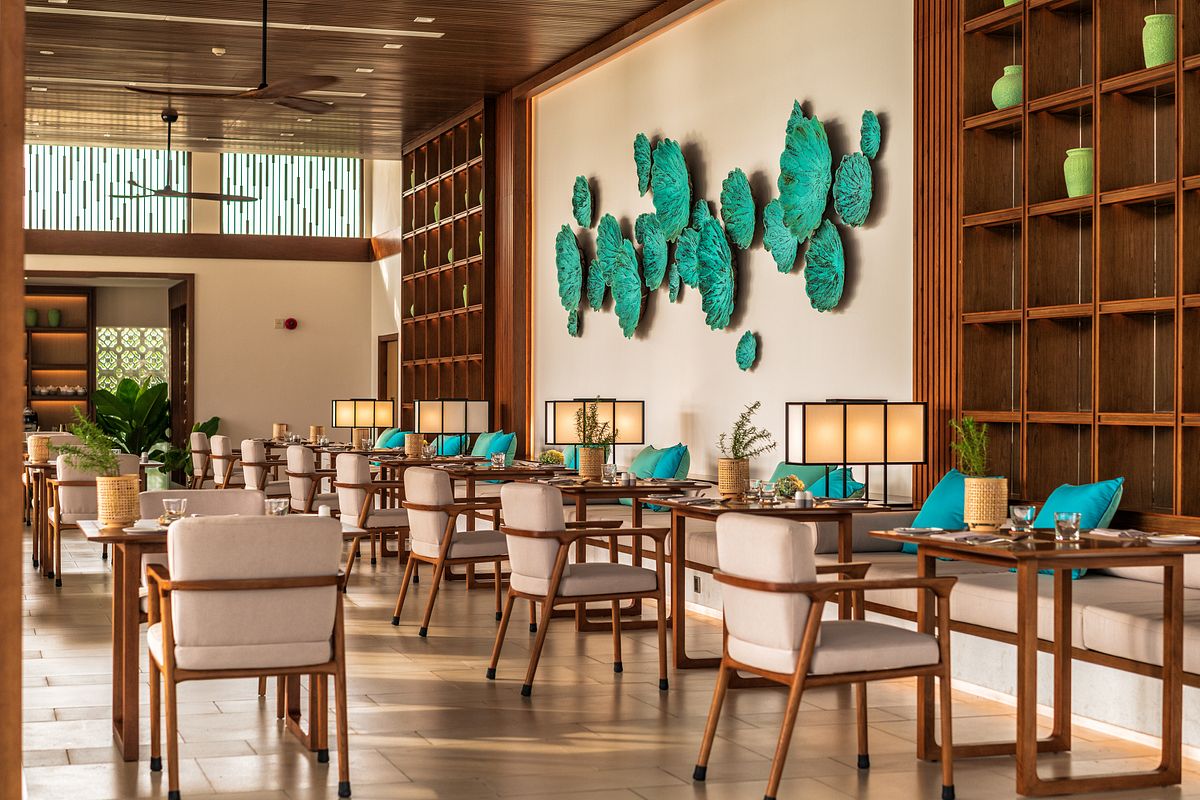 While what one finds on their plate is important, a truly memorable meal often involves a stunning setting as well. Vị's bright and casual decor includes repurposed wooden boats from nearby fishing villages and bright lotus pieces made by local artisans using recovered oil drums. In contrast, the newly opened ad hoc restaurant establishes a more sophisticated and elegant atmosphere. Ideal for private parties, romantic dinners and intimate gatherings, the space gives Maia Quy Nhon's chefs an opportunity to indulge their creativity with special menus supported by seasonal ingredients, trends and requests.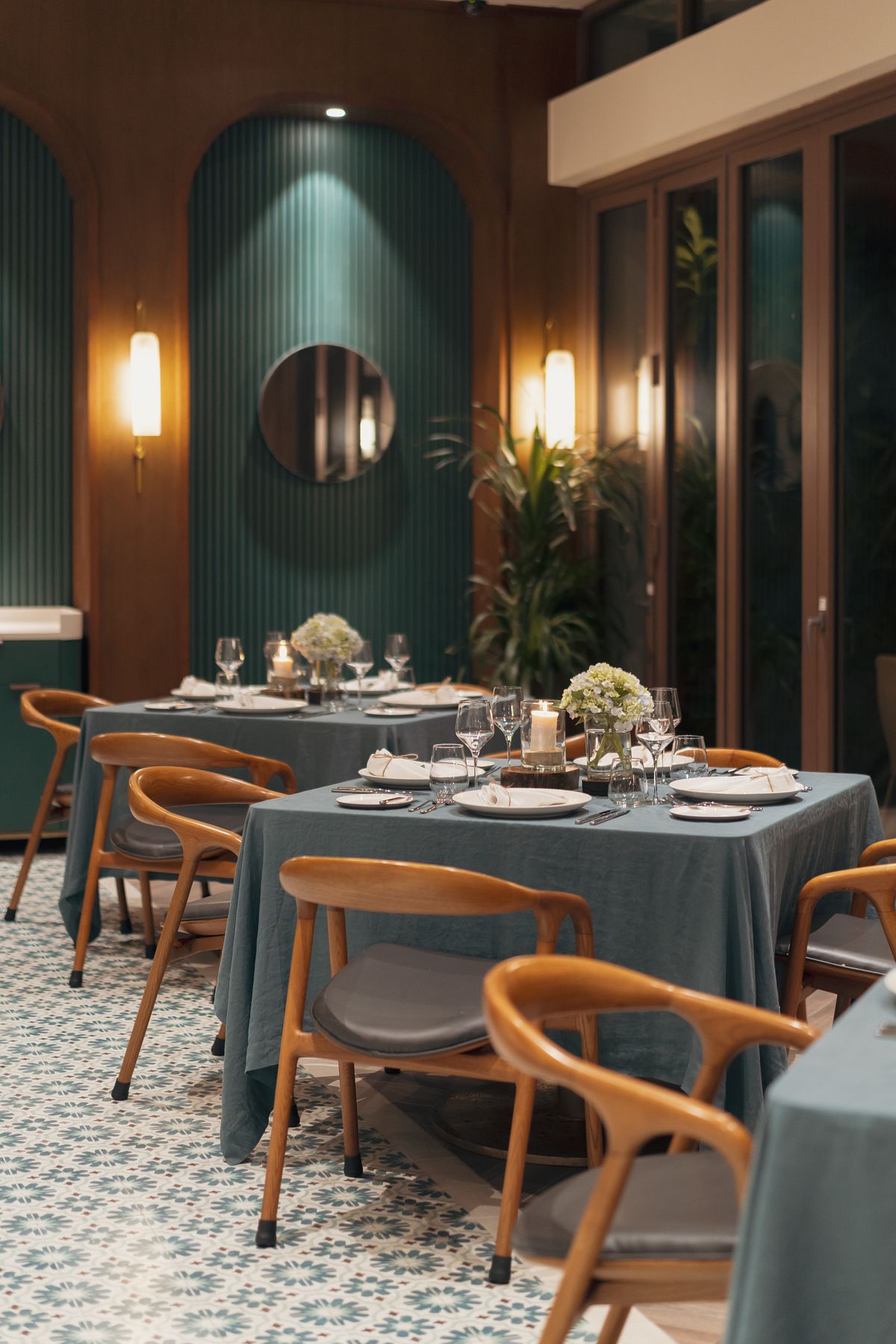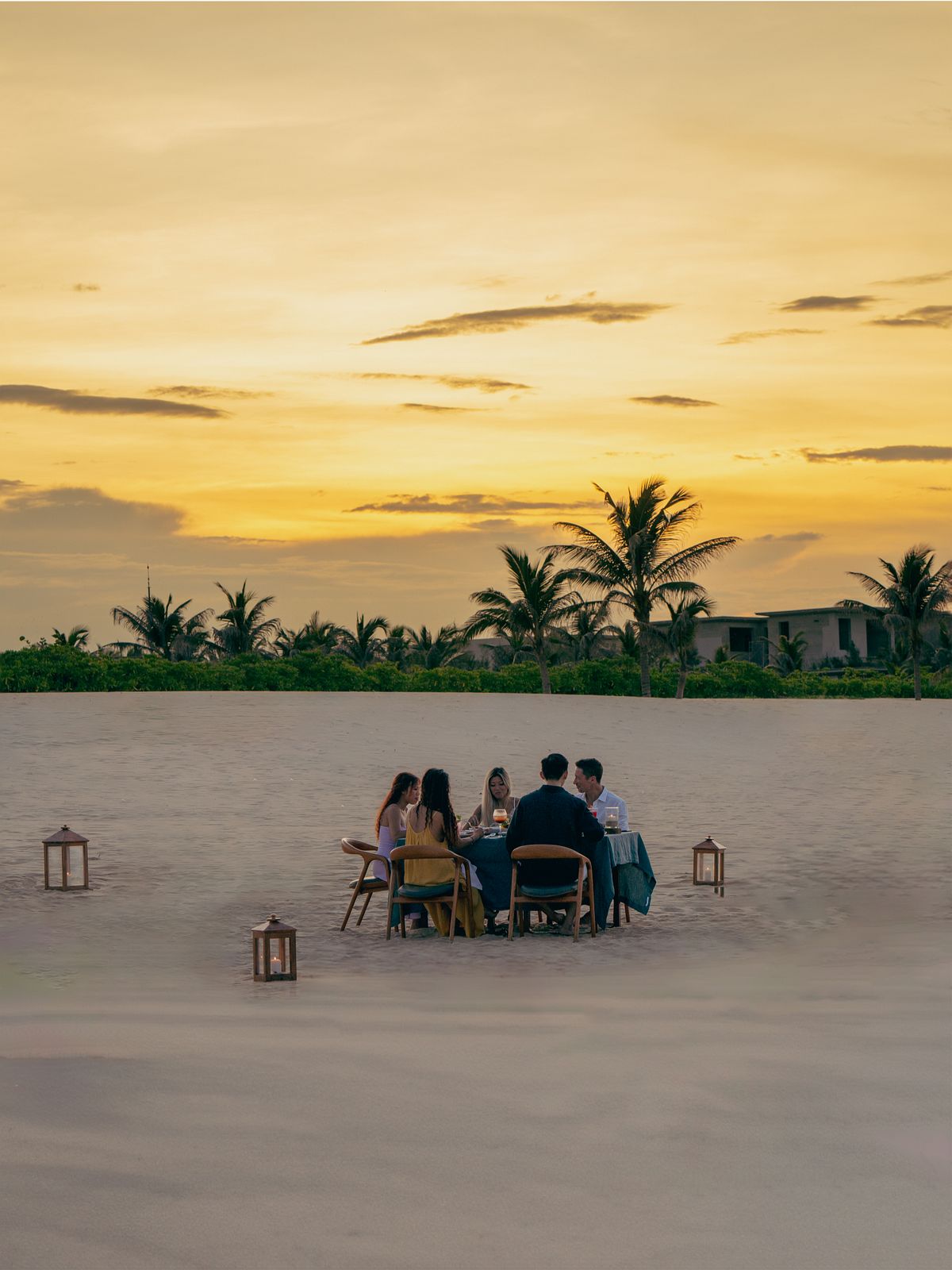 Of course, no manmade setting can rival the splendor of nature and thus the best table at Maia Quy Nhon can be found on the beach at sunset. Parties, couples and families can reserve a special beach dinner. A chef will barbeque a spectacular selection of seafood, meats and vegetables to accompany culture-spanning sides. The soft sound of the waves in the background and the transition from fading sunrays to candlelight provides the perfect backdrop to savor the finest, freshest ingredients the city has to offer and serves as a luxurious final note for a foodie tour in Quy Nhơn.