Banh mi has been an iconic Vietnamese staple since French colonization brought bread to the region in the 18th century. Though the French have come and gone (and come and gone again), the soft, airy baguettes remain one of the country's most popular foods. With its lengthy history, it's no surprise that there are a number of banh mi shops in Saigon that have endured the ages, some serving the same sandwiches for more than 50 years. Here are three of the city's oldest shops, profiled by Vietnam Net.
Banh mi Hoa Ma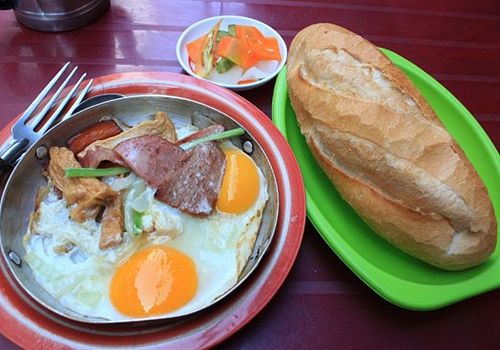 Located in a small District 3 alley, many people come to this small shop where the taste of banh mi has not changed for decades. Here, a banh mi consists of an omelet, Vietnamese ham, pork, pate and pickles. Instead of being baked in an oven, banh mi are fried in a small pan to create crispy edges. Though the shop's sign has faded, along with the owner's youth (he is now over 80 years old), "he still stands there day after day to chop pork, ham… and do the old work."
Western Rice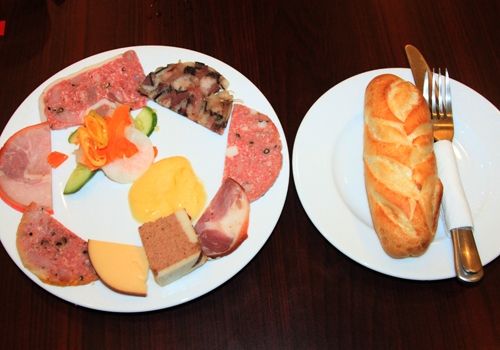 This banh mi shop on Tran Dinh Xu Street in District 1, has been open for nearly 40 years and is unique in that it serves the bread separately from the meat and does away with the sauce. Served in the French style, options include liver pate, cheese, ham, chicken ham, sausage, bacon and chicken pate.
Peddled banh mi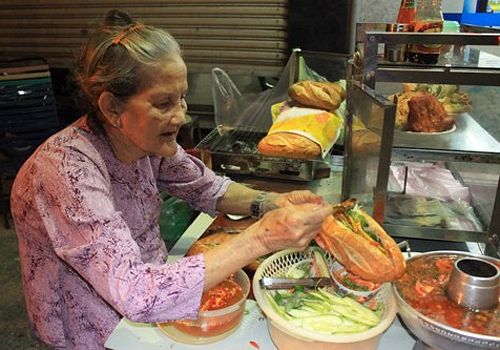 "I started selling banh mi when my son was only one year old. That time I was young and healthy so I carried my loads of banh mi through the streets, from the Khmer Pagoda road on the bank of Nhieu Loc canal to the train station in District 3. Everyday, I walked with my banh mi loads from the early morning to the evening. Now I cannot walk like that so I stand here. I've been at this street corner for over ten years," said the trolley owner – Mrs. Tu.
Even though, at the age of 80, Mrs. Tu prepares her banh mi very slowly, customers patiently wait for their turn.