After a short one-hour flight from Ho Chi Minh City, I was greeted at the airport by a warm, smiling face in the crisp white Sol Beach House Phu Quoc tee-shirt, "I want one of those," I thought as he took my luggage and led me to the car.
I was surprised when I'd barely settled into my seat and we were already at the resort, "They weren't joking when they said 15 minutes," I laughed to myself as I walked into the beautiful, open-air lobby and was handed a delicious fruity welcome drink.
The reception team wore equally warm smiles as they greeted me by name, exchanging my luggage for a key card and explaining the ins and outs of the resort, "Paddle boarding? I want to learn something new. A cooking class? I want to do that. Meditation? I could get in touch with my inner chi. But… do I have time to do it all?" I wondered as we took the lift to my spacious sixth-floor junior suite.
Opening the door, I was greeted by the blue skyline kissing the even bluer ocean, I squinted to determine exactly where one ended and the other began. Saying goodbye to the doorman with a cheerful wave, I took in the room. Crisp, fresh white linens, a comfy sofa and striped beach chairs I could take onto the balcony to watch the waves roll in. I made a note to get back to my room before sunset; I had a feeling it would be stunning.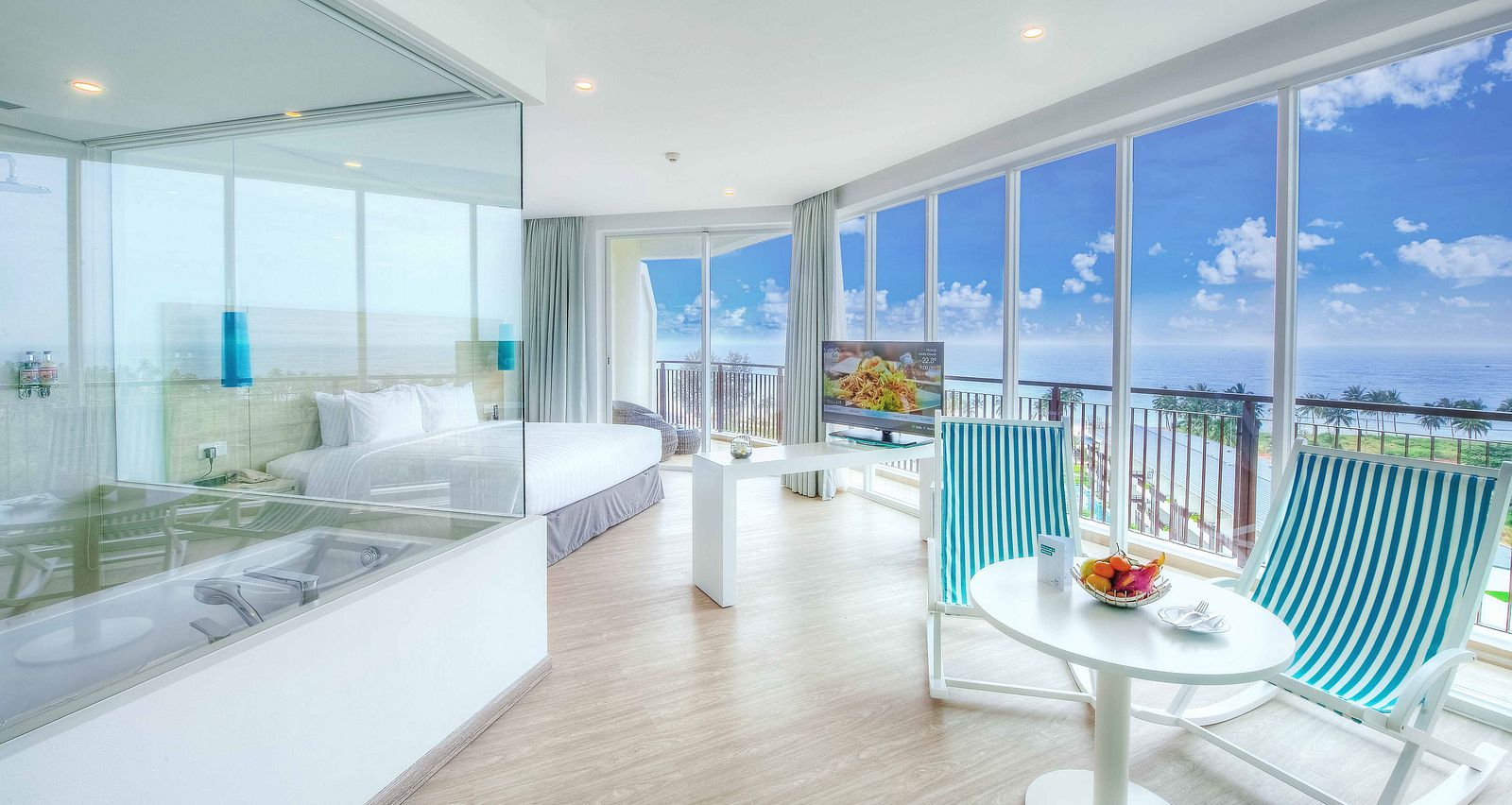 Itching to go for a swim, I grabbed a beach towel, my sunglasses and a book. Greeted by smiles from everyone I passed from my room to the pool, guests and staff alike, I immediately felt the welcomed sense of 'home'. The surrounding grass and palm trees made me feel connected to nature, something I desperately missed in HCMC, as I walked down the path toward the infinity swimming pool.
Putting my things on a beautiful poolside Bali bed – where I would assuredly take a rest to read my book later – the crystal blue and refreshingly cool water was the final thing I needed to forget the emails I'd left waiting in my inbox. Entranced by the bright blue sky and the sound of the ocean with my shoulders submerged under water, I suddenly felt my stomach rumble – I'd forgotten to eat lunch!
With three restaurants to choose from I figured The Kitchen, the resort's all day dining, could wait until breakfast. I wanted something sweet, healthy and adventurous. Forgetting even my towel, I walked into The Shack in my dripping swim suit, no one seemed to mind. I ordered a delightful, fresh fruit smoothie and a few savoury street food style dishes to tide me over until a seafood dinner at OLA Beach Club.
Playing with another guest's precious dog, also a welcomed guest, I noticed a hand-written sign out of the corner of my eye: I was just in time to catch the afternoon's mediation session! Jetting over to the designated area, I plopped myself down and got in the zone – relaxed, undisturbed, at one with both nature and myself. I was growing to really love it here.
Hours later, returning to the Bali bed where I'd left my towel and book, I ordered a poolside cocktail to unwind even more after an already relaxing day – I wanted to see this in-house DJ I'd heard so much about. Smooth and groovy, toe-tapping and fun, I fought my heavy eyelids for as long as I could; the DJ quickly turned the pool area into 'the place to be'. Sensibly, though, I chose to go to bed and come back to check him out the next day.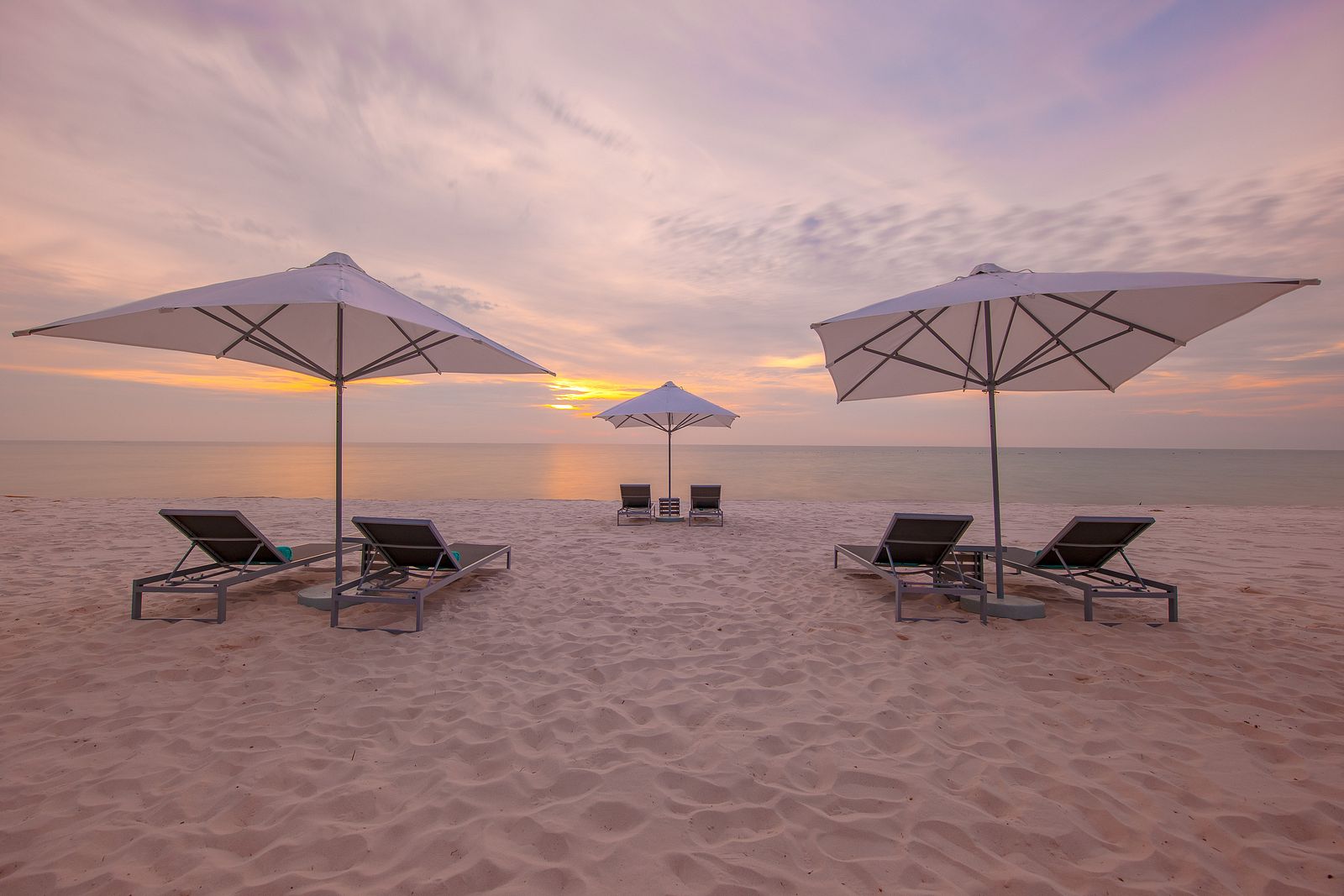 After a restful night's sleep I awoke to the call of the ocean and decided to go on a stroll along the shore after breakfast. Who needs exercise when you can walk down the island's white sand beaches? After a couple of hours, I walked back to the main building for a well-earned foot massage – restful, healing and entirely relaxing. My body felt loose and ready to try something new, so I enquired about paddle boarding. By myself and unsure about what to do, one of the knowledgeable staff joined me beyond the waves and helped me get the hang of it. Physical activity had never been more fun!
I spent the whole of my second day in and out of the pool, checking out the resort's activities, and wondering when I'd be able to get back to what had definitely become my home on the beach.
As we pulled up to the airport and the doorman opened the door to hand me my luggage he said, "I really hope you come back to see us soon." I felt like I'd really become a part of the Sol Beach House Phu Quoc team's family. I bid him farewell, checked in for my flight, raced to the waiting area and booked my next holiday at the resort.
Please visit www.melia.com for more information or to make a reservation.