Past Lives left me bereft, much like how the reunion of main characters Hae-sung and Nora concluded at the end of the film — that is, without much conclusion at all.
Editor's note: This essay contains spoilers of the movie Past Lives.
Throughout the film, I saw bits of myself in each of the characters: the loyalty in Hae-sung, the ambition in Nora, the insecurity in Arthur; but as Nora's emotions finally precipitated and spilled over at the end after Hae-sung's departure, I was Nora but I was also me, heartbroken without knowing exactly over what.
Past Lives was released this summer and came to theatres in Vietnam at the end of September. I saw the film with a friend, a fellow Vietnamese American who now works and lives in Vietnam like I do. Unlike my friend, I was born in Vietnam, in the foothills of Đà Lạt and moved to the US when I was five, because my father qualified for relocation through the Humanitarian Operation Program. My circumstances were not quite the same as those of the main character and her family, but not completely dissimilar either. There were enough memories of Vietnam and the Vietnamese language to crystallize for me, as it did for Nora, a sense of a motherland and a complex relationship with the mother tongue that continue to inform my current identity and interactions.
The story follows the relationship between Nora and Hae-sung over more than two decades, from being classmates who saw each other every day to long-distant friends in their adulthood. At age 12, Nora immigrates from Seoul to Toronto with her artist parents and sister, leaving her childhood friend and crush, Hae-sung, behind in South Korea. They reconnect again twelve years later through social media and pick their relationship back up with regular Skype calls. Through these calls, we learn that Nora is living in New York as a writer, and Hae-sung is still in Seoul, earning a degree in engineering. Their relationship lingers in an indefinite category, because, though immersed in one another's lives again, they are unable to visit each other. Eventually, Nora puts an end to their communication to focus on her life in New York and writing, and Hae-sung leaves to China for a language exchange program. Another twelve years pass before they reconnect again, this time in person. Hae-sung comes to New York to see Nora, now married to Arthur, a writer she met during an artist residency.
The film is undoubtedly a love story between two people who may have been entangled in layers and layers of in-yun, the Korean word that refers to the connection or fate of two individuals. It makes me think of the untranslatable Vietnamese word duyên, that accounts for the inexplicability of certain events or encounters happening. On another level, the film is also about the complex relationship between Nora and South Korea, between an individual in the diaspora and her native culture, which is perhaps another kind of love story. There is one version of "past lives" that refers to this possibility of reincarnation and destiny. And then there is another interpretation, where our past life is also the life "before," delineated by passages by water or immigration into a new life. It is the latter meaning that loomed over me as I watched this film, as a Vietnamese American, so the return of Hae-sung into Nora's life seemed to me like a return of first loves, in multiple senses, of a childhood crush, of a first language, of an earlier time, of another version of oneself.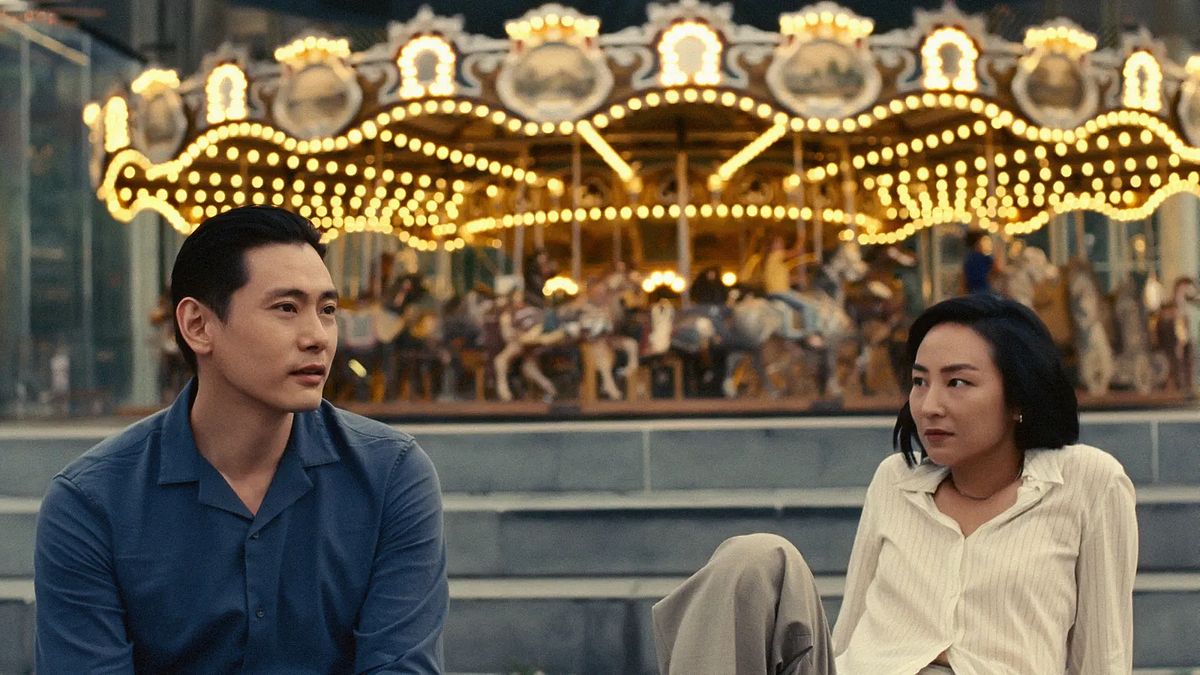 The reunion, an awkward first meeting in a park, aptly captures the multiple, inarticulable layers of in-yun — and of multiple timelines, of old and current selves — between the two characters. Director Celine Song captures the emotional depth of this scene and what it represents through a slow cinema style that lingers on the actors' faces and dwells in long moments of silence. When Nora and Hae-sung finally see each other, they approach slowly, smiling and awkward. The words (in Korean) do not come easily, and their movements are punctuated by reluctance, because how do you interact with someone you have not seen physically for more than two decades, who is essentially a stranger in a different form than when you last saw him? As the two catch up while visiting littoral sites in New York, Nora makes silent observations about how her friend, now an adult man, has turned out.
She divulges these observations to her husband, Arthur, in the evening, who is beginning to feel like he is the inevitable obstacle in this contemporary love story. This is another remarkable scene in the film, because as the two talk, they are in different spaces — Nora in front of a bathroom vanity, Arthur outside of the door frame — each complemented by a mirror that reflects another angle of their face. Nora frames the meeting within casualness and distance, describing how strange it is that meeting her friend again, as an adult, she finds everything about him to be "too Korean," from his views to his mannerisms. This description of being "too Korean" draws the line between who she is as a Korean of the diaspora and the Korean that is of Korea. The fact that she is surrounded by mirrors also tells us that this is a key moment of reckoning: this observation is less a comment on who Hae-sung is, but who she is not, no longer that 12-year-old girl with the same cultural references and experiences, but someone whose Korean identity has been diffused and transformed by and with North America. By virtue of calling Hae-sung too Korean, she is exposing an insecurity of her own identity in being "less Korean" than she ought to be, or at least, was.
This is a refrain that I am familiar with because calling someone or something "too Vietnamese" shifts the attention away from me, and the possibility of me being less than wholly Vietnamese. There's a loss I feel about this, but at the same time, it is not a loss that I would want to recuperate, because I would not be who I am now, and I would lead a much different life. In this scene, Arthur asks if Nora finds Hae-sung attractive and she responds that, up until now, he had always been this boy in her memory and a face on a screen. It's not so much attraction that she feels, but a longing, that she's missed him. "I've missed Seoul," she says. This line tells me this story is about more than Hae-sung and Nora, and missing Seoul is both missing the place, but also missing a certain time in one's past. Like Nora, when I say I miss Vietnam, I am also saying I miss my life when I lived here, and the little girl I was in that past life.
There are moments where the viewer might feel bad for Hae-sung, having traveled all this way just to meet a crush who is already married. But if you see his effort to reconnect with Nora as someone too attached, or as an inconsequential search for an old love, you'd be missing the point of the film. In fact, the framing of the story is not at all about Hae-sung or his point of view, but Nora's, evident in the slow, tender grazing of the camera over Hae-sung, like we are looking through Nora's eyes taking in this sight of an old memory.
What little closure we get comes when Nora tells Hae-sung in a second meeting on the following day, that she is no longer the little girl he knew, but that the little girl is also not completely gone either. This scene takes place at a busy New York City bar, where Arthur is present as well. Amidst the activities of the bar, of Nora's current life, Hae-sung comes to terms with what he's learned about his friend during this trip: "The reason you left is because you're you. The reason why I liked you is because you're you. And who you are is someone who leaves." Hae-sung lets go of whatever he imagined Nora to have been, and sees her in her present life. In this same scene, Nora is also coming to terms with who she was, and who she currently is. Leaving is an integral part of Nora's identity, just like how movement is integral to the progression of time.
As Hae-sung leaves in a car to the airport, Nora walks back to her apartment alone, and upon finding Arthur waiting for her, she collapses into his arms crying. It's a crucial moment of reprieve, because all throughout the film, there is little that reveals how Nora feels about leaving Hae-sung, and by extension South Korea. Getting to see each other just one more time, which is the reason Hae-sung gives for looking for Nora in the first place, allows both Hae-sung and Nora to come to terms with what their relationship means to who they are today. Hae-sung gets into the car after a vague "see you then," reminiscent of the last "bye" shared between them when they were twelve.
What Celine Song has done with this film is to imagine a longing for a distant place and past in the form of a childhood crush, a first love. But the film also looks to the future as well. The discomfort of feeling bereft is important and realistic, and closure, albeit not something we can always get, is perhaps something we can create or work toward. I think about my parents who were unable to get any immediate closure after their departure from an unrecognizable Vietnam. But as fate would have it, their daughter decided to return to Vietnam to teach indefinitely. In this new life I live, I am rewriting and adding to those already existing memories and narratives of Vietnam. For the Vietnamese abroad, it may take more than two decades to achieve any sense of closure, or even a second or third generation. The potential for this is captured in the last moments when Hae-sung says before he leaves, "What if this is a past life as well, and we are already something to each other in our next life? Who do you think we are then?" Indeed, what if there is a future — of alternative possibilities — already unfolding?