Anyone familiar with the Linh Lang–Kim Ma–Dao Tan area knows it's the closest one might get to visiting Japan in Hanoi.

Lovers of the country's cuisine rejoice in this neighborhood, dubbed by some the capital city's "Japantown" due to its close proximity to the embassy on Lieu Giai and the mass of Japanese restaurants from casual to high-end.
It was in their footsteps that I discovered Haron Ramen, a restaurant opened in 2014 by a Japanese husband-and-wife duo who doubles as proprietors and chefs. It is nestled in a tiny alley on already-humble Linh Lang and therefore may boast its status as a hidden gem. Be that as it may, you'd be lucky to find the place empty at lunch time on any given day.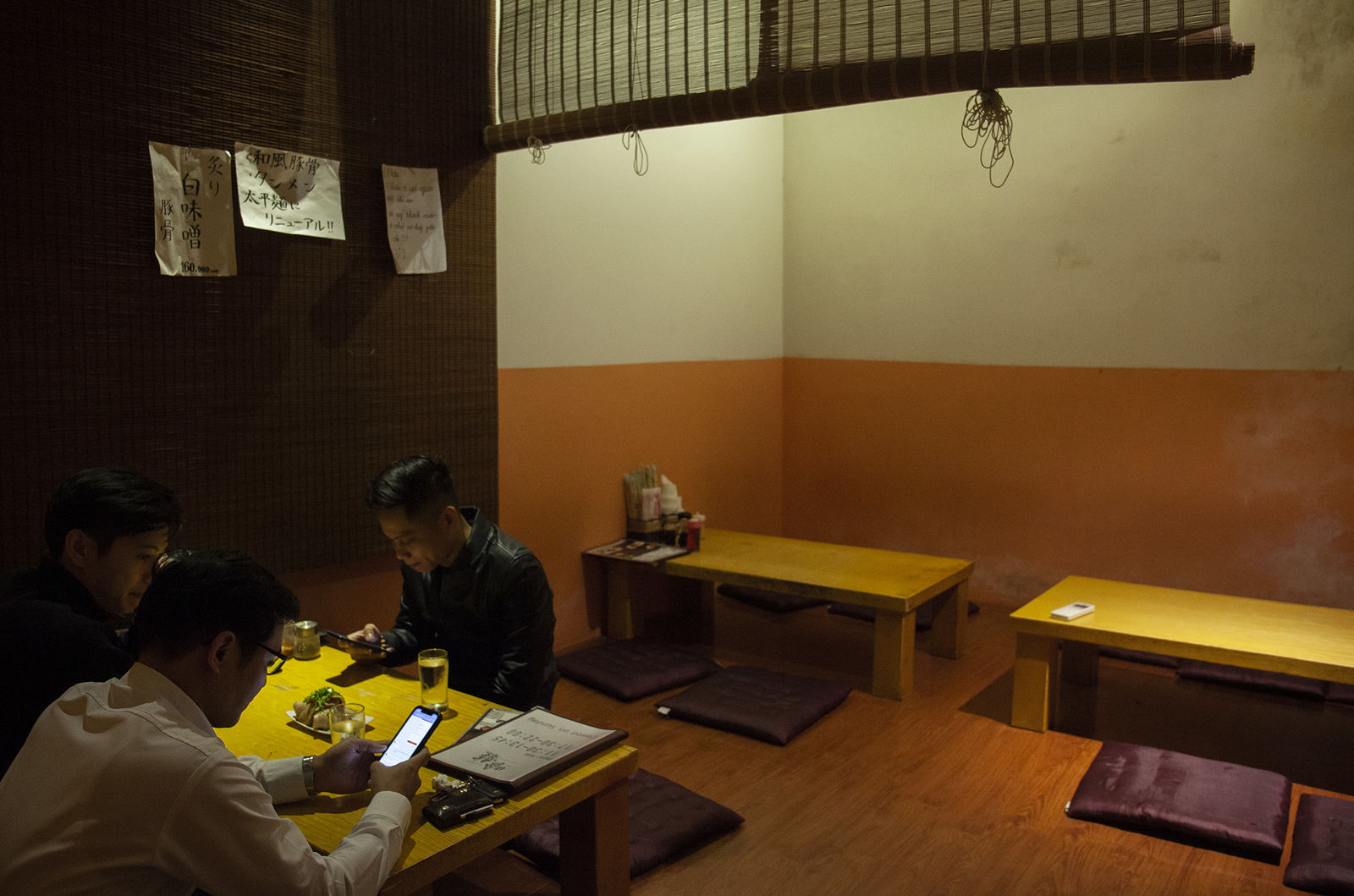 A stern server greeted me in true Japanese fashion and led me through a panel of noren doorway curtains to a table in the traditional zashiki floor seating area. There's another room on the right with more conventional sets of tables and chairs plus a few counter seats lined against the wall, which Japanese customers seemed to dig.
A quick glance around the first floor shows it is not very spacious, but few ramen places in Japan actually are. Ramen is meant to be eaten quickly — devoured — in all glorious slurpiness as a token of appreciation to the chef and also to keep its texture. It's a particularly popular choice for those craving a quick but fulfilling meal after a long working day.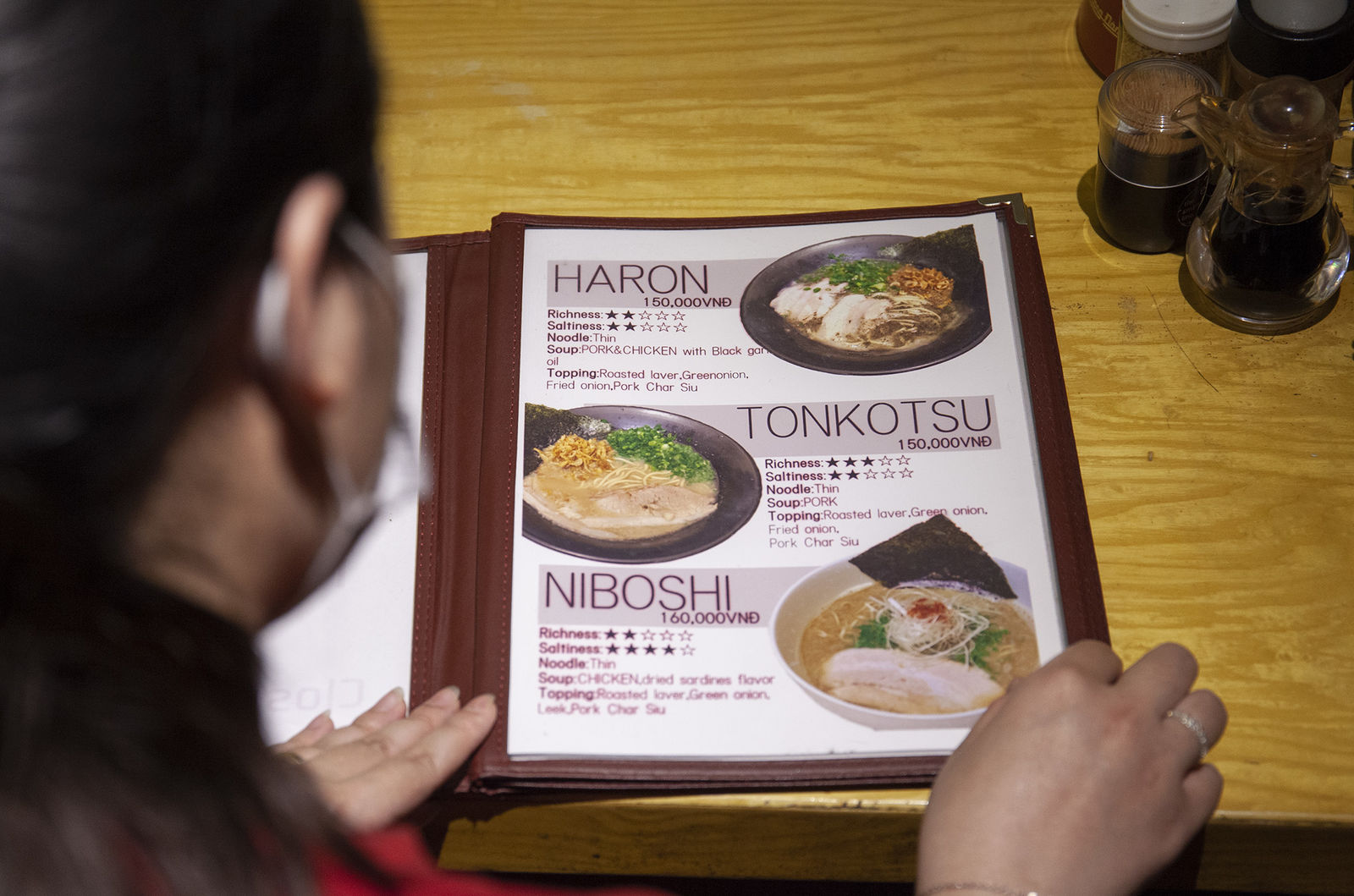 I made myself comfortable on a magenta tatami cushion and picked up the laminated menu. It featured an array of appetizers, such as edamame beans and jagabata (butter potatoes), but I knew I was here for the main attraction. Overwhelmed by the different types of ramen, I absentmindedly looked over to the table beside like a signal for help, to find a middle-aged Japanese gentleman having a bowl of tonkotsu. "When in a Japanese restaurant, do as the Japanese do," I thought to myself. This tonkotsu, or pork bone ramen, turned out to be one of Haron's classics and bestsellers, which they usually recommend to first-time diners with a heads-up that the saltiness can be toned down a notch if they prefer.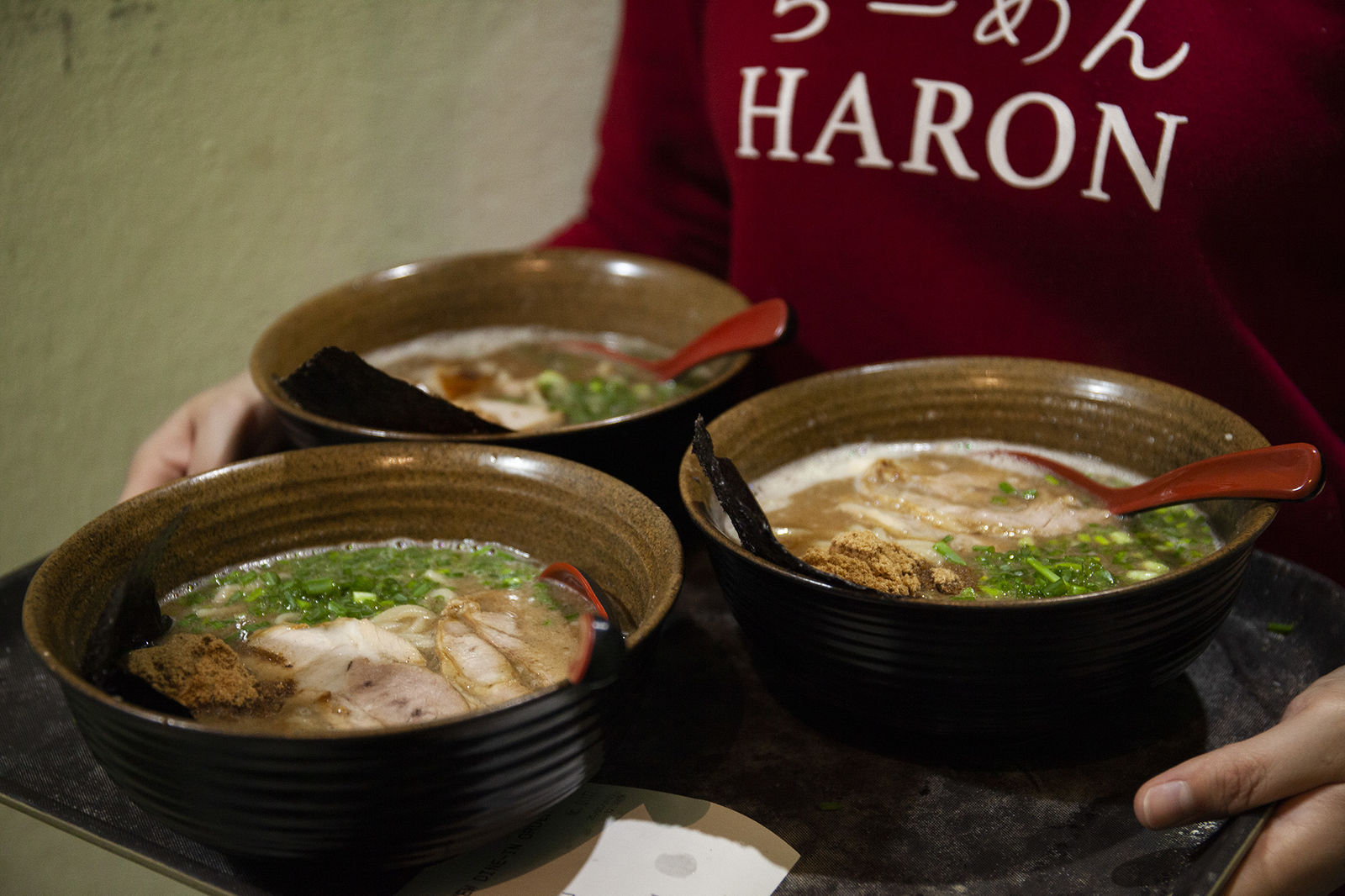 After about a 10-minute wait, my bowl couldn't have arrived sooner. It was a carbon-copy of the illustration on the menu, with the toppings laid out in harmony, much like a vibrant Japanese koi pond. I grabbed a brand-new pair of chopsticks with gusto and picked up a few strands of the golden noodles, followed by a spoonful of the cloudy broth. Hot!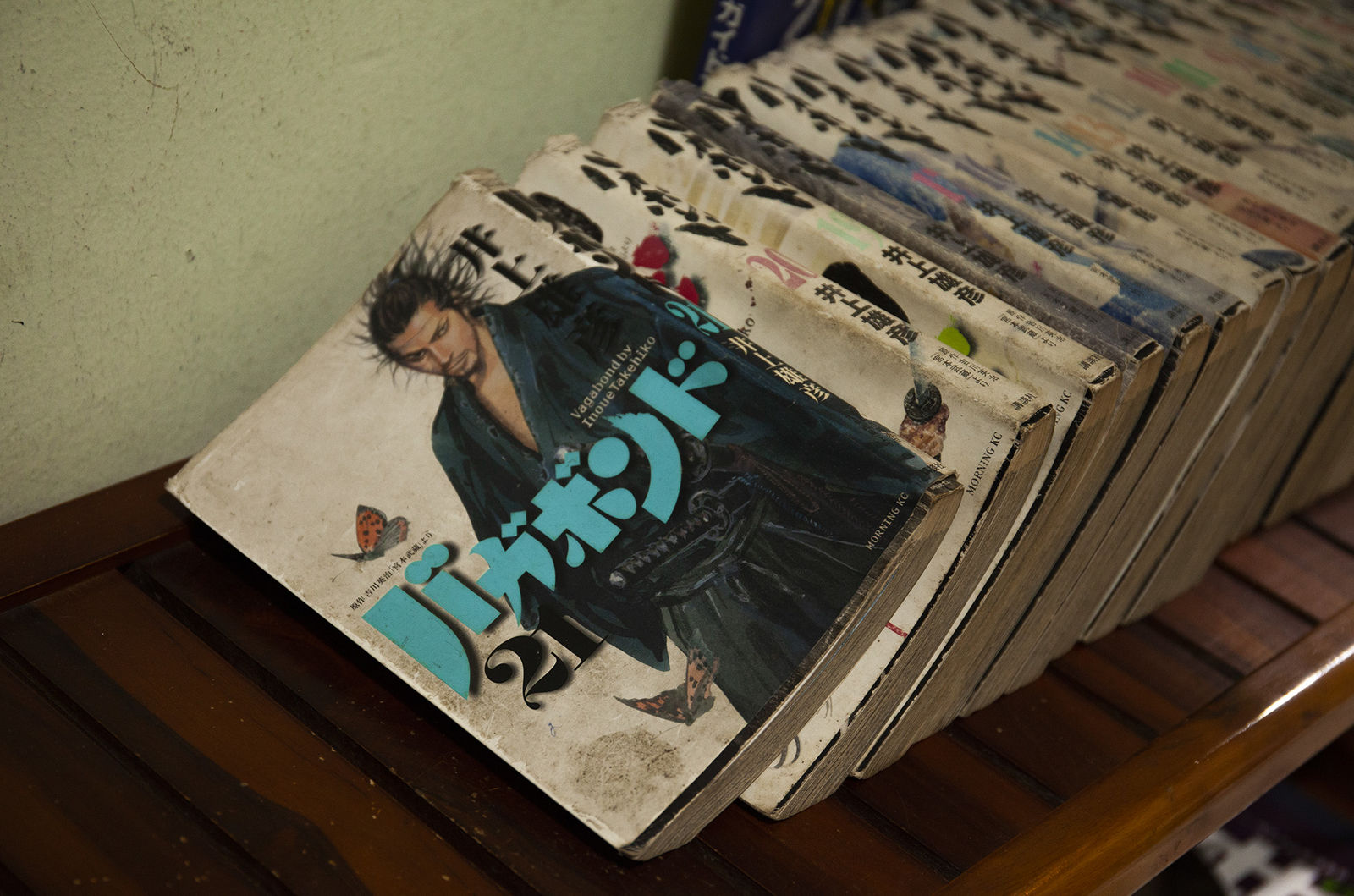 Now, I'm no ramen connoisseur, but this single first bite made my heart sing. It's got a sapidity more intense than any ramen I've had in my life did, be it in Toronto or New York. The opaque pork bone broth was hearty and milky from hours of simmering, and the fresh, slinky noodles absorbed all of those flavors effortlessly. The nori seaweed and chashu pork loin were both so thin and tender they melted in my mouth, yet a savory soy taste lingered. Aromatic bits of green and fried onions added beautiful touches to the broth. Each mouthful was oozing with umami.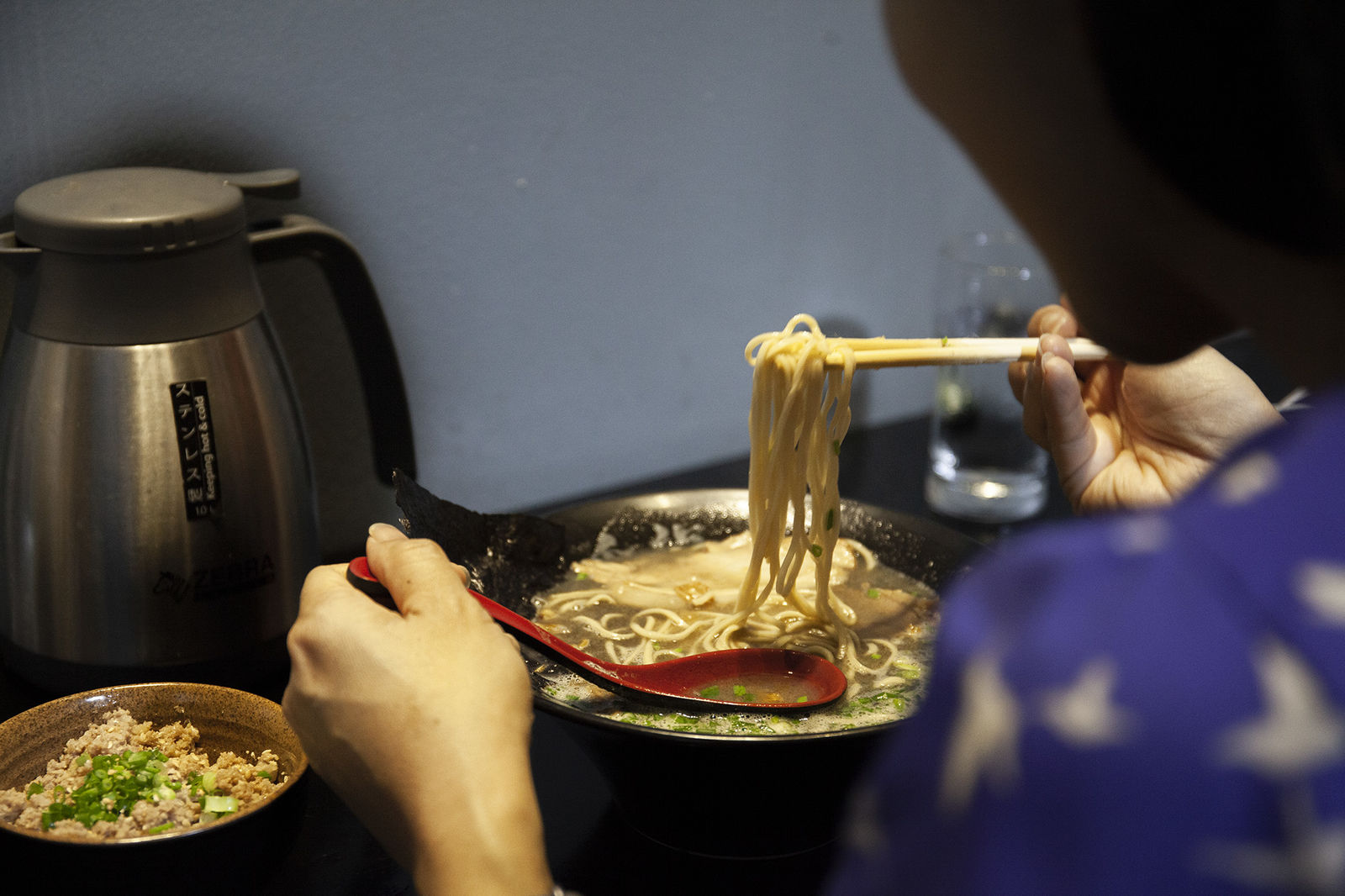 Haron offers a complimentary bowl of rice to soak up any leftover broth. Arigatou, but I was already satiated. At the price of VND150,000, I got myself an authentic Japanese culinary experience. It's no wonder why those that have been to Japan and tried a bowl of ramen over there keep coming back to Haron. While my full stomach could use a little more rest, I felt compelled to get up fast and give space to the line of eager patrons waiting outside. I wondered which ramen they were thinking of enjoying today. I wondered which ramen I'd order next time?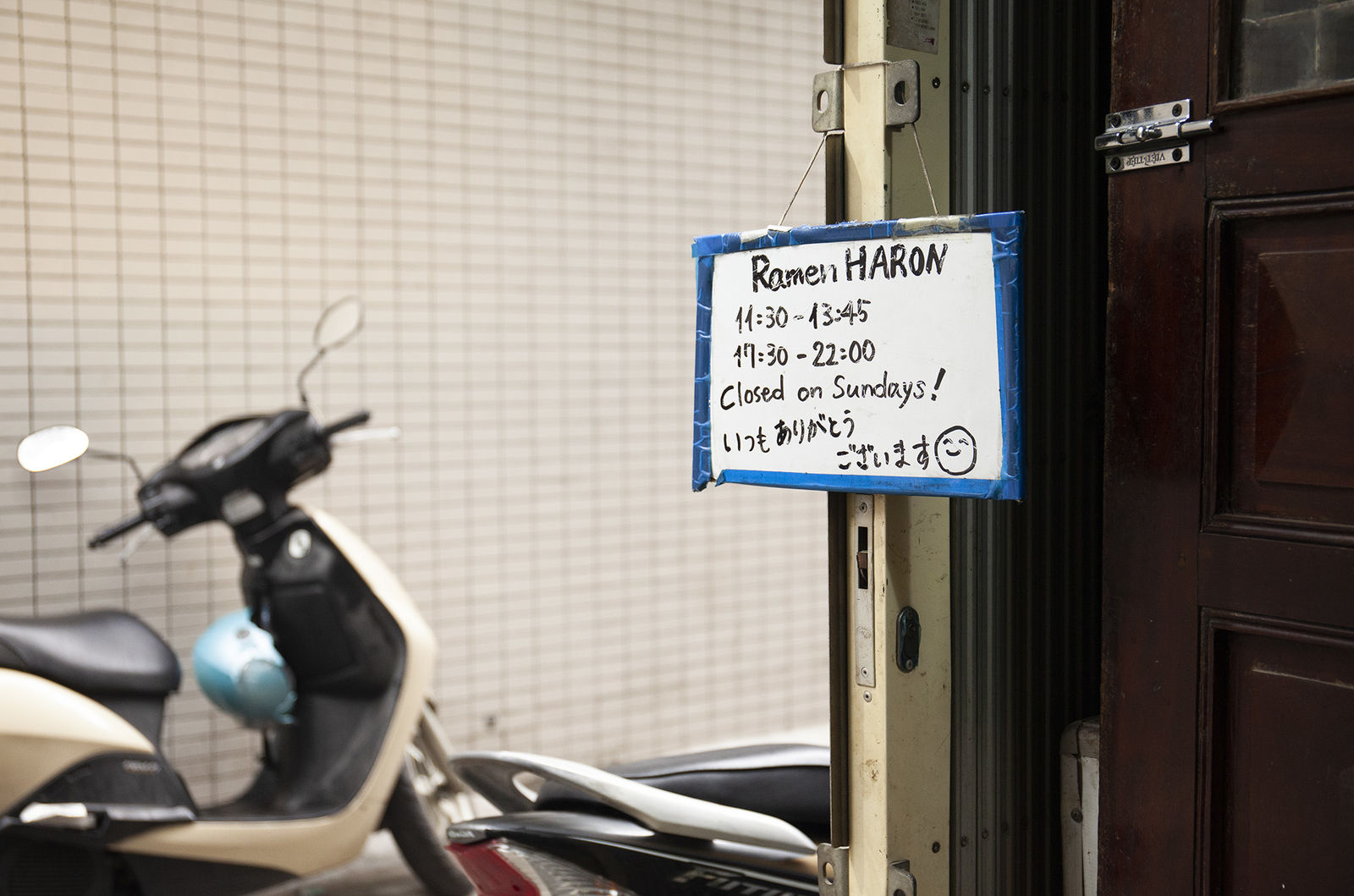 Find Ramen Haron at Lane 40 Linh Lang Street. They are open Monday to Saturday, from 11:30am to 13:45pm and from 17:30pm to 22pm.
To sum up:
Taste: 5/5
Price: 4/5
Atmosphere: 4/5
Friendliness: 3/5
Location: 4/5
Jennifer is perhaps shamefully the pickiest eater to have walked the face of the earth, but whatever her tummy can take, she indulges with pure unadulterated joy. One of them is bubble tea.
Japanese ramen
40 Linh Lang, Ba Dinh