Details

Published on Monday, 22 January 2018 15:28
Written by Saigoneer.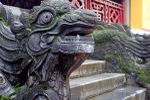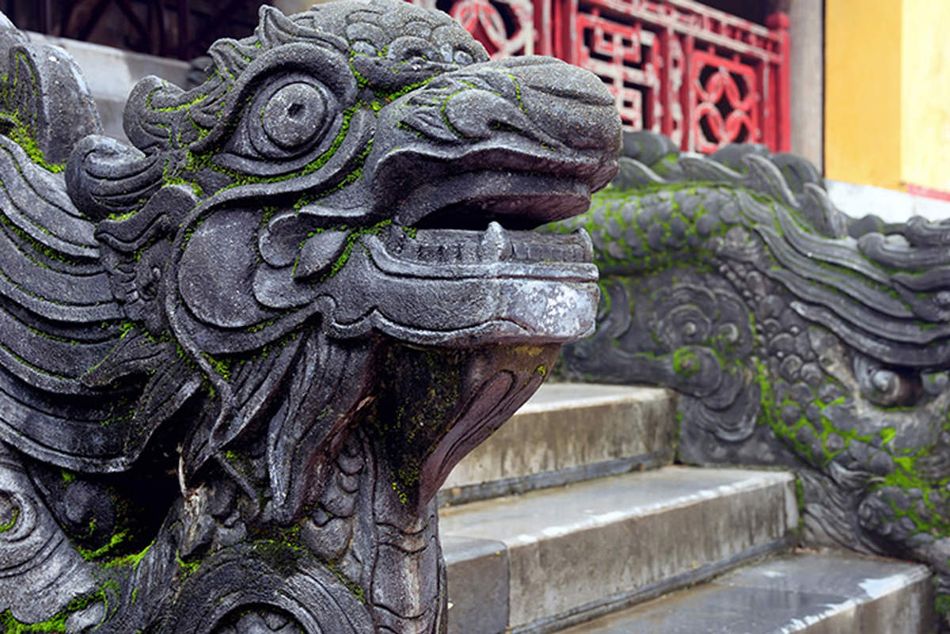 Local officials continue efforts to replace foreign depictions of lions with Vietnamese ones in front of temples, pagodas, parks and private buildings around the country.
Officials, researchers, local authorities and managers of ancient buildings met last month in Hanoi to evaluate the progress of an initiative that began three years ago. Back then, the Ministry of Culture, Sports and Tourism issued regulation No. 2662 which bans foreign-style symbols, sculptures and worship objects deemed unsuitable for Vietnamese culture, according to Vietnam News.
The lions and Nghê, a mythical creature with the head of a lion, a long tail and a dog-like body, date back to the 14th century and are considered important cultural relics that symbolize intelligence.
Cultural heritage researcher Tran Lam Bien claims to the news source that Vietnamese artists depict the animals as "happy, joyful, faithful, respectful and serious" compared to fierce Chinese versions. He adds: "it's obvious that Chinese lion models are not suitable for Vietnamese culture, especially in modern times."
"In the past 20 years, together with an open-door policy, many foreign-style symbols, products and animal sculptures have been widely spread throughout the country, distorting traditional spiritual images," said Vi Kien Thanh, head of the ministry's Fine Arts Department, reports Vietnam Net.
Dang Thi Bich Lien, deputy minister of Culture, Sports and Tourism, added: "There is one thing to clarify: we don't boycott all cultural factors with foreign elements because we are in the integration process. We just honor and preserve the fine values of the traditional culture."
Before hitting the streets, the agency compiled and distributed photos and illustrations of authentic Vietnamese lions to serve as guides for what should and should not be removed because, as Truong Minh Tien, deputy director of Hanoi's Department of Culture, Sports and Tourism, admitted: "Many of our staff have been not quite confident they can distinguish the foreign lions from Vietnamese ones."
When the regulation was first announced in 2014, there were plans to eventually fine individuals who did not comply, though there has been no update as to whether or not anyone has actually been ticketed. Dang told the newspaper that after three years people have been proactively removing them and she doesn't expect any new ones to be placed in sacred areas or office buildings, banks or private residences.
Within the first several months of the initiative beginning in Hanoi, 150 foreign-style stone lions - 27% of all of them in the capital - were removed. Key sites targeted elsewhere in the country were Bai Dinh Pagoda, the UNESCO-recognized World Heritage Site of Trang An, and temples to the emperors Dinh Tien Hoang and Le Dai Hanh.
While the plan has generally been received positively, there have been some challenges. Officials have had trouble finding suitable places to relocate the removed statues. Some 1,000 workers in the Non Nuoc Stone Carving Village who specialize in making foreign-style lions suffered a huge loss of business and were stuck with 4,500 statues that they could no longer sell within the country.
Sculptor Nguyen Van Vu, owner of the Lien Vu Sculpture Company, told The Nation that going forward he would produce more and more Vietnamese sacred animals. "As for the foreign-style lions that have already been made, we will use them to carve smaller objects in Vietnamese style or destroy the whole sculptures to recycle the stone powder," Vu added.
[Photo via Vietnam Visa]
---

Related articles:
---