As the Vietnamese National Assembly gears up to debate gay marriage next month, hundreds took to the streets of Hanoi yesterday to highlight the issue. Part of the "Toi Dong Y" (I agree) festival, the event was organized by a number of LGBT groups from across Vietnam.
Mock wedding ceremonies were performed in front of hundreds of rainbow flag-waving supporters, some of whom were lucky enough to catch the couples' bouquets.
Next month, the national assembly will debate on revisions to the 2000 Marriage and Family Law under which same-sex couples are fined between VND100,000-500,000 for getting married. If passed, these fines would be removed and the practice would no longer be banned.
Justice Minister Ha Hung Cuong along with Dr. Duong Dang Hue, head of the Civil and Economic Law Department, support the legislation with the goal to reduce discrimination against homosexual couples and to "show the government's acceptance of alternative lifestyles."
Dr. Dinh Xuan Thao, head of the Legislation Studies Institute, said, "After considering historical customs and habits and consulting foreign countries' similar laws related to marriage and family, we can say that Vietnam has made a remarkable move by neither banning nor recognizing same-sex marriage."
According to Thao, the new legislation will permit same-sex couples to cohabitate and share a household registration book, allowing for binding relations in terms of property, children, and related rights and obligations.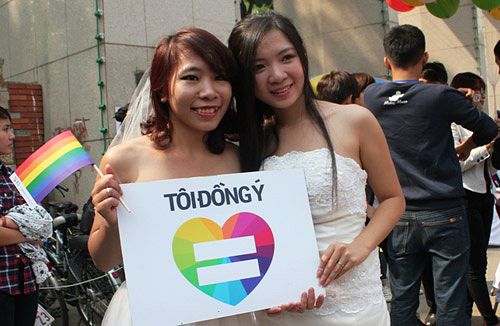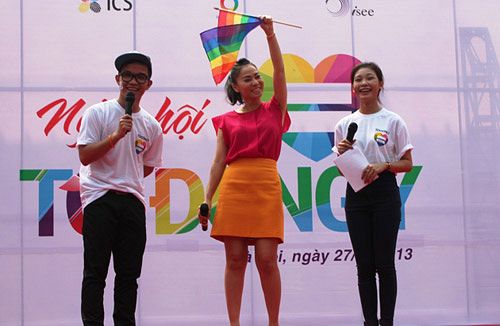 LGBT activists, such as Le Quang Binh, director of the Institute for Studies of Society, Economy and Environment (iSEE) – believe that it's only a matter of time before same-sex marriage is legalized in Vietnam, telling Voice of America:
"I believe in people and I think that when everybody speaks out, everyone has to listen whoever you are. So that's why we do it this way. We mobilize public opinion, LGBT, students, young people so when people speak their opinion, politicians will have to listen. And I believe that politicians are also human beings. They need time to understand."
There's still a long road ahead for legalization of same-sex marriage in Vietnam as the Hanoi People's Committee, the Vietnam Women's Union and several other agencies don't believe that the State should recognize the practice, "since it is against the nation's customs and habits, and since many other countries do not recognize it."
[Voice of America // Photos via Vietnam+]
---
Related Articles: