Southeast Asia is a study in the clash of tradition and innovation. Across the region, increasingly modern societies reconcile their traditional values with contemporary progress, and in some cases this uneven development makes for some happy surprises.
Yangon's traditional typists are one such example. In an age where you can watch TV on a phone and take pictures with a watch, these roadside writers for hire still earn a modest living in a country where nearly 70% of the population lacks access to electricity, reports The Irrawaddy.
Thanks to Myanmar's preference for typed forms over handwritten ones, typists young and old can make a career out of filling in marriage certificates and legal contracts, power of attorney forms and other paperwork. Not only does the profession continue to attract newcomers – 28-year-old Tin Zaw Htet earned his typing certificate a few years back and now runs his own typing business – Yangon's small collection of typists also keeps the city's typewriter technicians at work.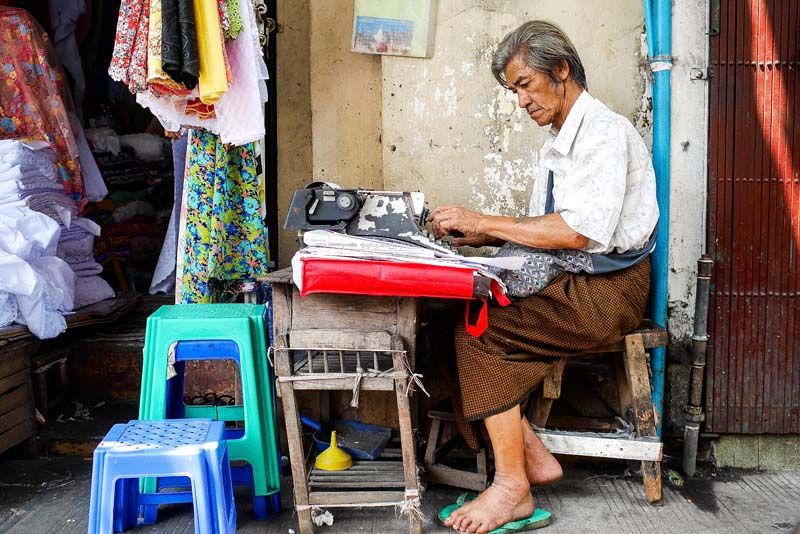 Fifty-year-old Win Htay, for instance, maintains Cold War-era writing machines for local typists and has kept these devices in such top-notch condition that you can still purchase a European-made 1960s typewriter in Yangon to the tune of about US$83.
"I have a close attachment to these typewriters," Htay told The Irrawaddy. "This is all I know how to do. I don't even know how to touch a computer."
As the country continues to change, repairmen like Htay may become obsolete one day soon, however the typists of Htet's generation are well-equipped to adapt to the changing times. Though he prefers the older machines, the young typist is also familiar with computers.
"[Typewriters] challenge us to be more efficient, to see our errors on paper, so we are more careful not to make mistakes," he told The Irrawaddy.
[Photo via Irrawaddy]
---

Related Articles:
---