In a city like Saigon, space comes at a premium. It's no wonder, then, that Vietnam – and many other Asian countries – have taken to building tube houses, the ultra-skinny residential buildings you often find in crowded urban centers.
---
Related Articles:
- Incredible House In Nha Be District Blends Local Architectural Styles And Modern Design
- [Photos] Inside Saigon's Abstract 2H House
- [Photos] Every Corner Of This D7 Home Was Designed For Relaxation And Meditation

---
Architects can get pretty creative with these long and narrow houses. But one challenge that still routinely plagues developers is finding a way to bring natural light and ventilation into a space that's usually hemmed in by buildings on either side.
The architects at Kien Truc O have managed to pull this off in their latest Saigon townhouse, reports Dezeen.
In order to compensate for the building's lack of natural light and ventilation, the local firm installed a D-shaped atrium at the center of the super-skinny house, creating an indoor garden overlooked by three bedrooms and a study. An open-plan living room, dining room and kitchen also provide the illusion of more space.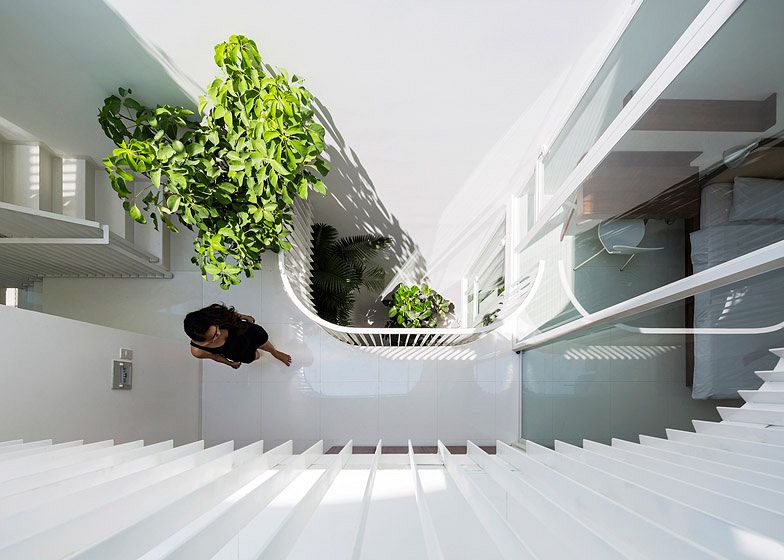 All told, the house covers 179 square meters across four floors, featuring internal terraces around its atrium as well as plenty of greenery. Each floor moves back from the street at increments, leaving room for balconies with additional greenery outside, while a curved glass wall separates the interior atrium garden from the rest of the house.
"The focal point of the house is the interplay between light and nature," according to the architects. "Airy and open, it provides uninterrupted views both inside out and outside in, but the residence still possesses a sense of [privacy] and [security] when needed."