You just have to mention the "pink church" and everyone knows which one you mean. But few are aware that the building in question — Tân Định Church — is one of Saigon's oldest and most important Roman Catholic institutions.
The history of Tân Định Church may be traced back to 1874, when a Catholic mission was set up here under Father Donatien Éveillard (1835–1883). It was Éveillard who supervised the construction of the first church, which cost 15,000 piastres (38,000 Francs) and was inaugurated in December 1876.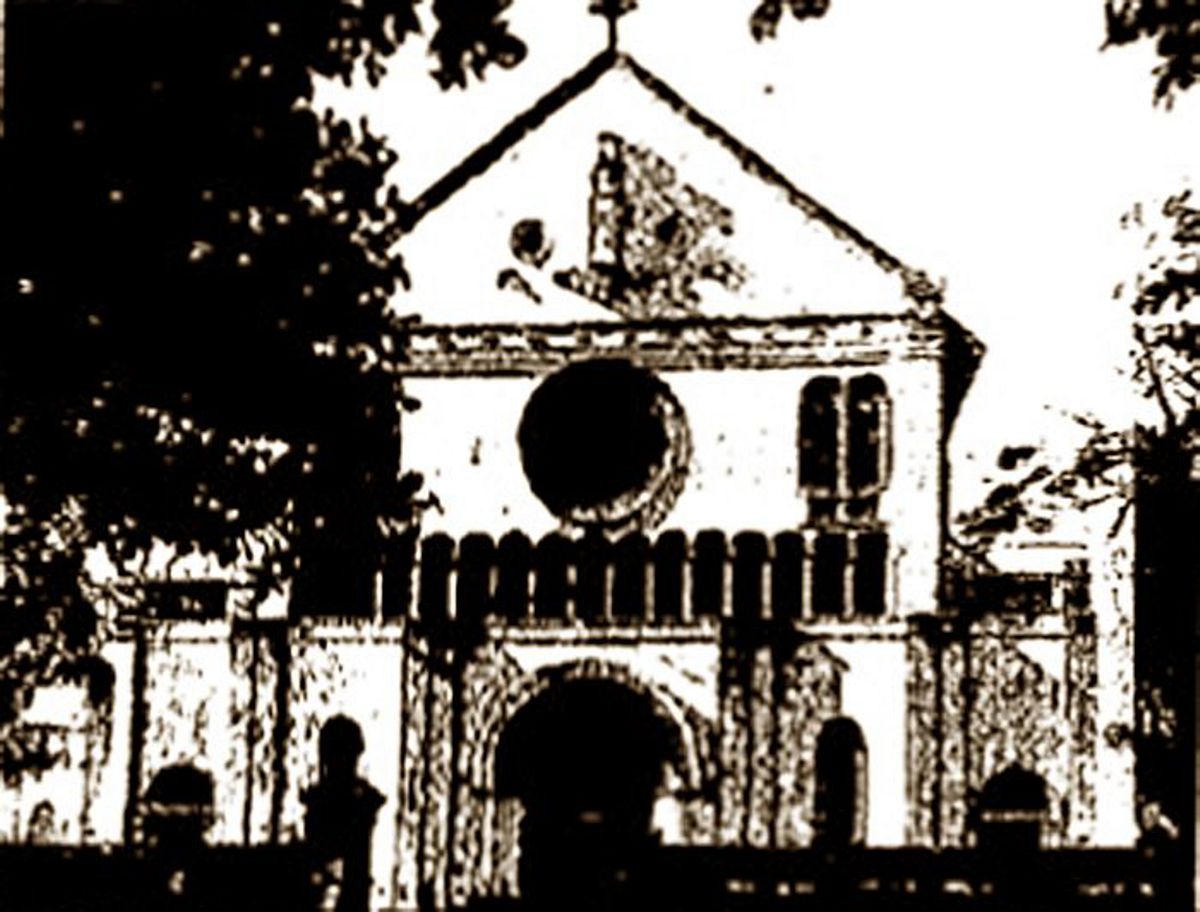 Éveillard also invited the Sisters of Saint-Paul de Chartres to set up an orphanage and boarding school next to the church. This Sainte Enfance de Tan-Dinh, or École de Tan-Dinh, opened in 1877 and by the early 1880s it had around 300 children.
Perhaps Éveillard's greatest achievement was the establishment at Tân Định of a religious publishing house known as the Imprimerie de la Mission, where he trained disadvantaged children from the Sainte Enfance de Tan-Dinh for the publishing trade.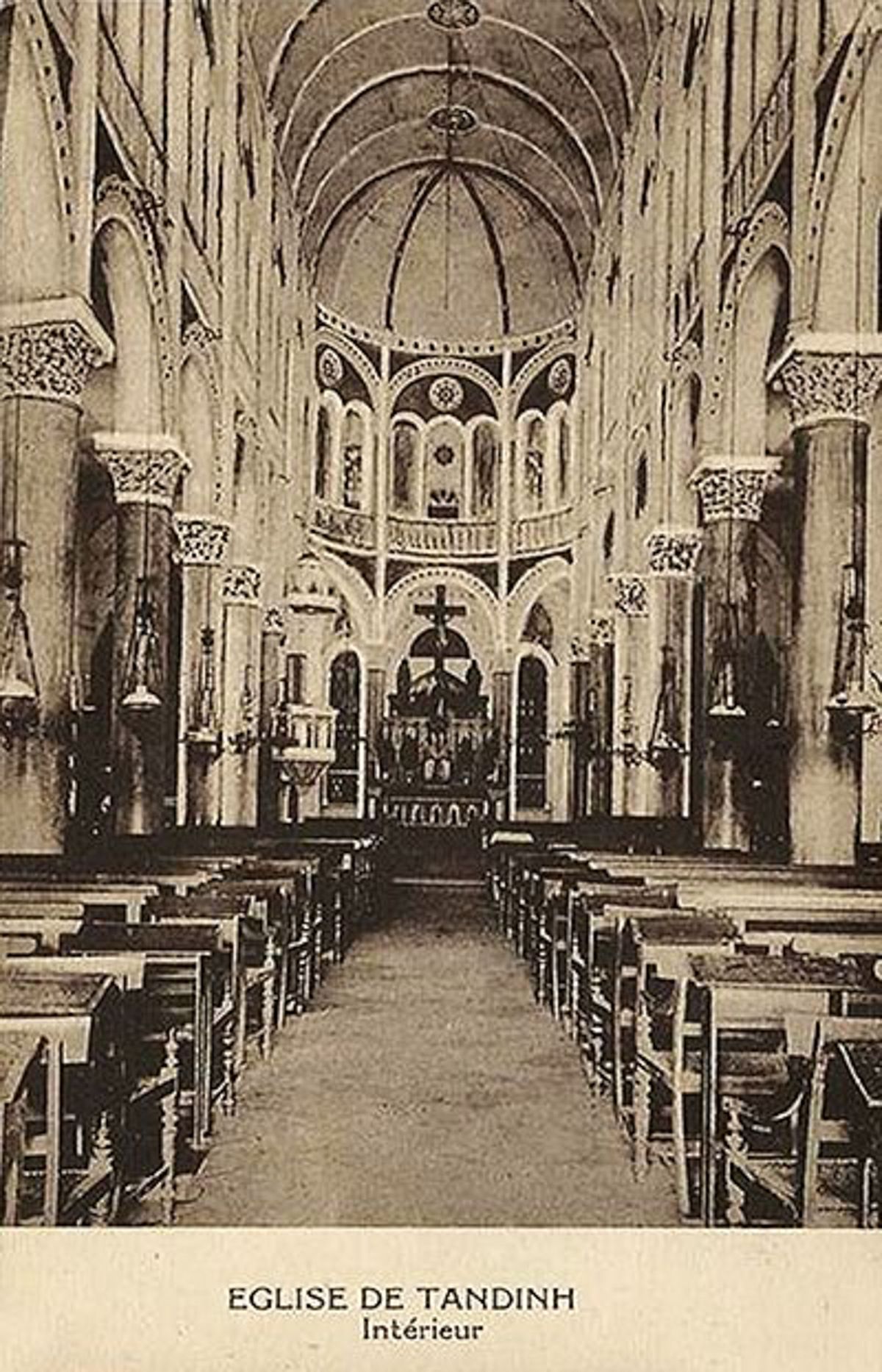 A much-loved figure in the local community, Éveillard died in 1883 and was buried beneath the nave of the church, where his tombstone may still be seen today.
By the early 1890s, the original church and school buildings were no longer fit for purpose, so Éveillard's successor, Father Louis-Eugène Louvet (1838–1900), organised a lottery to raise funds to rebuild them. Much of the present Tân Định Church dates from 1896–1898, when this reconstruction was carried out at a cost of 8,600 piastres (22,000 Francs).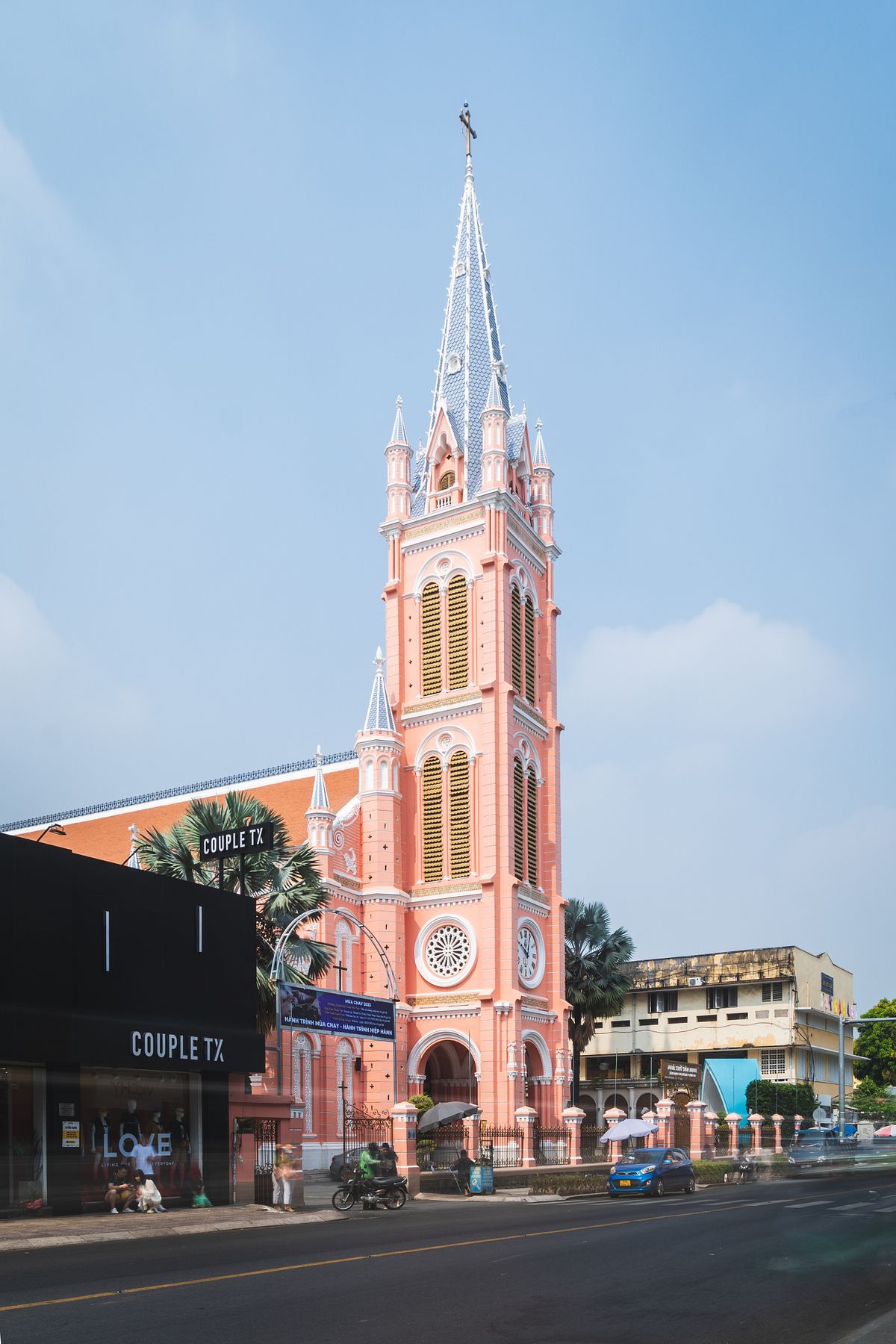 The adjacent school buildings were also rebuilt during this period and a new École des Sourds-Muets de Tan-Dinh (school for deaf and mute children) was opened within the Sainte Enfance de Tan-Dinh. By 1908, the Sainte Enfance had a staffing complement of four French and 10 Vietnamese nuns.
Designed in Romanesque style with Gothic and Renaissance elements, Tân Định Church comprises a nave with a tall barrel-vaulted roof (today hidden by a false ceiling), separated by arcades from side aisles and outer corridors. The design also incorporates a triforium or shallow-arched upper gallery and features two apsidal chapels which extrude from either side of the nave, close to the entrance. The one to your right as you enter the church is dedicated to Mary and Joseph, while the one to your left is dedicated to St. Theresa. The Saint statues and the 14 Stations of the Cross which currently adorn the outer side aisle pillars date from the 1890s.
It was Louvet who appointed a missionary named Jean-François-Marie Génibrel (1851–1914) to run the Imprimerie de la Mission. In subsequent years, alongside religious works, Génibrel published a remarkable series of scholarly publications, including the Manuel de conversation Annamite-Français (1893), the Vocabulaire Français-Annamite (1898), the Vocabulaire Annamite-Français (1906) and the ground-breaking Dictionnaire Annamite-Français (1898), which took Génibrel 14 years of painstaking research. Génibrel also started working on a Dictionnaire Français-Annamite but never completed it.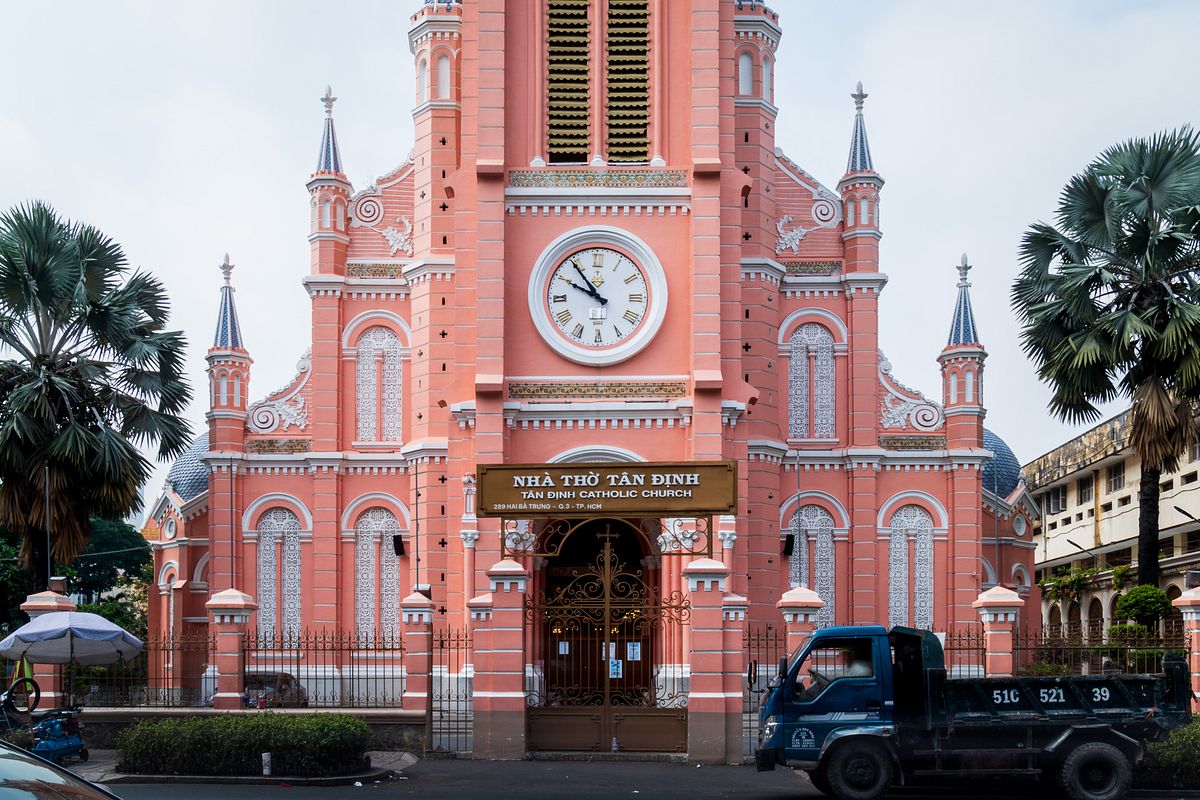 The publishing house at Tân Định Church continued in operation until 1951. By special request, several published works and some old printing tools from the Imprimerie de la Mission may still be viewed today in the St. Joseph's Seminary museum at 6 Tôn Đức Thắng.
Tân Định Church underwent further reconstruction in 1928–1929, commissioned by Father Jean-Baptiste Nguyễn Bá Tòng (1868–1949), who later famously became Indochina's first Vietnamese bishop, responsible for the diocese of Phát Diệm.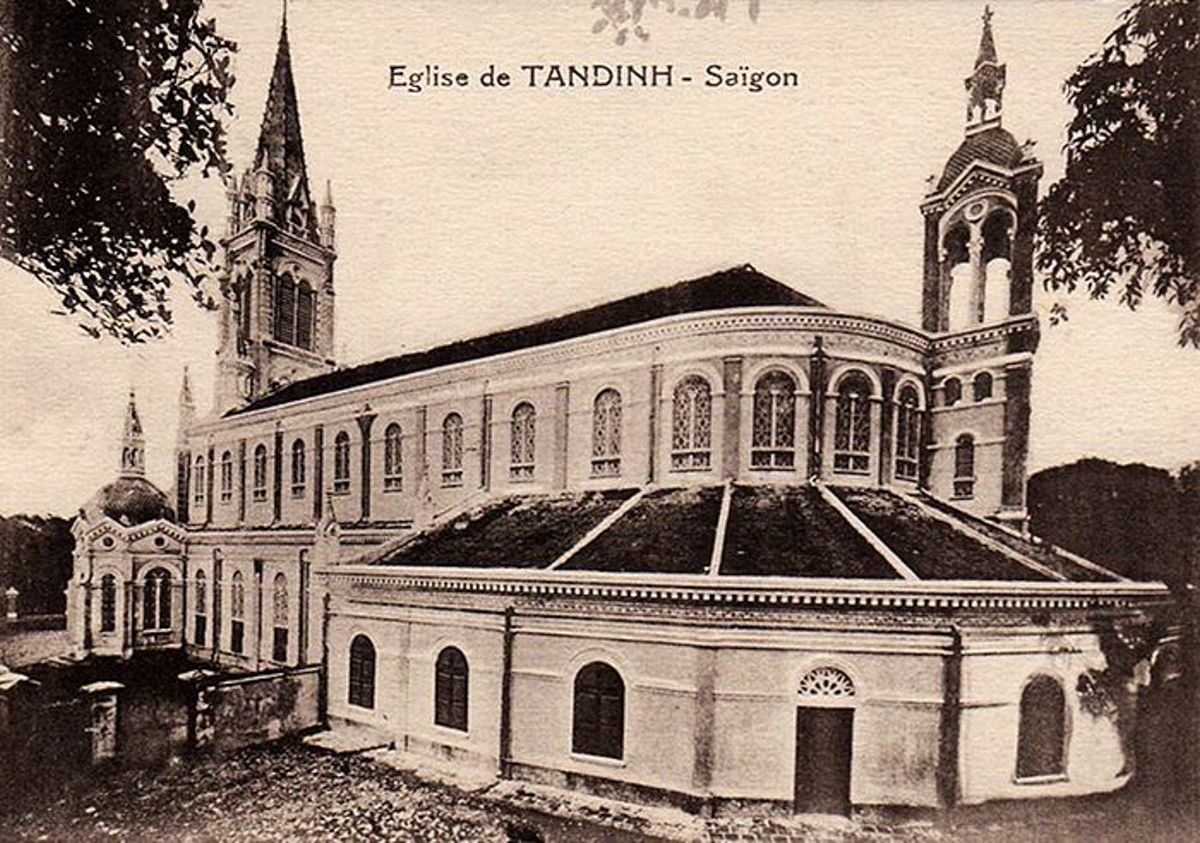 During this period, the 52.62-meter, six-bell octagonal tower and entrance vestibule was added to the front of the building and a false ceiling was created above the nave. A single-storey U-shaped rear extension was also installed at the rear of the nave, in order to provide new vestry space and to create large open seating wings on either side of the altar platform.
While the 1928–1929 reconstruction was under way, wealthy French parishioner François Haasz and his Vietnamese wife Anne Tống Thị Mực paid for the installation of the church's richly decorated Italian marble high altar and side altars, which today rank among the most outstanding decorative features of any church in Saigon.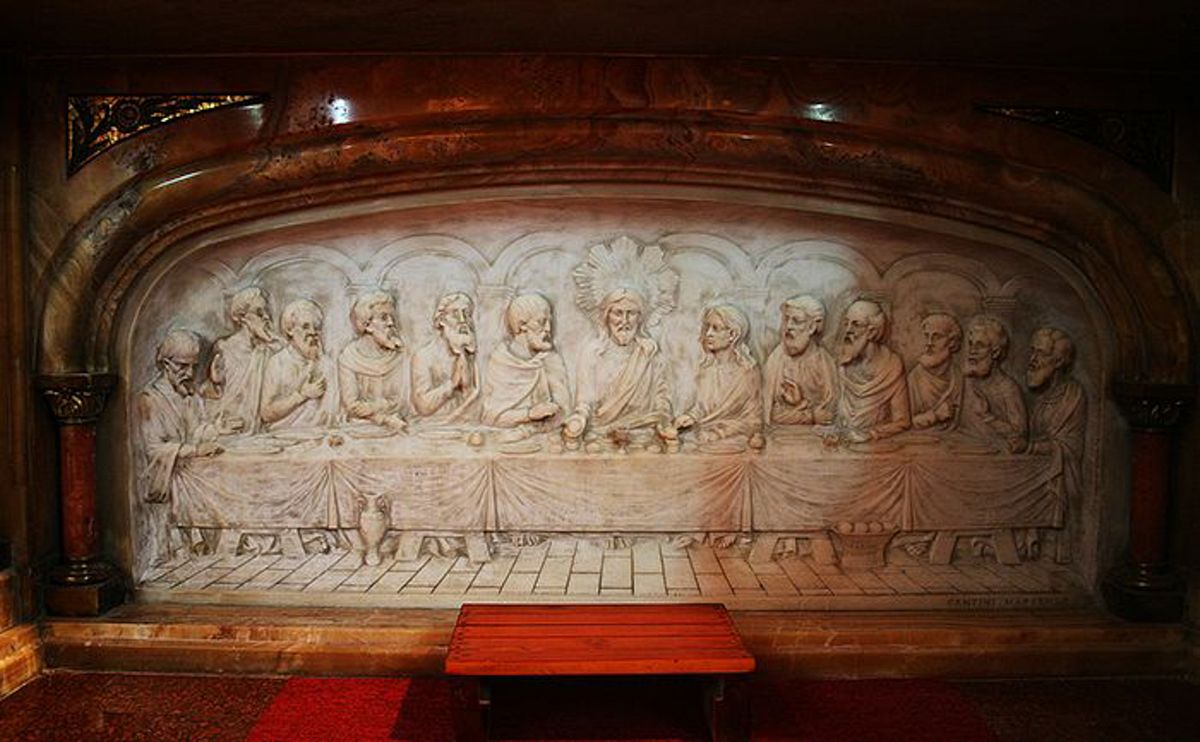 In 1949, the structural pillars in the nave were strengthened and, in 1957, the church was refurbished and repainted in the memorable pink colour (salmon pink on the outside, strawberries and cream on the inside!) which it has sported ever since. Since that time the church has undergone major refurbishment on several occasions.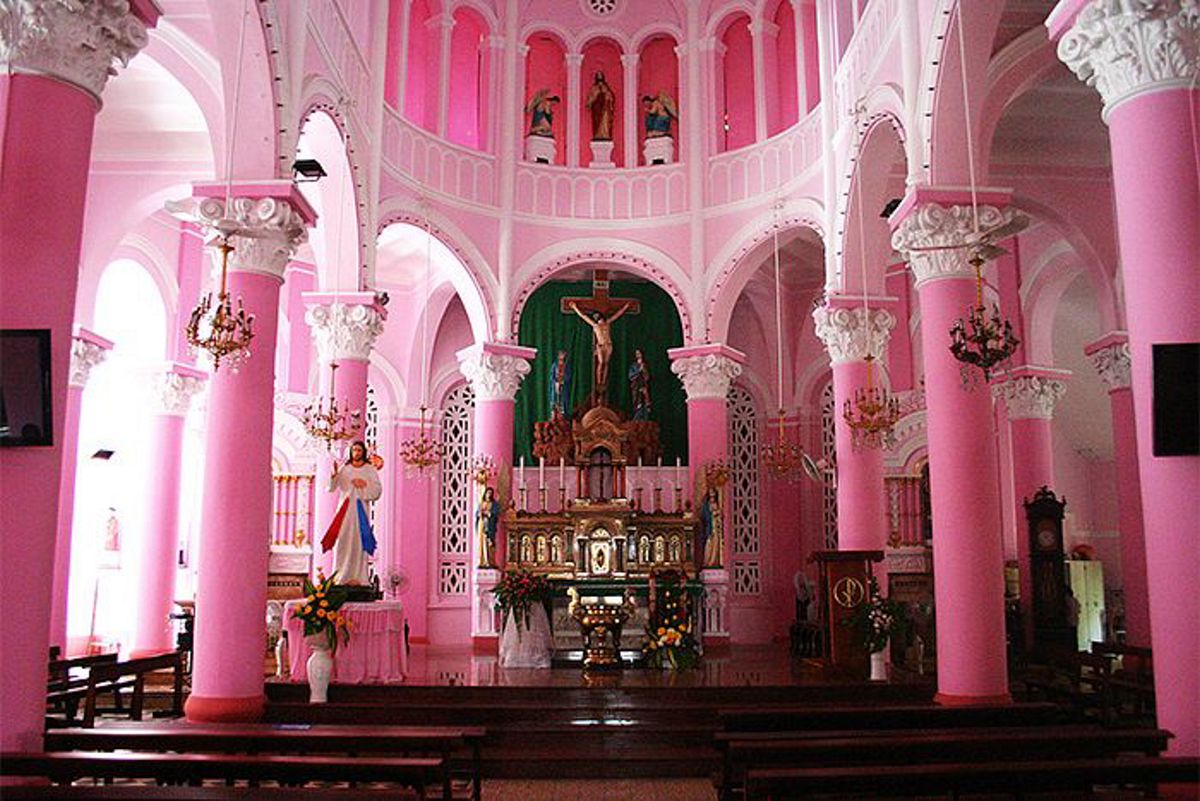 The former Sainte Enfance de Tan-Dinh, next to the church, is still partially used by the Sisters of Saint-Paul de Chartres, but most of the complex now houses the Hai Bà Trưng High School at 295 Hai Bà Trưng street.
Tân Định Church at 289 Hai Bà Trưng is open to visitors from 8am to 11am, and from 2pm to 4.30pm every day except Sunday.
Tim Doling is the author of the guidebooks Exploring Huế (Nhà Xuất Bản Thế Giới, Hà Nội, 2018), Exploring Saigon-Chợ Lớn (Nhà Xuất Bản Thế Giới, Hà Nội, 2019) and Exploring Quảng Nam (Nhà Xuất Bản Thế Giới, Hà Nội, 2020) and The Railways and Tramways of Việt Nam (White Lotus Press, 2012) For more information about Saigon history, visit his website, historicvietnam.com.