Widely regarded as one of the most beautiful churches in the city, the Église Huyện Sỹ in District 1 was constructed in 1902-1905 on the corner of Rue Frère Louis (now Nguyễn Trãi Street) and Rue Frère Guilleraut (now Tôn Thất Tùng Street).
The church was designed by Father Charles Boutier (1845-1927), an architect of considerable merit who had previously designed the Thủ Đức Church and redesigned the Sisters of Saint Paul de Chartres' École de Sainte-Enfance complex after its original wooden buildings had been damaged by termites.
The church was built through the benificence of Huyện Sỹ (1841-1900, real name Philippe Lê Phát Ðạt) who, according to the popular 19th-century saying – "Nhất Sỹ, nhì Phương, tam Xường, tứ Hỏa" ("First Sỹ, second Phương, third Xường and fourth Hỏa) – was once the richest man in the south.
Huyện Sỹ also funded the construction of the churches in Chí Hoà and Thủ Đức, while his son Denis Lê Phát An later built the extraordinary Byzantine church in Hạnh Thông Tây.
Born in Cầu Kho (Saigon) to a Catholic family from Tân An (Long An), Huyện Sỹ was sent to Pinang (Malaysia) to study for the priesthood, where he learned Latin, French, Chinese and quốc ngữ (Romanized Vietnamese).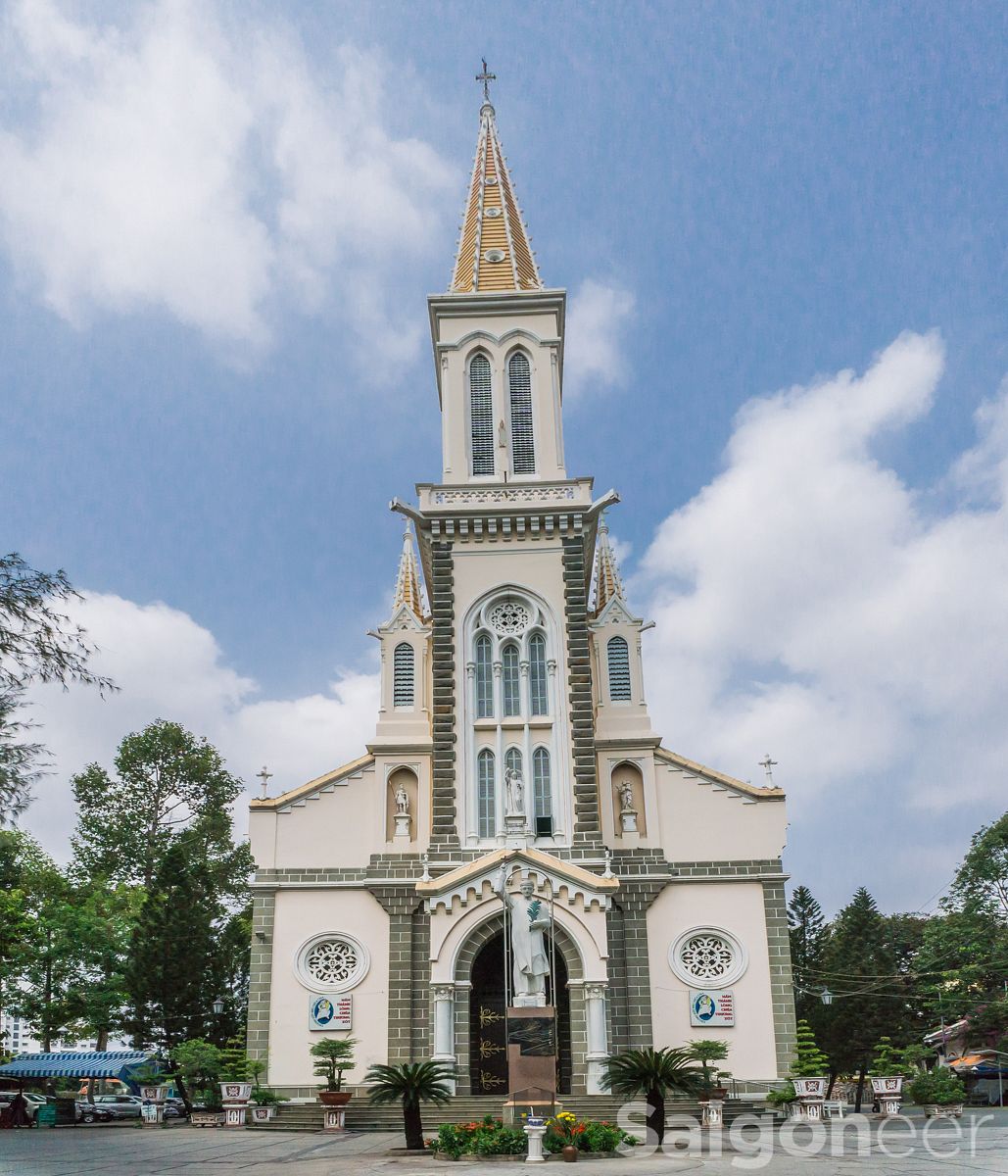 After his return to Saigon, the French authorities appointed him as a government interpreter, and in 1880 he received the rare honor of being made a member of the Cochinchina Colonial Council, in which capacity he was able to acquire the large tracts of land from which he made his fortune.
So spectacular was Huyện Sỹ's rise that his granddaughter, Marie-Thérèse Nguyễn Hữu Thị Lan, later became Queen Consort Nam Phương, first and primary wife of King Bảo Đại.
Together with his wife Huỳnh Thị Tài (1845-1920), Huyện Sỹ donated one-seventh of his family inheritance to build the church and also contributed the land on which it sits. Sometimes known as Nhà thờ Chợ Đũi (Đũi Market Church) because it was located in Chợ Đũi parish, Huyện Sỹ Church is dedicated to St. Philip the Apostle.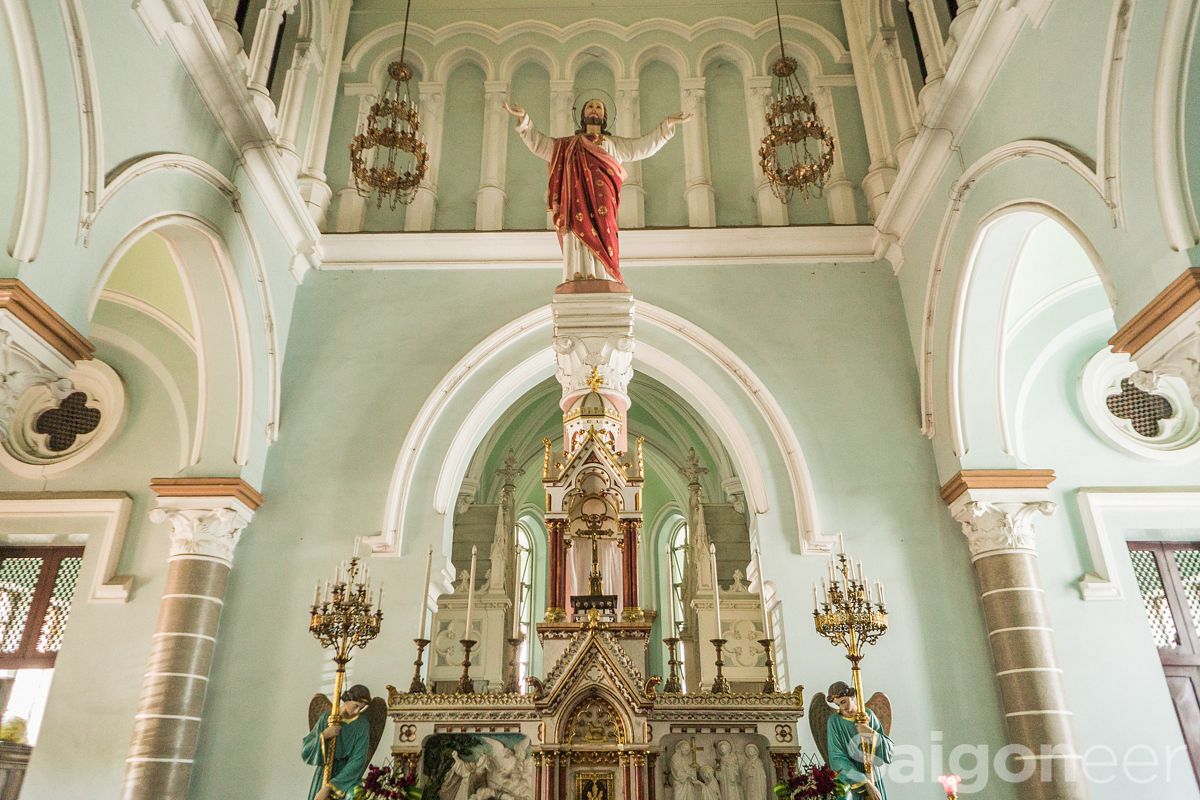 Immediately in front of the church stands a statue of St. Matthieu Lê Văn Gẫm (Lê Văn Bôi, 1813-1847), a Vietnamese priest and merchant from Biên Hòa province who was captured and beheaded in the Chợ Đũi area on the orders of the Nguyễn dynasty court for his Catholic missionary activities. He was beatified by Pope Leo XIII in 1900 and a festival of remembrance is held at the church every year on May 11, the date of his execution. The grounds also contain numerous other shrines, including a statue to St. Joseph and a Mountain of Our Lady, built in 1960. A Chapel of Rest has recently been added.
The church itself has been refurbished on numerous occasions, most recently in 2007-2009. It measures 40 meters long by 18 meters wide and was built from brick with pillars and decorative work in Biên Hòa granite. Above the front vestibule is a 57-meter bell tower. A statue of St. Philip stands at the main entrance.
The design of the church is Gothic with Romanesque decorative elements and comprises a vaulted nave flanked by vaulted aisles, decorated in pastel green and white. The windows are adorned with images of Bible stories in Italian stained glass. Along the walls are statues of Biblical and Vietnamese saints and the 14 Stations of the Cross. On either side of the transept are small chapels dedicated to the Virgin Mary and St. Joseph.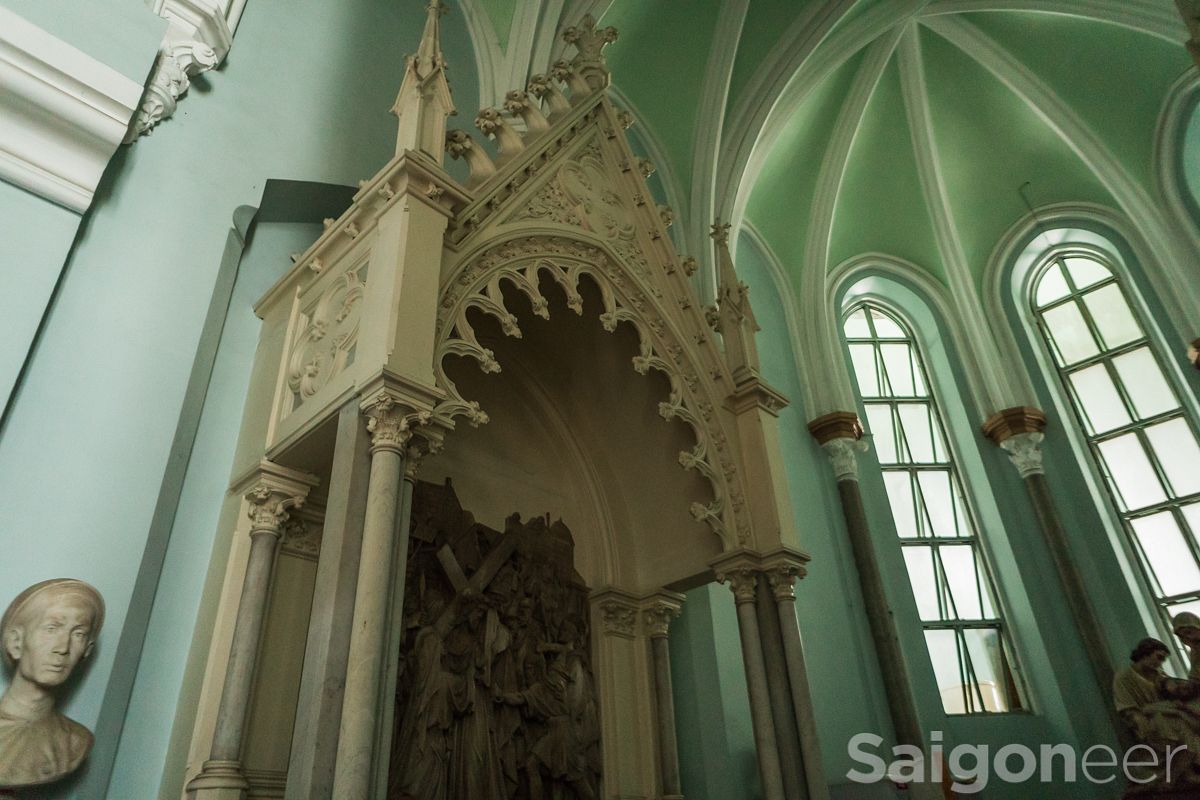 The chancel features a richly-decorated marble high altar, which stands on an open platform and features ornate gilding work and exquisitely-carved bas-reliefs of biblical scenes, including the Last Supper and Mary being visited by the Angel Gabriel.
Huyện Sỹ passed away in 1900 before the church was complete. When his wife Huỳnh Thị Tài died in 1920, he was reburied alongside his wife in the axial memorial chapel immediately behind the chancel. Elaborately carved from the finest marble, the tombs feature full-length effigies of the couple. Busts of Huyện Sỹ and Huỳnh Thị Tài are also installed on the walls.
The bell tower contains four bells which were cast in France in 1905. The donor of the two smaller bells (0.95 meters in diameter) is not known.
However, the two largest bells (1.05 meters in diameter) were presented to the church by one of Huyện Sỹ's sons, Jean Baptiste Lê Phát Thanh, and his wife Anna Đỗ Thị Thao. To honor their contribution to the Huyện Sỹ Church, their busts are also displayed in the Huyện Sỹ memorial chapel behind the chancel.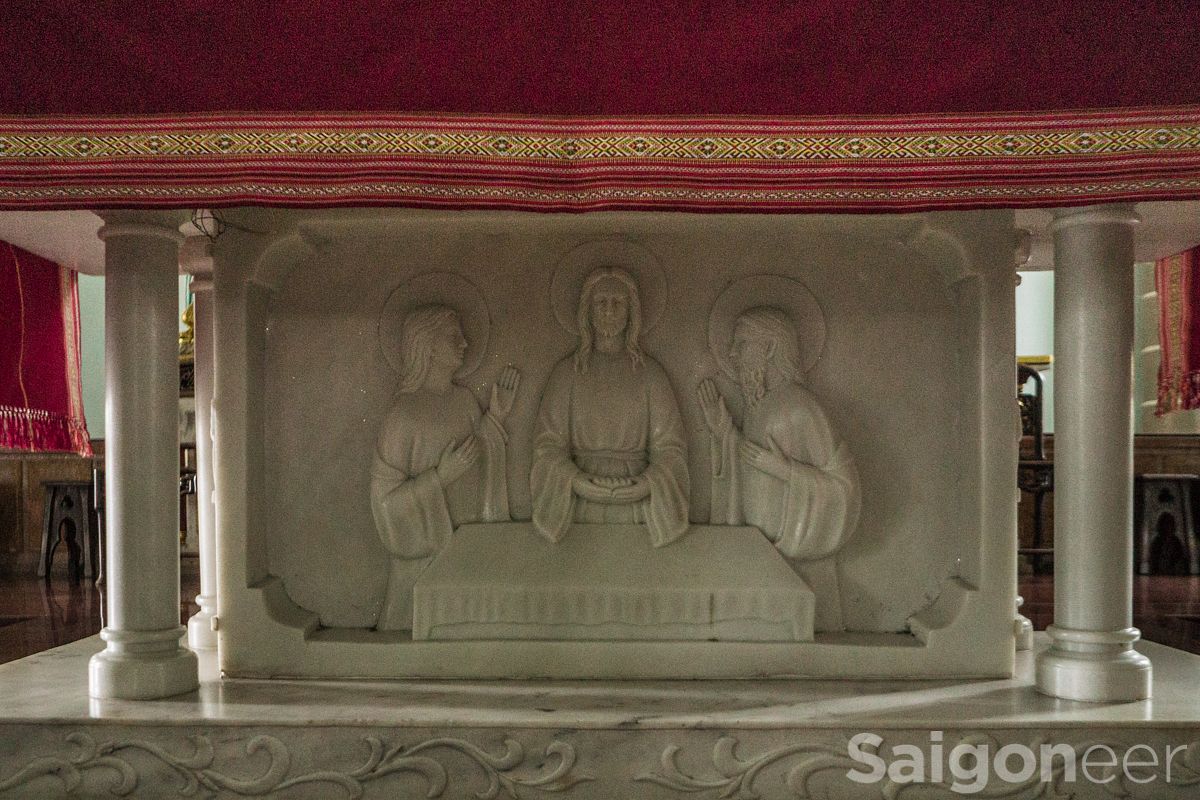 Tim Doling is the author of the walking tours book Exploring Hồ Chí Minh City (Nhà Xuất Bản Thế Giới, Hà Nội, 2014) and also conducts four-hour Heritage Tours of Historic Saigon and Cholon. For more information about Saigon history and Tim's tours visit his website, www.historicvietnam.com.
---

Related Articles:
---