Details

Published on Monday, 02 November 2015 11:00
Written by Saigoneer.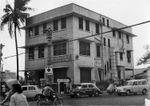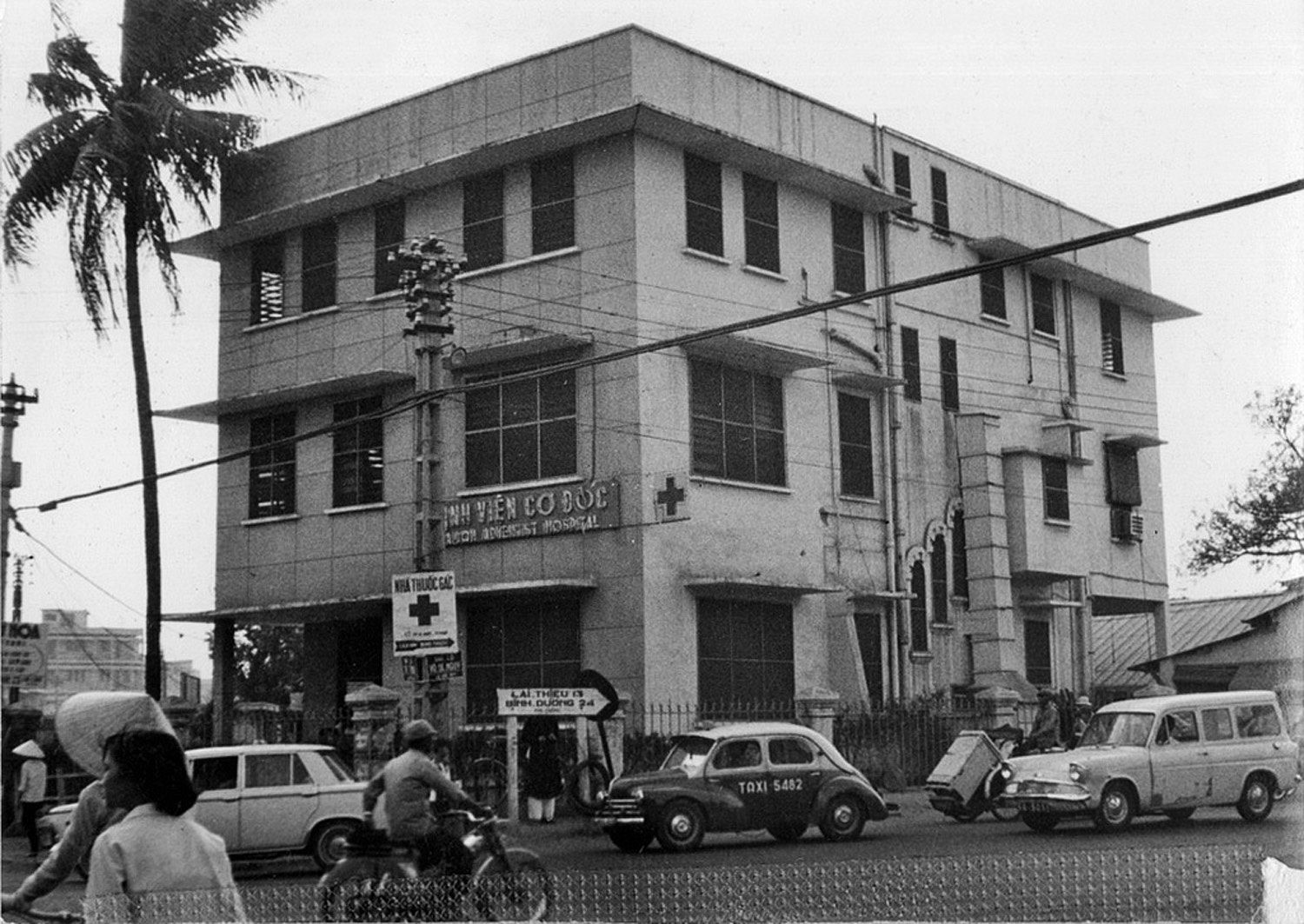 The Phú Nhuận Red Cross Association building at 2 Hoàng Văn Thụ originated in 1960-1961 as the Saigon Adventist Hospital.
It was American missionary Randall H Wentland who, in 1929, introduced the teachings of the Seventh-Day Adventist Church to Vietnam. By 1937, there were five Adventist churches in Cochinchina, plus a training school and publishing house at the organization's headquarters in Saigon's Phú Nhuận District.
In the late 1930s, a sea captain named Thomas Hael donated US$4,500 to launch a program of Seventh-Day Adventist medical work in Indochina. However, because of restrictions by the French administration, the money was used instead to develop medical programs in Siam (Thailand).
Plans to set up an Adventist medical program in Indochina were revived in 1949, following the establishment of Bảo Đại's transitional State of Vietnam administration. Three years later, permission was granted to open a public hospital in Saigon. With the help of a US$2,500 contribution from the Bangkok Adventist Hospital and donations from supporters in the United States and Vietnam, the church acquired the former villa of a departing French planter at 2 Rue Lacaut/Đường Chi Lăng (modern Hoàng Văn Thụ), right next to its Phú Nhuận headquarters, and converted it into a small hospital. This first Saigon Adventist Hospital opened on May 22, 1955.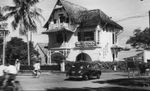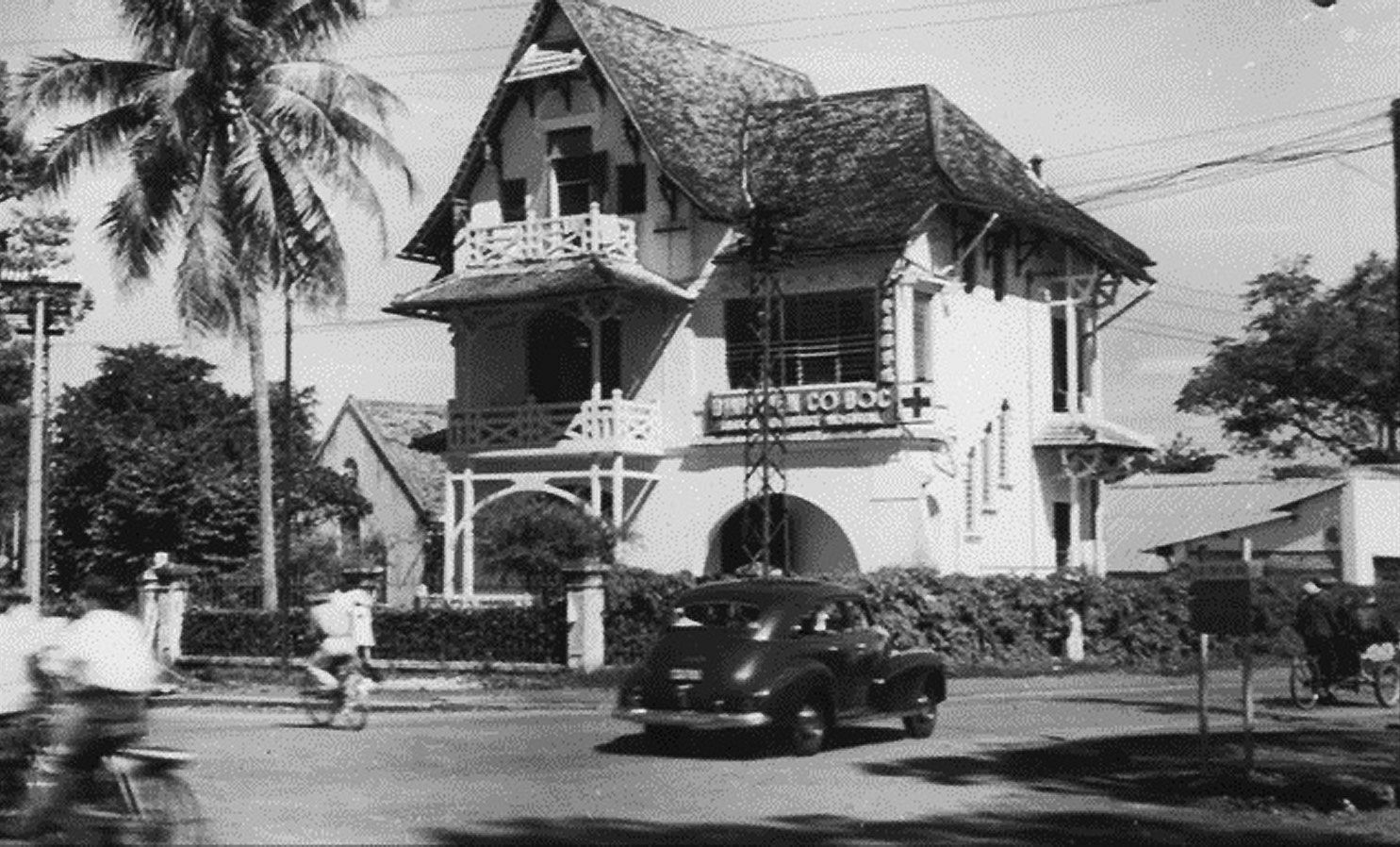 Popular from the outset with local people, the new hospital quickly became so over-subscribed that, in 1960-1961, it was decided to demolish the old French villa and replace it with the current building, conceived as a modern cottage hospital with 38 beds.
During its 12 years in Phú Nhuận, the Saigon Adventist Hospital struggled to keep pace with demand for its services. A 1969 newspaper article commented that it was always full, despite its less-than-ideal location right next to one of the city's busiest and noisiest junctions:
"Besides the fact that every room and hall is crowded to capacity, huge traffic jams during the rush hours make the noise deafening. The only 'fire escape' for the building is the lofty palm tree outside." Geyersville Press, California, September 25, 1969.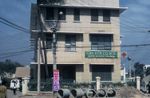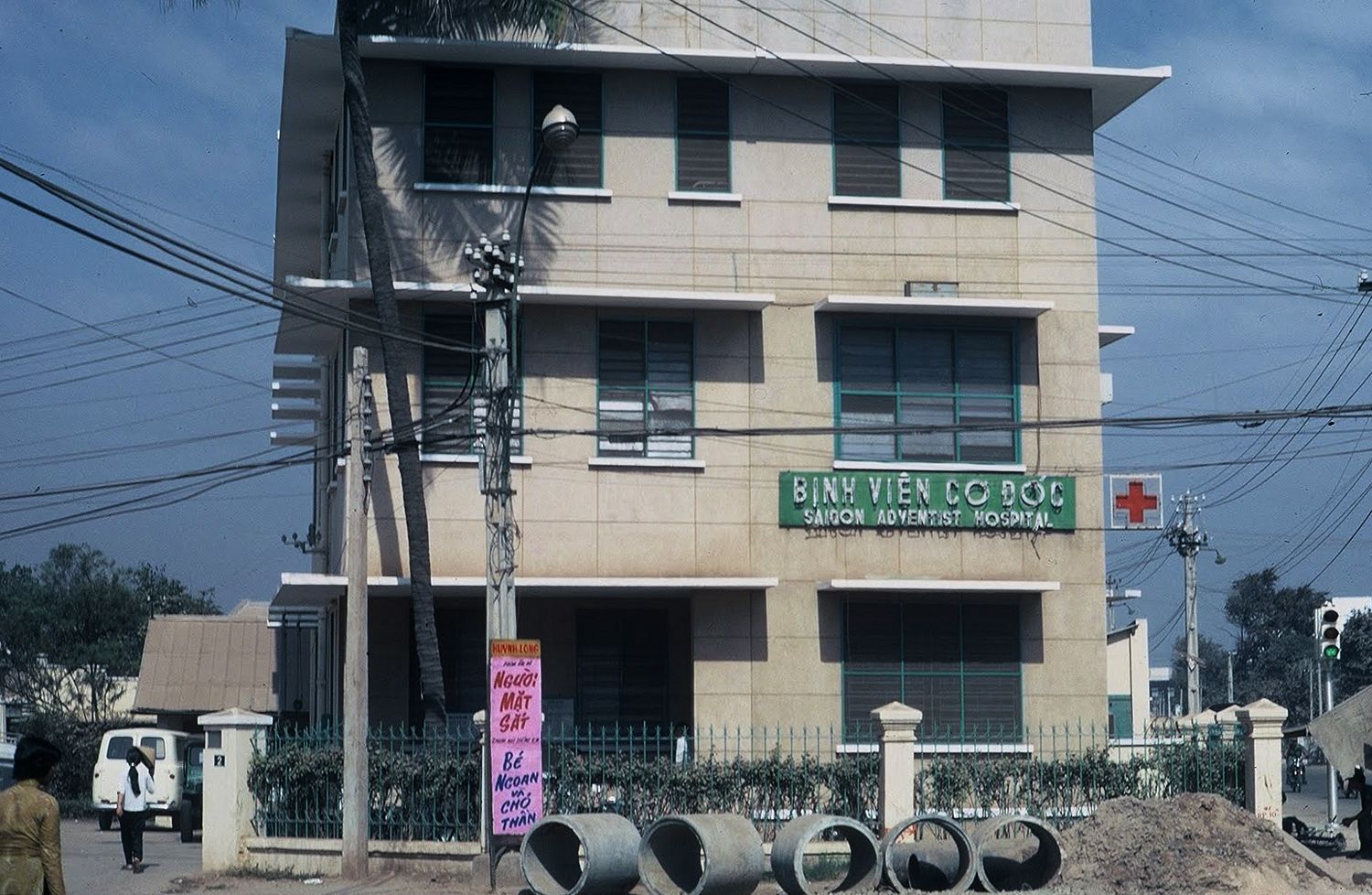 In the early 1970s, the Seventh-Day Adventist Church in Saigon drew up plans to build a larger hospital near Tân Sơn Nhất Airbase. Construction began early in 1973, but following the signing of the Paris Peace Accords in February of that year, the church was invited temporarily to take over the 325-bed US Army 3rd Field Hospital, also near Tân Sơn Nhất, which was then being vacated by departing American troops.
In March 1973, the Seventh-Day Adventist Church transferred its hospital from Phú Nhuận to Tân Sơn Nhất. Staff from the School of Medicine at the Loma Linda University (a Seventh-Day Adventist training institution based in southern California) were brought in to assist with the running of the new hospital, and in 1974 they are said to have performed the first open heart surgery in Vietnam.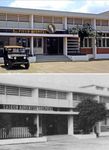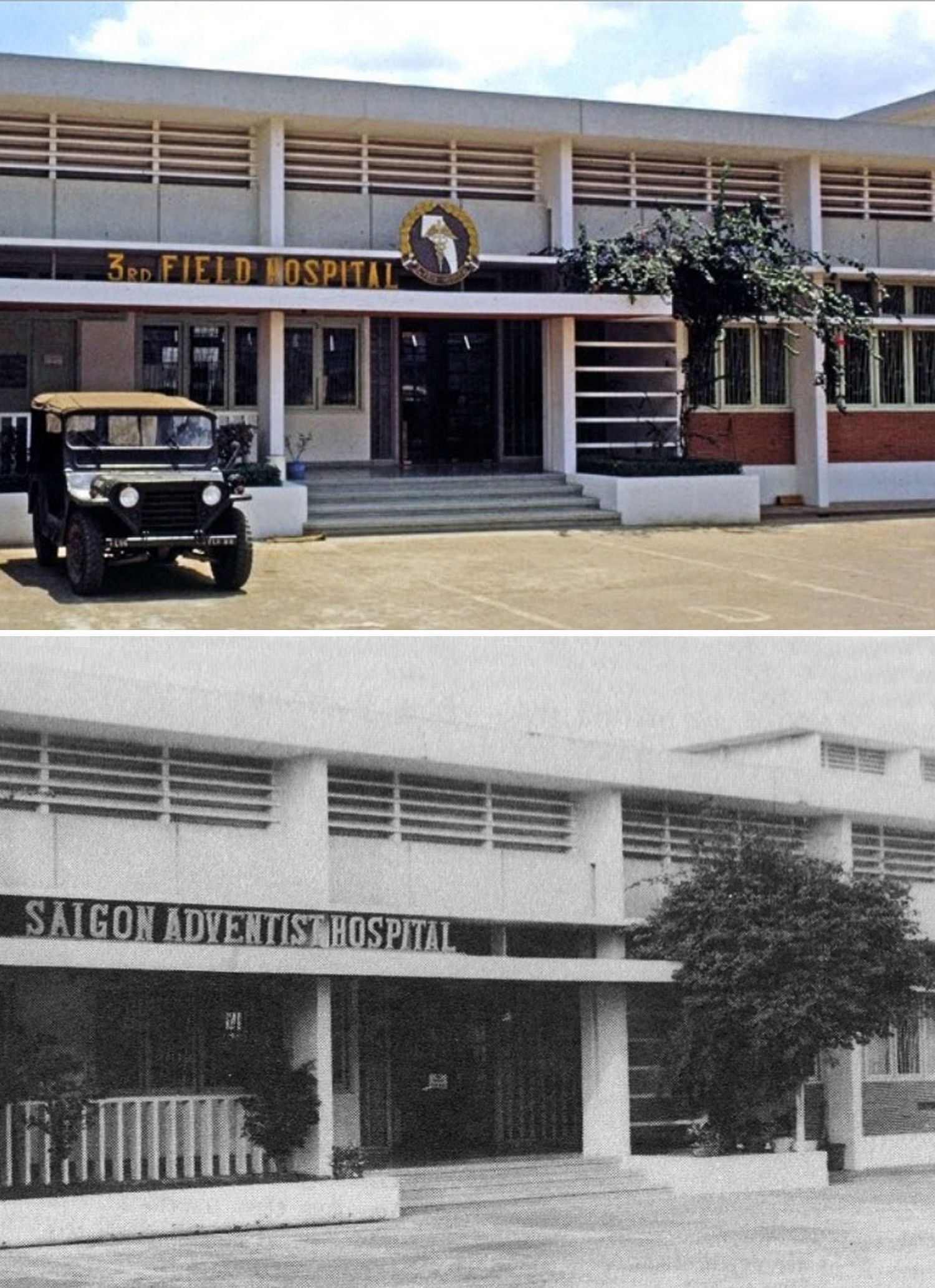 The move into the former US Army 3rd Field Hospital was only envisaged as a temporary one, pending completion of the new purpose-built Saigon Adventist Hospital. However, the latter was still unfinished when PLA tanks rolled into Saigon in April 1975.
After 1975, all Seventh-Day Adventist Church premises were taken over by the new government. The former US Army 3rd Field Hospital buildings at Tân Sơn Nhất were subsequently converted into the South East Region Armed Forces Museum (Military Zone 7 Museum), while the church's Phú Nhuận headquarters and the old hospital building were reallocated to various civil society organizations.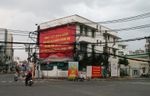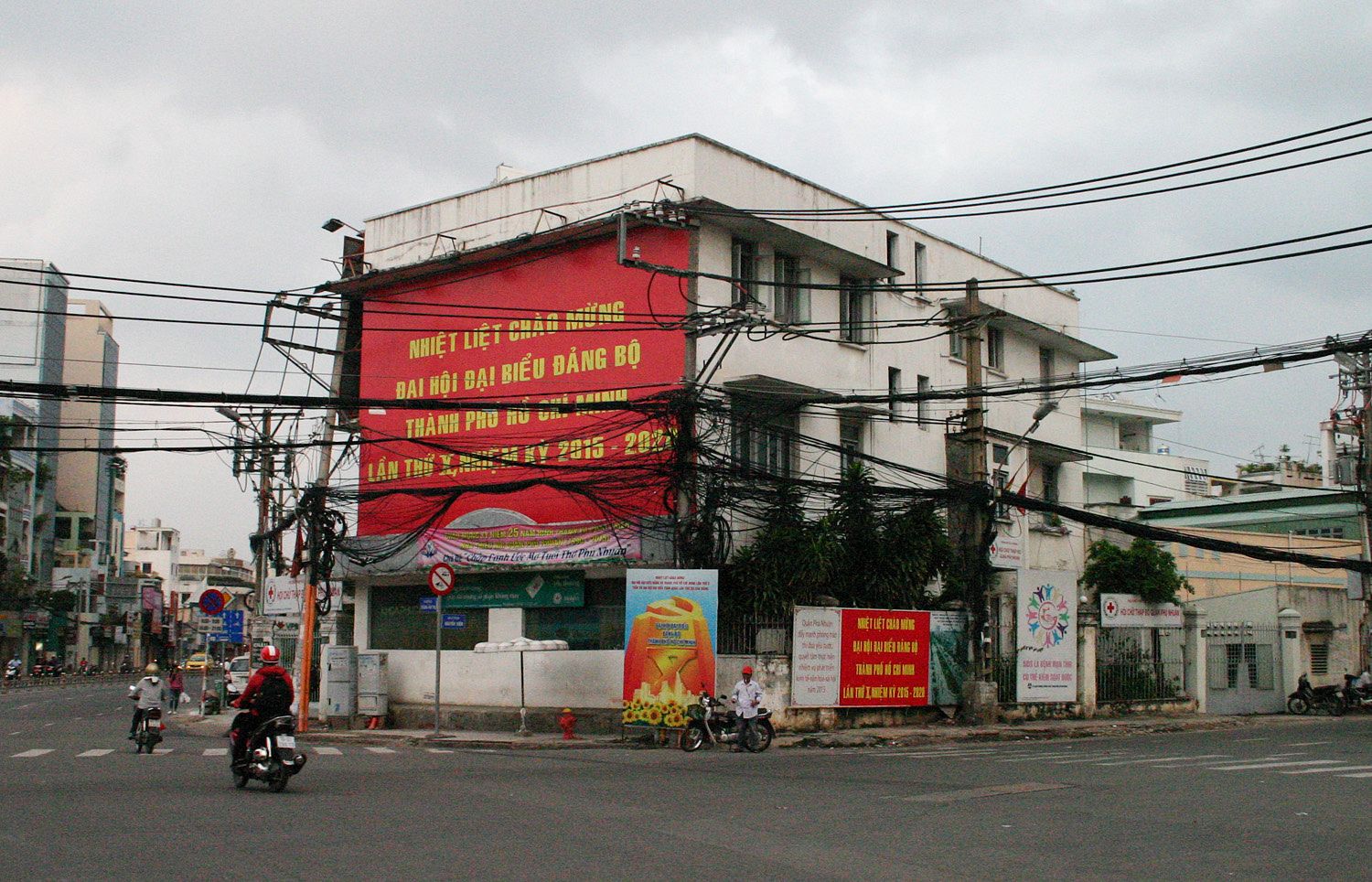 In 2008, the Vietnamese government granted permission for the Seventh-Day Adventist Church to resume operations in Vietnam and gave back its former Phú Nhuận headquarters. A new church building was subsequently constructed on the site.
As for the old Saigon Adventist Hospital building next door, vacated by the church in 1973, its present occupant is the Phú Nhuận Red Cross Association (Hội Chữ Thập Đỏ Quận Phú Nhuận).

Tim Doling is the author of the walking tours book Exploring Hồ Chí Minh City (Nhà Xuất Bản Thế Giới, Hà Nội, 2014) and also conducts 4-hour Heritage Tours of Historic Saigon and Cholon. For more information about Saigon history and Tim's tours visit his website, www.historicvietnam.com.
---

Related Articles:
---