Vietnam has a deep-rooted tradition of võ thuật, or martial arts. Both throughout history and in popular culture, the image of a wise, mild-mannered martial artist stands as the epitome of respect, power and self-control.
Growing up, Vietnamese kids look to martial artists as role models. Comic book heroes and TV characters, trained in hand-to-hand combat, defeat their enemies with skill and patience. Ton Ngo Khong, the monkey-like god in famed Chinese fable Journey to the West, wreaks havoc in heaven simply by wielding his magical staff. The Power Rangers rely on martial arts to fight their adversaries rather than weapons. Fictional though they may be, these characters speak to kids in a way that no teacher ever can, imparting upon Vietnam's younger generations exactly what it means to be honorable and strong.
In recent years, foreign martial arts have made their way to Vietnam, a welcome addition to the many styles already practiced here. When Brazilian jiu jitsu first arrived in Saigon 10 years ago, its quick, dynamic grappling movements and unusual philosophy were new to the local martial arts scene. Today, however, jiu jitsu – like other non-native martial arts – is gaining momentum thanks to popular events like Ultimate Fighting Championships (UFC) and the global expansion of Mixed Martial Arts (MMA).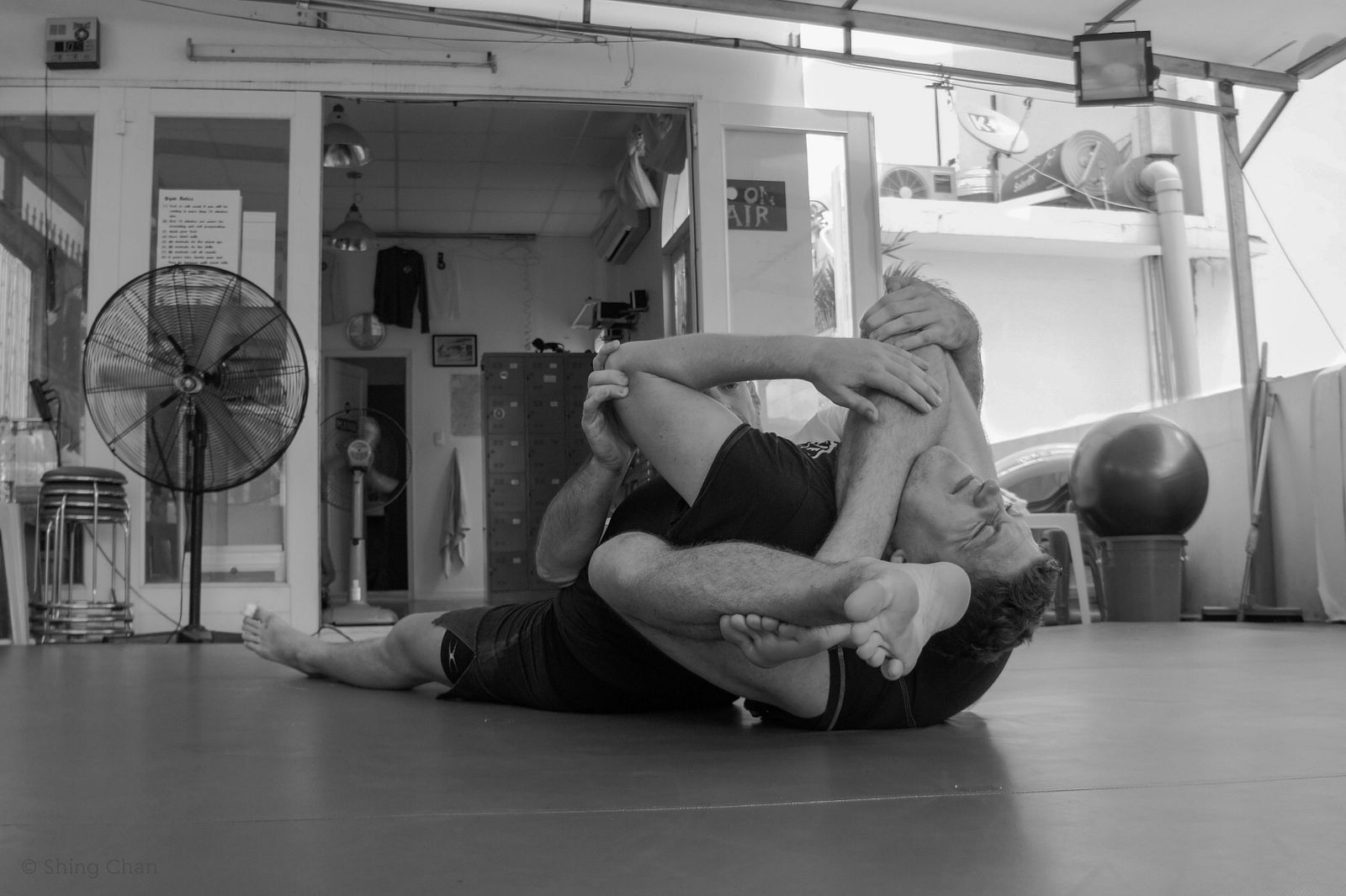 Unlike traditional Vietnamese võ thuật, in which practitioners must remain on their feet at all times, Brazilian jiu jitsu emphasizes groundwork through the use of leverage to control or submit an opponent. During a fight, most martial artists are taught to remain standing, as being on the ground puts the fighter at a disadvantage. The reality, however, is that physical altercations often result in at least one person hitting the floor. Jiu jitsu presents a different combat perspective and adds a breath of unfamiliarity to the archetypal image of the martial artist.
Though it's taken a career change, new addresses, a leap of financial faith and years of individual practice, Erik Koehne has managed to build a small but devoted group of practitioners in Saigon. An eight-year veteran of the martial art, he runs a rooftop training academy, Saigon Luta Livre, which is among the first places in the city to offer jiu jitsu instruction.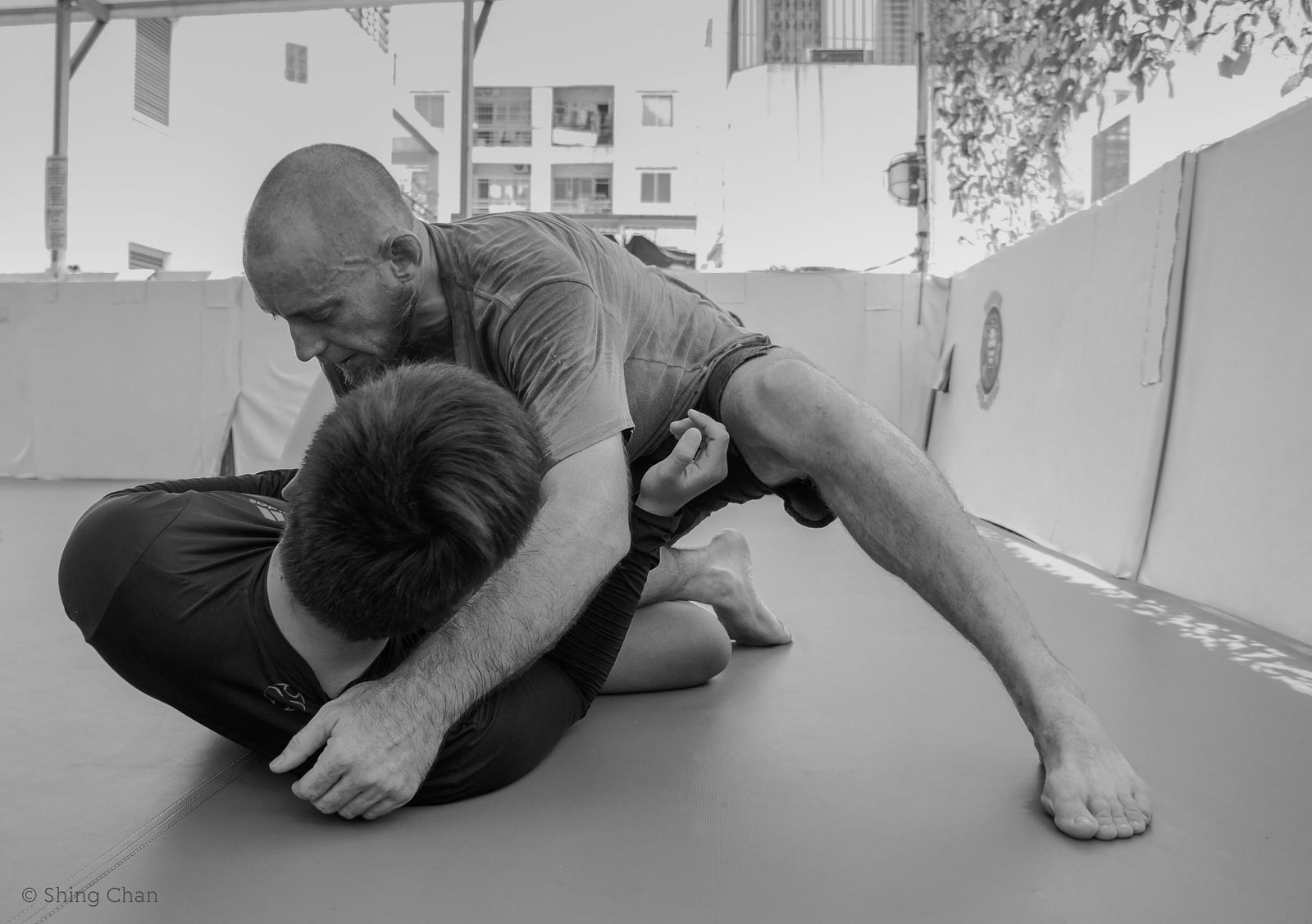 Koehne first came to Vietnam on holiday four years ago, when his company downsized and he found himself out of work. During his travels, Koehne couldn't help but notice the televised UFC fights playing in local bars. As he made his way through the country, Koehne spoke to many local residents who were interested in MMA. There was potential, he thought, for jiu jitsu.
By the time the vacation was up, Koehne knew he had to return. Over the next two years, he devoted himself entirely to training, with the goal of representing the jiu jitsu academy where he trained in Mountain View, California. By 2012, Koehne was ready to come back.
Upon arriving in Saigon, the first few months of his new life weren't easy. Koehne struggled financially, and every plan he had seemed to fall through. Out of work and unfamiliar with the etiquette of setting up a business in Vietnam, his jiu jitsu academy was put on hold. But through hard work and patience, Saigon Luta Livre was born.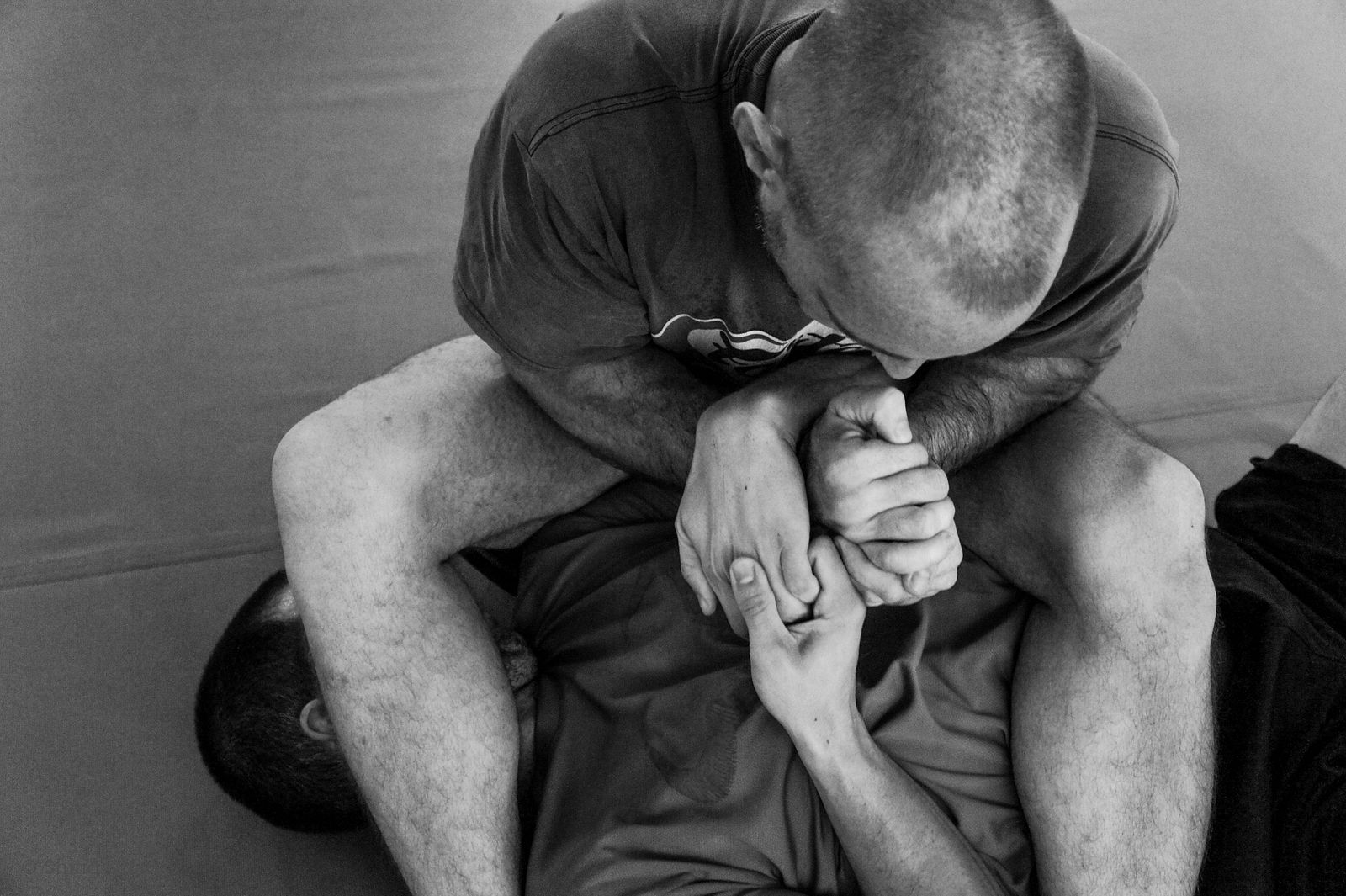 Now, Koehne teaches jiu jitsu three times a day to a growing number of students. Without high-level training partners or fellow teachers, improving his own skills can be a challenge but Koehne is methodical in his study of instructional jiu jitsu videos and creatively applies them in his training. Through sheer determination, he perfects his craft day in and day out.
Luta Livre is a melting pot of diversity: students vary in age, gender, profession and culture, but the one thing they share is a love for jiu jitsu. On any given day, individuals of all backgrounds and from all corners of the world share the academy's little blue rectangle of matting. There is no separation of experience, meaning a newcomer is just as welcomed as a seasoned veteran.
Beginners often worry about joining jiu jitsu without any martial arts experience, but at Saigon Luta Livre the mantra is a friendly one: We all start somewhere.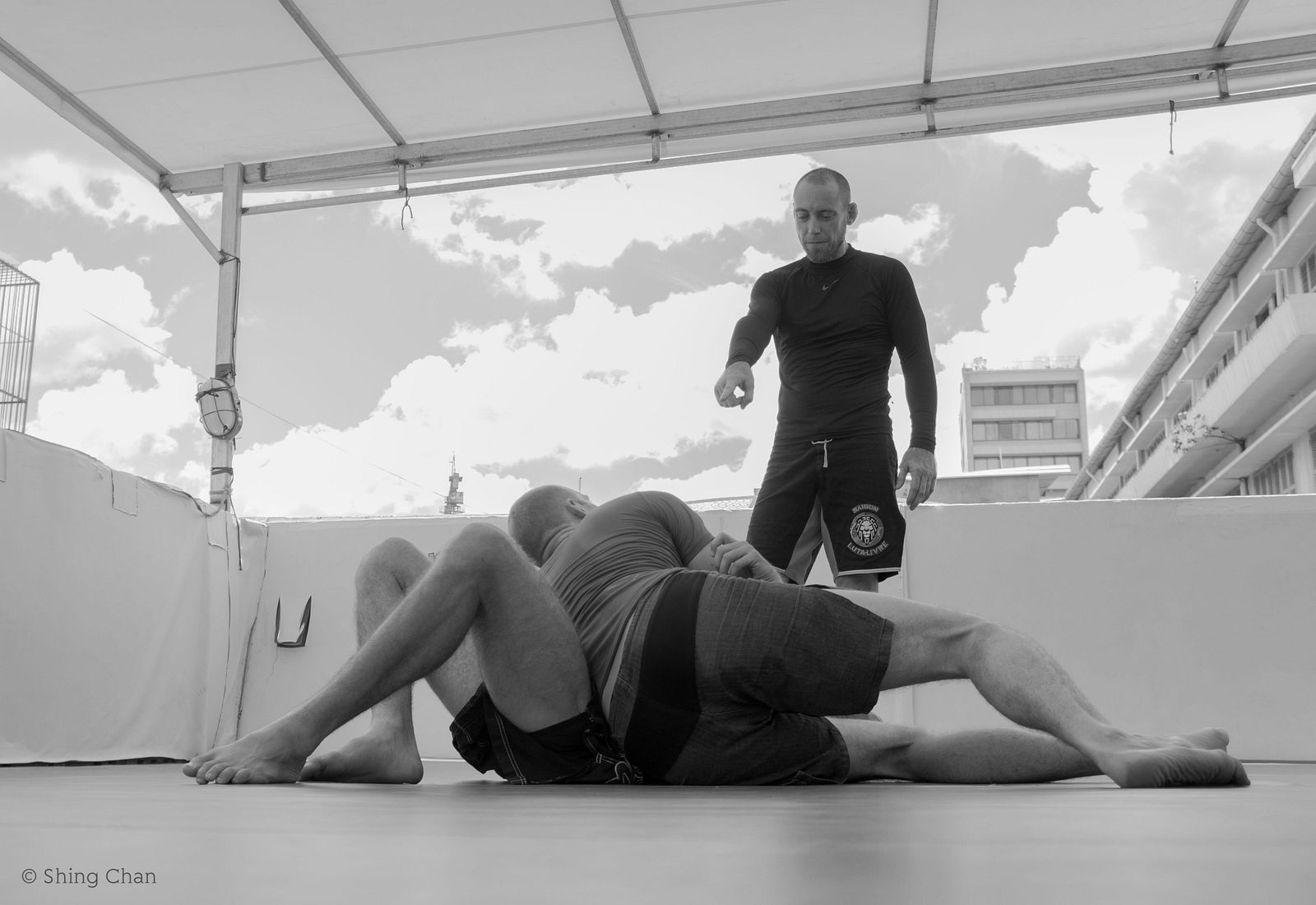 Speaking to Lan, who joined Saigon Luta Livre six months ago, she can already see the difference jiu jitsu has made in her daily life. Training makes her more disciplined, she says, and encourages her to stay healthy. Keeping your cool, too, is a benefit she's picked up from jiu jitsu: facing down Koehne's "thousand-ton freight train" of pressure has taught her to remain calm in stressful situations, she says.
With students like Lan, Koehne hopes to one day form a jiu jitsu team which can represent Vietnam on the international stage. For now, he works toward both self-improvement and the progress of his students.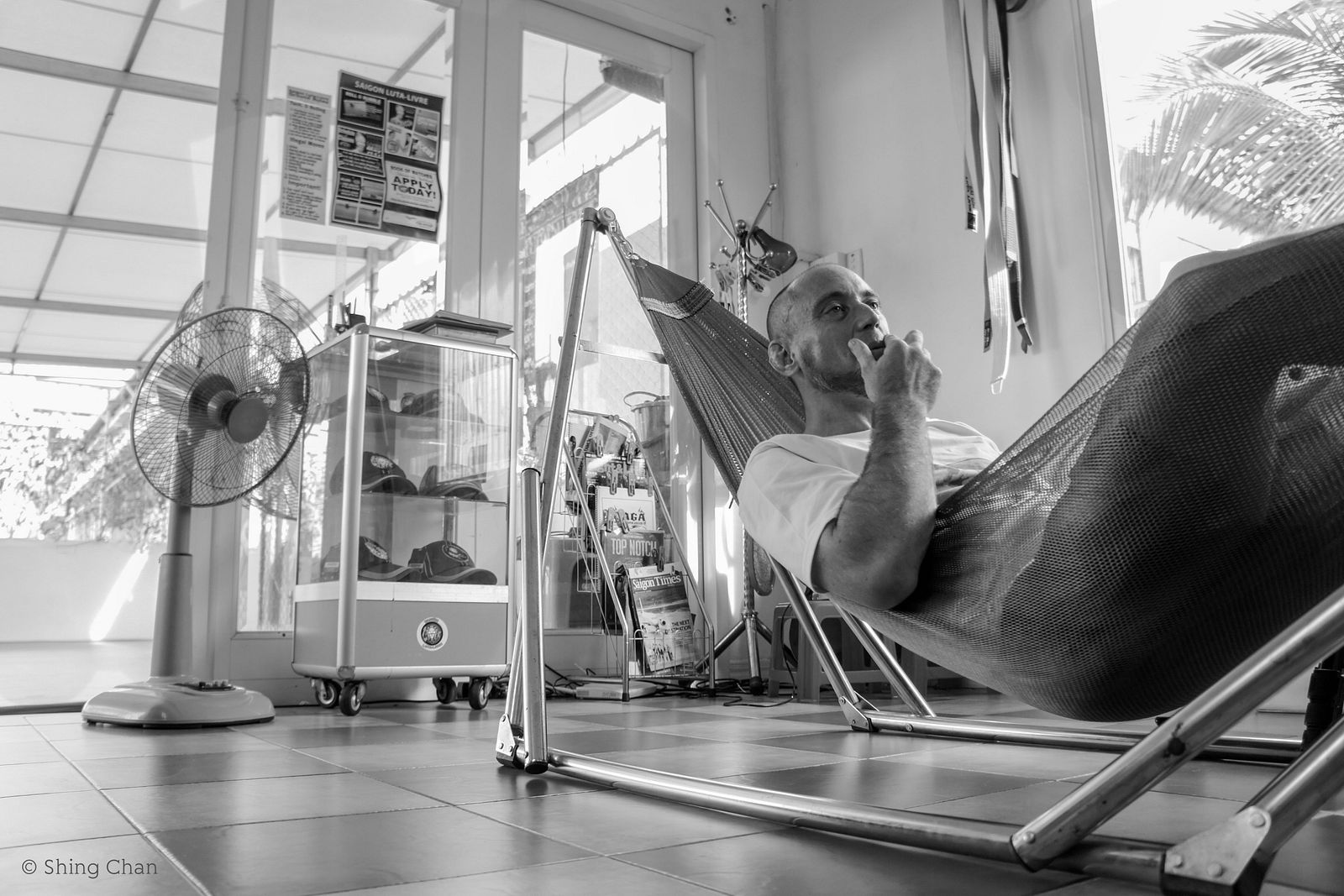 "A good teacher is one that teaches you how to beat him," he says.
Training students and watching their development is Koehne's way of giving back, both to Vietnam and to jiu jitsu. With his sights set on perfection, he has a grander vision for Saigon Luta Livre. By dedicating himself to the art, he is motivating and creating a positive influence on others. For now, Koehne enjoys the fruits of his labor, adding another chapter to the storied history of martial arts in Vietnam.
For more information on Saigon Luta Livre visit their website, Facebook page or contact Coach Erik directly at 01207991194.
Shing Chan is a young writer and photographer with a passion for exploring the culture of Vietnam. For more of his work, visit his blog at www.visualishing.tumblr.com.