Now that I'm on my fourth chicken-centric Hẻm Gem, I guess I might as well start carrying out these assignments dressed as a chicken.
Today's fowl restaurant is Quan Com Ga Hai Nam, located across the street from the building which houses Air360 Sky Bar.
There's no subtlety in the eatery's name: it is named after Hainanese chicken rice, often considered the national dish of Singapore. Diners are greeted at the entrance by a glass display of tempting cuts of chicken, duck, pork and more. This tableau wouldn't be out of place in Singapore, or for that matter any Chinatown around the world.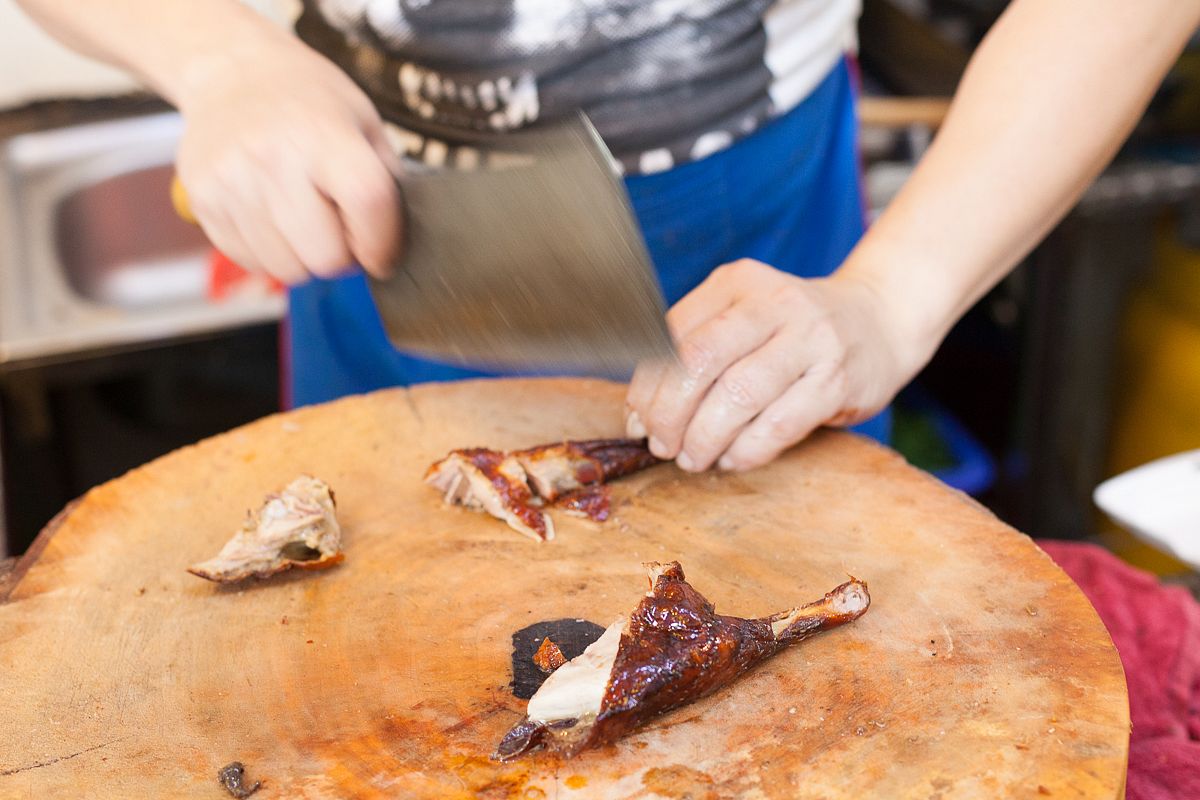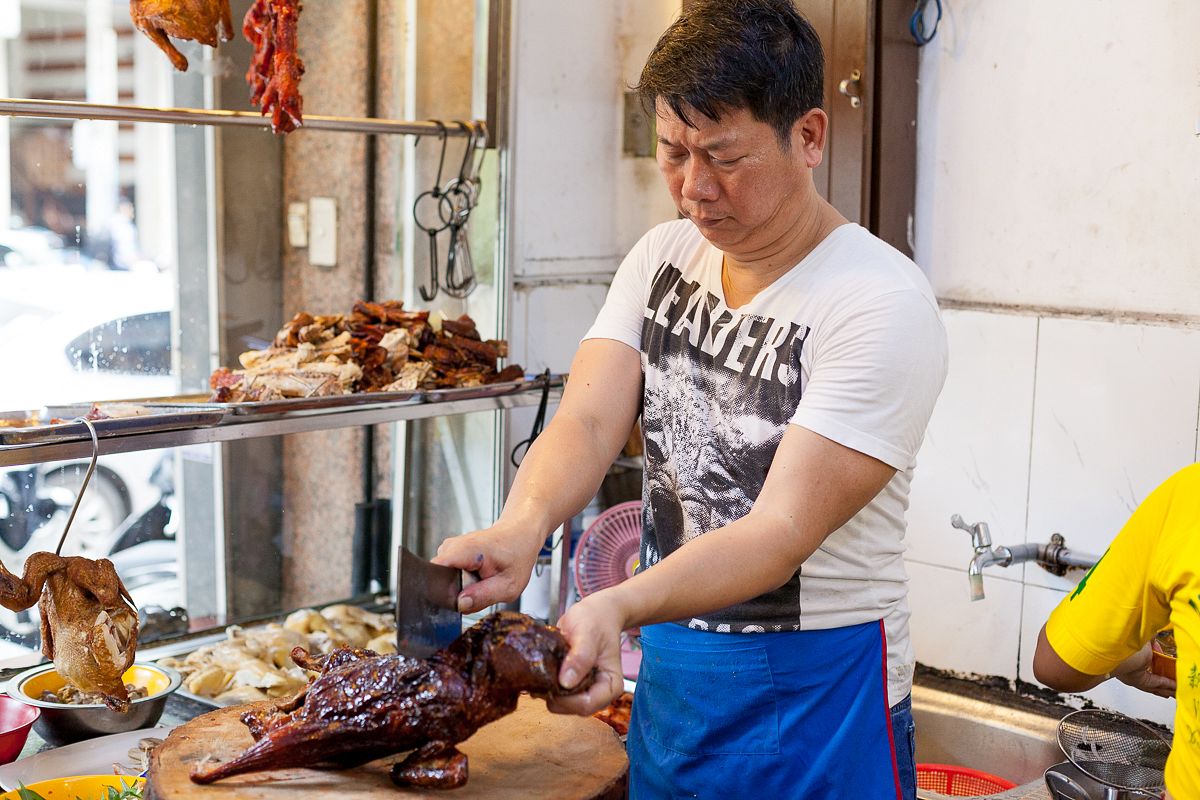 Inside, the restaurant's two floors are utterly nondescript. This isn't a place for hanging out; it's designed to get people in and out in a hurry, and there are a lot of people. The lunchtime rush has the dining areas heaving when I arrive with photographer colleague and fellow accidential chicken enthusiast Brandon.
Despite the fact that the diner is named after a specific dish, the menu is enormous, offering far more than just chicken rice. A mind-bending range of rice options is available, as are noodle dishes, vegetables, seafood, shellfish and fried kway teow, another Singapore specialty.
A new menu page features a range of dishes from the small nation state such as stir-fried spicy soybean jam with shrimp, stir-fried Malaysian aubergine and ribs with shrimp paste.
We kept our orders simple though. Brandon went for the namesake Singapore Hai Nam chicken rice, while I opted for the fried rice with pork, both of which cost just VND40,000. I also selected the fried kway teow with seafood (VND50,000).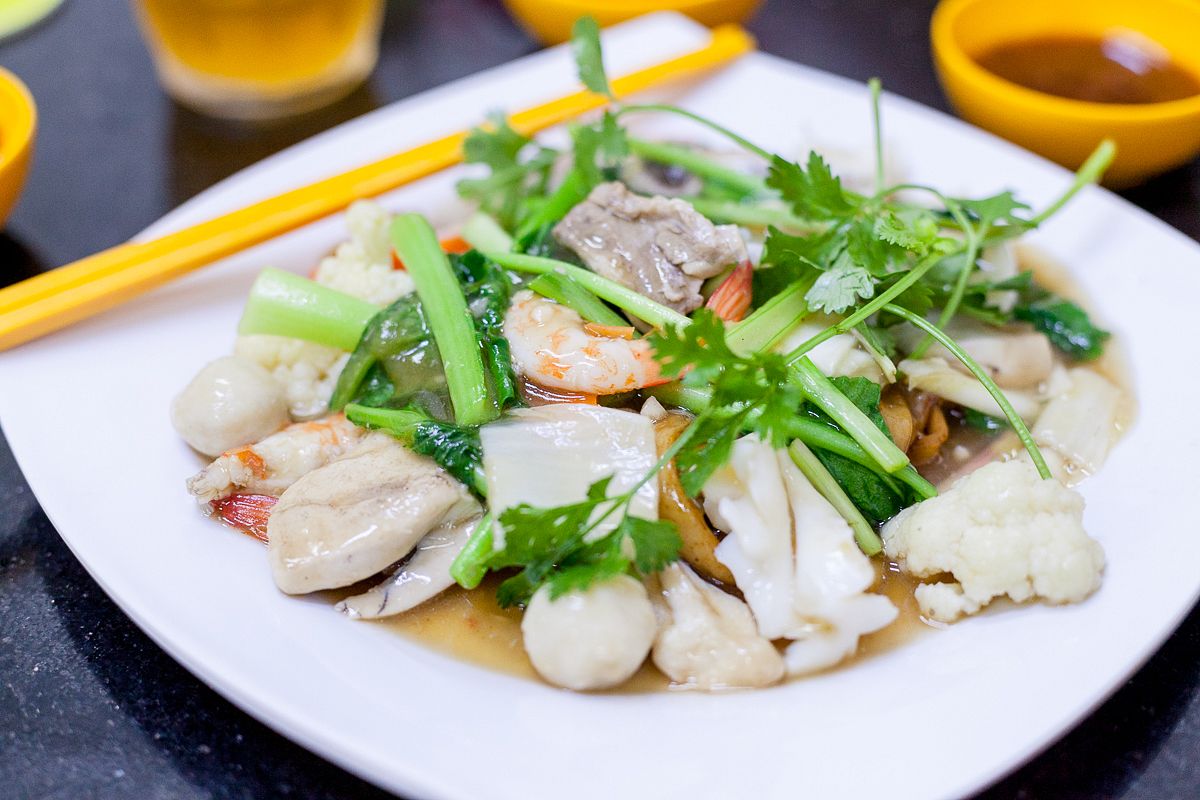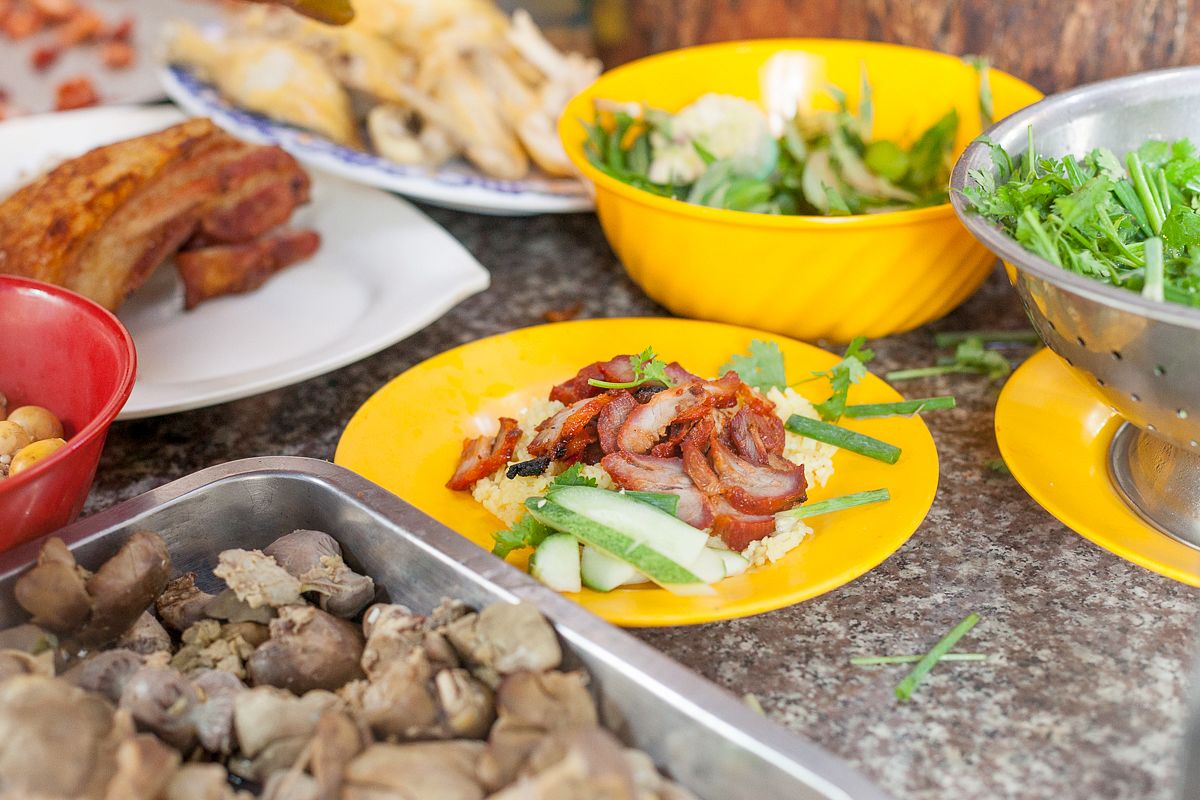 Our meal appeared almost immediately. The rice dishes are on the small side, but the delicious pork and accompanying sauce made up for that. The fatty slices of pork were crispy on the outside and chewy on the inside, and I was very content.
Sadly the same could not be said for Brandon, as the chicken was simply boiled and served atop rice. One would think that the dish which inspired the restaurant's name would be a bit more exciting, and I've certainly had better chicken rice in Singapore, but the boney, bland chicken here was disappointing.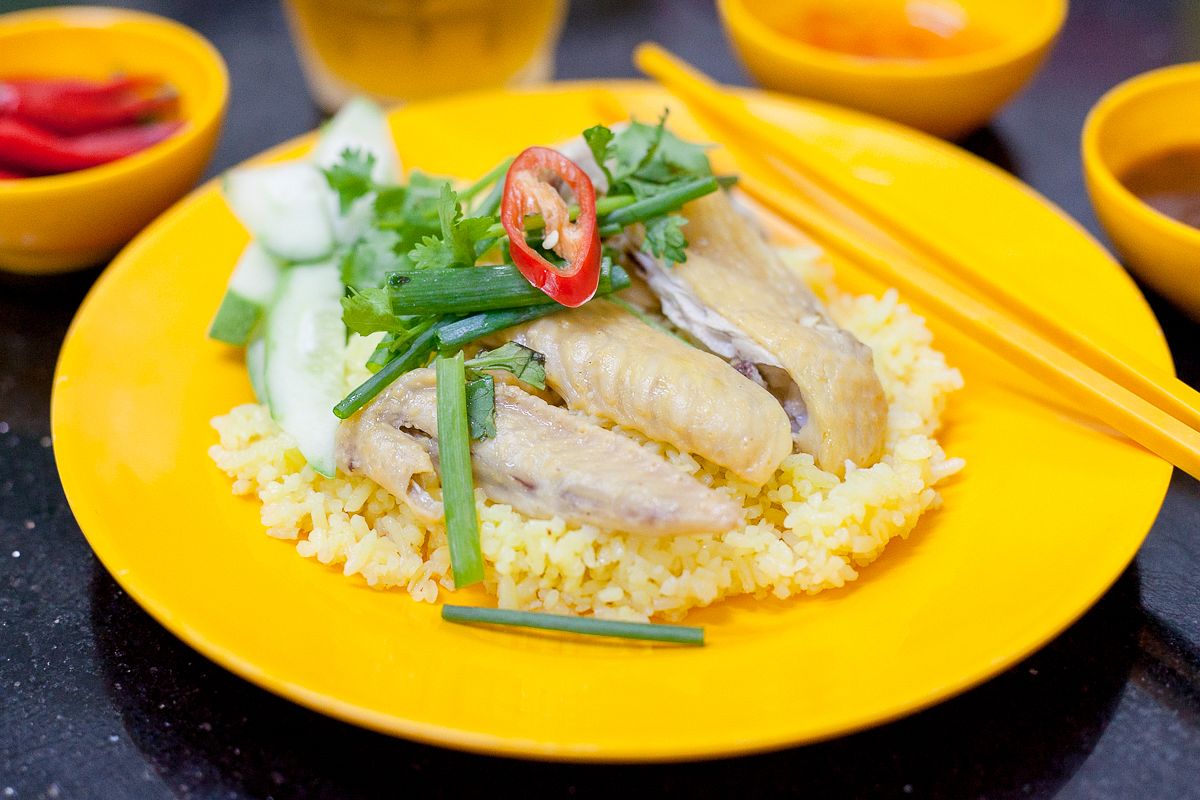 Judging by plates on other tables, the roast chicken is the way to go.
Fortunately the kway teow was also very good. A pile of shimp, squid, octopus and fish balls hid delicious yellow noodles bathed in a great sauce, and the portion was much more substantial.
Quan Com Ga Hai Nam's expansive menu certainly warrants multiple visits, and the highly efficient service means you can drop in for a quick meal on a busy day. Maybe just avoid the standard chicken rice.
Quan Com Ga Hai Nam is open daily from 9:30am to 9:30pm.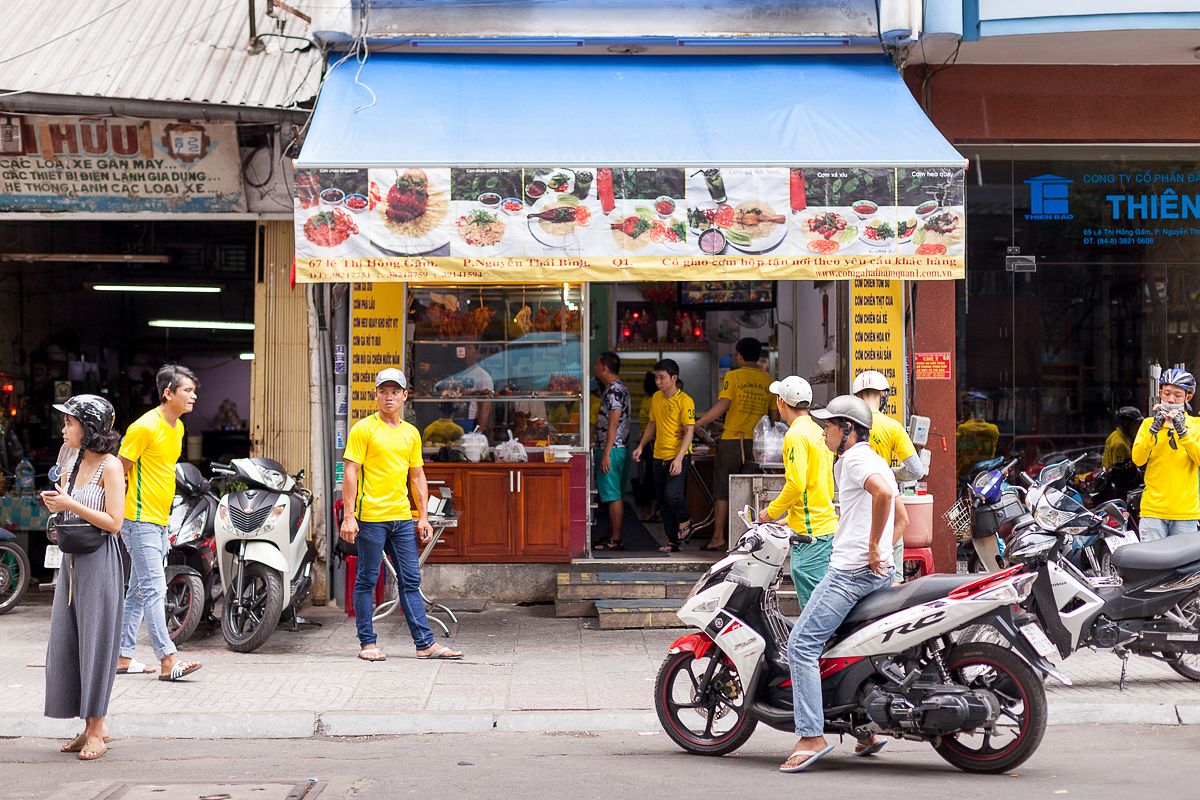 To sum up:
Taste: 4/5
Price: 5/5
Atmosphere: 3/5
Friendliness: 3/5
Location: 5/5
Michael has almost no sense of smell and was an on-screen extra in Jurassic World. You can usually find him with a craft beer in hand.
Com Ga Hai Nam
67 Le Thi Hong Gam, Nguyen Thai Binh Ward, D1

---
Related Articles:
---