Arguably one of the most underrated cuisines in Asia, Taiwanese fare has remained under the radar in Saigon for a long time, even though Taiwanese business owners were among the first foreign business arrivals after the enactment of Doi Moi in 1986.
If one queries an average Vietnamese or foreigner about Taiwanese cuisine in Saigon, most answers likely revolve around items such as fried chicken, milk tea or castella cake (a sweet sponge cake of Japanese-Portuguese origin), reinforcing the cliché that Taiwanese snacks have a greater prominence than their mains.
When things are hidden, the urge to discover them grows greater. Vivid memories of deep-fried crispy oysters and braised pork rice led me to do a deeper search on Google with my somewhat limited grasp of traditional Chinese. This was where we stumbled across a gold mine.
Hàu Quán, or 蚵仔嫂 (Madam Oyster), is located on the main stretch of Tran Hung Dao, one of the most congestion-free and convenient connections between central District 1 and Cho Lon. We were greeted by the Hsu brothers, who hail from Chiayi City. The duo have been running the place since the previous owner, the legendary Madam Oyster, returned to Taiwan for good.
"She has a fiery temperament and was extremely strict about cooking and everything. Most of the locals couldn't tolerate her. By the time we last visited as customers, she was the only person left running the place," elder brother Sung explains. "Age was catching up on her and we decided to take over when she finally decided to call it quits."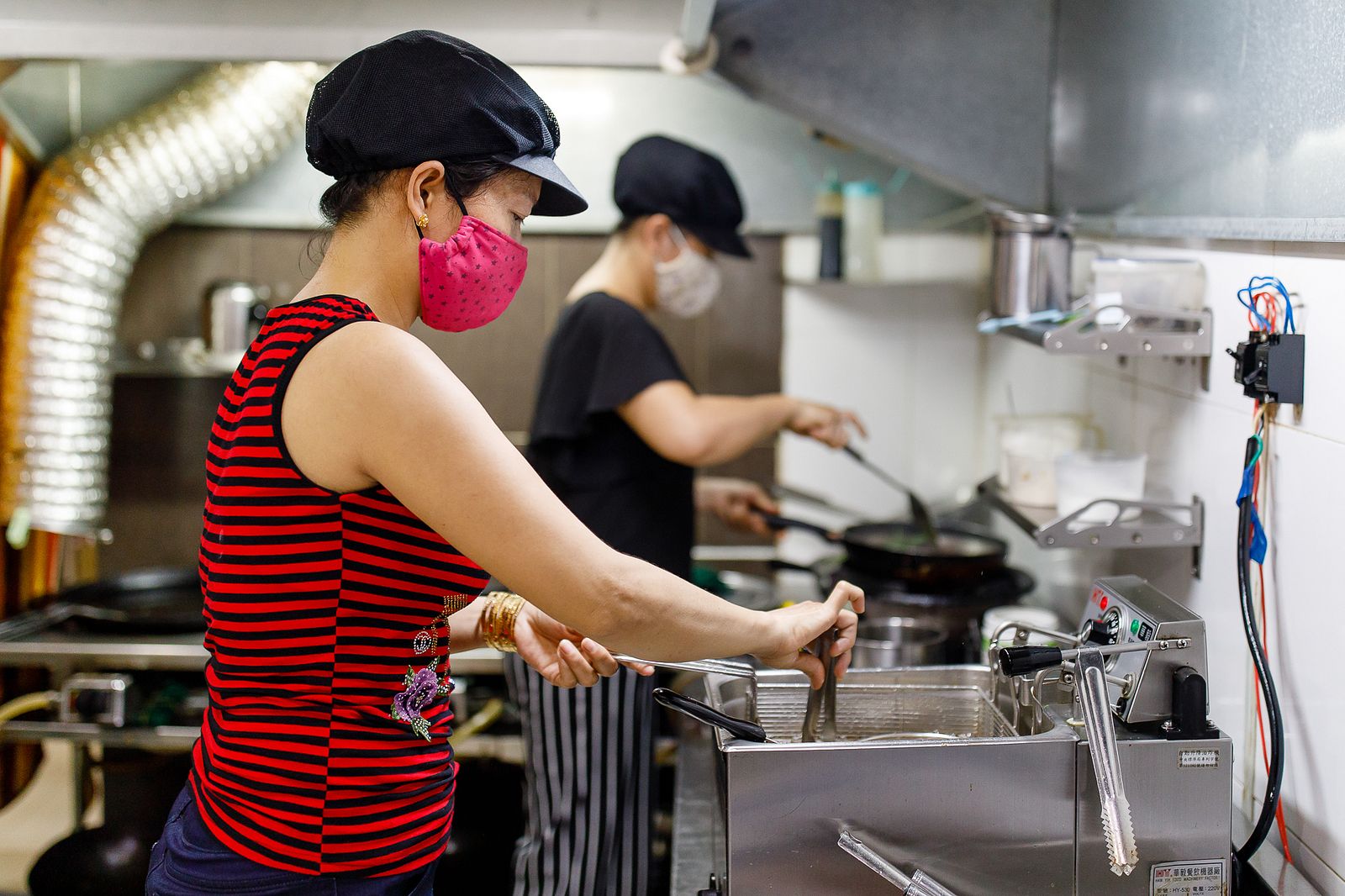 Amidst the fragrance of stir-fries and deep-fries that began to fill our surroundings, we started chatting casually about the problems one may encounter while recreating authentic Taiwanese tastes in Vietnam.
"[There are] some things we can control, for example, soy sauce, pepper, and shacha sauce. We import these from Taiwan. Doing so raises the cost by a sizable margin, but I think it's necessary," Sung tells Saigoneer.
Shacha, known as sa tế in Vietnam, is pronounced almost identically in the Taiwanese-variant of the Minnanese language, which is closely related to Southeast Asian Hokkien and a relative of Teochew. It is said the spicy condiment, primarily made with oil, chili, garlic and an assortment of other ingredients such as dried shrimp and shallots, had origins from Malay cooking.
Satay — a popular Malaysian, Indonesian and Singaporean skewered meat dish — is enjoyed with a similar sauce, but one that instead uses ground peanuts as the main filler. Peanut-based sa tế is still found in Saigon in certain Teochew dishes such as hủ tiếu sa tế.
"What gets really tough is finding a trustable [sic] local chef," Sung adds. "Most Vietnamese do not know what our food tastes like and they cook based on memory. To be honest the condiments used in local Chinese food here are similar, but the ratios are completely different."
After chatting for a few minutes, our wait was over as our team was greeted by an assortment of Taiwan's signature dishes.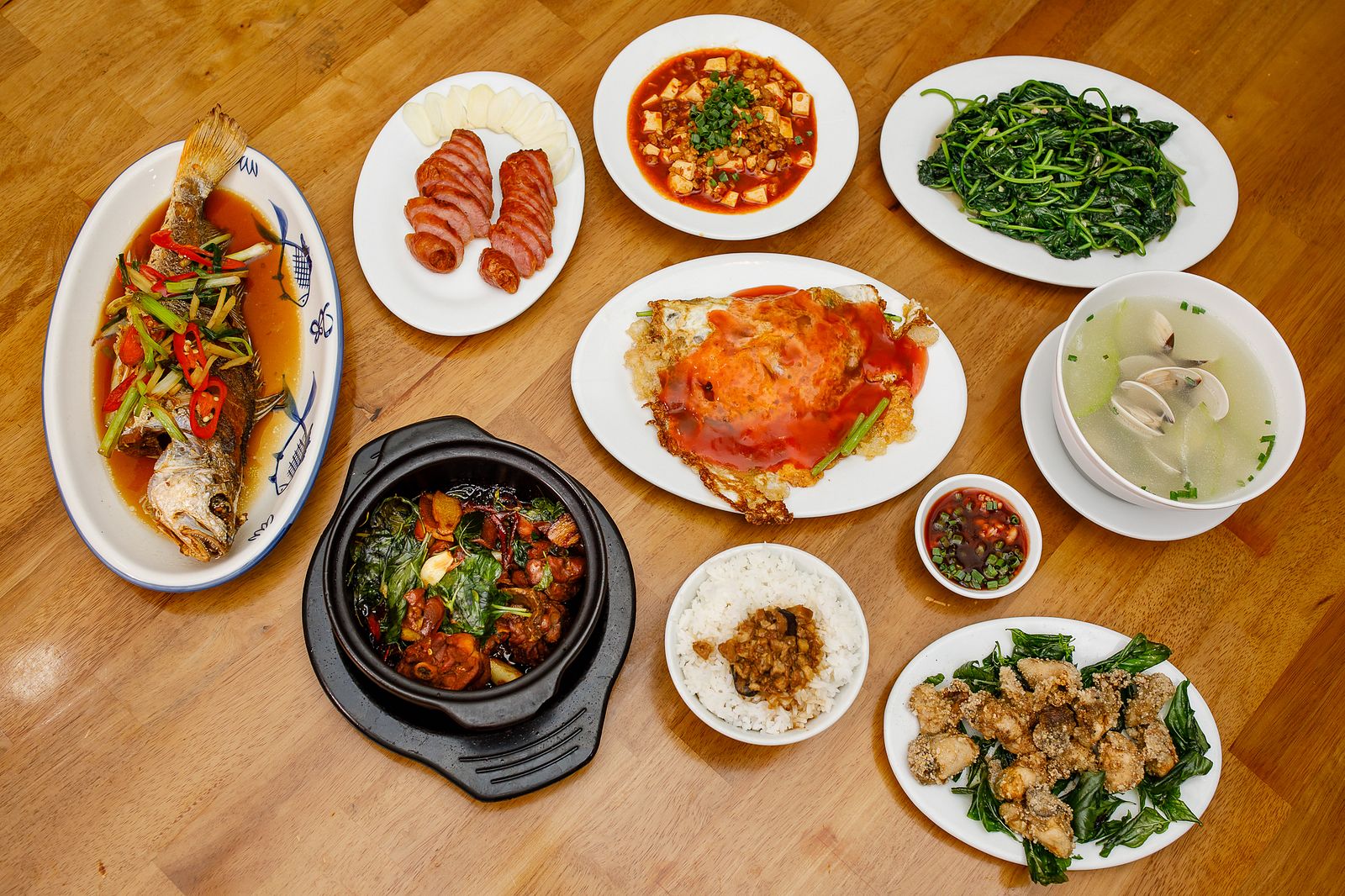 Taiwanese-style oyster omelette, or o-a-chian (or-chien in Singapore and Malaysia), boasts a slightly crunchy exterior with a chewy, gooey interior filled with fresh oysters whose flavors strongly remind me of the ocean. Variants of this staple Fujian and Teochew delight have found fame in Bangkok, where numerous oyster omelette street vendors are bestowed Michelin Bib Gourmand awards.
Sung's deep-fried oysters could probably be described in western terms as "popcorn" oysters. Tossed with a seasoning made of salt and pepper, and finished with a handful of deep-fried basil leaves, we'd be surprised if one couldn't polish off two plates of these little devils over a bottle (or two) of Taiwan Beer.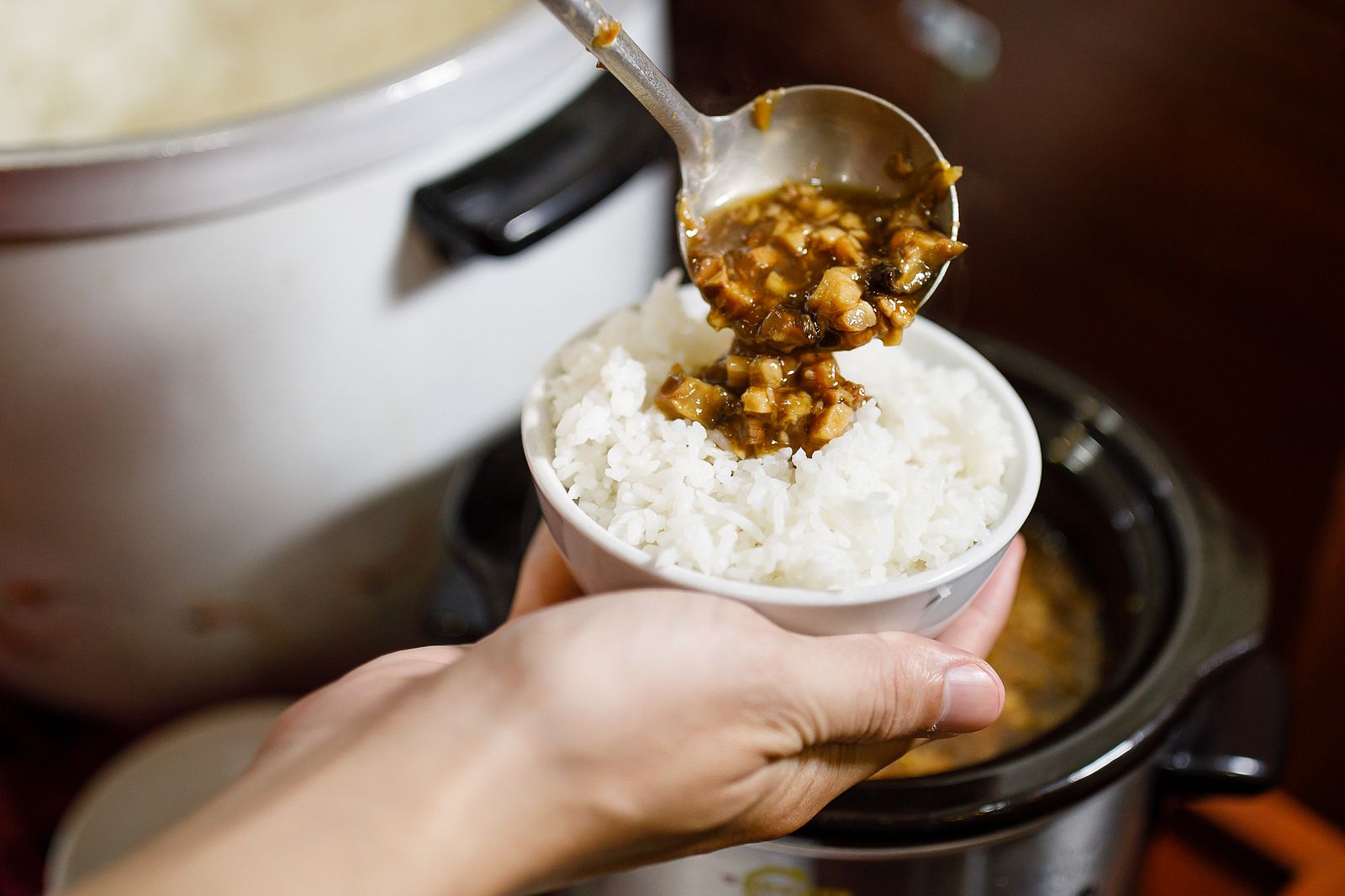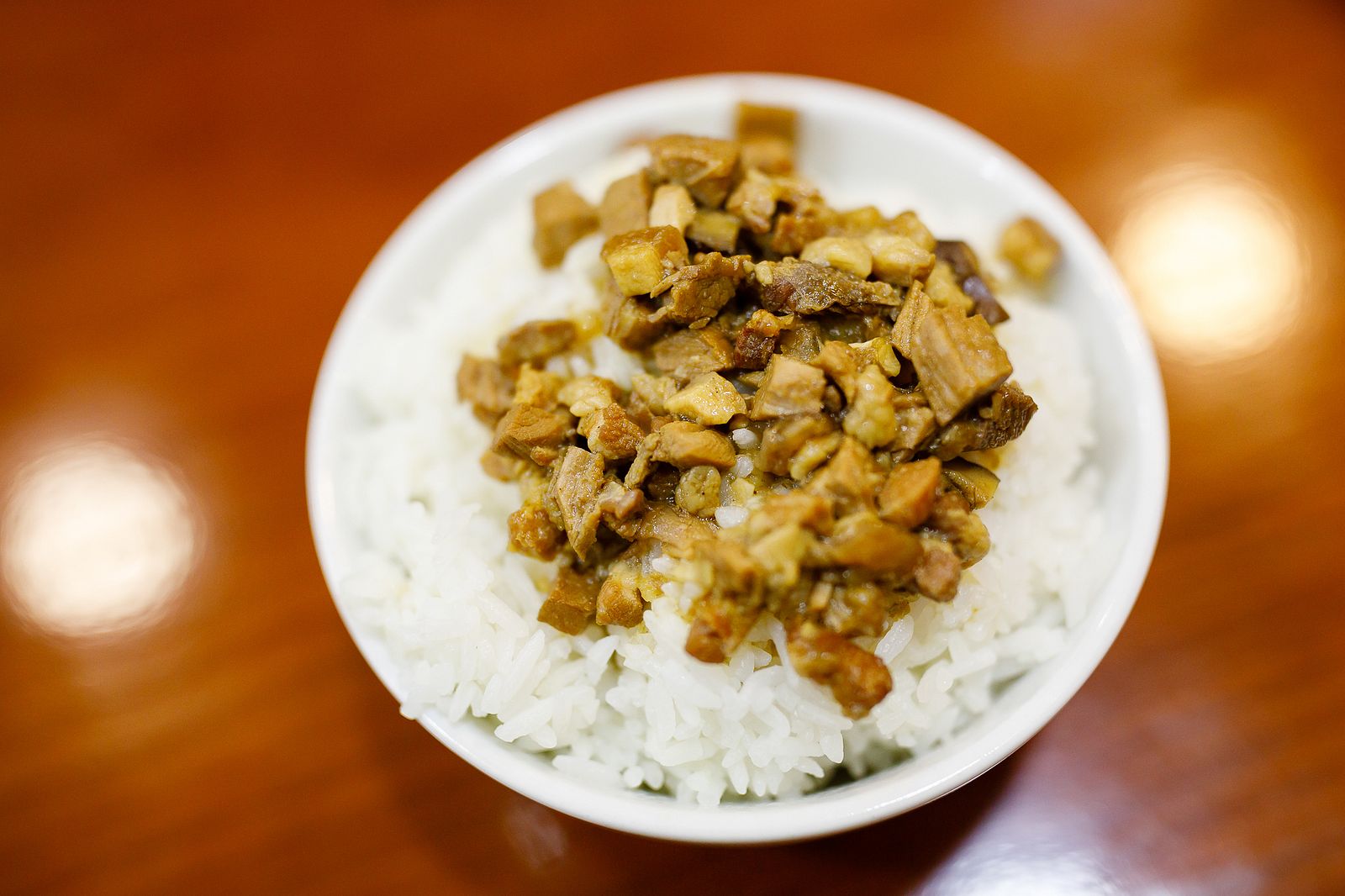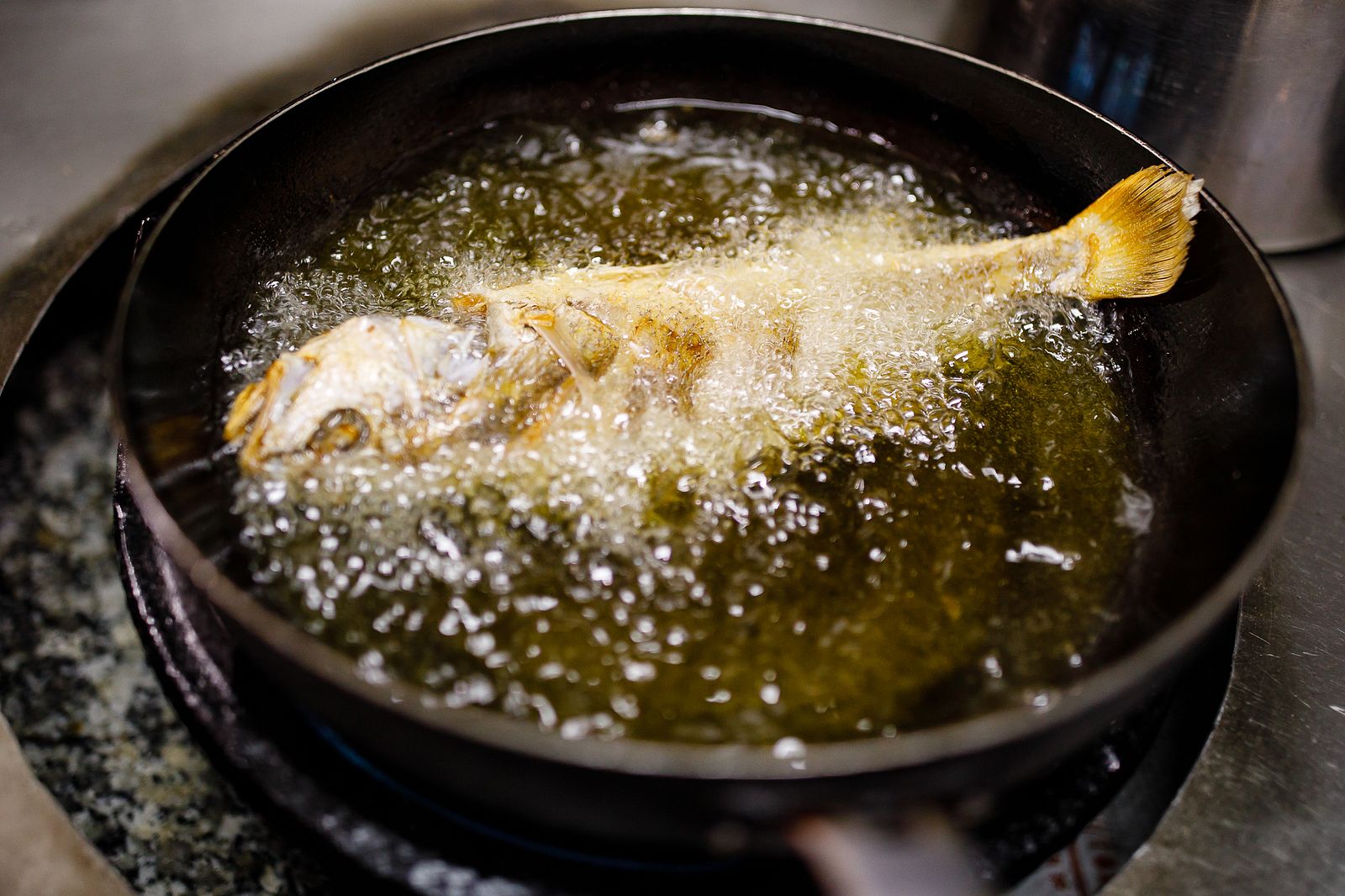 Apart from oysters, a written tour of Taiwanese cuisine would not be complete without mentioning sanbeiji, or three cups chicken. "Which three cups?" one may eagerly ask: soy sauce, sesame oil and rice wine, seared with chicken in a clay pot over high heat, complemented by sliced ginger, garlic cloves and fresh basil. My favorite part of this dish is chewing on the slightly charred slices of ginger that have soaked up all the intense flavors.
Another perennial favorite served here are rice bowls topped with braised pork belly sauce. This homey delight is often paired with soups, simple mains such as sausage, and boiled vegetables such as sweet potato greens. Notable as one of the most affordable Taiwanese comfort foods, a glimpse of these rice bowls could easily trigger vivid childhood memories for many Taiwanese people.
Other surprising finds here include steamed winter melon and clams soup, and imported Taiwanese milkfish which has been laboriously de-boned by hand. "A milkfish contains more than 200 bones so that's definitely not an easy task," Sung explains.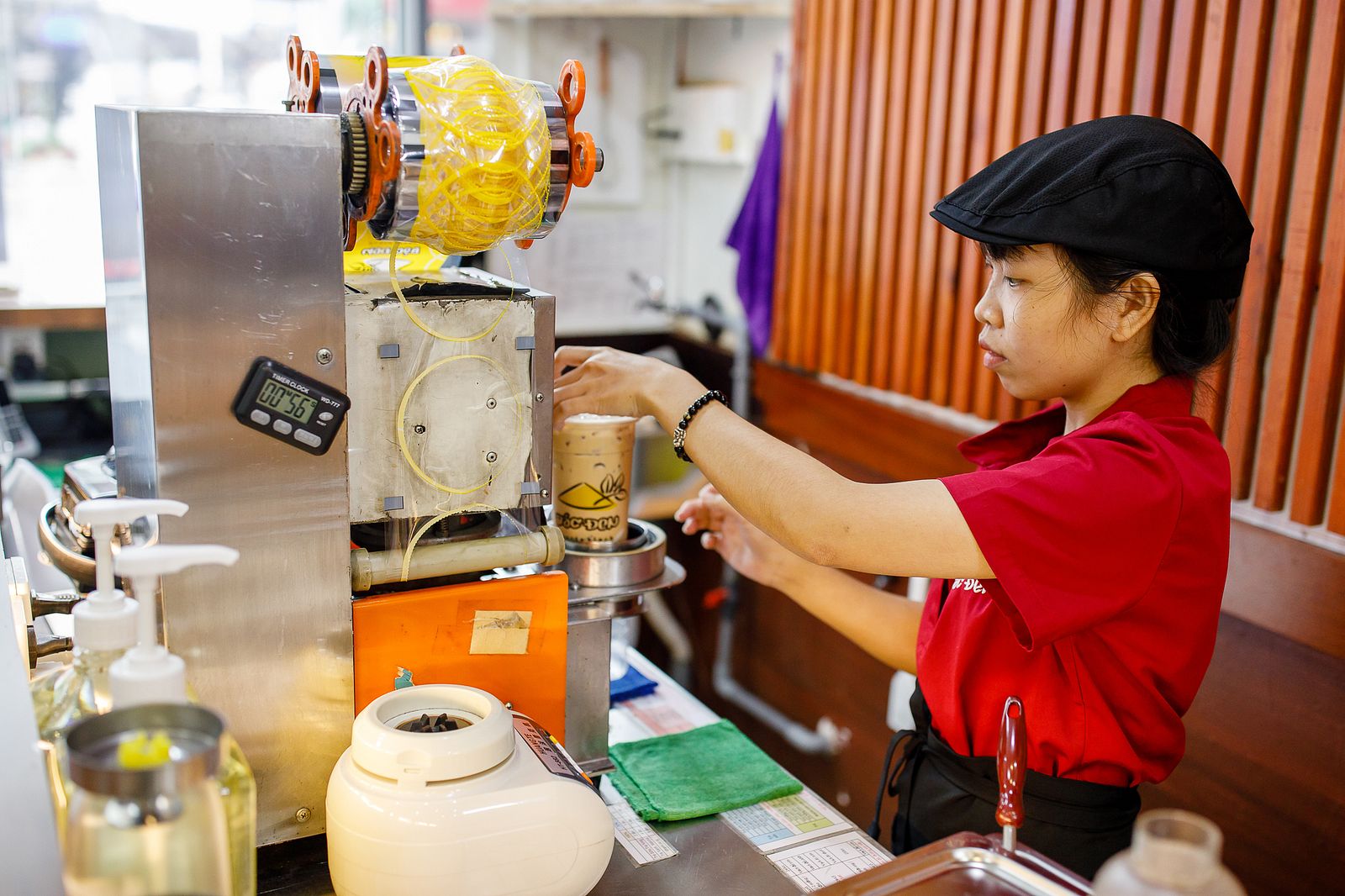 Sung's younger brother, Hsun, shares the restaurant's space by running a bubble tea takeout kiosk. His brand, Bác Đen, or "tan uncle" in English, pays homage to the hardworking local tea farmers who have become deeply tanned after years of working in the terraces. Hsun also runs another outlet on Le Lai Street in District 1.
"For just VND26,000 you'll get to enjoy a milk tea with a choice of three toppings. Our popular toppings include black pearls, coconut flan and coffee jelly," Hsun says. "We use authentic tea leaves to brew and ingredients from trusted sources. For that, I think our prices are really reasonable. Don't forget to try our Taiwanese-style grass jelly with honey. The local Chinese are familiar with grass jelly so we want them to enjoy our version too."
For once, in a very long while, I enjoyed every dish we sampled. It was a comforting experience that words fail to fully illustrate. Perhaps I have awakened my Kinmenese-Hokkien roots that have been left undisturbed for three decades. And, just, for once, I had good words to say about a cup of Taiwanese boba milk tea.
To sum up:
Taste: 5/5
Food Price: 4/5 - Most dishes are VND50,000-120,000
Beverage Price: 6/5
Atmosphere: 4/5
Friendliness: 4/5
Location: 5/5
Mervin has serious Camera Gear Acquisition syndrome (GAS) and has bothered to acquire multiple books about pre-75 Saigonese pronunciation.
Taiwanese cuisine
922 Tran Hung Dao, Ward 7, D5