At the northernmost end of Saigon's bustling District 1, the end of Hai Ba Trung Street leading to Phu Nhuan District is known best for heavy rush hour traffic. But a curious textbook case of an Asian phenomenon is underway around the corner on neighboring Tran Quang Khai Street: a noodle shop with red shirt-wearing staff just moved in...five meters away from a noodle shop with yellow shirt-wearing staff.
Truth be told, even as a foodie, I never felt the urge to pull over when Mi A Quy (the yellow shirts) was the only contender on that stretch of road. I must have sped past it at least a hundred times this year while hastily trying to turn onto Hai Ba Trung in a caffeine-propelled rush to my next destination. It might be Asian psychology, but I knew it was destiny to do a taste test of both places when Tan Ky Mi Gia (the red shirts) moved in more than a month ago.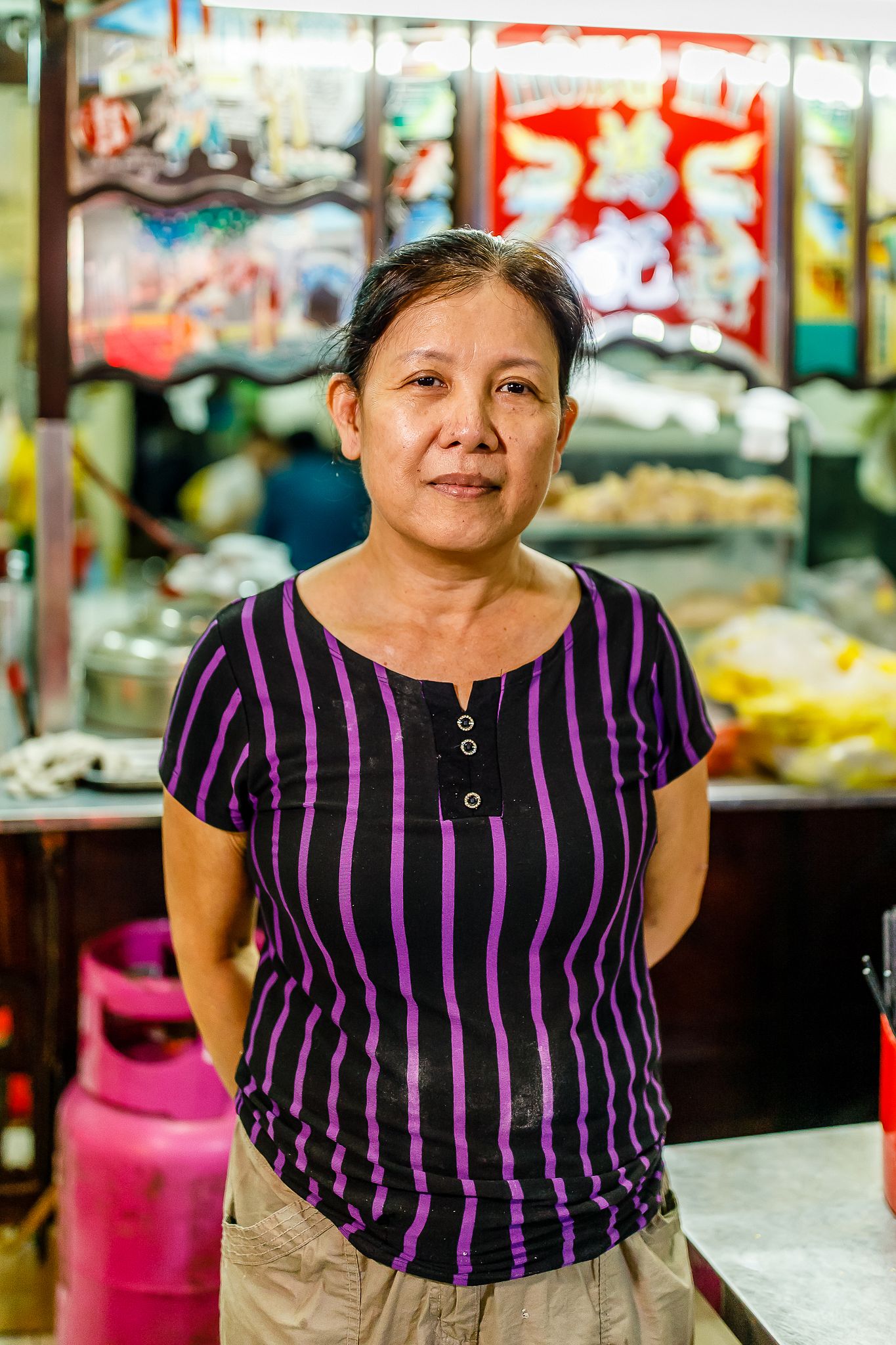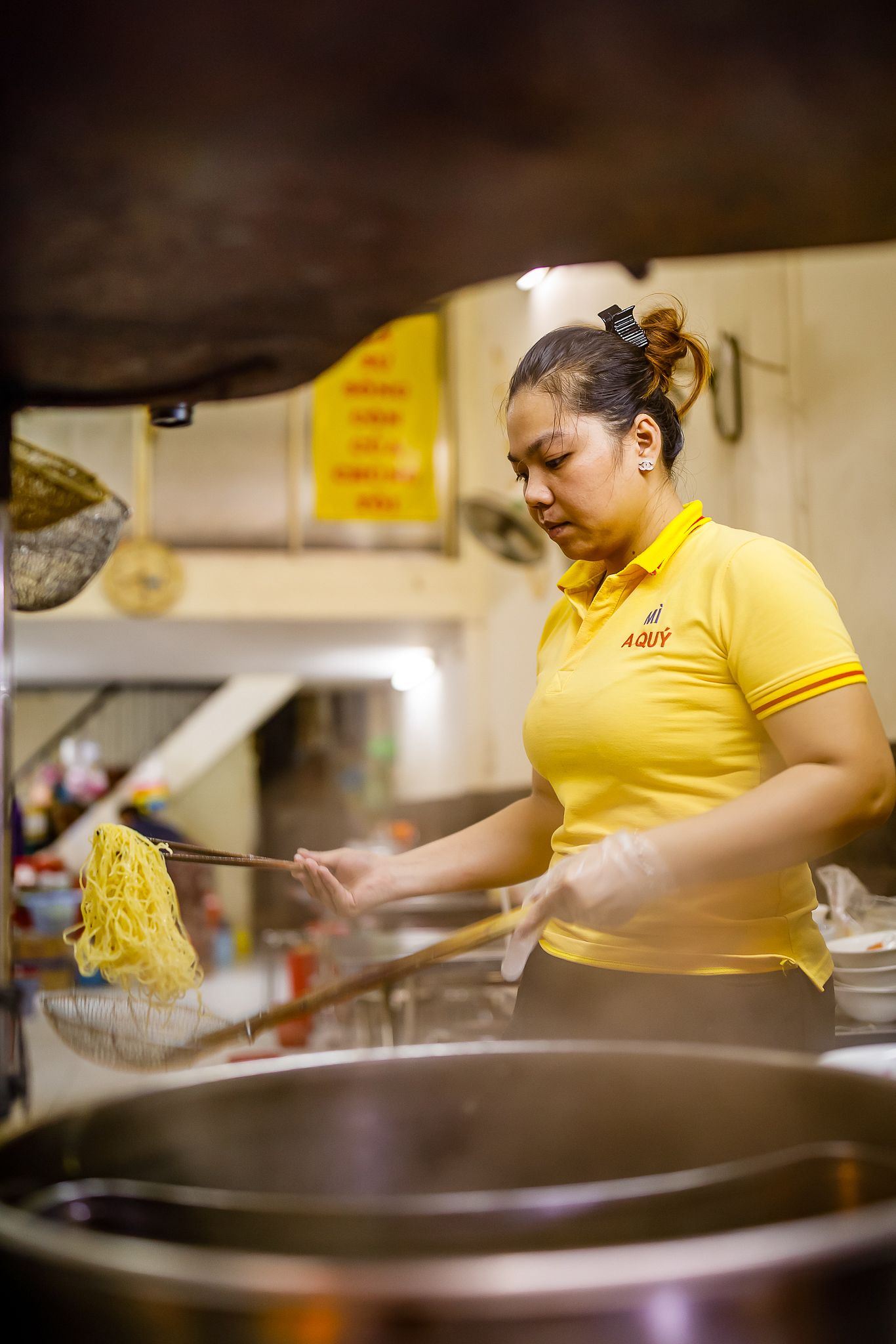 Mi A Quy's fare can be described as staunchly Cantonese: simple, clear soup; honest wontons; and intensely crispy, addictive noodles.
Madam Huong, who runs the place with her ethnic Chinese husband, shared some insight with Saigoneer. "These noodles are handmade by my family," she said. "It's unique and it'll be hard to find this elsewhere."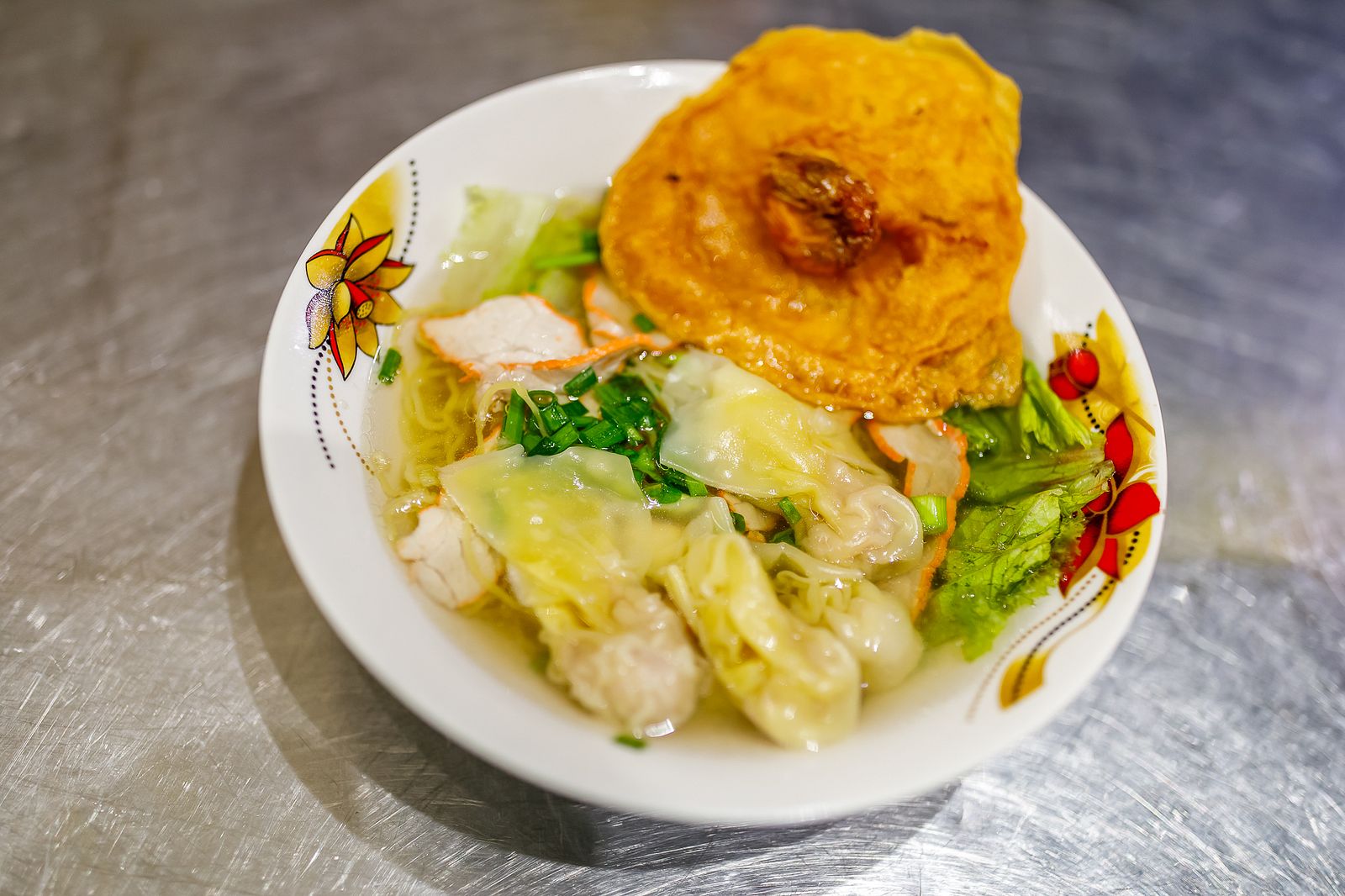 Cantonese noodles and most Japanese ramen are made with a small amount of kamsui, or lye water. This adds an al dente bite to the noodles, but also introduces a slight astringent flavor. It is critical to not overuse this condiment to retain palatability — parallels can to drawn to using baking soda when making pastries. In my opinion, the noodles at Mi A Quy hit that spot and score high when it comes to texture.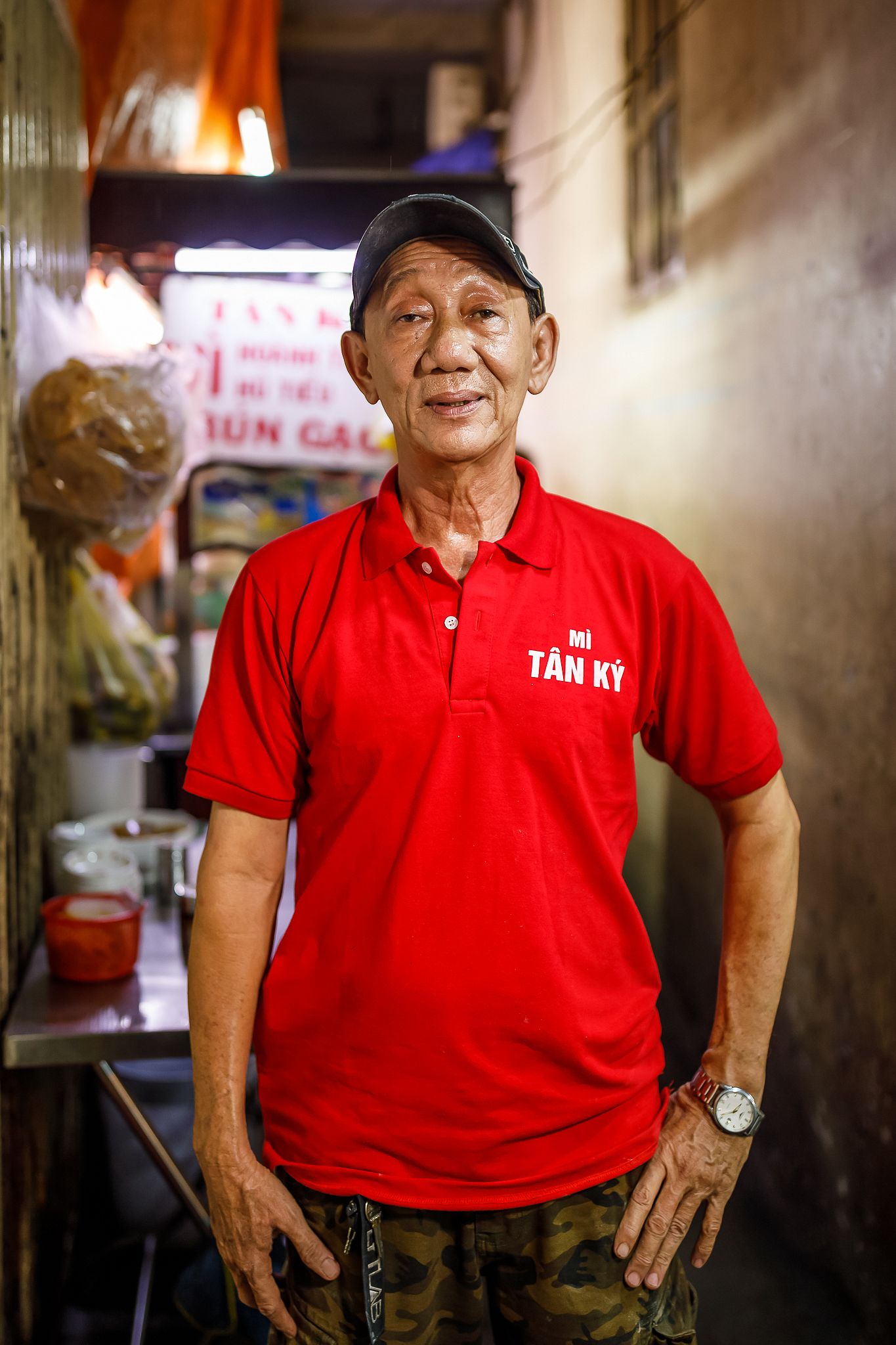 When questioned about the new competitor five meters away, Madam Huong was neither ecstatic nor was she, at all, complacent.
"I guess you know... we were here first. If you drive towards Tan Dinh Market, you'll find a few other noodle spots. We're not worried," she says. "Customers choose what's best for them."
Uncle Ut of Tan Ky Mi Gia, in contrast, is a flamboyant character. Dressed in the same red polo shirt as his hard-working crew, his agility and enthusiasm is uncommon for a man of his age.
"My grandfather from Canton was already in the noodle business before the family moved to Saigon in the early 1900s. Our soup is made with a secret recipe. People come back for it," he explains. "Frankly speaking, we merely moved back here from our previous spot on Tran Quoc Thao Street. We've been living in this hẻm since before the French left for good. We're not new in the neighborhood."
When asked about the friendly competition, Uncle Ut replies: "What's important in the food business is to do things with morals and with heart and soul. I'm not afraid even if another four or five new boys move in beside us selling the same thing. Who wins? Customers!"
In order to take a photo of his signature noodle, Uncle Ut served a bowl of thập cẩm noodles in its full glory: minced pork, shrimp, innards and meatballs.
In essence, both places are so similar, yet so different. Both vendors sell noodles: chewy, soft hủ tiếu; and rice vermicelli with most local combinations, including wontons, char siu, pig innards, shrimp dumplings and meat on the bone. Customers are also free to pick additional toppings.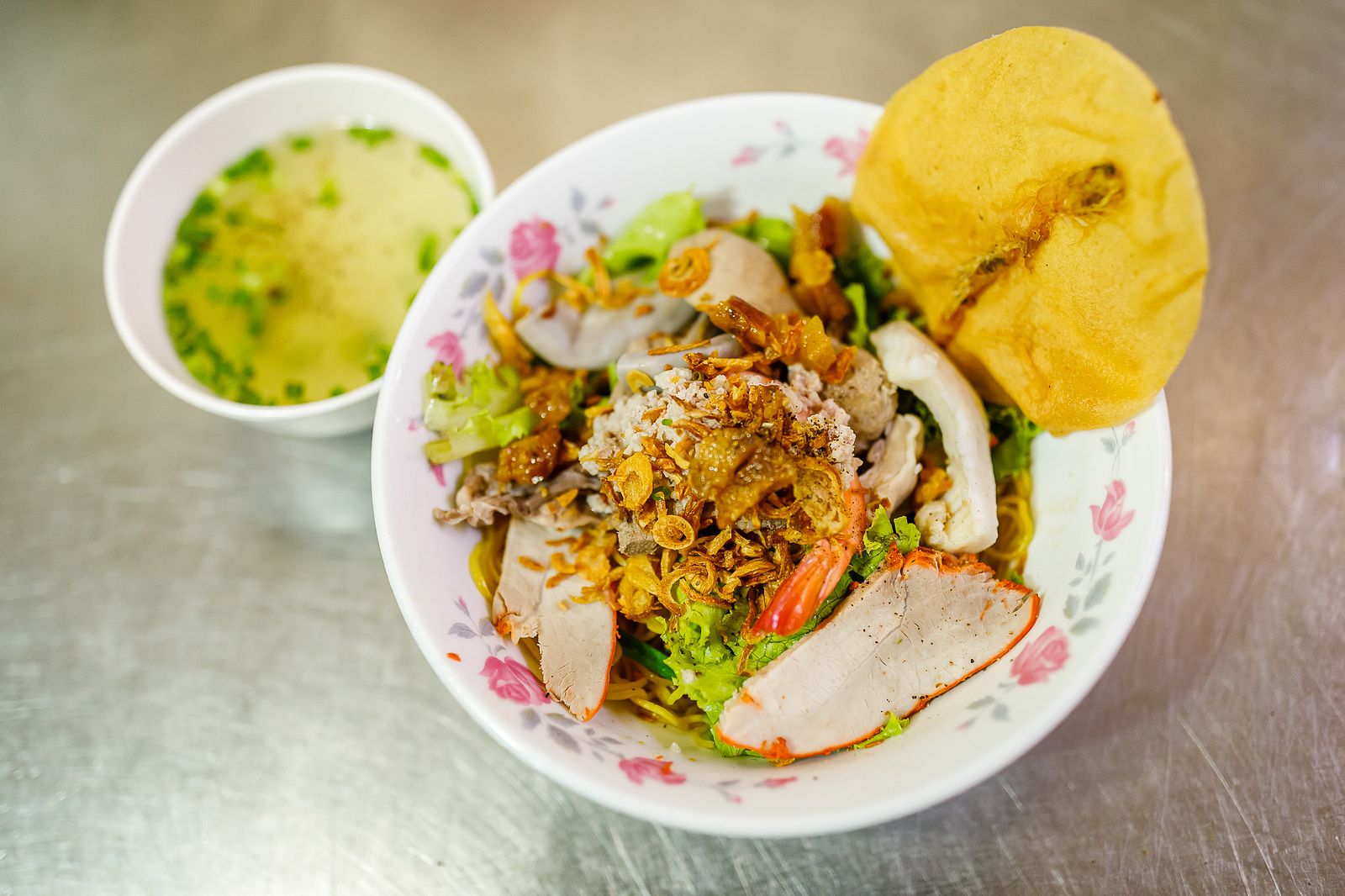 Both vendors serve every bowl of noodle with a flat crispy shrimp cracker that elevates the experience. It's hard to describe the sensation when the cracker soaks up the savory broth. Both vendors also fry these appetizing crackers on their own — a feature unique to a number of Chinese noodle joints found in Saigon.
It would be easy to describe them as a Thai would: "Same same, but different." Indeed, memories of Go-Ang Chicken Rice (pink shirts) and Kuang Heng Chicken Rice (green shirts) near Bangkok's Pratunam Market flashed in my head.
Did I like the pink shirts or green shirts better? And did I like the red shirts or yellow shirts better? Honestly, I can't decide.
Mi A Quy is at 151C Tran Quang Khai, Tan Dinh Ward, D1.
Tan Ky Mi Gia is at 151 Tran Quang Khai, Tan Dinh Ward, D1.
Mervin has serious Camera Gear Acquisition syndrome (GAS) and has bothered to acquire multiple books about pre-75 Saigonese pronunciation.
---

Related Articles:
---