Before the existence of Sara Ethiopian Restaurant in Saigon, my knowledge about the African country could fit squarely in a child's palm: its capital, Addis Ababa; the tragic Ethiopian Airlines crash in March; and its national dish, injera.
Look, I'm not proud of it. Living in Asia doesn't do wonders for one's immersion in African culture and cuisine, even to someone who sees eating as a sacred hobby, like me. My past experiences with African food, however, have always been stellar. A lady living in the suburban reaches of Go Vap District cooks the most divine Nigerian dishes out of her own home. These include fragrant batches of jollof, a golden rice dish that packs in tomatoes, cayenne pepper, curry powder and thyme. Still, jollof is a mainstay in West Africa, at least three countries away from the Horn of Africa along the eastern coast of the continent, where Ethiopia, Eritrea and Somalia huddle.
I am a firm believer in character development, so after an eye-opening meal at Sara Ethiopian, I set out to wallow obsessively in Wikipedia articles. Ethiopia is currently the most populous landlocked country in the world, though what it lacks in seafood, it more than makes up for with a range of diverse stews and vegetable-based fare, a fact that's well-represented in Sara's menu.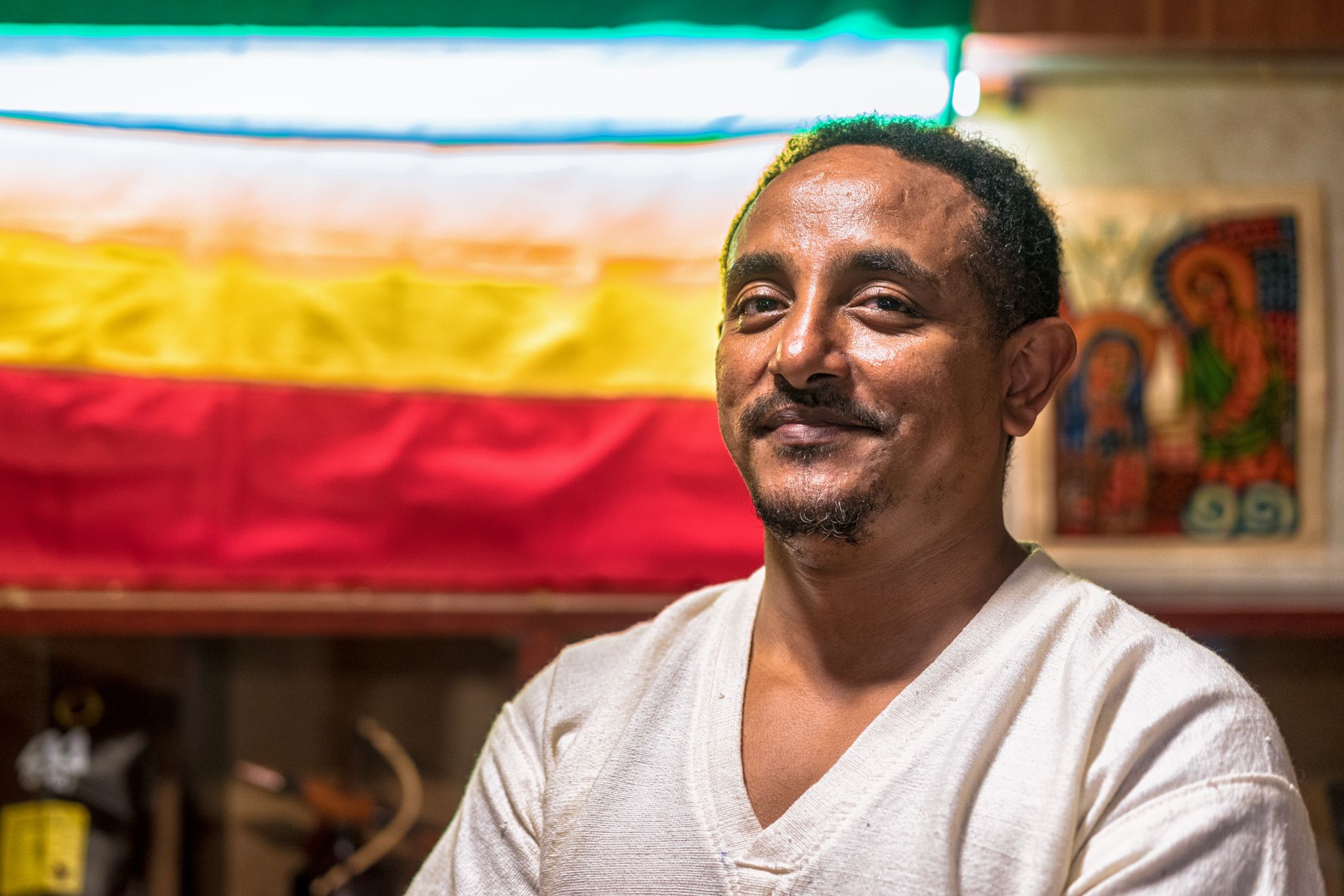 When I arrived for my second visit, the restaurant's general manager, Berhanu Demissie, was casually sweeping the shopfront. Sara Ethiopian is in the basement of a tube house down an alley on Do Quang Dau Street. Its front dining area is outfitted with a verdant plastic lawn, and the walls are embellished with a mosaic of food photography, including bowls of hearty stew and platters of salad. Demissie and his wife, Sara Alamerew, officially opened the eatery in Saigon just a month ago after more than two years in Cambodia.
Sara Ethiopian's Phnom Penh counterpart is already a household name among the expat community there, as well as visiting tourists, thanks to its close proximity to the National Museum of Cambodia. According to Alamerew, opening a restaurant in Asia wasn't her original plan. A friend of the couple was teaching English in Cambodia a few years ago. "He told us: 'Why don't you open a restaurant here, you have the experience'," Alamerew said. "Then I said. 'okay, why not?'"
They didn't expect the Phnom Penh joint to blow up like it did, but the success was enough to entertain requests to branch out to Saigon. Even in Cambodia, their patrons included many visitors from Vietnam, who insisted that the husband and wife pair grace Vietnam with their culinary expertise. Requests were made by everyone from travel enthusiasts to the big names at the Ethiopian Embassy in Hanoi, who were stoked to learn of the opening of Sara in Saigon. "They took a lot of injera, even the dry ones, to Hanoi," Demissie proudly claimed. "Now they're very happy we're in Ho Chi Minh [City]."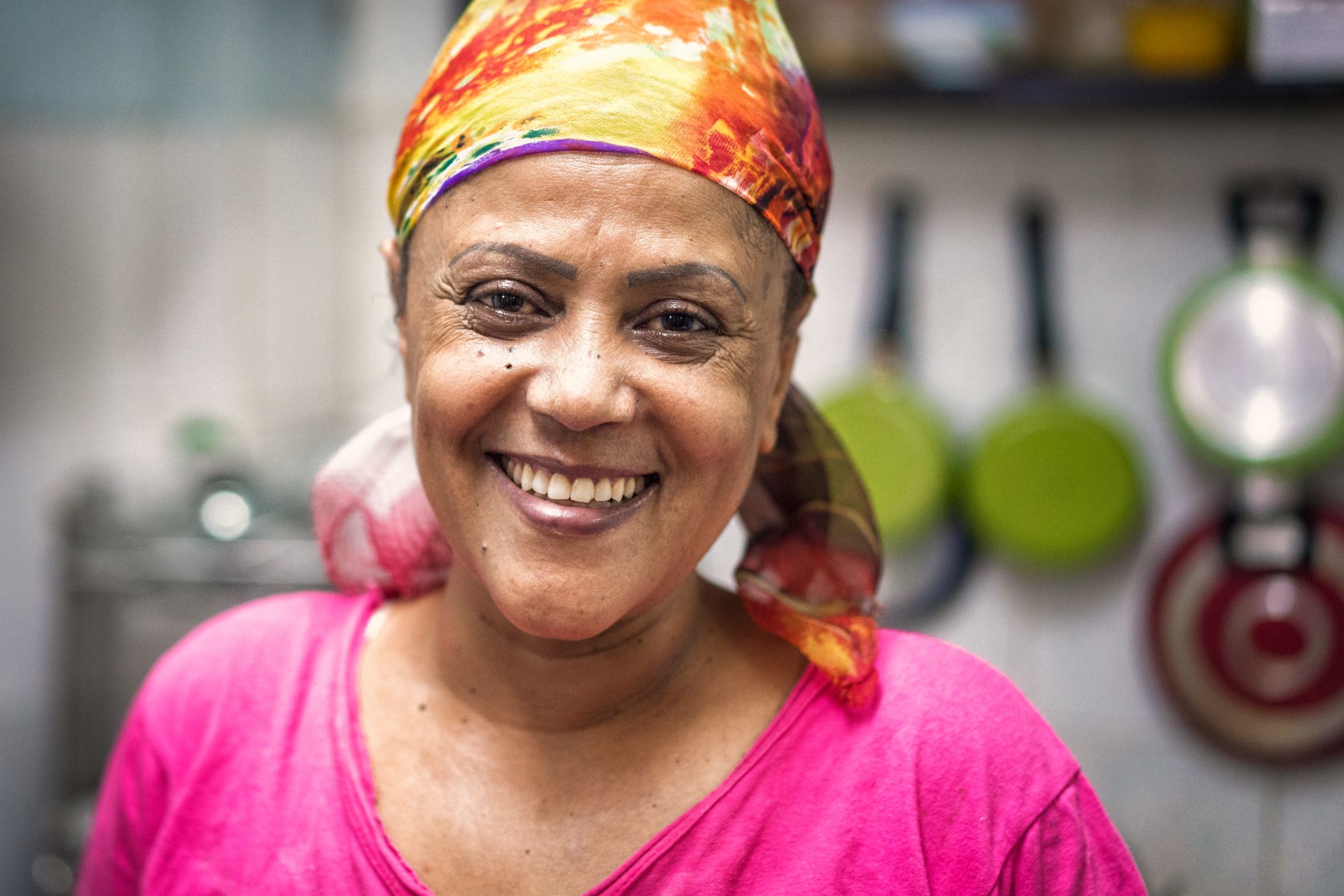 Injera is the country's national dish, a steamed flatbread whose humble appearance might lead the uninitiated to underestimate it, but it bears a unique taste and texture that's impossible to forget. The most traditional version of the bread is made entirely from teff powder and water. Native to the Horn of Africa, teff is an ancient grain that's even smaller than sesame seeds but packs ample micronutrients and fiber. Ground into a powder, teff is used as the main or partial ingredient to make injera batter, which undergoes three days of fermentation to give the bread a tangy, sourdough-like flavor and a spongy texture that's reminiscent of Vietnamese bánh bò, a dessert also made fluffy by yeast.
It is this unique airiness that enables injera to soak up the array of sauces in Ethiopian cuisine. At Sara's, injera is made fresh by order and served in rolls neatly arranged in a basket. When needed, tear away a small portion and use it to pinch bits of the stew and sauces to put in your mouth. For Ethiopian food novices, you can't go wrong with the meat veggie combo (VND190,000) — including doro wot, a chicken stew; minchet abish, a spiced beef stew; marinated beef; and accompanying vegetables (see the top photo).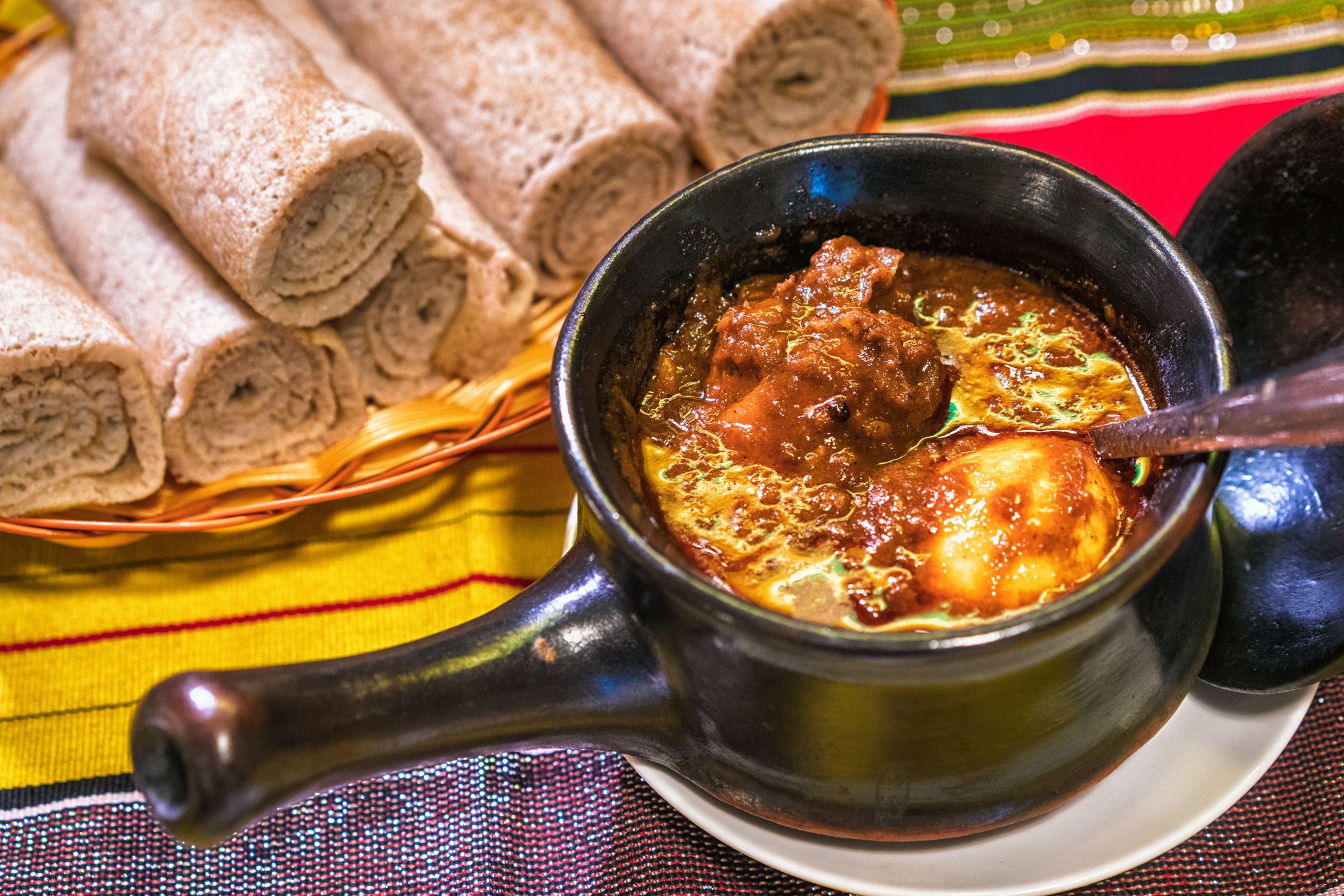 Describing doro wot as a stew is unjustly simplistic, but the complexity of the concoction is hard to transcribe in words. A portion of doro wot comes with a hard-boiled egg and chicken meat, drenched in a mahogany gravy. "That one [doro wot] is a little difficult to make," Alamerew warned me. "Red onions, a lot of red onion." Early in the morning every day, she wakes up, chops up the onions and sweats them down on low heat. "You do it for a long time, you have to do it with fire," she said. Once the onions are sweated down, she sautées them with a mixture of spices and Ethiopian clarified butter. It's also crucial to remove every bit of fat from the chicken, "even from the inside" because, according to her, the stew will spoil if the fat gets into the sauce.
Shiro wot, a chickpea stew, is also the pride of Sara Ethiopian. The velvety soup coats your tongue with a nuttiness and umami flavor so inviting it practically commandeers your hands to never stop dipping. Of course, one can request steamed rice to go with the soups, but "injera is our daily life. This is what we eat all the time," Demissie said. He emphasized its casual presence in their cuisine, in comparison with doro wot, which is a "special occasion" feast for important days like New Year or Christmas.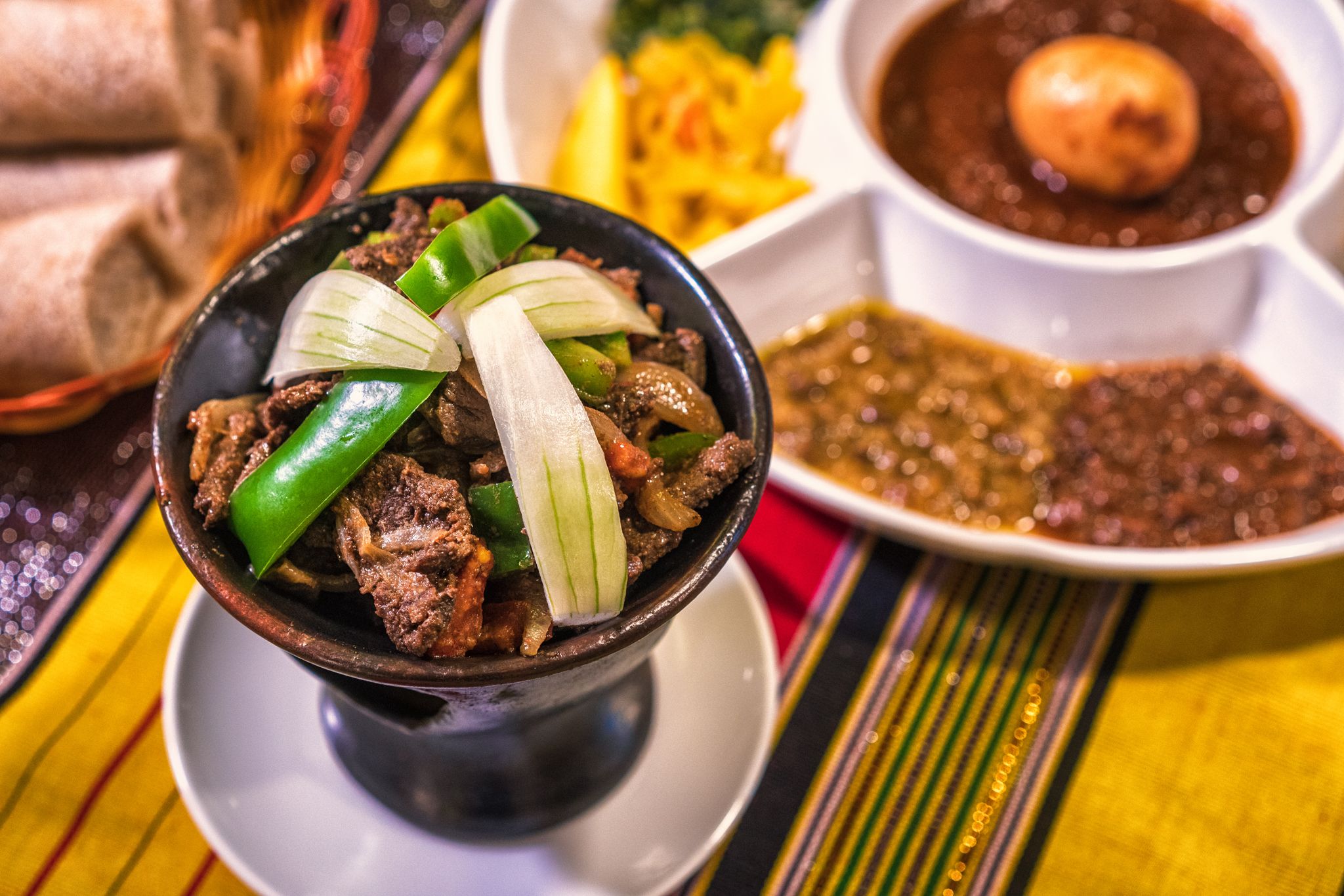 At one point during our conversation, Alamerew excused herself and came back with a pot of freshly brewed coffee. The tall black pot is called jebena, an important part of Ethiopian coffee culture. People can drink coffee in the morning, for lunch and in the evening, she said. She likes it that Vietnamese also gather to drink coffee on the street as a bonding activity. As much as the beverage is an indispensable part of Saigon's daily rhythm, at times Saigoneers don't take it as seriously as Ethiopians do. While the latter do drink coffee casually, the most ceremonial form of coffee consumption in Ethiopia is a ritual involving incense, flowers and snacks like puffed rice or popcorn.
The restaurant has only been open for a month, but reaching that point required years of planning. Within the span of two years, they went back and forth between Cambodia and Vietnam numerous times to look for a suitable location. Once they found the current location, they liked it so much that they paid rent for three months while the place was still empty because they didn't want to lose it to other tenants.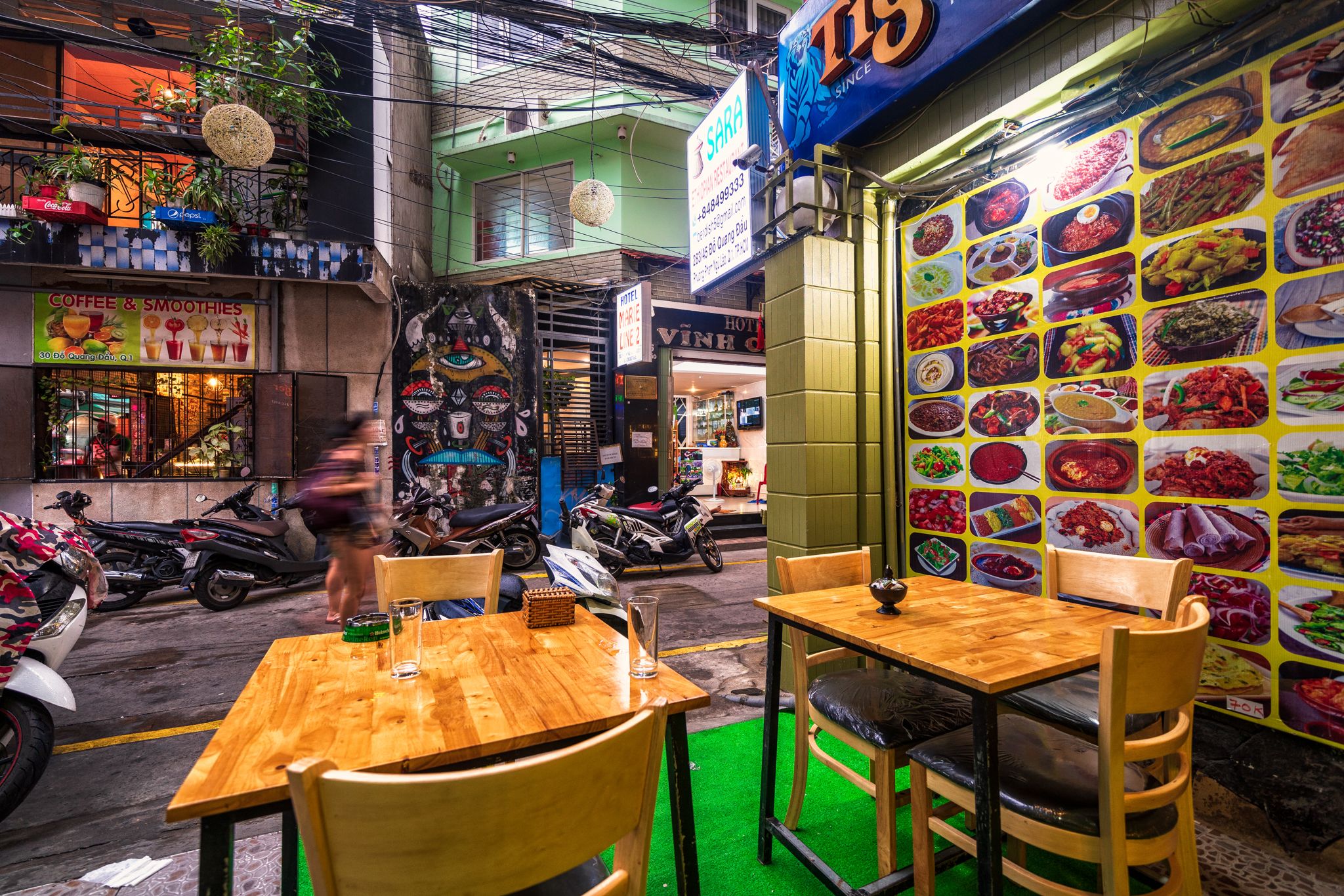 When asked if she ever misses home during her years abroad, Alamerew laughed and said that she was just in Ethiopia two months ago. She is a veteran when it comes to packing up one's life to take root elsewhere. Her family resettled in Yemen when she was young, and she once again moved to New Delhi for high school and stayed until she finished her degree in economics at university. Her mother is also a sterling chef and restauranteur, whose 35-year-old Ethiopian eatery is still open in Yemen. Growing up with a food-loving mother familiarized Alamerew with the ins-and-outs of a professional kitchen.
"I used to follow her, she used to teach, she's a professional. And now she has many stuff going on, she's only watching people," Alamerew says of her mother, who stayed with them for three months when they were preparing to open Sara Ethiopian in Phnom Penh, helping to fine-tune their injera. The batter depends a lot on the weather to rise, and Cambodia's humidity and rainy tendencies necessitated special adjustments to the family recipe. It proved to be a success that not even Saigon's fickle weather patterns could topple.
Though Demissie occasionally misses home, the husband and wife pair are content with their new endeavor in Vietnam.
"We're happy. One thing I like about Vietnam: the Vietnamese people, they like to try foreign food," she said. "The neighbors come to eat, they taste our food, and they appreciate [it]. I love our neighbors. And we have the same culture. You know, Vietnamese people, they like to help others, even if you don't have money, they will give you, like 'okay keep it, you can give me back later.' In that way, in Ethiopia also they do that."
To sum up
Taste: 5/5
Price: 4/5
Atmosphere: 4/5
Friendliness: 6/5
Location: 4/5
Khoi loves tamarind, is a raging millennial and will write for food.
Ethiopian food
283/37 Do Quang Dau, Pham Ngu Lao Ward, D1