This week, there was a rumor going around in our office about the best bò kho in the city. Because we take food very seriously at Saigoneer, I took it upon myself to determine the accuracy of this statement.
---
Related Articles:
- Hẻm Gems: Hủ Tiếu With A Side Of Attitude
- Hẻm Gems: The Lunch Lady You Haven't Met
- Hẻm Gems: Bò Nhúng Dấm @ Anh Ba

---
Getting to Saigon's beef stew mecca is easy: take a walk about 100 meters down the hẻm at 42 Hoang Dieu, and you'll find yourself in an urban neighborhood with ultra-skinny tube houses and wide, squat office buildings. Our bò kho spot sits just in front of 42/48 Hoang Dieu.
It was just after 12:30 when we arrived and, by a street food miracle, we snagged the very last two bowls of bò kho. The place is pretty bare-bones: a wooden table with a floral plastic tablecloth, a glass display cabinet for food and all the practical elements of a street cart, from bowls and utensils to the boiling pot filled with dark broth and a few chunks of beef floating on the surface.
For the uninitiated, a normal bowl of bò kho features boiled carrots, beef chunks, beef tendon and either noodles or bánh mì. Throw a few chopped onions and chives on top and you've got a standard Vietnamese beef stew. Occasionally, people get fancy and add boiled potatoes or white beans, but the beef and carrots are really the crux of the dish. If you're not into the rubbery texture of beef tendon, feel free to skip it, but make sure you dabble in the complimentary herbs and condiments – cilantro, fresh greens, lime and pepper – before digging in.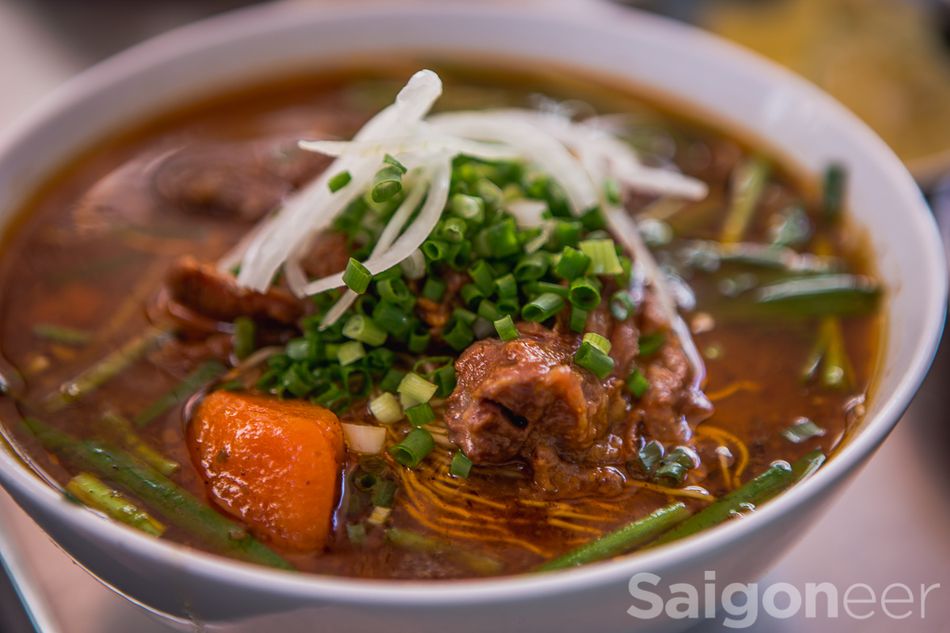 You can have your bò kho with bread, hủ tiếu, mì trứng or mì gói. Hủ tiếu is my go-to starch, as it absorbs the stew but still has a chewy texture. Go with egg noodles if you want something slightly drier. Instant noodles tend to give the bowl an extra layer of saltiness, while bread is for those who want a lighter version of the dish; it also gives you a clearer taste of the beef.
During our lunch, we started to chat with the owner, a chain-smoking fellow with salt-and-pepper hair. According to him, the credit belongs to his wife, who wasn't there at the time. She inherited the stall from her grandfather, and once they got married the tradition extended to his family, too.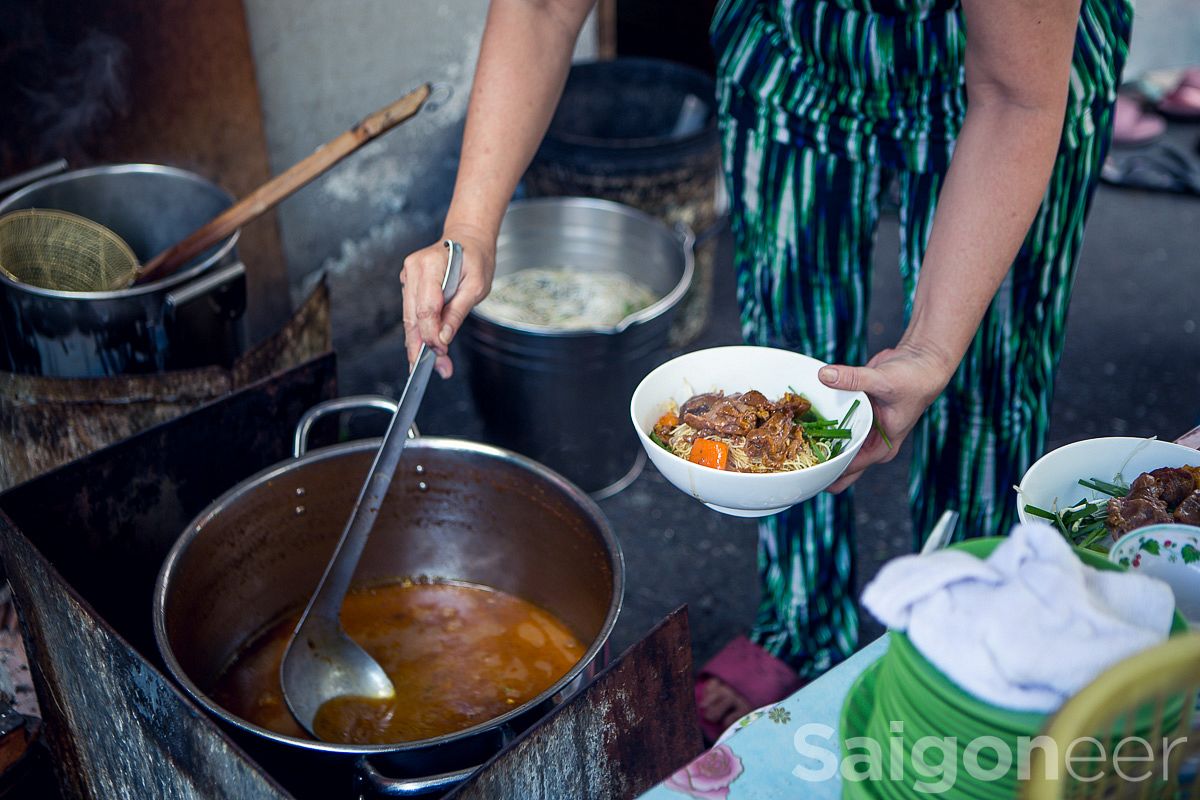 This bò kho spot has been in business for over 20 years, and when you make food this good there's no need to stay open all day: the stall is only open Monday to Friday from 7am to 1pm. On Thursday and Friday, they get adventurous and add bún mắm to the menu, too.
To sum up
Taste : 5/5
Location : 5/5
Friendliness : 4/5
Price : 5/5 – VND30,000
Atmosphere : 4/5
Núm is a street food addict who has been eating his way through Saigon for 25 years.
Bò kho
42/48 Hoàng Diệu, Q.4