At Anh Ba, it's all about the beef. This eatery offers up four bovine dishes - lá lốp (beef wrapped in lolot leaves), mỡ chài (beef quasicrepinettes), nhúng dấm (vinegar based hot pot) and tái chanh (medium rare beef sour salad). The nhúng dấm is the highlight of the menu and it's proven to be a cash cow for this busy restaurant over the past decade.
Aim to arrive at Anh Ba at about 5pm. If you're much later be prepared for the onslaught of hungry patrons from 6pm – 9pm. This place is tiny, only 5 tables, and gets a bit "omg-so-many-people-are-in-here-it-is-freaking-hot" The crowds taper down after nine and everything closes up around 930pm.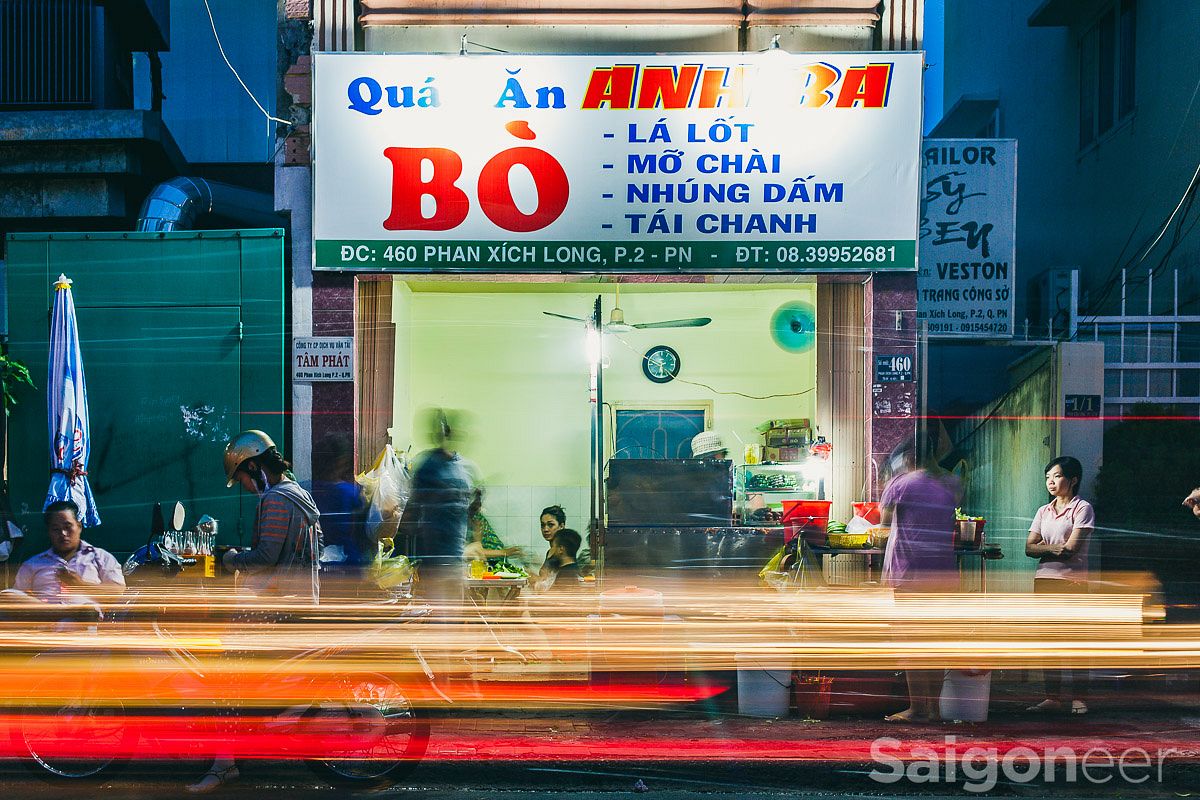 Since this place is right next to a police station, there's a definite lack of a nhậu atmosphere and seating. After parking your bike, you'll probably have to wait about 10 - 20 minutes due to the small size. Once you finally grab a seat, order everything immediately (I usually forgo the salad), to avoid melting from waiting in the heat.
It should be noted that there are neither English menus nor English-speaking staff in the store so if your Vietnamese is limited, just do your best. Point at the food maybe?
In addition to the essentials (wet towels, chopsticks, bowls, etc.) there are two types of sauce to choose from: mắm nêm (a delicious, dark brown mysteriously sauce with pineapple) and nước mắm. Choose the mắm nêm, you'll thank me later.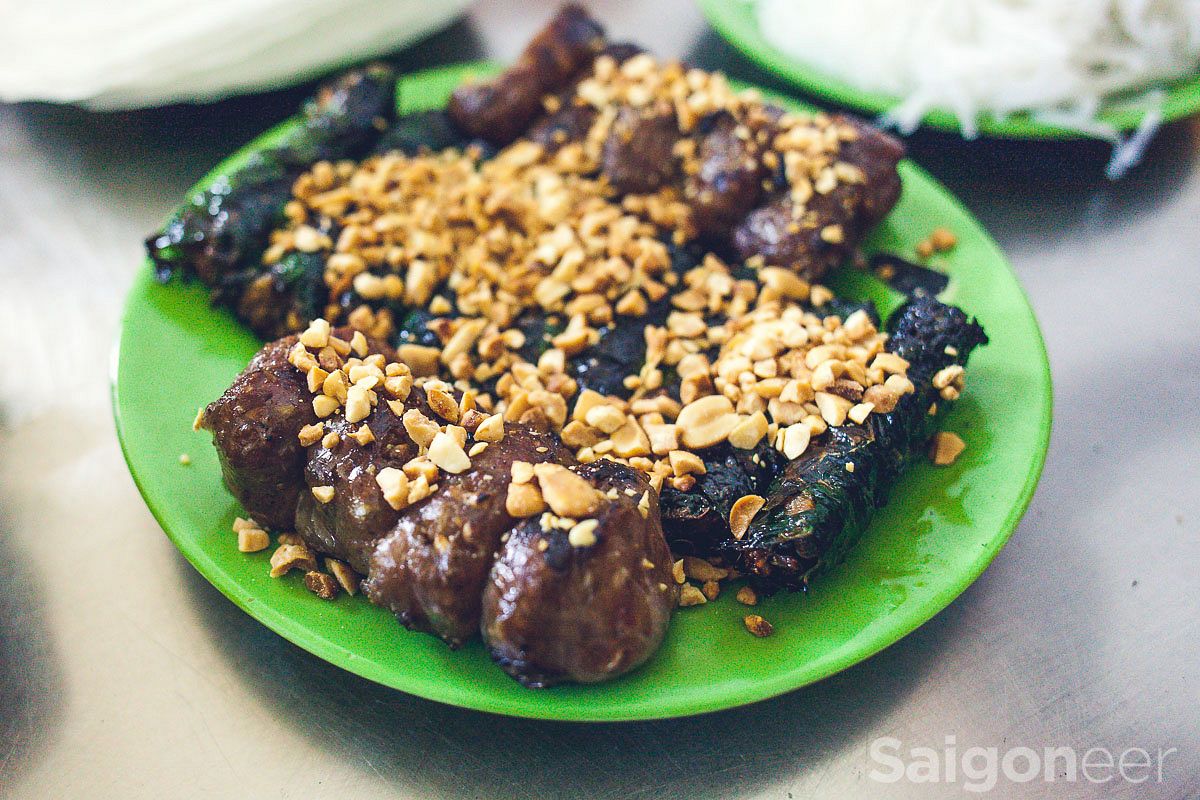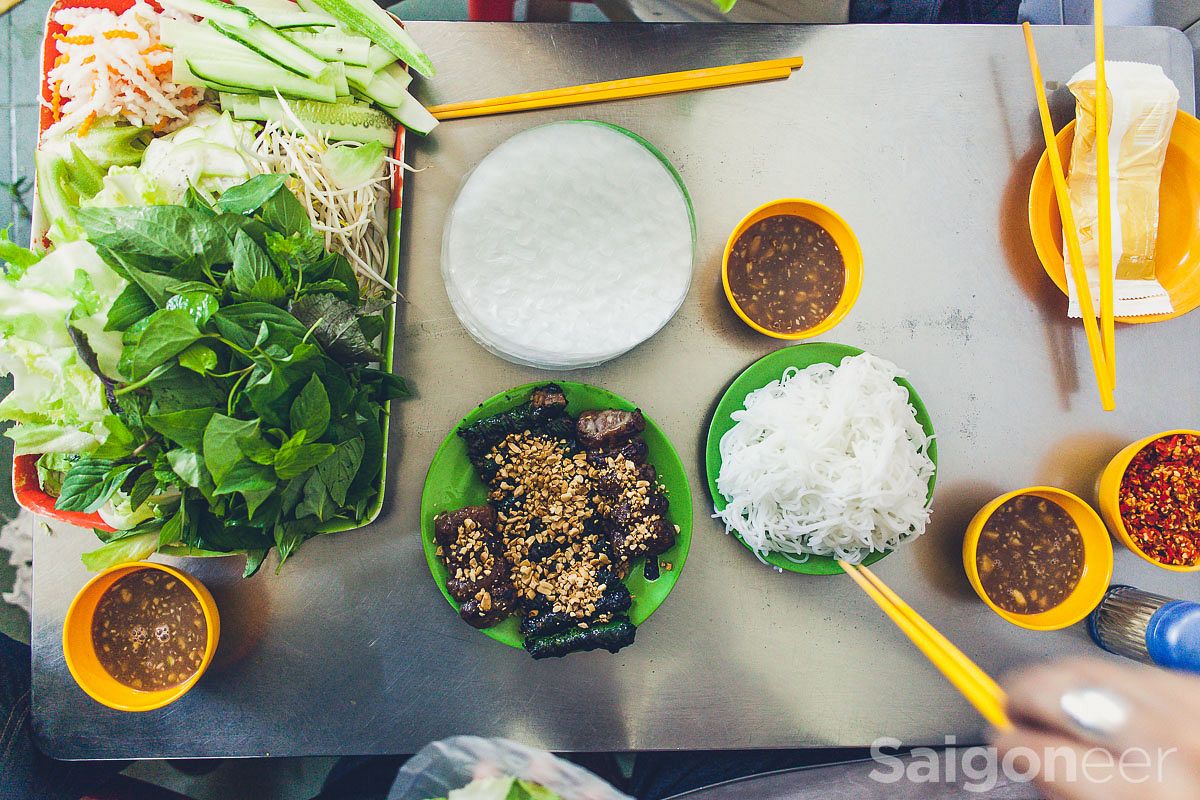 You'll also get a dish of rice paper, bún and a huge tray of vegetables including bean sprouts, green star fruit, green bananas, lettuce, herbs, sliced cucumber, daikon and pickled carrots. They will bring you the lá lốp and mỡ chài wraps first, followed by the nhúng dấm.
The nhúng dấm broth is heated on a butane stove and served with a dish of raw beef and onions.
When the broth comes to a boil, throw in the onions for flavor. Dip the beef in the rich simmering broth for 3 - 5 seconds before removing it and rolling it in rice paper. After you're done with the beef, the party starts. The beef and onions have imparted their flavors to the broth, and now it becomes the nectar of the gods. Slurp to your heart's content.
To sum up:
Taste: 5/5
Price: 4/5
Atmosphere: 2/5
Owner Friendliness: 5/5
Núm is a street food addict who has been eating his way through Saigon for 25 years.
BBQ and Hotpot
0839952681
460 Phan Xích Long, Q. Phú Nhuận