On a hot night of street food hunting, it was time for a pit stop, one that would not only satisfy our thirst, but also our sweet tooth.
---
Related Articles:
- Hẻm Gems: Crabs Galore @ Quán 94 Chính Gốc
- Hẻm Gems: Legendary Coconut Milk @ Sữa Dừa 8 Tin
- Hẻm Gems: Bò Nhúng Dấm @ Anh Ba
---
Fortunately, someone tipped us off to a nameless smoothie spot on Le Thi Rieng Street that, on the surface, appears to be a run-of-the-mill cart. But behind the glass façade of fruits and vegetables are ingredients rarely found at such stalls, namely chocolate.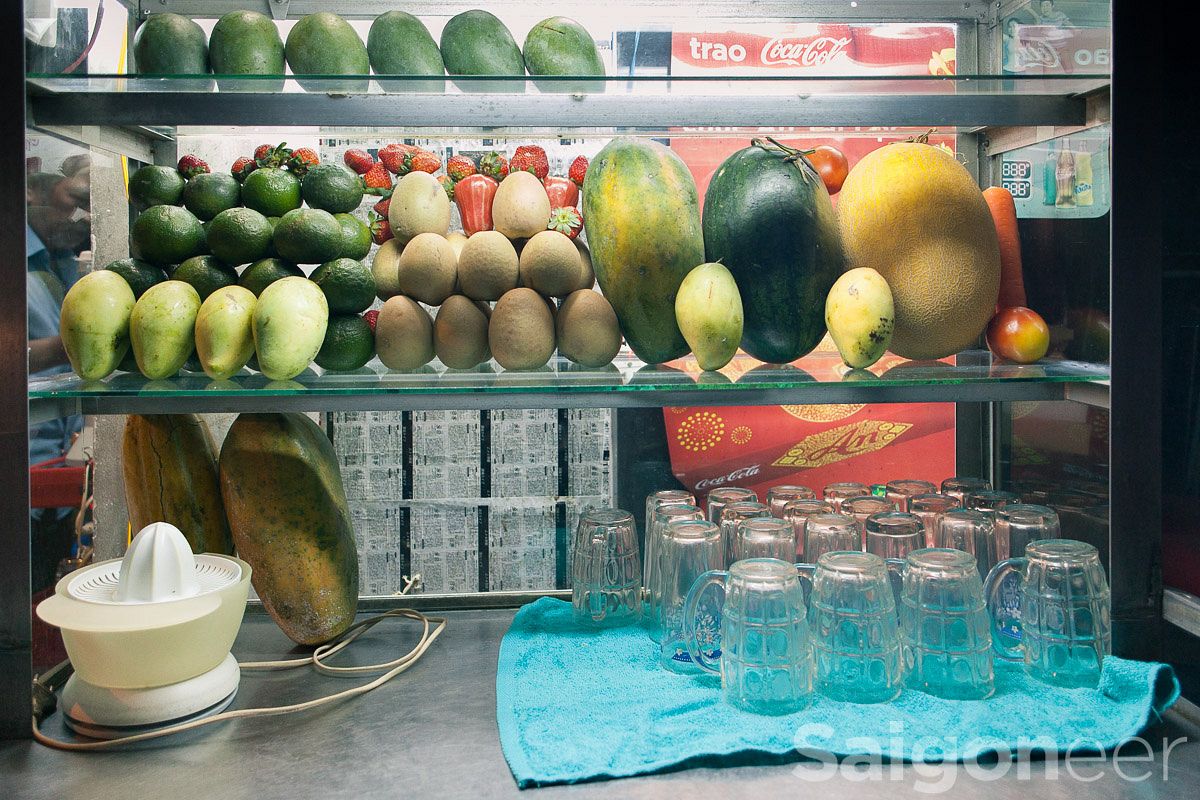 As there's no storefront, seating is located in a parking lot behind the cart that is packed between 8:30pm and 11pm with people, many of whom can be found sipping on the business's specialty - chocolate coconut smoothies (VND25,000).
The beverage is exactly what it sounds like - a mixture of blended coconut meat, ice and chocolate milk powder (pictured at the top of the article).
If chocolate isn't your thing, fret not as there are plenty of other awesome smoothie options, such as avocado-durian, mango-coconut, sapodilla-banana, yam-coconut, soursop-strawberry.
Another strong dish is the mixed fruits with yogurt (VND30,000) which contains fresh pieces of watermelon, jackfruit, mango, strawberry, melon, papaya, longan, and pineapple, all topped with a tasty home-made yogurt. Again, customization is the name of the game as you can pick and choose which fruits to include.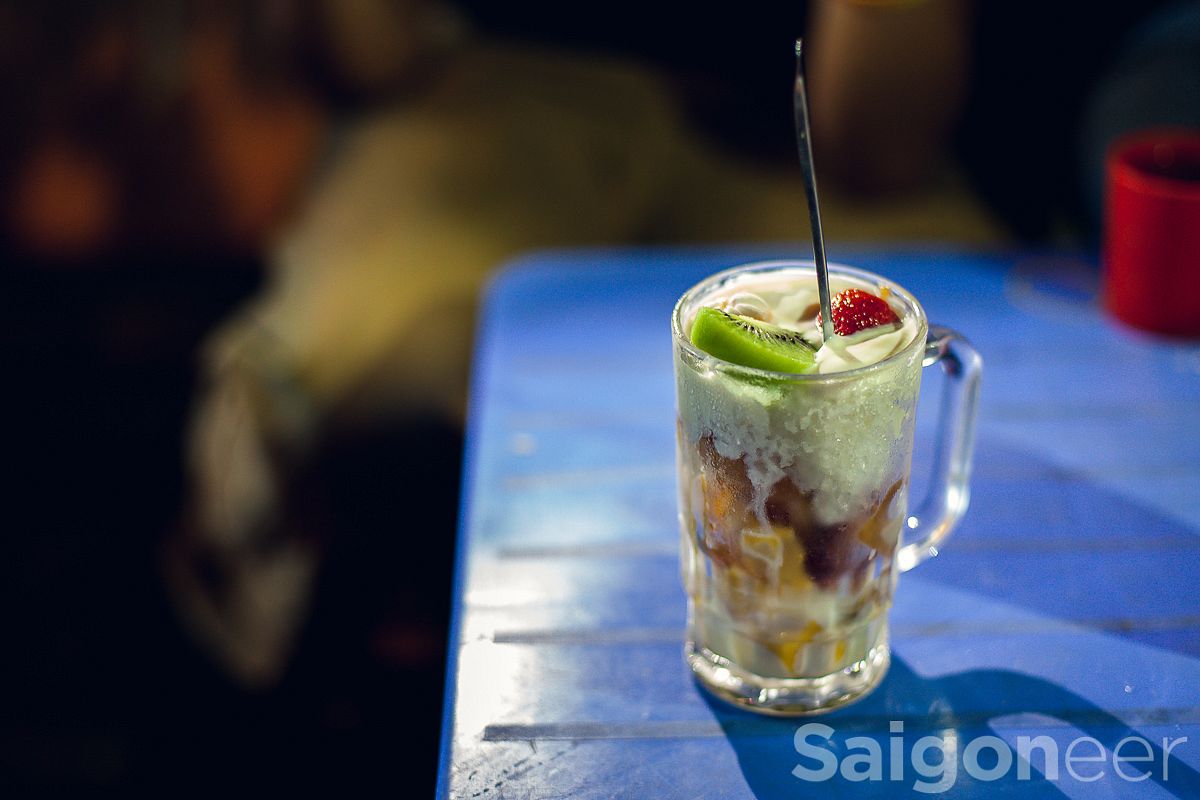 We finished up with our favorite item of the night, a fruit bowl (VND40,000) loaded with seasonal fruits (lychee, kiwi, mangosteen, etc.); green mango, plum and coconut jelly filled with flan; all topped with ice.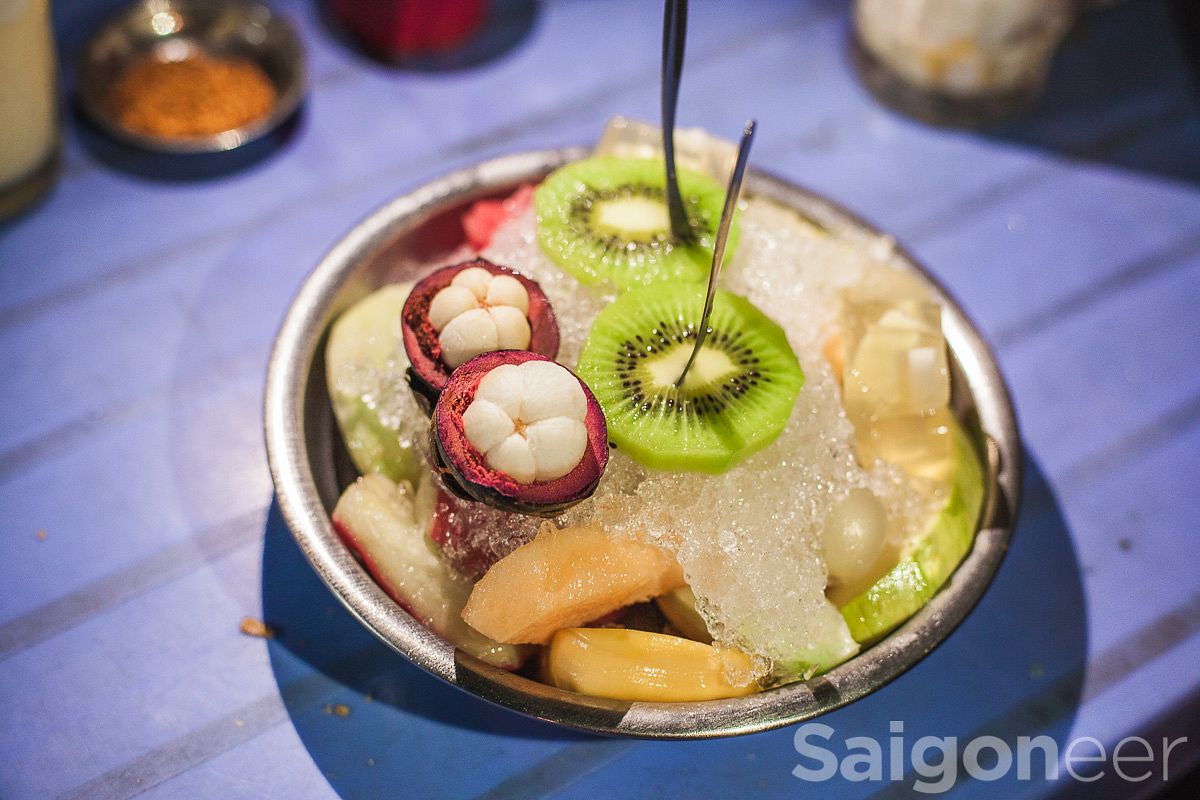 To sum up:
Taste : 4/5
Price : 5/5
Location : 4/5
Friendliness : 5/5
Atmosphere : 4/5
Núm is a street food addict who has been eating his way through Saigon for 25 years.
Smoothies
104 Lê Thị Riêng, Q.1