There are three kinds of people in this world: early birds, night owls and the perpetually tired. Try as I might to adapt, I am the third.
As such, breakfast usually consists of a coffee and a hastily procured lump of xôi in a takeaway box. While I can trick myself into eating this before my tastebuds wake up and wonder why I've had the same thing four days in a row, it's not exactly a morning feast. On the rare occasion that I have breakfast somewhere other than my home or office, I am always reminded that this is a brilliant idea and I should do it more often, but usually, that box of xôi turns out to be my morning ritual.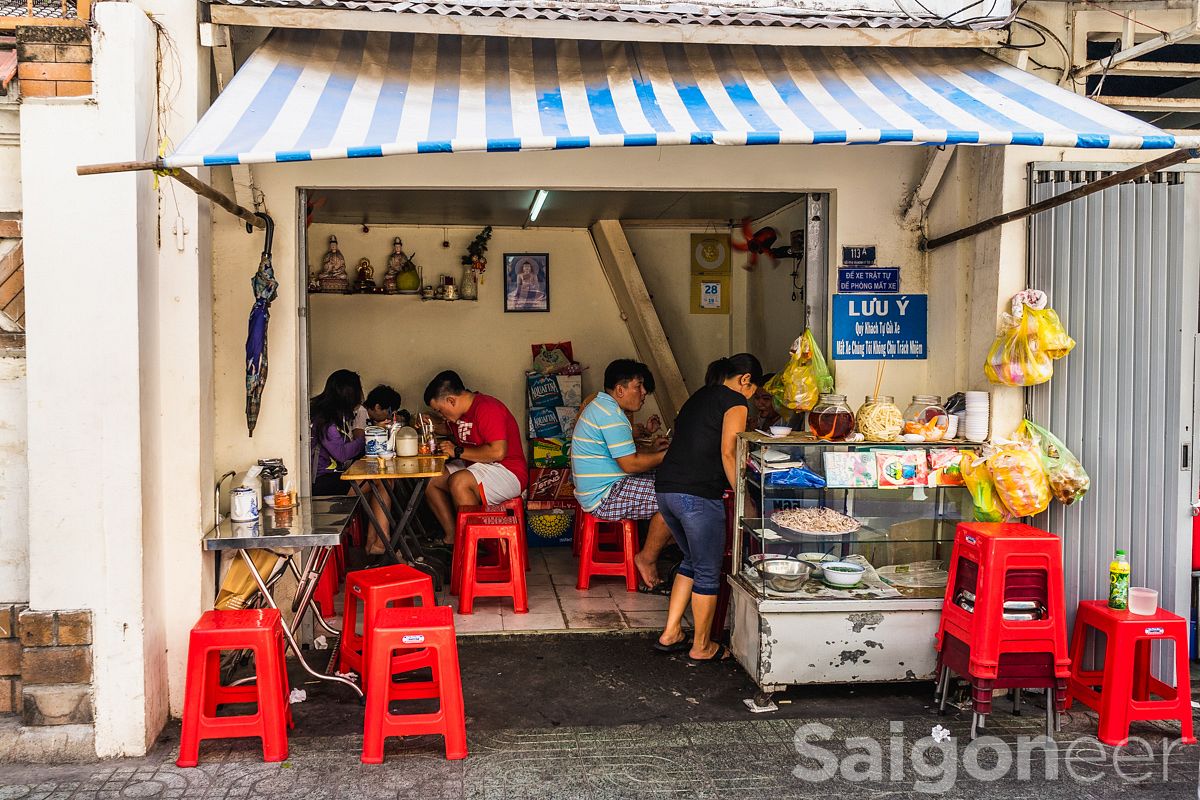 This week, I found another reason to get out of bed early enough to eat a balanced breakfast. In a tiny, windowless, open-front room near Tan Dinh Market is a delicious rendition of cơm tấm.
First, a differentiation: based upon personal experience, I would like to argue that there are different versions of broken rice. Some, for instance, make an excellent late afternoon meal, while others are best enjoyed in the early hours of the day.
When it comes to the cơm tấm at 113 Nguyen Phi Khanh, breakfast is the time to be there, not just on account of the food but also the ambiance: motorbikes are whipping by in a hurried morning commute, but inside, among the unnamed shop's whitewashed walls, a steady flow of locals tucks in to cơm tấm with various fixings: sườn (pork), egg, bì (pork skin) and the shop's signature specialty, chả cua, or crab cake.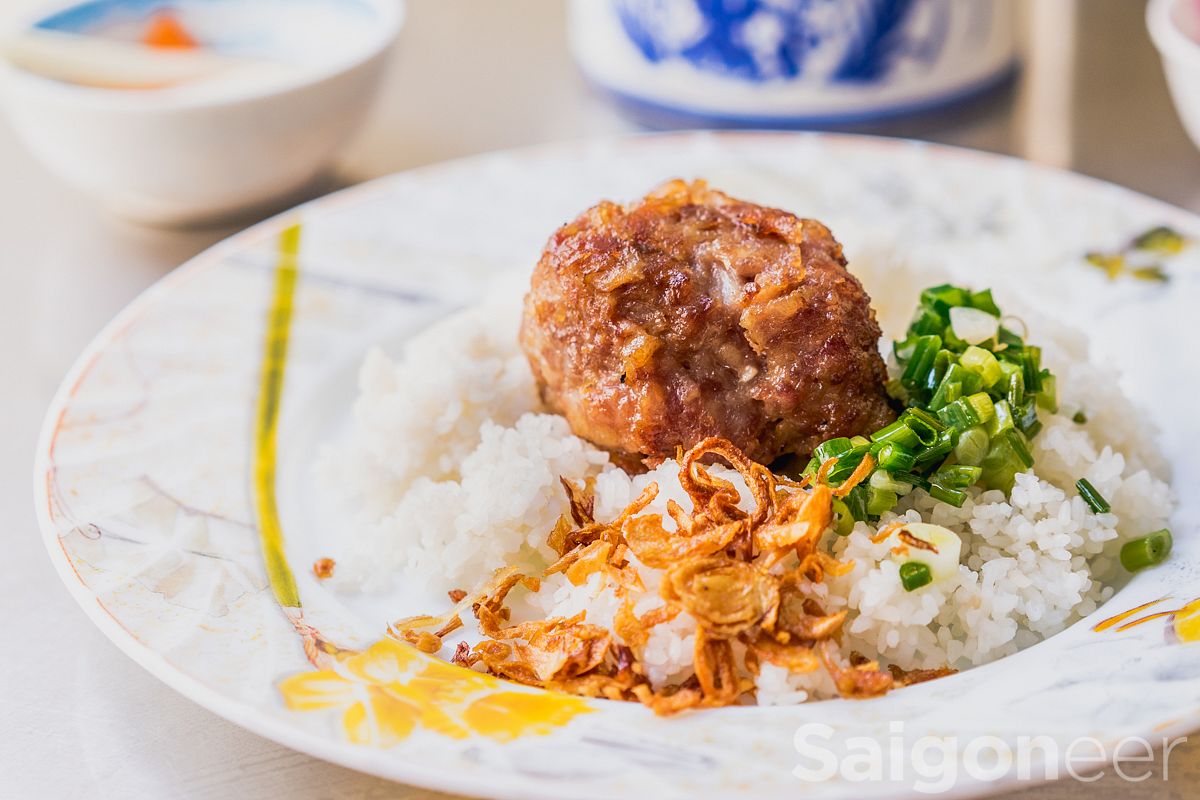 In truth, chả cua is probably a bit of a misnomer. While it's a delicious, hearty, meatloaf-type patty that pairs well with rice and a little fish sauce, the chả cua contains both pork and crab, and the ratio leans pretty heavily toward pork. That said, 113's small portions make it easy enough to have a helping of both the chả cua and the sườn.
Regardless of what you put on your cơm tấm, all orders come with a side of fish sauce and pickled veggies, crispy, fried shallots and the magical combination of oil and chopped spring onions that is mỡ hành. Make sure you get here before noon, though: the shop is open from 6am to 1pm, and options start to disappear later in the morning.
Beyond the food, 113 Nguyen Phi Khanh gives off a slightly different vibe; the shop would not be out of place in Da Lat or perhaps up north. A handful of cold-weather touches, including the blue-and-white porcelain teapots on each table, hint at out-of-town roots, however the fresh glasses of trà đá tie the shop in nicely with Saigon. Diners can also sit outside in addition to the modest one-room shop, provided you're willing to walk around the corner from where your food is prepared.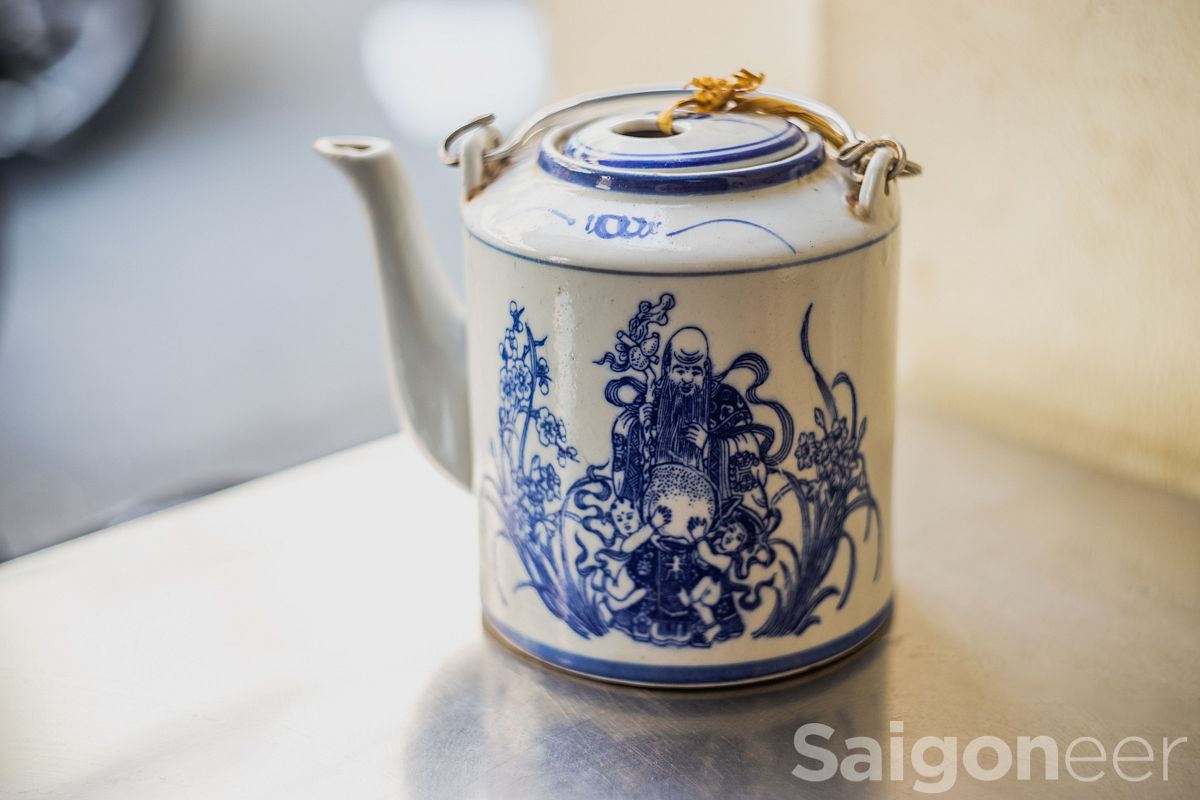 Inside, a few high shelves sit near the ceiling, lined with various statues of Quan Am, some incense and the obligatory altar. The vendors are a little brusque at first but warm right up once you start chatting. Best of all, however, is the surrounding environment. Nguyen Phi Khanh is a rare District 1 street that hasn't yet succumbed to the city's lightning-speed development. Old houses still line the narrow road, some bedecked in Chinese ornaments and wooden lintels. The handful of contemporary additions that have appeared on the street still fit in among the older structures, slipping seamlessly into the jam-packed rows of houses. Despite its constant traffic, the atmosphere on Nguyen Phi Khanh is calm, pulling you out of the city's chaos for a moment to start your day in one of Saigon's more serene neighborhoods.
To sum up
Location : 5/5 – An incredibly well-preserved District 1 street.
Friendliness : 3/5
Atmosphere : 5/5
Taste : 4/5 – Perfect breakfast cơm sườn.
Price : 4/5 – Around VND36,000 for the chả cua version; a little pricey but also unique.
Dana is 70% caffeine, 50% fish sauce and hasn't taken a math class since 2004.
Cơm tấm
113 Nguyen Phi Khanh, Tan Dinh Ward, D1

---

Related Articles:
---