A wholesome story about a cool security guard might be the best way to perk up your day.
Over the past few days, Vietnam's cybersphere has been abuzz about an encounter between a motorist and a security guard in the middle of downtown Saigon. According to the post on a popular Facebook group, the author was driving on Dong Khoi Street when his bike stuttered and came to a halt. He was struggling to find a corner mechanic when a security guard nearby motioned for him to come over.
After applying a quick fix, the guard reminded him to take the bike to a repair shop later. "Just tell the mechanic to lubricate the bike properly, and remember to just give VND15,000–20,000 or they'll try to overcharge you," he cautioned and dismissed the author's attempt to pay him.
The pick-me-up story turned out to be a favorite of netizens, who showered the generous guard with praise. Thanh Nien recently tracked down the altruistic security guard to hear his side of the story. His name is Lam Van Cuoc and he is an employee at a coffee shop on Mac Thi Buoi Street.
"My name is Lam Van Cuoc, 'cuộc' as in 'cuộc đời' [life]. I think it means a beautiful lifetime," he laughed. According to Cuoc, the neighborhood is an upper-class shopping area, so neither repairmen or small-scale gasoline stands are allowed to set up shop, despite their prevalence on typical Saigon streets. Therefore, the security guard has taken it upon himself to be that neighborhood repairman.
Every day during his shift, Cuoc looks out for troubled commuters to help fix minor bike problems. If they run out of gas, he would share a bit from his own bike, enough to get them to the nearest gas station.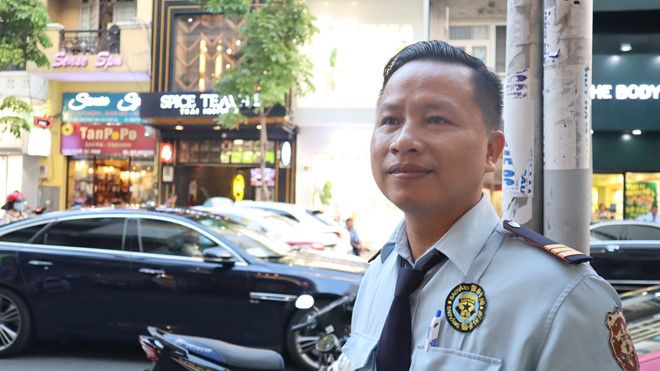 "One and a half or two xị of gasoline [one xị is approximately 250 millimeters of liquid] is just about VND10,000 or a bit more, about the same as a glass of coffee," he explained. "It's no trouble for me to cut back on a few glasses of coffee if it means I can help others. I feel unease seeing people walk their bikes in the sun as I think 'what if it's my own siblings out there?' Though I can't do anything about deflated tires, because I don't bring my tools with me to work."
Considering Cuoc's current job, many might think that fixing bikes is just a hobby, but as it turns out, Cuoc is a certified mechanic. "When I was young, there were many tractors and rice milling machines in my hometown. I was exposed to machinery from a young age and grew to love tinkering with stuff," he told the news source. "After I got older, I moved to Saigon to learn how to fix bikes at a shop in Tan Phu District. I even got a certification and planned to move back home to open my own shop, but fate led me to this security gig."
At the moment, Cuoc is sharing a house with his younger brother-in-law, who is also a security guard at the café. By settling in Saigon, he moved away from his wife, children and parents in Tien Giang Province in the Mekong Delta.
"The bus ticket to Tien Giang is just VND60,000. Whenever I'm back home, my brother will cover for me; then I'll do the same so he can visit his wife," Cuoc said. "Outside of work, I just stay home and sleep, so my salary is enough for me. When I feel that this work is not enough anymore, I'll return to my hometown, open a repair shop and become a mechanic like I've always dreamed of."
[Photos by Vu Phuong via Thanh Nien]
---

Related Articles:
---