When Chef Matt Venzke was growing up near downtown Los Angeles, his mom would often take him to a neighborhood café on her way to work. "She was a nurse director, and when she threw me into this little café the first thing that popped into my head was chilaquiles," Venzke tells Saigoneer in the kitchen of East West Brewing.
Chilaquiles are an essential breakfast street food dish in Mexico, one that Venzke considers the country's version of the banh mi.
"It was the first thing I ate in the morning as a kid; I'd sit there and watch and hang out with the Mexican ladies at the café because they loved me and my mom," the chef explains.
Venzke is bringing these fond childhood memories to a new Kegs N Eggs brunch menu, which launches October 1, along with other dishes aimed at creating a unique dining experience in Saigon. Hear the word 'brunch' and you're likely to think of expensive, all-you-can-eat affairs in a stuffy, upscale hotel restaurant. East West wants to introduce a more casual, hip brunch to Saigoneers on a lazy Sunday from 11am to 3pm.
Chilaquiles are particularly great for anyone who may have had a few too many to drink the night before. "It's a basic dish," Venzke explains. "Add a bunch of butter to a pan and toss the tortilla chips in, and then some eggs. Toss it around to cook the chips a bit, and I top it off with a ton of cheese, which is part of my version since there isn't much cheese in Mexico."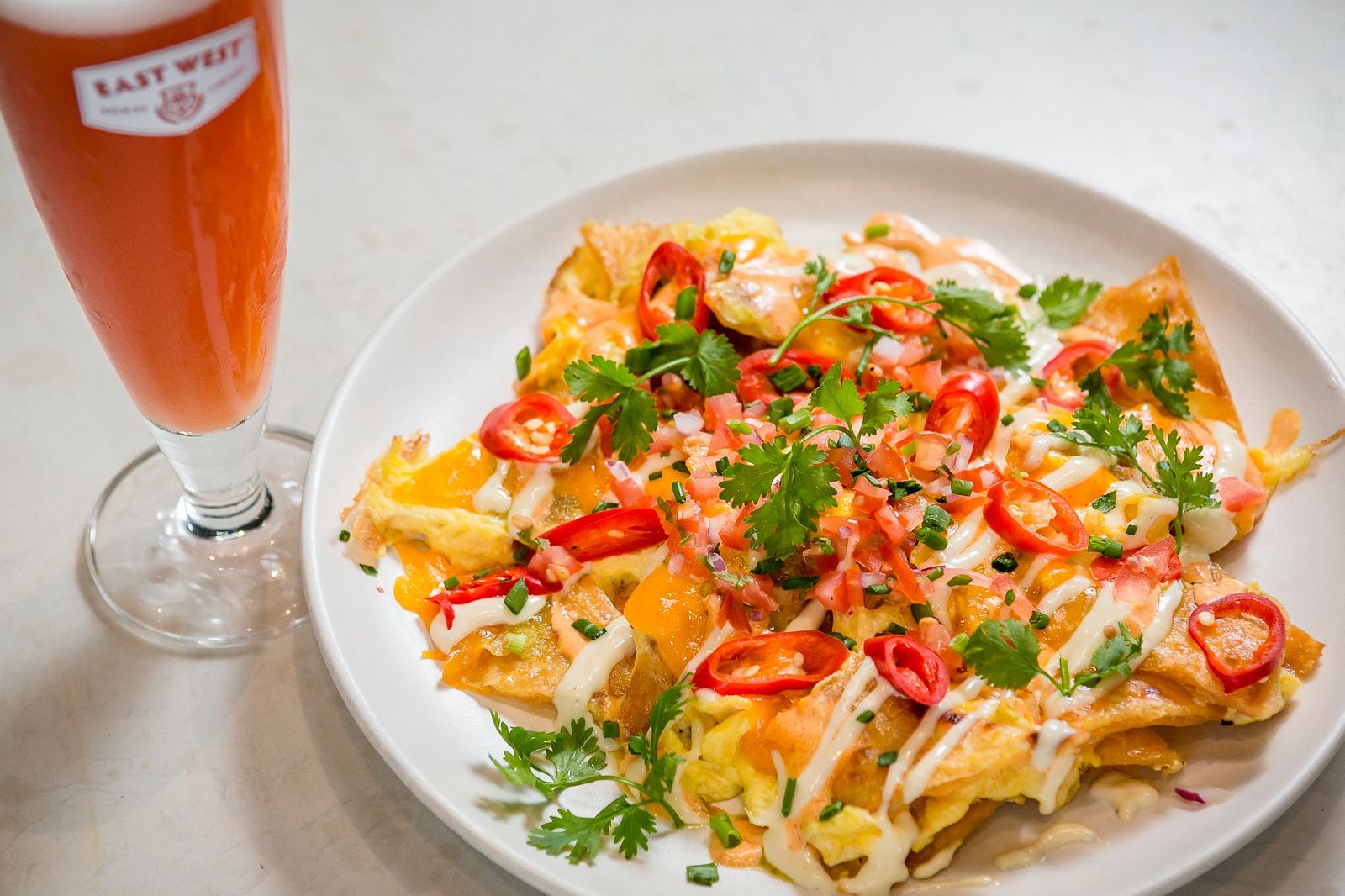 Once the eggs are cooked and the cheese covers the chips, Venzke garnishes the dish with pico de gallo, a secret sauce and pickled chilies. The end result is a decadent, cheesy delight somewhat reminiscent of Tex-Mex nachos in the US, though with much higher quality cheese.
"I love this dish," Venzke adds while cleaning up. "Me and mom, we'd cook it together. I looked back recently and I finally figured out why I cook – my mom introduced me to a lot of ethnic food in LA…I got introduced at a very young age and then I went out on my own. She's all I got left of my family, and I cook for her."
The chef's is accompanied by Tu Nguyen, East West's sous chef. Though shy in front of the camera, her sarcastic, no-nonsense attitude is typical for a fast-paced kitchen. Venzke admits that she has even taken over some of his tasks. "For the Thai French toast, I used to make the brioche, but I'm not allowed to anymore," he shares. "I messed it up once and Tu won't let me do it again.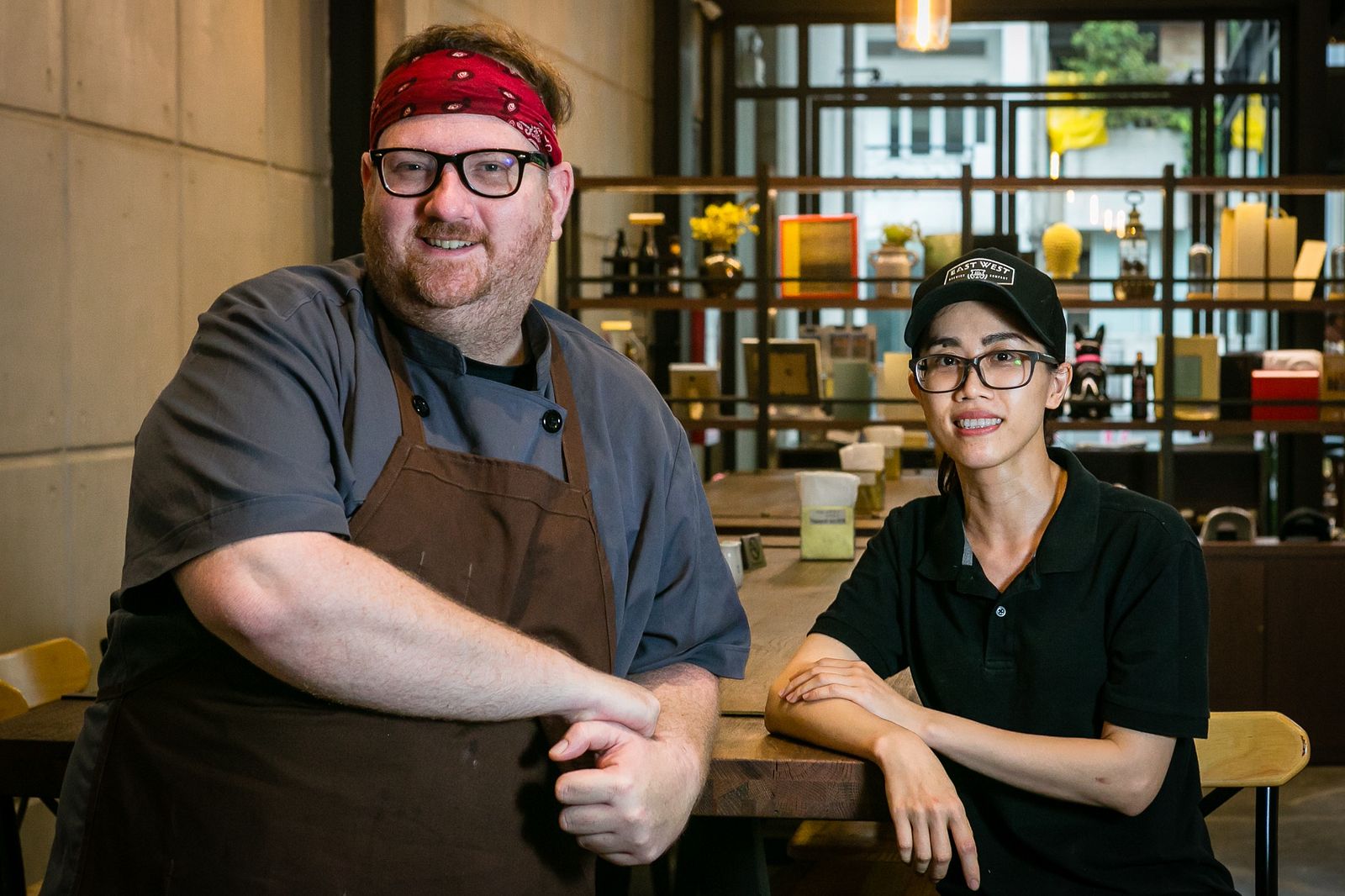 That dish is an example of East West's effort to appeal to people hankering for familiar brunch dishes but open to a little creativity. Here, the classic breakfast dish is infused with a touch of Southeast Asia via Venzke's previous experience at Thai restaurants. "I wanted to make savory French toast, so it's got calamansi cream to dip it in, and a ginger lemongrass coconut milk and peanut satay sauce," he says as he prepares the dish. "Then it's topped with whipped coconut milk, peanut butter and cream cheese, so it's super decadent and savory at the same time. Those flavors aren't that sweet, so I add a bit of sugar to the cream cheese."
The Thai French toast illustrates the new menu's focus on Asian influences, which will appeal to diners unfamiliar with standard Western fare. "Thai flavors go well with that," Venzke says. "Everyone here is familiar with those flavors; they know what they're getting into."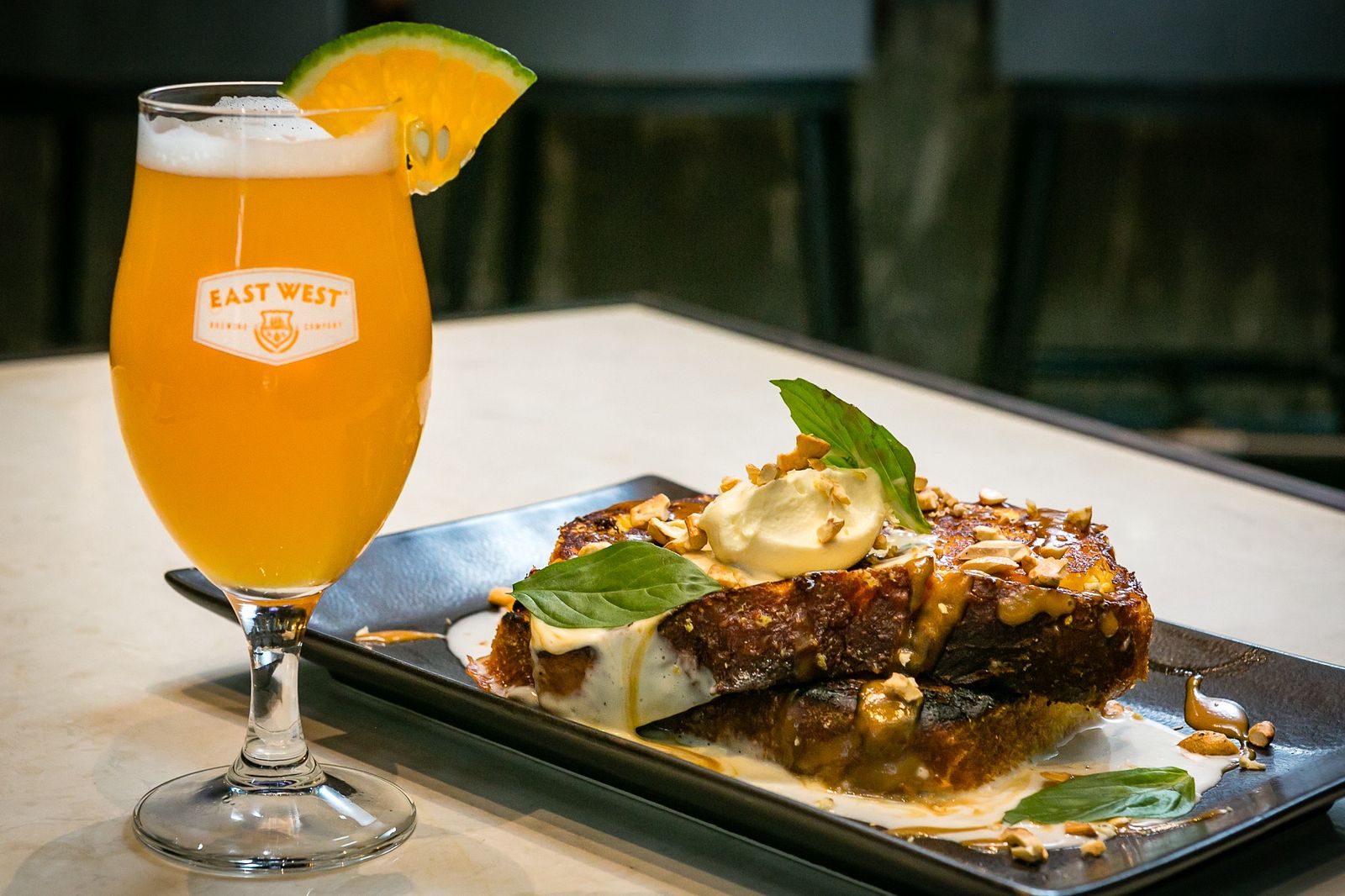 This dish is definitely one to be shared, as the fluffy brioche ends up being fairly heavy once it soaks up the satay sauce, peanut butter and cream cheese. Thankfully the brunch caters to sampling and nibbling. Unlike typical brunches were diners pile plates high with food from large, water-warmed wells, all the small dishes at East West's Kegs N' Eggs are ordered à la carte and included in the VND500,000+ buffet, which also features a cold buffet filled with cheeses, meats and seafood. Thirsty patrons can add a free-flow craft beer package for VND350,000+.
The free flow makes perfect sense. Since East West is a well-established brewery, no meal is complete without a perfectly paired beer. Both the chilaquiles and the Thai French toast are put together with that in mind. The former goes with the Saigon Rosé beer, a light, very drinkable raspberry-type brew, while the latter goes with the refreshing Summer Hefeweizen.
Combine these pairings with East West's airy, naturally lit atmosphere and the hip Top 40 music coming from the sound system, and you've got a brunch unlike any other in Saigon.
East West Brewing Co.'s Facebook Page
East West Brewing Co.'s website
Monday – Wednesday, 11am – 12am
Thursday – Saturday, 11am – 1am
Sunday, 11am – 12am
181 – 185 Ly Tu Trong, D.1, Ho Chi Minh City