Because the waters surrounding Phu Quoc teem with exotic life, many visitors to the island look forward to indulging in a vast array of seafood.
While boutique Salinda Resort caters to these desires at its Vietnamese restaurant, it also offers vacationers some welcome dining diversity thanks to an authentic Italian restaurant. At Casa Italiana, head chef Tobia Senini incorporates local flavors and ingredients into family recipes from his home country. A traditional four-course meal, known as a cena, invites diners to enjoy the cuisine's rich history through a distinctively Vietnamese lense.
A Romantic Ambiance
Savoring each course of a cena is a slow, relaxing affair and Casa Italiana is the perfect place to do so. A handpainted mural, imported Italian floor tiles, expansive blue sky painted on the ceiling and warm brick walls remind guests of a quaint Italian villa. The veranda offers views of the stars that are so heartbreakingly absent in Saigon as well as a grove of fragrant star apple trees below. Soft, modern Italian music lightly playing in the background completes the bucolic vibe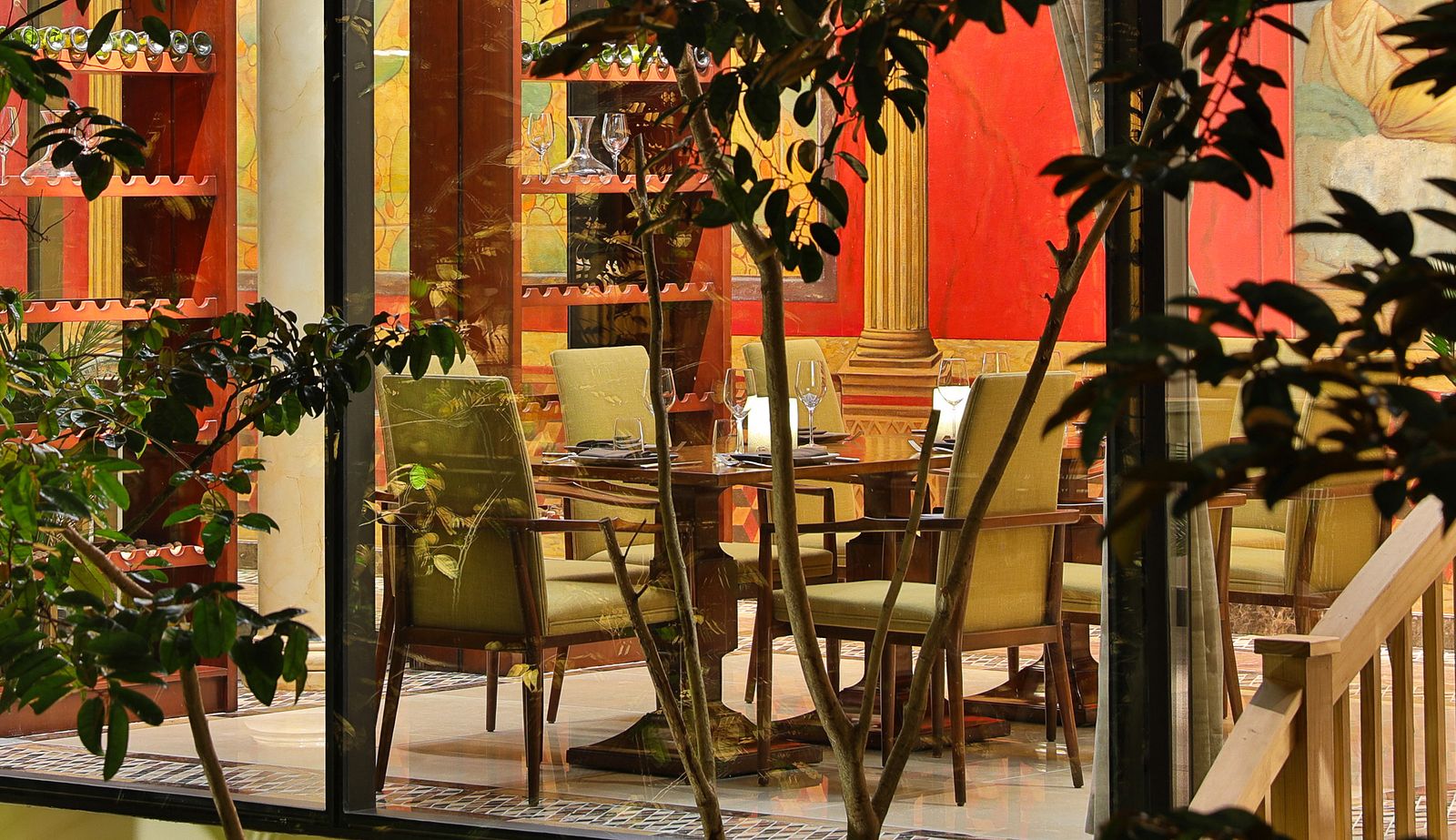 Antipasti
After a complimentary plate of homemade foccacia bread with olive oil, typical Italian meals begin with a warm or cold starter meant to share. The insalata della casa exemplifies the gastronomic ethos of the restaurant by combining cured Italian meats with artisnal cheese handmade at a small farm outside Da Lat operated by another Saigoneer favorite, Pizza 4Ps. The crisp, clean and refreshing dish pairs well with a cocktail such as the modern Contessa which can be described as a distant cousin of a classic Negroni because it replaces Aperol for Campari and dry vermouth for sweet.
Primi Piatti
All the pasta and risotto offered as part of the primi piatti course are homemade, according to techniques that Tobia learned in his grandmother's kitchen and at some of the nation's top restaurants. His risotto gamberi and zaferano, for example, originate in the Lombardy region of Italy near Tobias' hometown. The floral, honey-nuanced saffron rice is complemented by plump Phu Quoc prawns bringing Italy and Vietnam together on a single plate.
As a boy, Tobias enjoyed strolling through the woods near his family's house and picking wild porcini mushrooms. Fond memories of those halcyon days inspired him to create an elegant dish that adds the mushrooms to tagliatelle seasoned with truffle oil and parsley. The pasta comes served beneath an upturned cocktail glass that when removed, fills the table with fresh aromas reminiscent of Alpine forests.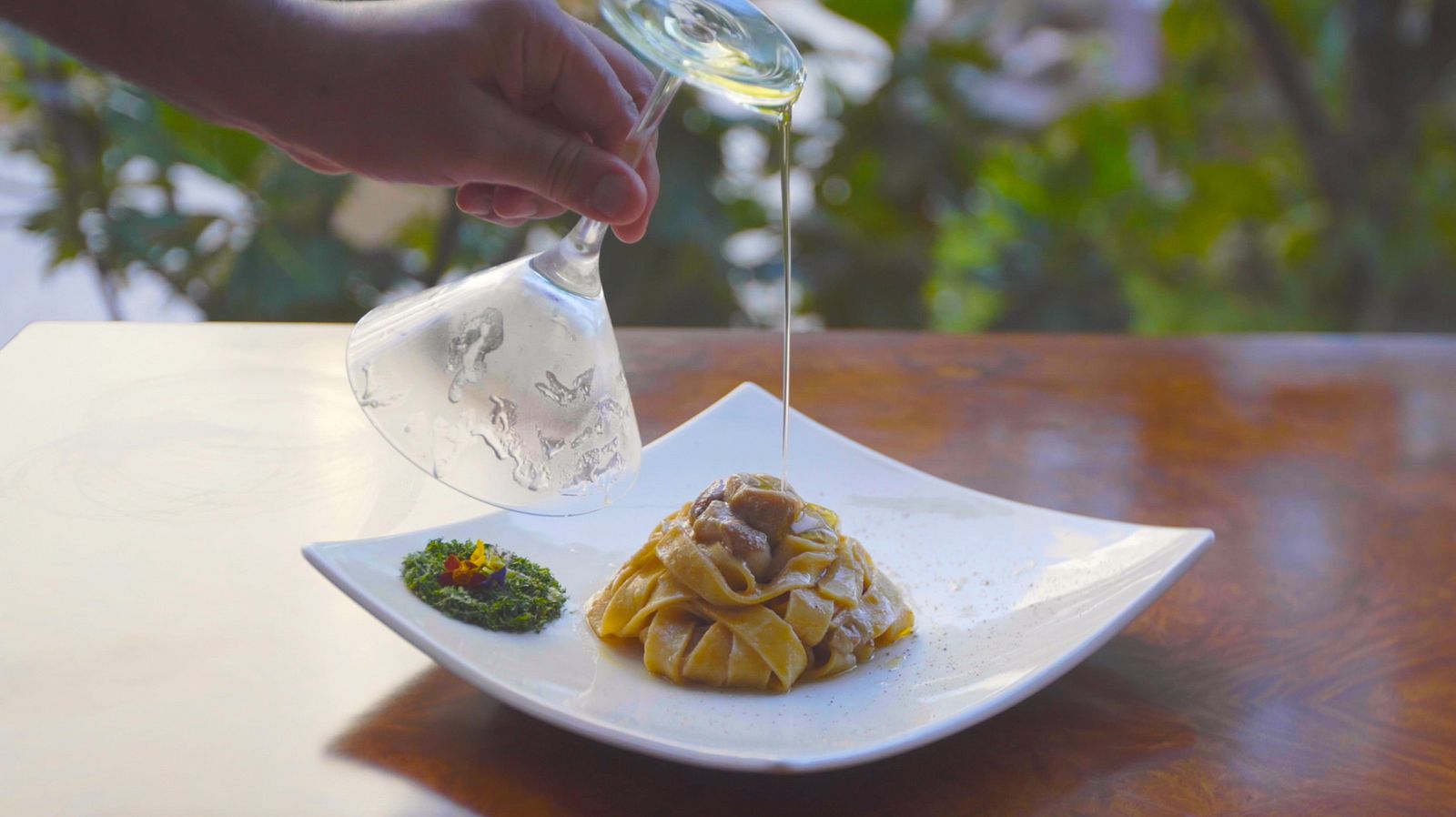 Stone Oven Pizza
Before proceeding to the main course, hungry guests or large parties are recommended to try a wood-oven pizza. Tobias was honored with fourth place in the Pizza World Summit in Middle East and North African countries (MENA) thanks to his authentic Italian pizzas that span time and place. The unique crudo, for example, harkens back to an ancient recipe that calls for a savory, herb-filled bread to be sprinkled with extra virgin olive oil and rosemary, cut and then covered with fresh arugula salad, Parma ham, shaved parmesan, cherry tomatoes and buffalo cheese. While a different take on a pizza, it gives them a glimpse into the long history of one of Itay's most famous foods.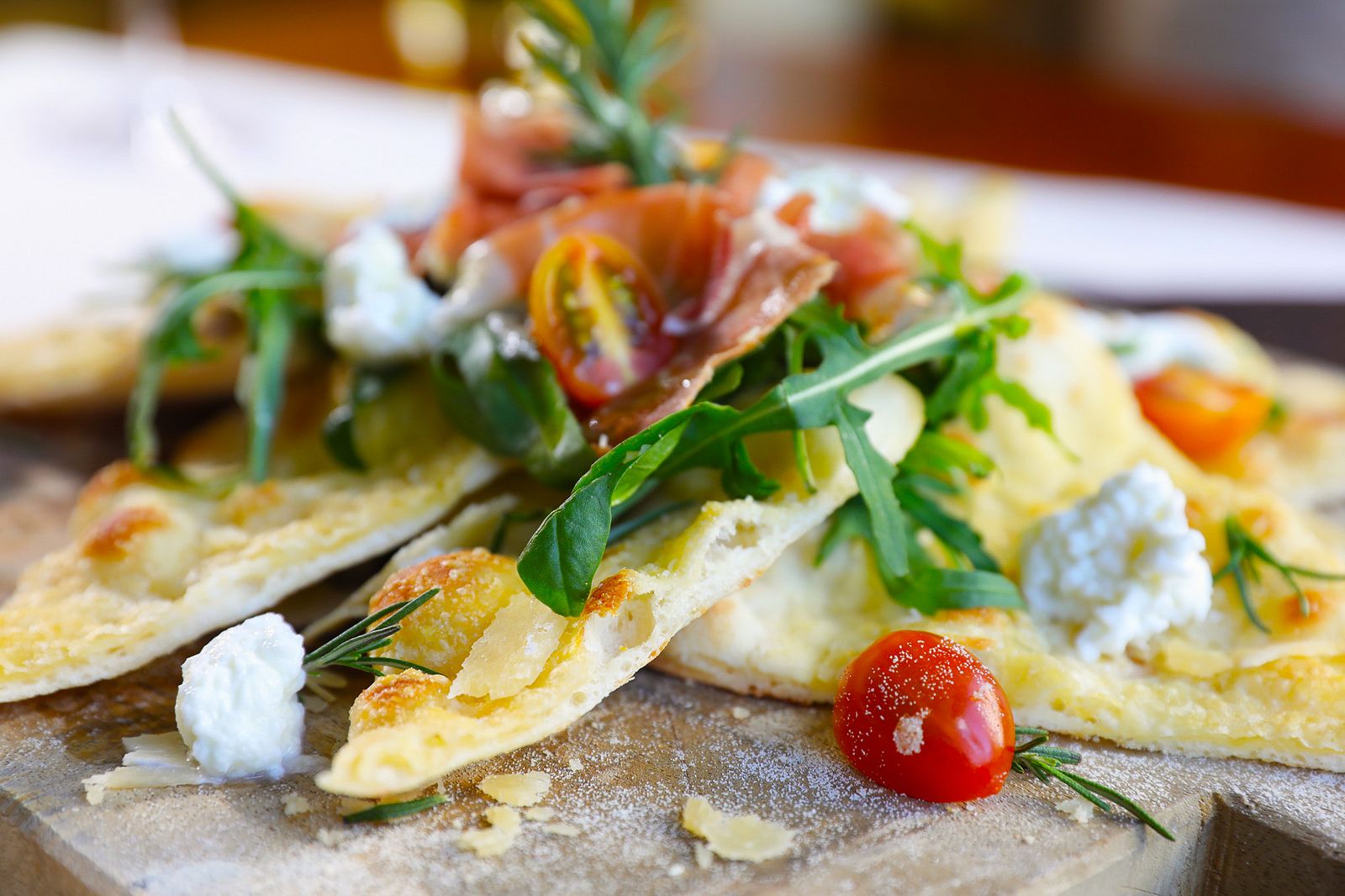 Secondi Piatti
Piedmont is renown for its slow-cooked cuisine and Casa Italiana transports guests to that region nestled into the shadows of the Alps through tender beef cheeks braised in a rich red wine sauce. The succulent meat which melts in one's mouth is served with polenta chips and parmesan cheese.
The restaurant is cognizant of dietary needs and therefore features a variety of vegetarian and gluten-free options including a zucchini pancake. After traveling throughout Vietnam learning about the native cuisine, Tobias concocted this Italian take on bánh xèo. Dipped in a sweet wine vinegar, the crisp bites reveal how well Italian and Vietnamese traditions can mix.
Dolce
No Italian meal is complete without a sweet finish and the course demonstrates Tobias' appreciation for local ingredients and flair for creative presentation. Rather than served in its traditional dish, his affogato is splashed with white and dark chocolate mousse onto a plate alongside vanilla ice cream and either a shot of Vietnamese coffee or chocolate from boutique Saigon producer, Marou Chocolatier Moreover, when he first came to Phu Quoc, Tobias was intrigued by the unique rose myrtle or "sim" berries and made sure to include the tart, flavorful morsels in the pannacotta al frutti locali.
While most Phu Quoc resorts offer unfettered beach access and a chance to relax in the sun, one of the ways the boutique Salinda Resort distinguishes itself is through its food. Much like its Indian restaurant, Namaste, and its namesake Vietnamese restaurant, Casa Italiana invites guests to enjoy homemade dishes authentic to the chef's native country that incorporating local flavors. People know the island is the place to go for seafood, but this restaurant proves its also a perfect destination for a world-class Italian cena.
Salinda Resort Phu Quoc Island's website
Salinda Resort Phu Quoc Island's Facebook Page
Salinda Resort Phu Quoc Island's Instagram
(0)8 3929 3097
Salinda Resort Phu Quoc Island | Cua Lap Hamlet, Duong To Commune, Phu Quoc Island, Kien Giang Province, Vietnam