Two large crane statues stand atop ceremonial turtles with lotus flowers in their mouths on either side of the entrance to Villa Royale.
Typically only found at Vietnamese temples, these traditional objects are symbols of power, luck and longevity and were brought in from Hue after they were replaced with marble dragons. Behind them is a poem written by a Chinese student in Cambodia expressing how much the artist misses his home. These unique pieces serve as a good introduction to the antique shop and high tea house.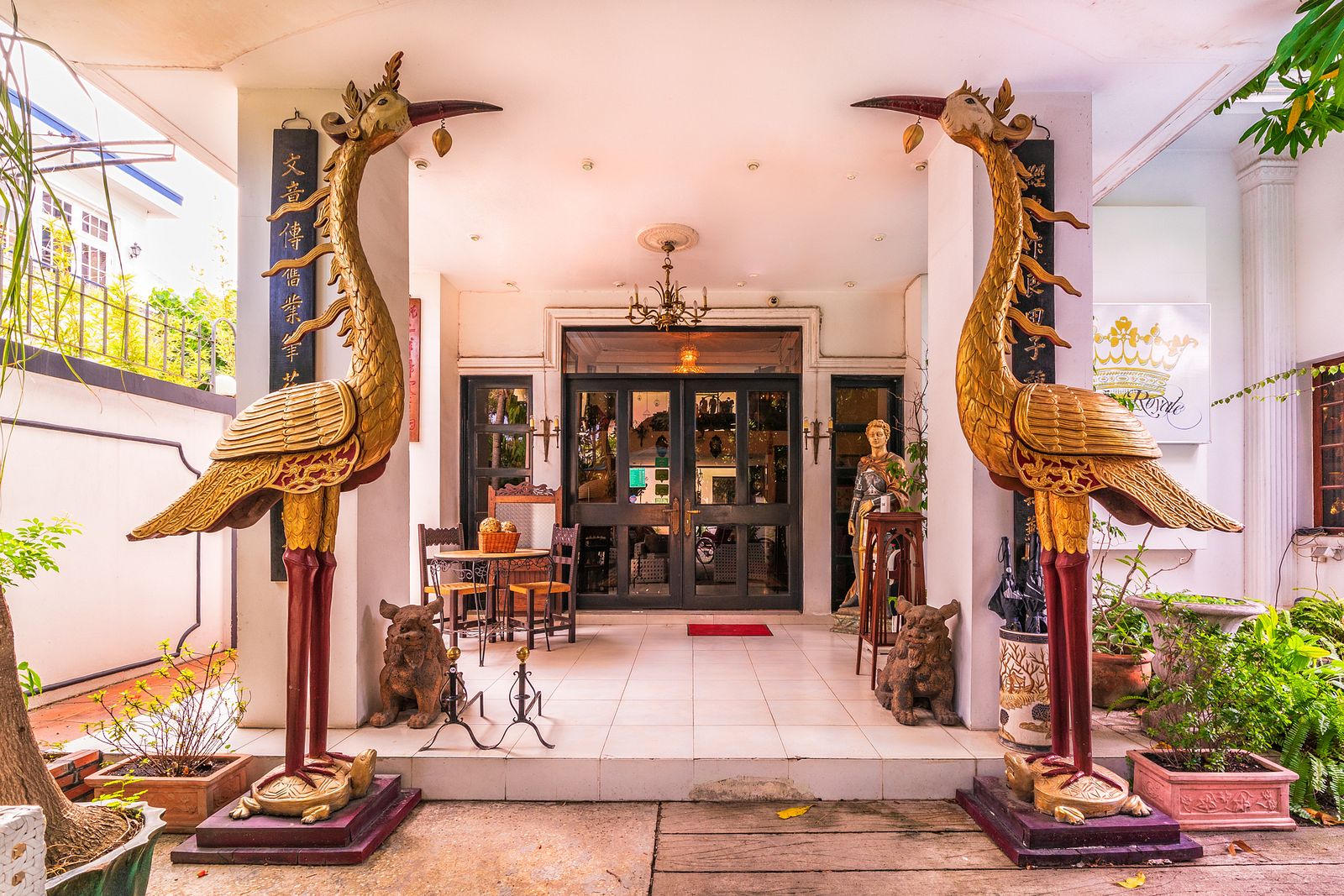 Stepping into the cozy District 2 villa can be pleasantly overwhelming, as one's eyes struggle to find one thing, in particular, to focus on. A 100-year-old, impeccably stitched Moroccan saddle sits next to the door across from a Cambodian Buddha statue made from a mango wood and a Chinese ceramic cabbage upon which an insect is depicted. Elsewhere, royal purple English Genoa sofas from the 1940s rest in front of a European statue of Saint Anthony and Indonesian tribal masks. A variety of art, including paintings by contemporary Vietnamese artists, as well as French tapestries, Venetian mirrors and old Hennessey posters loom high above. All of the items are for sale.
Saigoneer visited Villa Royale to speak with owner David Campbell to learn more about the space's history. David explained that when he moved to Vietnam he had planned to live a relaxed retired life, until realizing Saigon was the perfect destination for a high tea venue, as well as an antique showroom. He says he wanted it to feel like visiting a family member's living room, where people could comfortably chat, have business conversations, or simply sit quietly and read.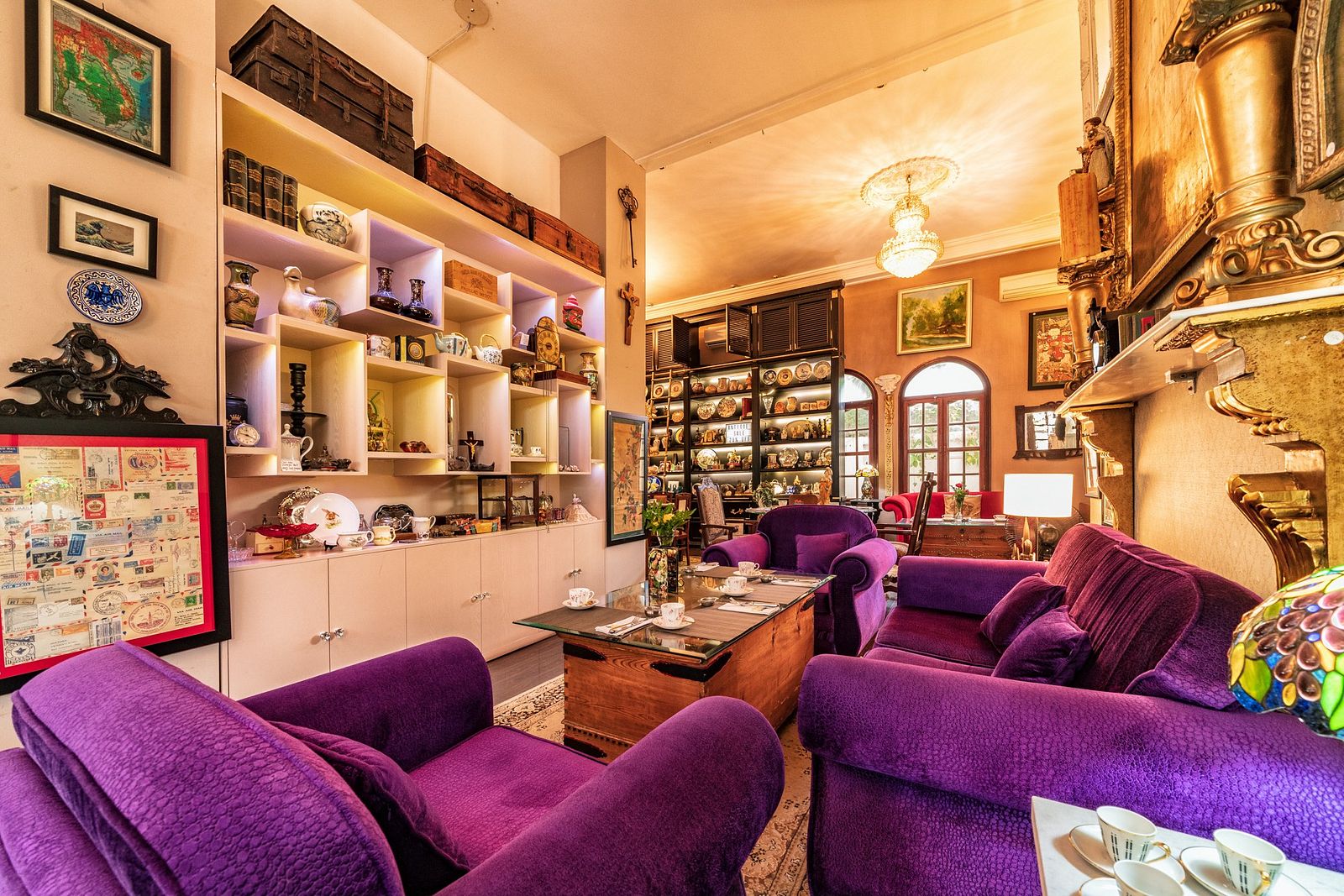 The day after we spoke, David embarked on a trip to Vienna, Budapest, Prague, London, Cairo, Germany and Istanbul on an antique expedition. He travels all around the world collecting items from auctions, estate sales and private collections. The diversity of his journeys is reflected in the juxtaposing styles and origins of the items. For example, an Italian chalice used by priests from the early 1900s sits one shelf above a 60-year-old piece of scripture with Buddha paintings used by monks studying in Laos.
Chairs, rugs and shelves create invisible walls, while items of different sizes, prices and styles all rest next to one another so as not to create a department store vibe, but instead to encourage visitors to browse around for treasures.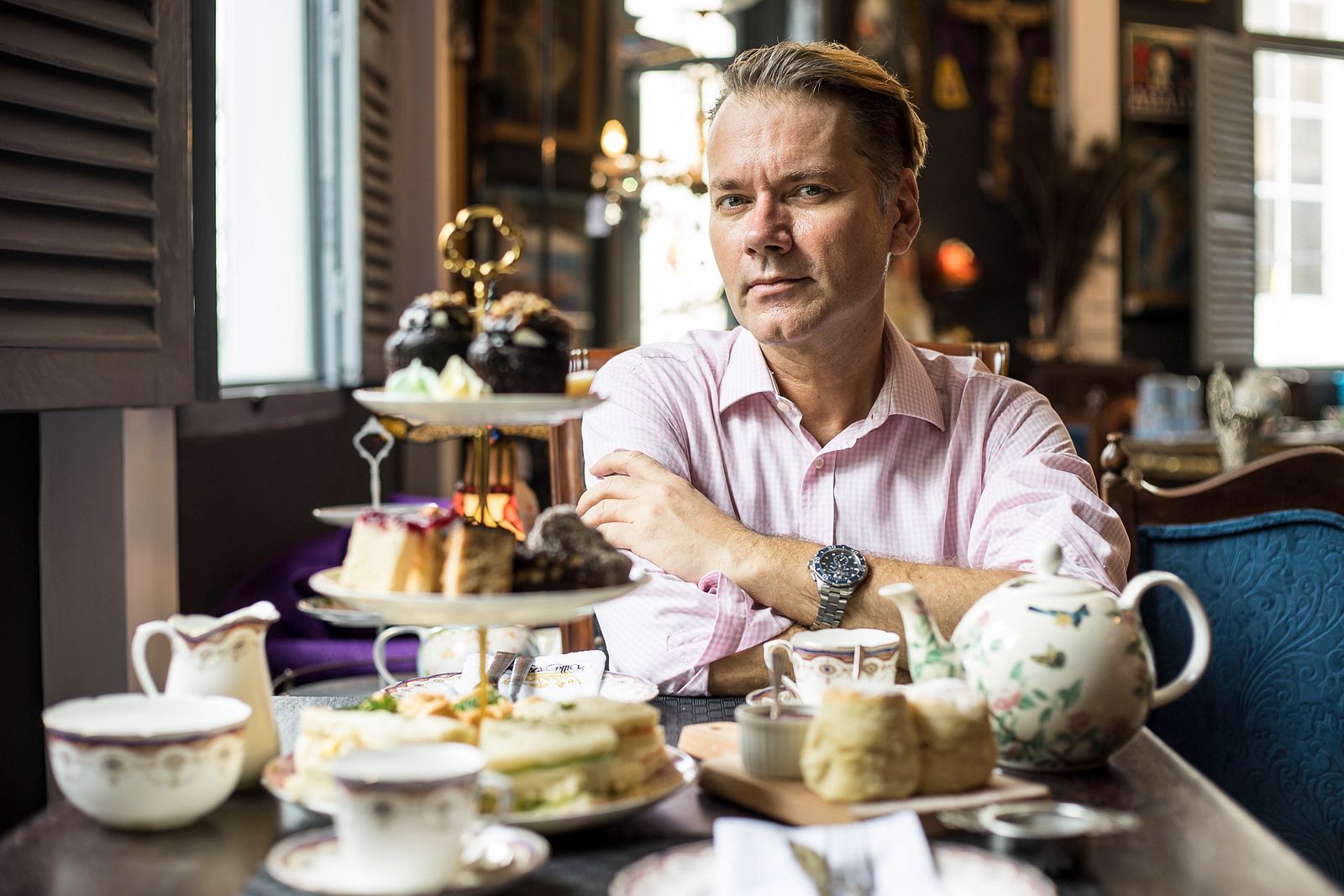 To arrange the space, David relies on instinct, much the same way he goes about acquiring items. Over the past 9 years that David has been in Vietnam he has learned what potential customers are interested in. For example, he notes patrons are quite drawn to tea sets, silver and crystal as well as decorative ornate furniture. Religious items are sought after including statues of Joseph, Jesus' father, which are popular among Vietnamese, for whom the concept of family is particularly important. Every item has a backstory of how it was acquired, restored or produced. David loves to share them with guests, and also makes sure to explain this information to staff, so they can tell customers as well.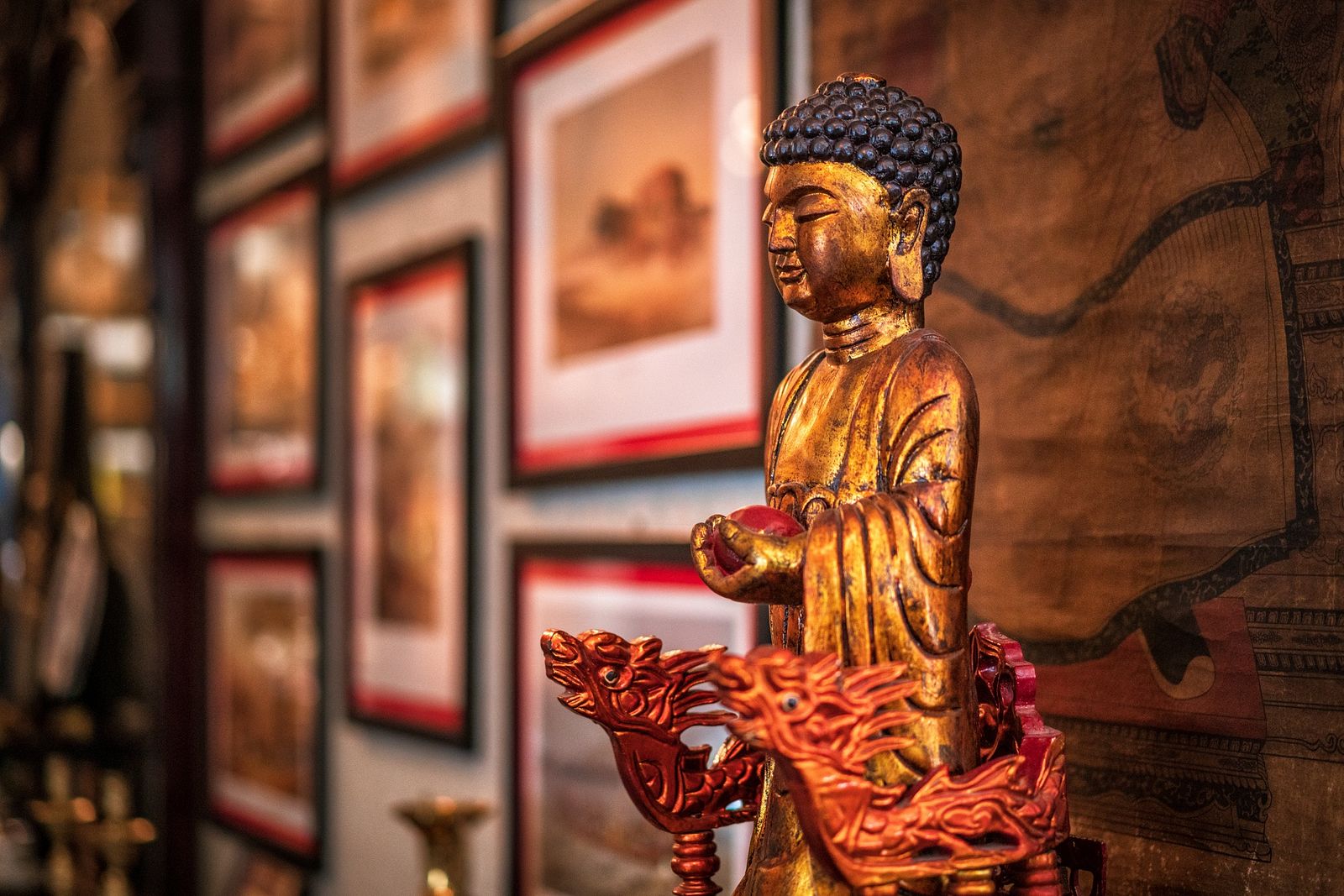 Depending on one's background, a meal at Villa Royale will either feel like stepping into your grandma's dining room, or what you imagine one to be like in another country. The menu boasts an eclectic mix of Western comfort foods, some of which are based on David's recipes gathered whilst working globally as a chef whilst other items on the menu are some of his favorite family recipes.
The menu display case allows patrons to see the full lineup of baked goods including chocolate caramel cake, kiwi and key lime cheesecake, apple and cinnamon pie, chocolate and macadamia tart, sticky date pudding, banana and cinnamon bread, salted caramel tart, slices and scones, as well as savory quiche, Italian penne with cashew pesto, Aussie beef sausage rolls, Swedish meatballs and lemongrass chicken pie. Every item is made in-house daily.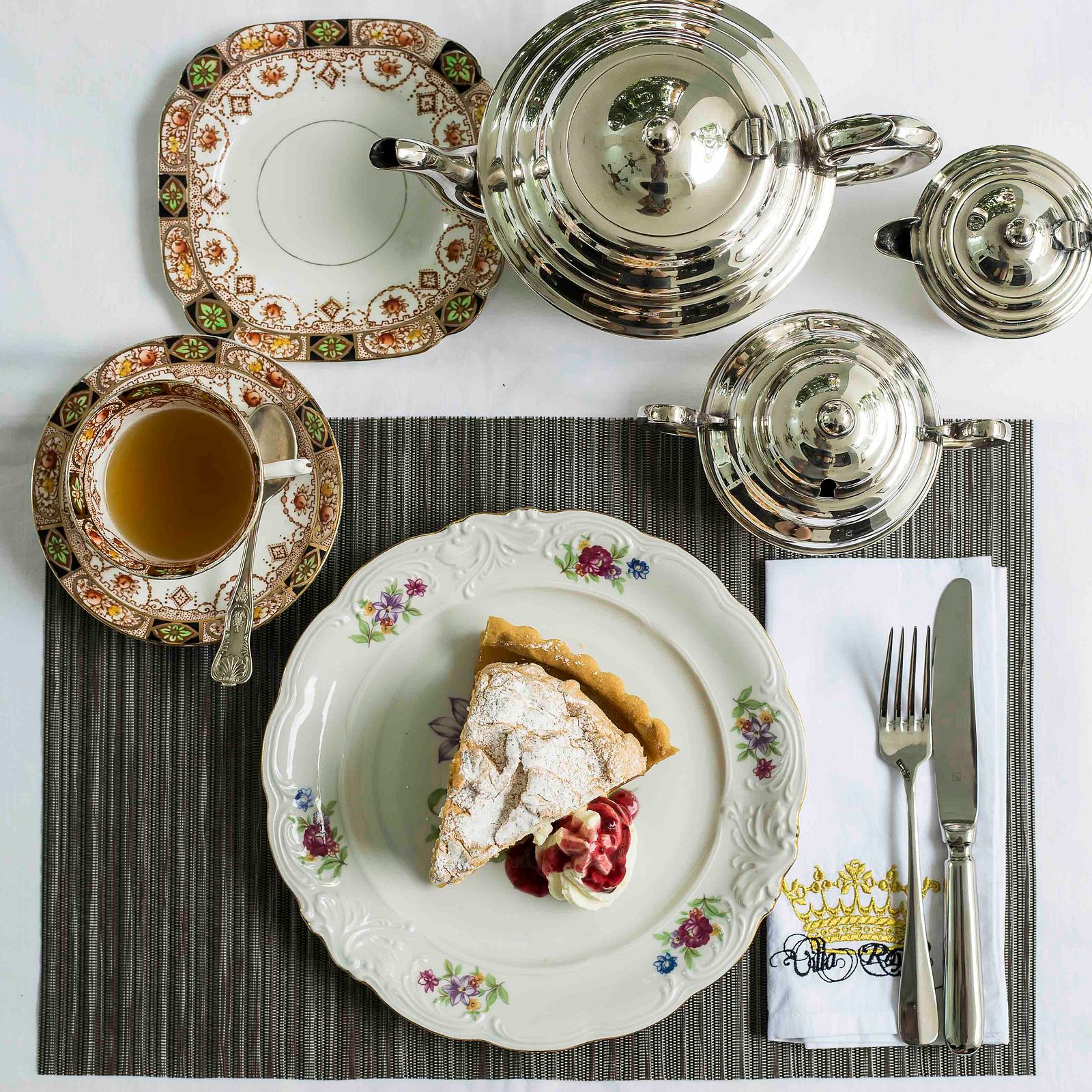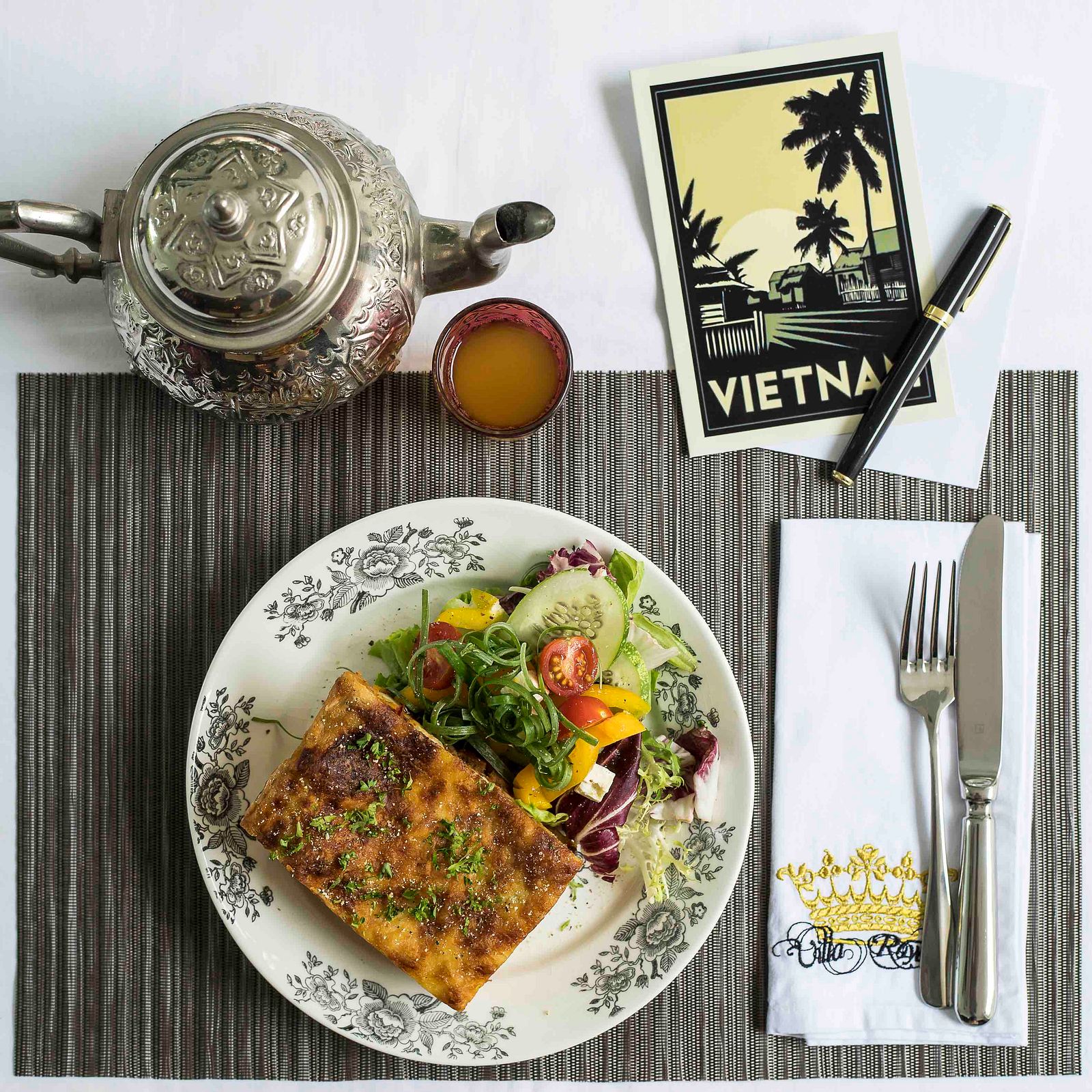 Villa Royale is proud to offer high tea, a meal introduced in the mid-19th century in Queen Victoria's court. Enjoyed among friends, the meal is meant to cure late-afternoon munchies. It includes cucumber sandwiches, smoked salmon quiches, cakes, tarts and fresh scones with Da Lat strawberry jam and cream
While a familiar array of coffee drinks are available, the restaurant really focuses on tea. It boasts more than 70 different organic flavors. The black, green and red, as well as white, Oolong and blue TWG tea from India, China, Vietnam and elsewhere provide a wide array of flavors and aromas, ranging from fruity and spicy to rich and bitter. David shared one with us that had the unmistakable scent of chai, while another offered the smoky richness of a cigar lounge.
With the popularity of his Thao Dien Tearoom, an opportunity arose two years ago when David discovered the perfect location for a second location in Saigon's burgeoning financial district in downtown District 1. The inviting second-floor room focuses more on food and dining, but still boasts the eclectic charm of the larger Thao Dien venue. Kimonos, vintage French posters and a large Italian crucifix rest on the walls of the chandelier-filled room. Among the more interesting items on display is an enormous mounted set of markhor antlers, a Cambodian puppet and medieval European antiquities.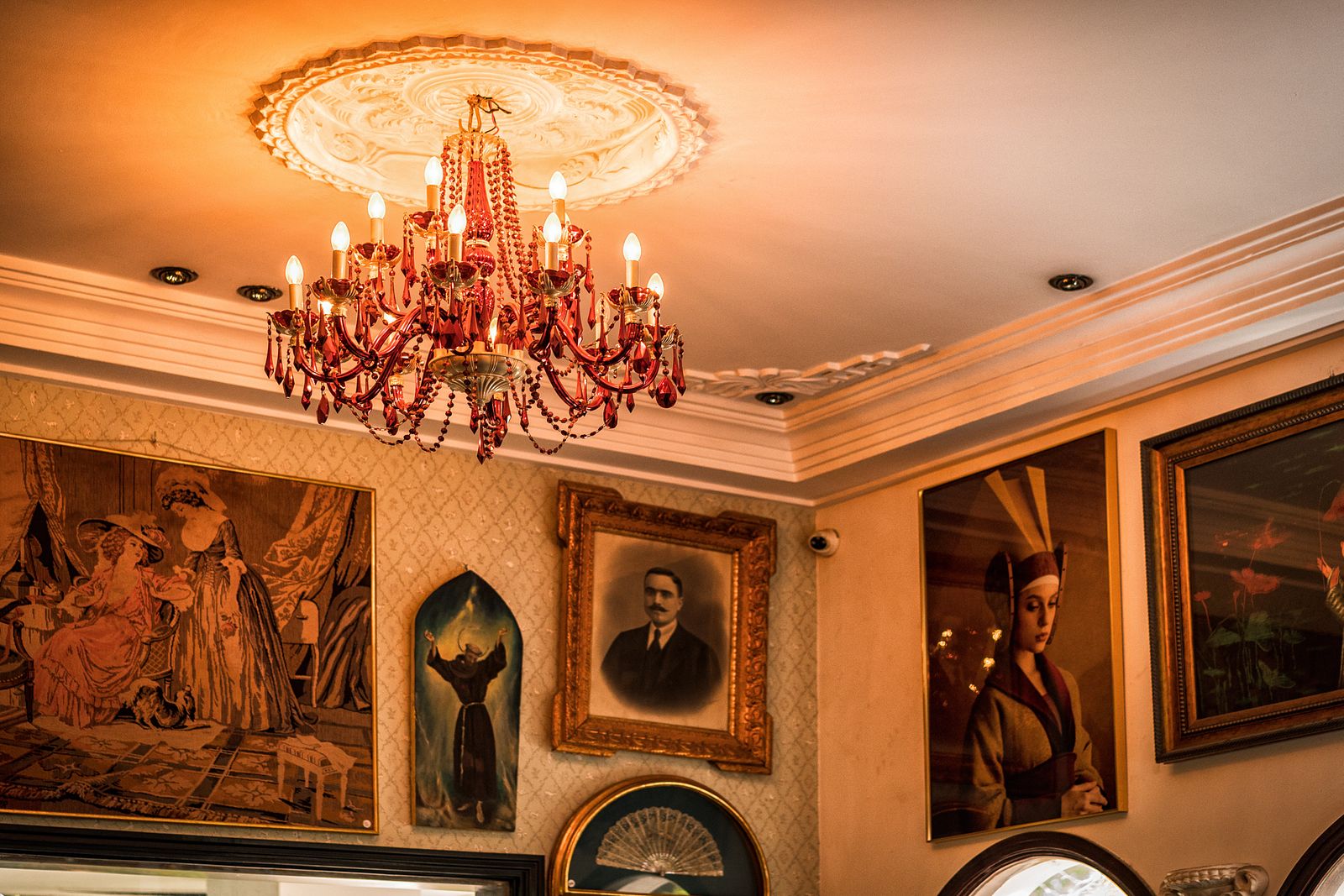 If you're in the market for a 1930s Vietnamese ceramic cookie jar, an English sewing machine, a meticulously restored decorative window grate, a piano or a Tiffany lamp, Villa Royale is the only place to go. Even if you are not looking to purchase a one-of-a-kind piece for your home, eating indulgent food in their presence with a glass of tea and good company is a rare treat.
Villa Royale Antiques & Tea Room
08 3744 4897
3 Tran Ngoc Dien, Thao Dien, D.2, Ho Chi Minh City
Level 1, 25 Ho Tung Mau, D.1, Ho Chi Minh City