Winning formulas can be tough to change. It would be easy for a restaurant as established as Hanoi's Stellar Steakhouse to rest on its laurels. That is not, however, the style of Nicolas Plateau, Head of Food and Beverage and Executive Chef at InterContinental Hanoi Landmark 72. Nicolas, or 'Chef' as his colleagues refer to him, is constantly striving for change. Whether it's in his food, dinnerwear, or even the physical menu, he looks for innovation in each aspect of the restaurant.

The restaurant sits on the 62nd floor of Hanoi's tallest building. It's a fitting view. From the magnificently expansive windows, guests can see a city which, like Stellar Steakhouse, is constantly evolving, growing and adapting.
"I moved here with my wife 5 years ago" Nicolas tells Saigoneer. "To me, it was love at first sight; the vibrancy, the pace, how it is slow but constantly changing. That is what inspires me."
Nicolas's love of and familiarity with Hanoi is reflected in the smallest details of Stellar Steakhouse. Once a week, he'll stroll into the city's labyrinth of alleyways, searching for hidden gems that he can use within the restaurant. He recounts his chance encounter with what would become the artisan knives and chinaware used for Stella Steakhouse's dining tables, or the one street he stumbled upon with three houses selling delicious noodles. "I'm still trying to find that street," he explains. "I won't give up."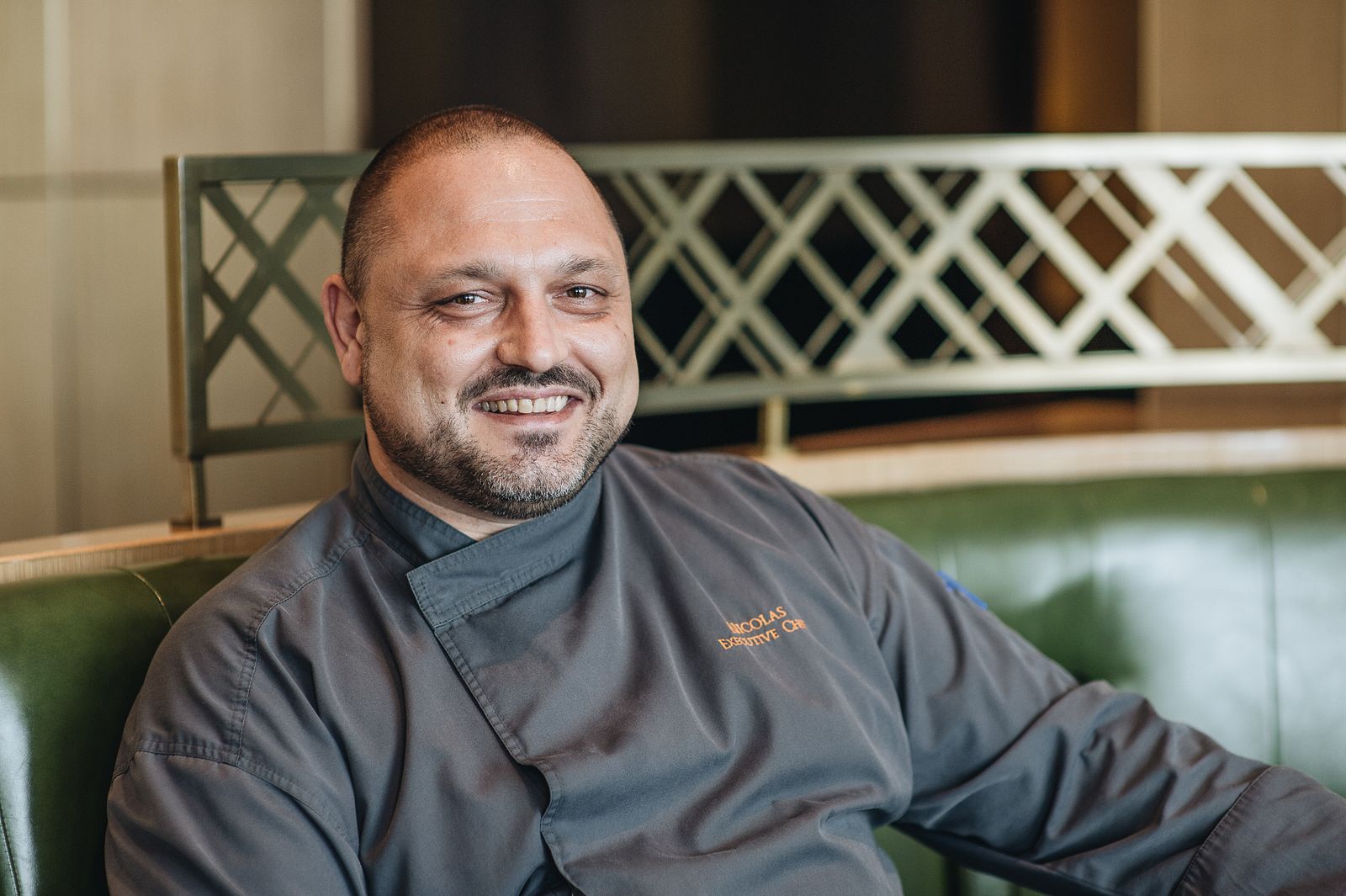 This love for his new home isn't limited to Vietnam's capital. The ingredients used within his kitchen come from all across the country. Sapa provides Nicolas with fresh salmon and Phu Quoc's famous pepper makes its way into numerous dishes.
When it comes to a fine dining experience like Stellar Steakhouse, this attention to detail in the ingredients is vital. It's why Nicolas works tirelessly to source the finest international meats, cold cuts and cheeses. Their newly introduced 40-month aged Iberico ham from Spain, their selection of French cheeses from Brie De Meaux, Roquefort, Beaufort and Chaource and certified Angus beef from Greater Omaha make obvious Nicolas' discerning taste.
He admits that people often overlook hotel restaurants, "They don't usually make people's foodie bucket list," he explains. "But I want people, even from far outside of the country, to hear about Stellar Steakhouse, and to travel out of their way to have a bite of Stellar Steakhouse's Signature Cuts Grade 3 Rangers Valley Tomahawk Crossbred Wagyu, served with Potato Purée and Black Truffle, Roasted Green Asparagus and Black Phu Quoc Pepper sauce. We are working hard to put our name on the world's culinary map, and winning the 2019 World Luxury Restaurant Award this year is only the start."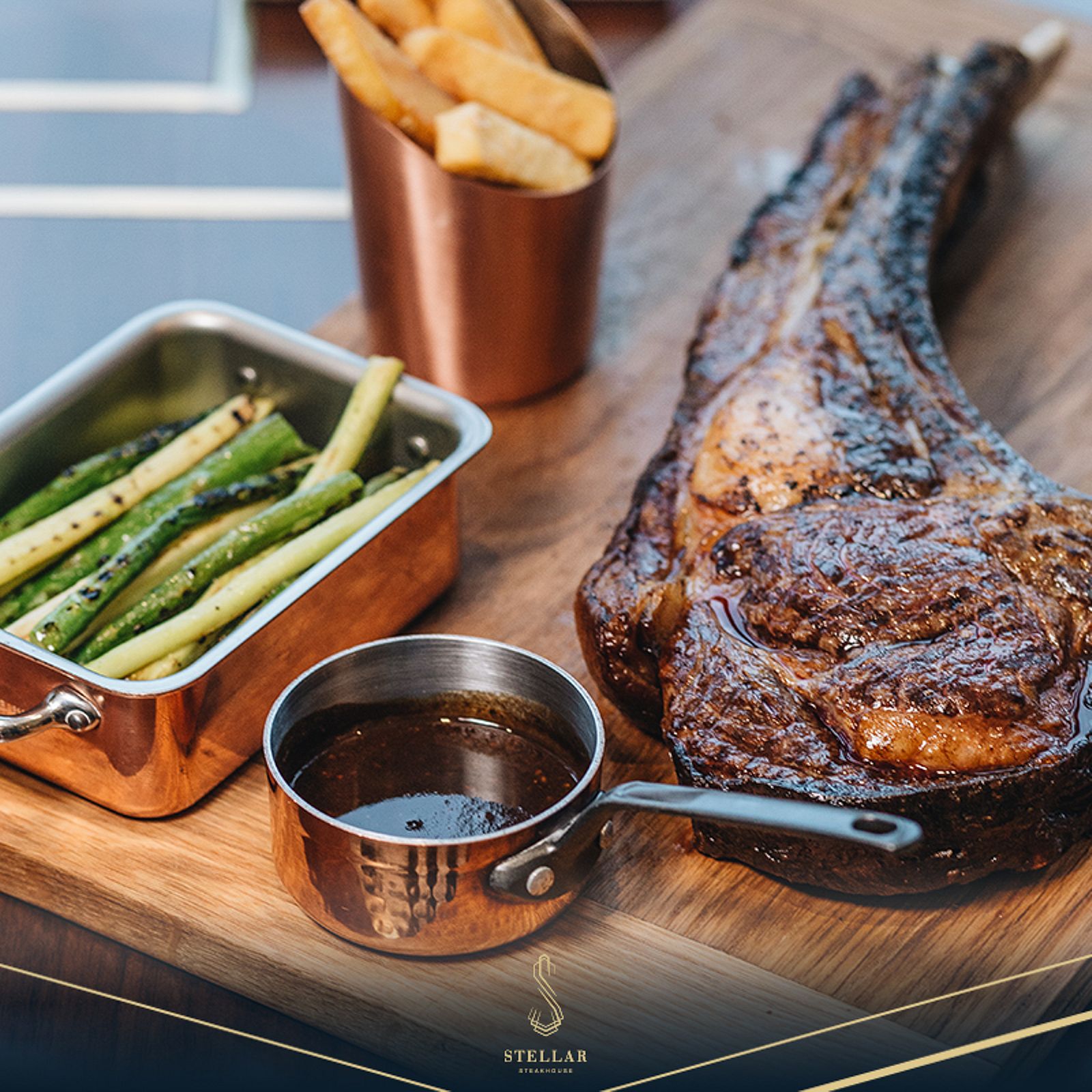 Stellar Steakhouse's new menu exemplifies the efforts made to achieve such recognition. Their Grade 4 Rangers Valley Tomahawk, a crossbred Wagyu/Black Angus steak that weighs in at a daunting 1.4kg, 250gr of 'Great Omaha' Rib Eye and 250gr of Grade 6 Wagyu Striploin each represent items that meat-loving foodies seek out. The Meat Lover's Board, which holds a 250gr 'Mulwarra' Tenderloin, is especially 'Instagramable.' When discussing it, Nicolas indicates to his own physique – indicative of a man who enjoys food – and states, "We don't do small portions here. People never leave saying that they're still hungry."
This statement rings true for the other highly indulgent, robustly filling new additions to their menu, like the Surf and Turf, with 500g of Greater Omaha beef tenderloin and Canadian lobster, or its lighter counterpart, the Canadian Lobster Summer Salad.
What is perhaps more impressive than Stellar Steakhouse's robust menu is its commitment to preserving Vietnam's natural beauty. Nicolas goes on to tell us about his environmental endeavours not only within Stellar Steakhouse, but within the hotel too.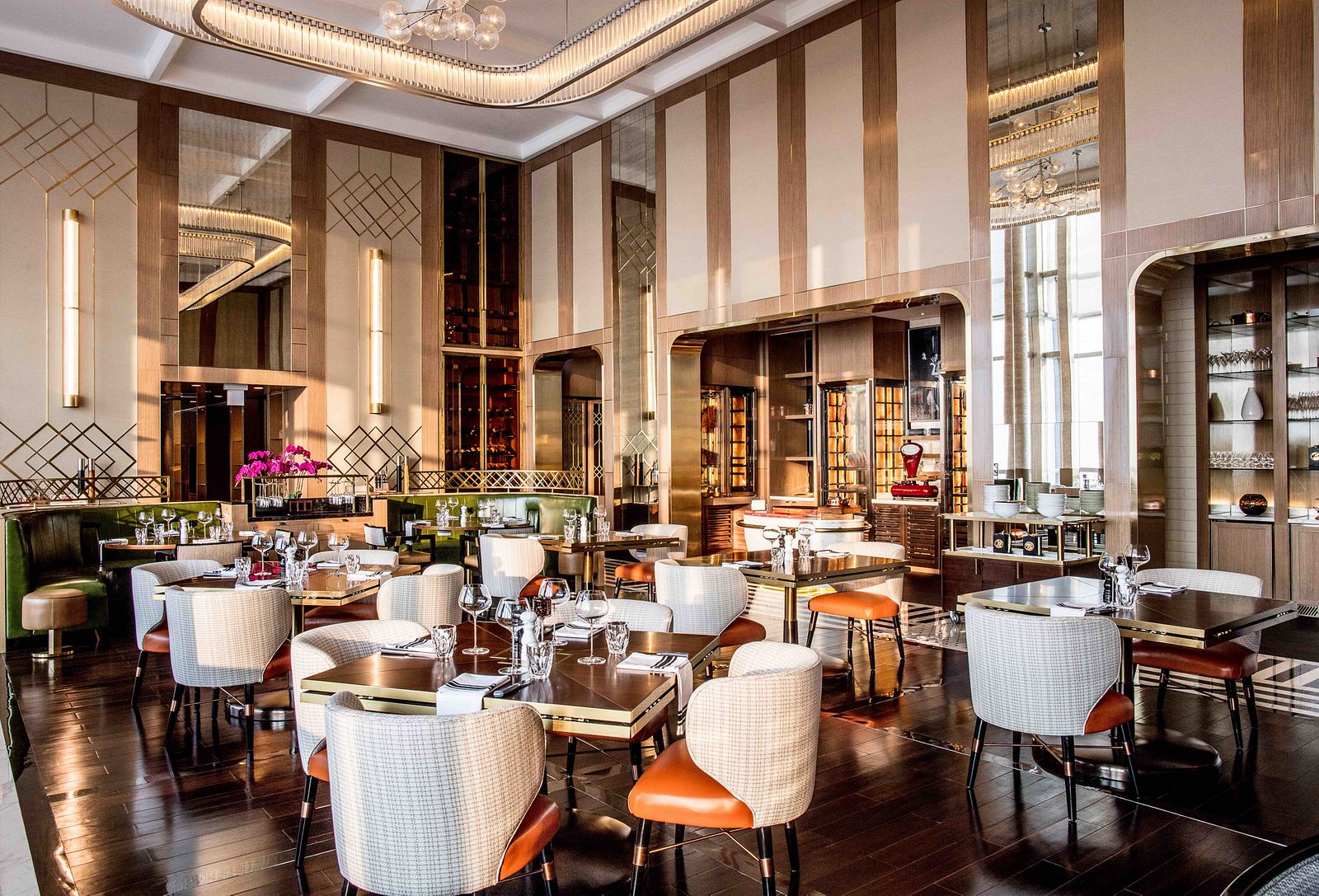 "The straws went a long time ago," Nicolas explains. "Now we're working on replacing all plastic bottles used within the hotel with glass bottles. There's a small environmentally friendly, family-run paper producer in the north that we want to use, but we're taking it slowly. You never know what harm you can cause by creating such a large demand on such a small business."
Like the ingredients used within their menu, the hotel meticulously selects each item they rely on; from the detergent used within their laundry service right down to the recyclable plastic tee lights at the centre of each dining table.
As a passionate supporter of local businesses, Nicolas has scoured the depths of Vietnam, selecting and sourcing his products from local craft stores, spending the majority of his time in Sapa and Dalat, trying to find the 'real feel' of local ingredients and flavours.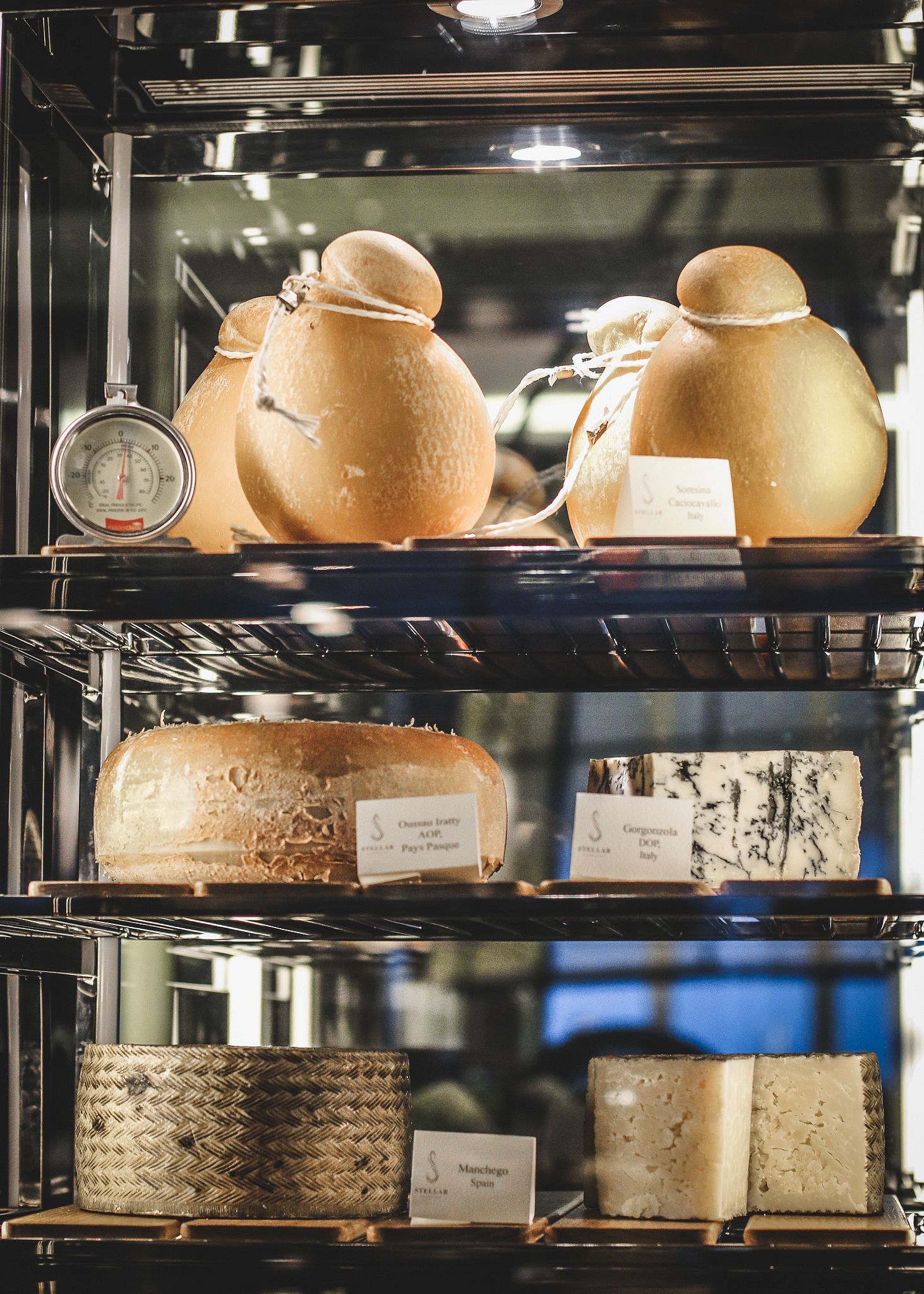 On a visit to Stellar Steakhouse, you may not notice these small details, but this doesn't concern Nicolas. The restaurant's goal is for guests to simply enjoy their meals. You can focus on the fare knowing that everything from taste to positive environmental changes is being taken care of.
With his promotion from Executive Chef to Head of F&B, taking the helm of all Culinary and F&B services throughout the hotel, guests should expect a lot of fanfare to accompany their meal at Stellar Steakhouse, as well as all of their restaurants and bars. Nicolas is a faithful believer in making a statement and long-lasting impression with the services and engagement from his team, and it shows.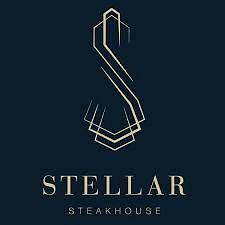 024 3698 8888
Keangnam Hanoi Landmark Tower, Plot E6, Cau Giay Urban Area, Từ Liêm, Hà Nội