A street cart crammed with all the fresh ingredients and utensils needed for a scrumptious meal parked beside hungry guests enjoying their dishes on plastic tables beneath a bright red flag: it's as iconic a street scene as possible in Vietnam.
It also provided inspiration for one of Ginkgo's most popular T-shirts, which is part of a new series that introduces an exciting style blending photographs with embroidery.
How exactly does the scene go from a photograph to a comfortable shirt one can wear? All of Ginkgo's designs are collaborative efforts, with designers and team members meeting to brainstorm ideas and then share in-progress concepts for feedback and refinement. This particular shirt is part of the 13-year-old company's dedication to drawing inspiration from, and celebrating, local culture. A basket teeming with bright tropical fruits balanced on a vendor's shoulder; pedestrians waiting to enter the hectic crossing behind Benh Thanh Market; and a motorbike racing down a street: the other photos in this collection reveal the elements of daily life that are entwined with the brand's DNA.
The origins of embroidery in Vietnam are unknown, but for centuries, artisans in the country have employed the eye-catching technique for clothing and homewares. It makes sense for Ginkgo to add it to their repertoire, considering their commitment to honoring, preserving and evolving local artists and styles. The bold red embroidery adds a fun and colorful streak of style to the monochrome photo, magnifying the artistry inherent in the image.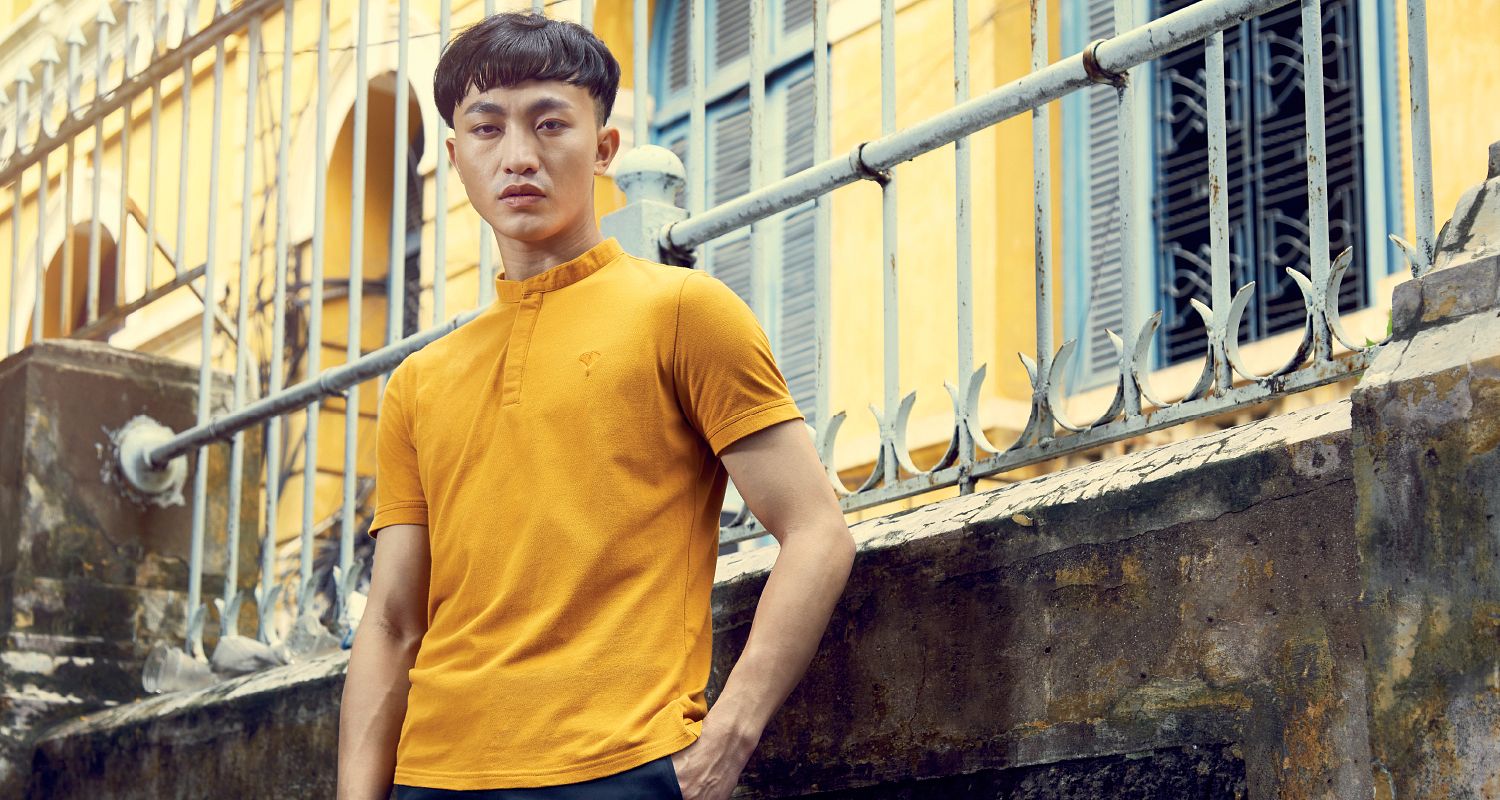 Designing a T-shirt at Ginkgo takes some trial and error. To support the community and because of the need to maintain quality standards across the entire process, they run their own factory in the city. It's here that the skilled craftspeople experimented with different cuts, colors and embroidery placements for the team to review. Once the final design was decided on, the experienced team set to work creating sizes S - XL.
The shirt, simply titled Street Vendor, is made with 100% organic cotton. The handpicked material, more comfortable than blended alternatives, can breathe in the balmy tropics and, because of the detailed stitching, can last for years. And because it's organic, it leaves a smaller environmental impact. Ginkgo has steadily increased the number of designs it prints on organic cotton as part of its larger aims to operate as sustainably as possible. This translates to less packaging used for raw materials and purchases, a switch to more eco-conscious inks and the promotion of other brands that make reusable containers and environmentally-friendly home care products at Ginkgo stores.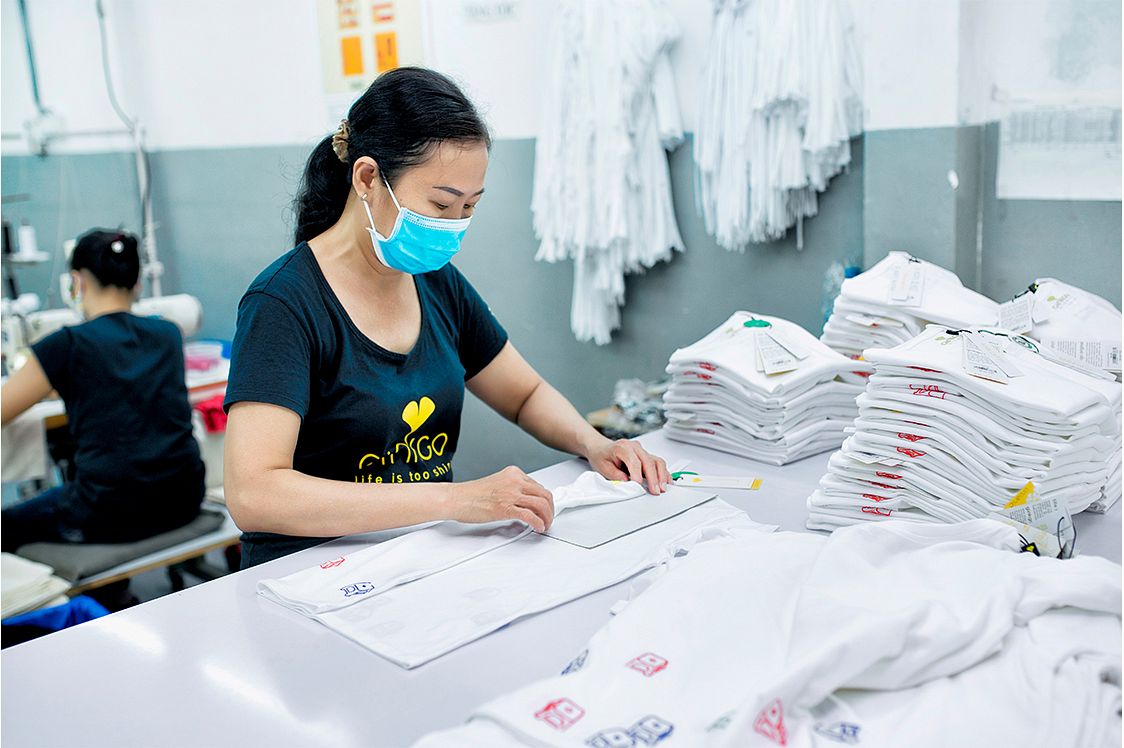 The final step for each Street Vendor shirt is finding its way into the wardrobe of customers. Originally, Ginkgo operated out of a 6 square-meter storefront that catered to tourists in search of higher-quality souvenirs. Over time it has become a brand that appeals to customers in Vietnam that want a visual representation of their love for the country and its many thrilling details. It has also expanded to numerous locations throughout Saigon and opened venues in Hanoi and Hoi An. People can visit one of the shops to purchase the shirt, or order it from the online store and have it delivered directly to them.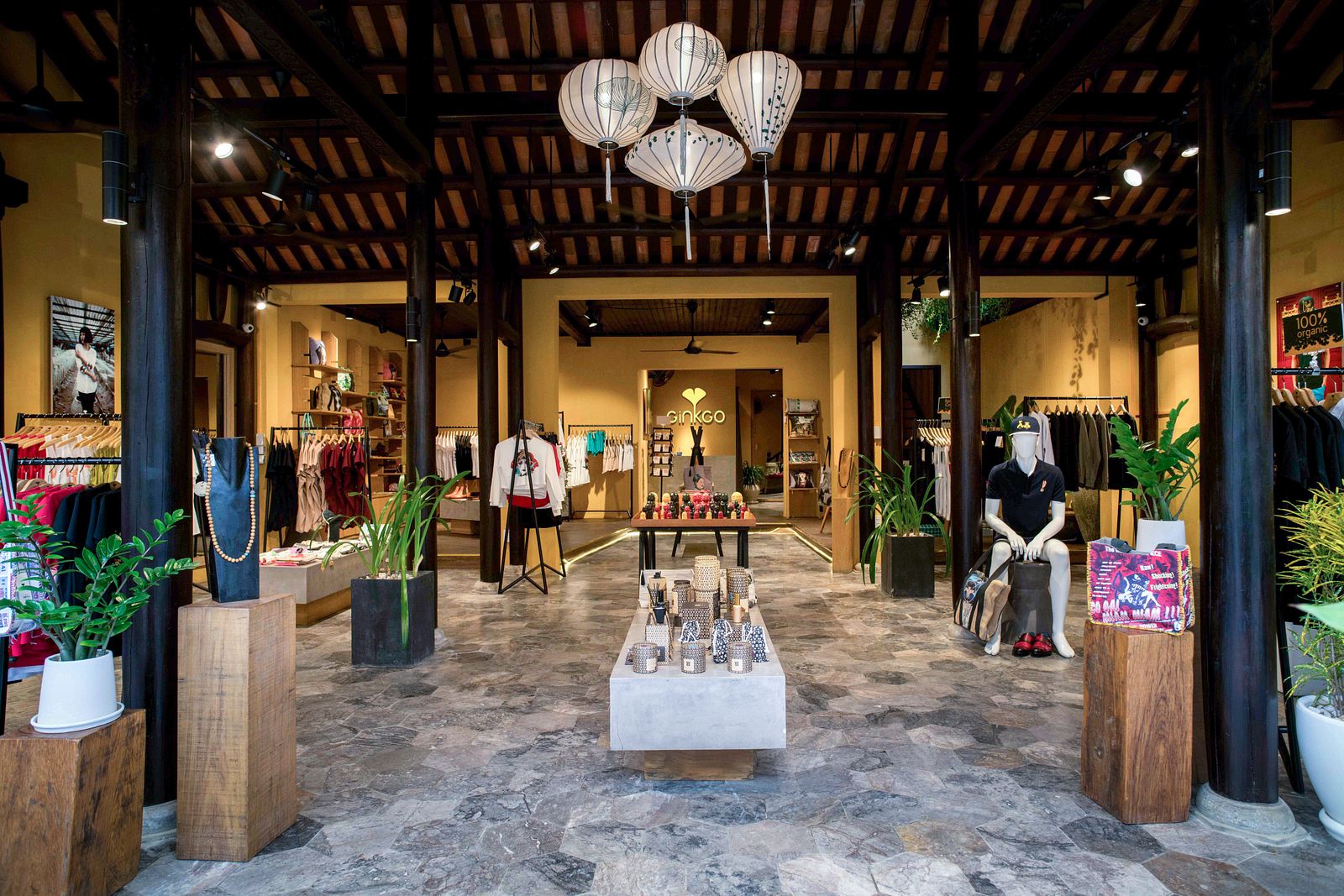 The Street Vendor shirt represents a confluence of what Ginkgo has always done, and ways in which its style is changing. The embroidered elements are both a nod to the local sources of influence that have always driven the brand, and a reflection of new refinements in craftsmanship that now uses photographs. Many residents of Vietnam experience a certain nostalgic thrill and pride when passing a busy street cart surrounded by plastic stools, and Ginkgo wants to embrace this emotion through the shirt as part of its mission to help everyone cherish the country and its unique cultures.
Ginko's Phone number: 028 3838 6161