Children can "hear the music and see the colors of letters on a page — magic portals to a wilderness without fixed meanings… all adults see are the neat rows of black lines, the building blocks of definitions," according to the narrator in Ticket to Childhood. Nguyen Nhat Anh's book reminds readers how wonderful it was to see the world with such an imaginative vision.
As reading rates plummet in Vietnam and elsewhere, a curious trend of adults picking up children's books has emerged. From Harry Potter to Hunger Games, society has not only embraced young adult literature but seems to take no issue with it being the only genre certain grownups read, perhaps under the logic that any book is better than no book. Of course, young adult literature harbors no intrinsic harm, but for some, it takes up time that could have been spent immersed in more mature tales that deal with more sophisticated themes, offering more profound insights and commentary. With this in mind, we cautiously selected Ticket to Childhood hoping to add a new dimension to the Saigoneer Bookshelf series.
Ticket to Childhood (Cho Toi Mot Ve Di Tuoi Tho) was an instant sensation when it was originally released in Vietnamese in 2009. Despite common beliefs, the book is not, in fact, young adult literature. While it does feature simple prose, focuses on the lives of four children and even includes crude illustrations, author Nguyen Nhat Anh explains on the back cover of the Vietnamese version: "I did not write this book for children. I wrote it for those who used to be children." The book's title is inspired by a poem by Russian writer Robert Ivanovich Rozhdestvensky.
Framed as an essay being drafted for a UN conference workshop titled "Children as a World," the book is told from the perspective of its adult narrator Mui, who provides a series of halcyon moments from his childhood including afternoons playing house and a past attempt to build a raft to explore uncharted islands. They reveal the "invaluable treasure" children possess: "The power to imagine the world differently, and to assign strange functions to familiar things," an ability most lose when becoming an adult. From eating their dinners out of washing basins to inventing an alternate language were "to fish" means "to sleep," and "cloud" translates as "backpack," the children delight in questioning the status quo of the adult world. The tomfoolery will likely remind readers of their own youthful escapades.
Is it high literature? No. Does it invite the same type of deep ruminations on a variety of subjects like previous Bookshelf entries have? Absolutely not. But the slim volume, best savored in a single sitting, gives a peek into an extremely popular contemporary Vietnamese author while serving as a palate cleanser to read between more expansive tomes.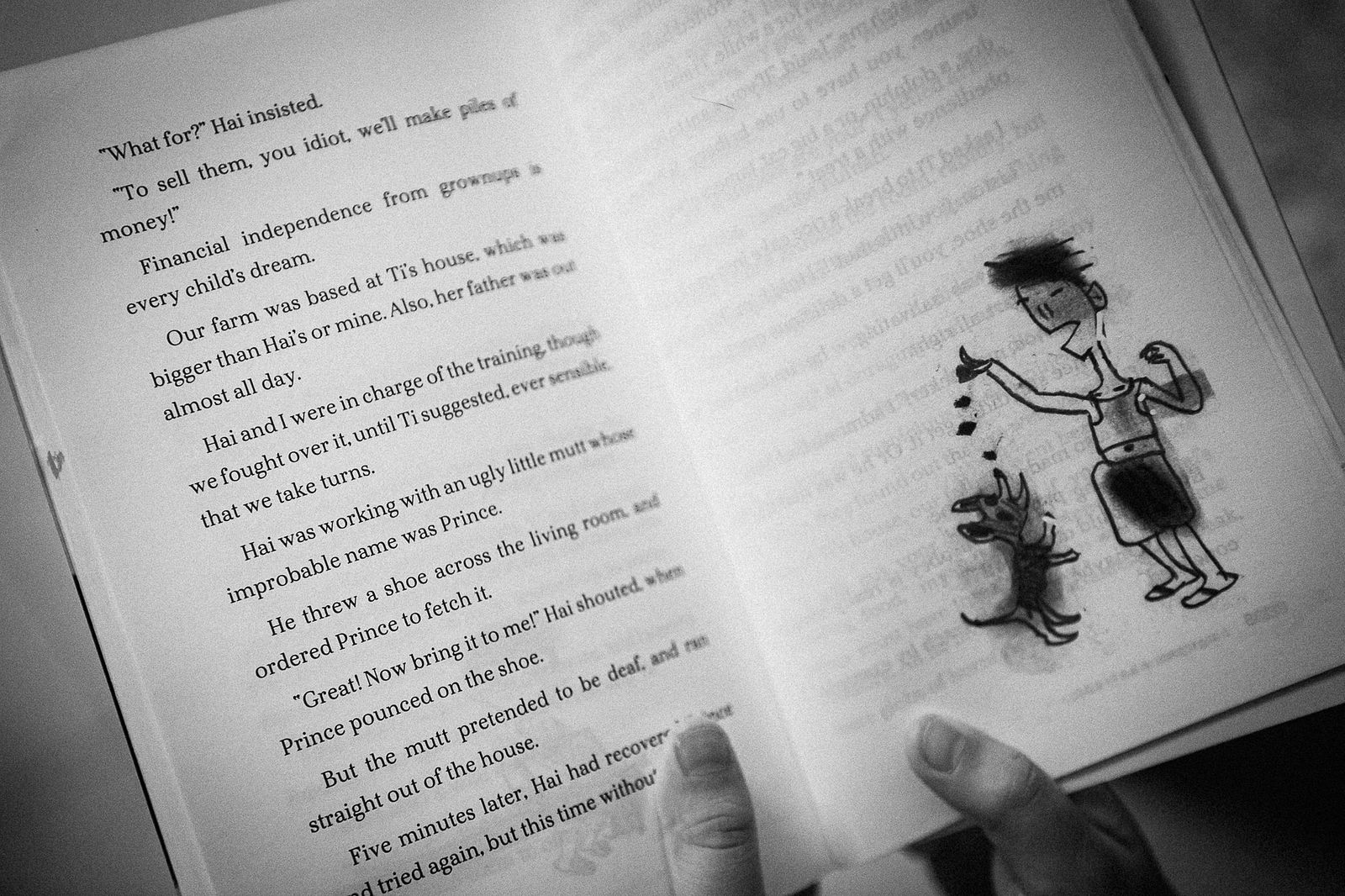 Lacking a linear narrative or standard plot structure, Ticket to Childhood leaps back and forth between various childhood anecdotes. While entertaining in their own right, the whimsical stories take on greater value when contextualized by Mui. For example, when considering a plan to explore treasure-filled jungles, he laments about a boy's inability to truly escape because "home is like rabbit's skin, how can he slough it off?" He notes, however, that the freedom most adults enjoy can be oppressive as their "rebellion has no meaning."
While generally critical of many of the qualities associated with maturity, at times Mui admits their necessity. For instance, when remembering his friends' common habit of turning pens into swords and pieces of writing paper into tiny boats, he remarks that grownups' propensity to applaud conformity is sometimes justified as "standing out in a crowd has always been a risky choice. Just ask victims of the Spanish Inquisition."
Mui occasionally stops to correct what he previously claims. For example, he originally details a humorous situation when, as an oblivious child, he texted his crush the messages he saw his uncle sending his wife, including "shall we get into bed this evening? I am so very sad!" But later, Mui admits that of course, they didn't have cellphones at that time. Rather than establishing an unreliable narrator that may call into question all the insights offered, such clarifications serve to strengthen the book's coloring of childhood as a time when fact and fantasy commingle.
Saigoneer Bookshelf aims, in part, to examine cultural, societal and historical elements of Vietnamese society; efforts largely impossible when it comes to Ticket to Childhood. Aside from a brief mention of eating dog meat, the book could be set just about anywhere from Japan to Panama to Ukraine. The universality of the characters' experiences and outlook reveals an important attribute of literature: its ability to expose commonalities that transcend borders. While reading books as an outsider — be it because of race, nationality or gender — can foster empathy that can't quite be obtained via films, textbooks or first-hand observations; encountering literature that actively works against concepts of "otherness" is no less valuable in its power to unify.
As another birthday passes and I find myself closer to retirement age than to the day I was born (a pretty horrifying realization), this book helps remind me to occasionally think like a child again. Sure, the next work I pick up will likely be a depressing tale strewn with very real adult problems like poverty, unrequited love, war, greed, regrets and resignation to fates beyond one's control, but Ticket to Childhood serves as a metaphorical chance to take my washing basin filled with instant noodles out to the backyard where the plum trees are dying thanks to my brilliantly absurd digging for buried treasure. Read this book to remind yourself of the pleasures of childhood and perhaps reassess some of the compromises you've made for the sake of becoming an adult.
Both the Vietnamese and English versions of Ticket to Childhood are available in Vietnam via online retailers and at brick-and-mortar bookstores.
---

Related Articles:
---