On the evening of November 29, VietJet flight VJ356 was involved in a serious incident when the wheels of its nose landing gear broke off from the plane upon landing in Buon Me Thuot, causing six passengers to be hospitalized.
Nguyen Chanh Duy, director of Buon Me Thuot Airport, confirmed the incident with Tuoi Tre. He said that after the accident, the airport, police and other related authorities began coordinating to investigate and assess the issue, as well as support the affected passengers.
Meanwhile, a VietJet representative stressed that all 207 passengers on board were safe, but six people were lightly injured and immediately taken to a nearby hospital.
As for what happened that night, one passenger told the news source: "While landing at Buon Me Thuot Airport, we heard a loud noise and the cabin crew told all passengers to leave the plane through the inflated emergency doors."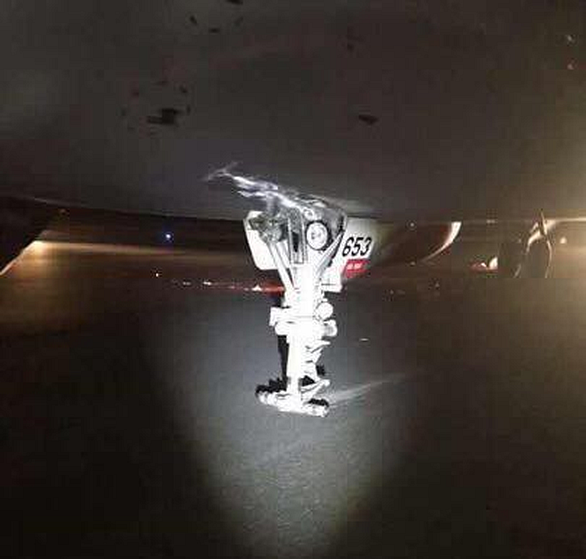 According to videos and photos captured by VJ356's passengers after deplaning, the nose landing gear of the aircraft is seen without wheels, hence the rough landing. Fortunately, the plane managed to touch down safely, and an ambulance soon arrived to support people who were injured during the emergency exit.
The following morning, Duy announced that operations at the airport would be paused until noon of that day in order to resolve the problem, Tuoi Tre shares. Meanwhile, all of the hospitalized passengers were discharged.
Flight VJ356 was an Airbus A321 aircraft coded VN-653, which was delivered to the airline just two weeks ago, according to the carrier. The Civil Aviation Authority of Vietnam (CAAV) has formed an inspection team to look further into the case.
On November 19, flight VJ198 departing from Saigon to Ha Noi had to return to Tan Son Nhat Airport after only 10 minutes due to a technical issue.
[Photo via Tuoi Tre]
---

Related articles:
---