Results from the project present new evidence supporting past hypotheses that seek to explain the origin of present-day Southeast Asians and Vietnamese Kinh people.
Titled "Research on the Vietnamese Genome," the project was conducted by Vietnamese scientists at the Vinmec Research Institute of Stem Cell and Gene Technology from December 2016 to March 2019, reports Dan Tri. The results were recently published in an article in the medical journal Human Mutation.
Over the span of more than two years, scientists sequenced the genomes and exomes of 305 individuals of Kinh Vietnamese (KHV) descent and combined the findings with 101 previously published genomes into a database of 406 unrelated genomes. This is the largest existing database of its kind that focuses exclusively on KHV genomes.
Kinh is the most populous ethnic group in Vietnam, accounting for over 86% of the total population, though there are 54 ethnic groups recognized by the government. Thus, it's important to note that the findings neither reflect all Vietnamese nor KHV, but the populations of KHV in Hanoi and Saigon, where the blood samples were collected.
Overall, the database yielded more than 24 million genetic variants, of which over 700,000 are previously unrecorded. These include both single-nucleotide polymorphisms (SNP) and indels, both of which are changes in the genome compared to the majority of the population. The results also found 107 mutations, with a frequency of more than 1%, identified in previous human genome efforts as disease-causing. This could have crucial implications in genetic studies and biomedical applications specific to Kinh Vietnamese patients.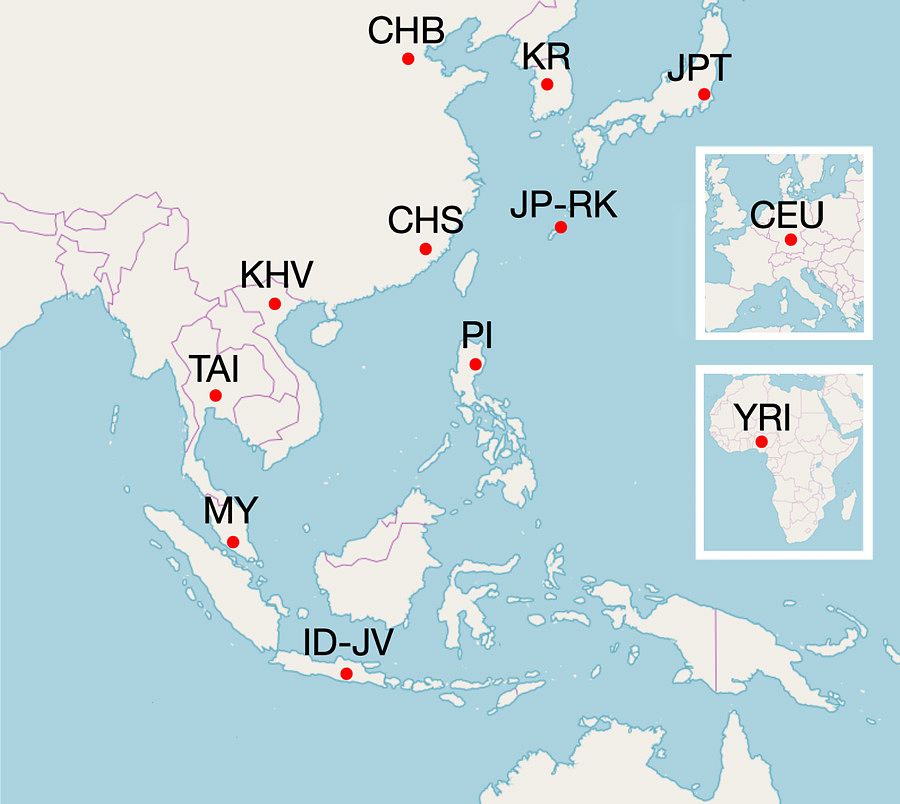 Apart from decoding KHV genomes, the project also explored the relationship between ethnic groups within Asia, particularly those in Southeast and East Asia. These populations are: Kinh Vietnamese, Malay Malaysia, Filipino Philippine, Javanese Indonesia, and Tai Thailand in Southeast Asia; Southern and Northern Han Chinese, Korean, Japanese and Ryukyuan Japanese in East Asia. The results show major overlapping between the genomes of Kinh Vietnamese and Tai Thailand populations, suggesting close evolutionary relationships. When compared with the genomes of Yoruba people in Western Africa, both Southeast Asian groups are closer to each other and to the African group than to East Asian populations like Han Chinese.
"The results from different genomic analyses are generally consistent and support the hypothesis of population migration from Africa to Asia following the South‐to‐North route," the article reads. This hypothesis was previously proposed by papers, such as two from 2009 and 1998, contrary to the popular school of thought that ancient Kinh Vietnamese migrated south from mainland China.
According to Dr. Nguyen Thanh Liem, head of the project, the genetic data obtained from the KHV genome database could contribute to the development of cures and early detection for genetic diseases and cancer.
[Top image: A 1770 map showing part of Southeast Asia in the 18th century/Wikimedia]
---

Related Articles:
---