This year, the World Economic Forum's annual Global Competitiveness Report ranks countries on the new Global Competitiveness Index 4.0 introduced last year.
Under the new index criteria, which the World Economic Forum (WEF) says offers "a detailed map of the factors and attributes that drive productivity, growth and human development in the era of the Fourth Industrial Revolution," the 141 countries in this year's report are ranked on 12 pillars: institutions, infrastructure, ICT adoption, macroeconomic stability, health, skills, product market, labor market, financial system, market size, business dynamism, and innovation capability.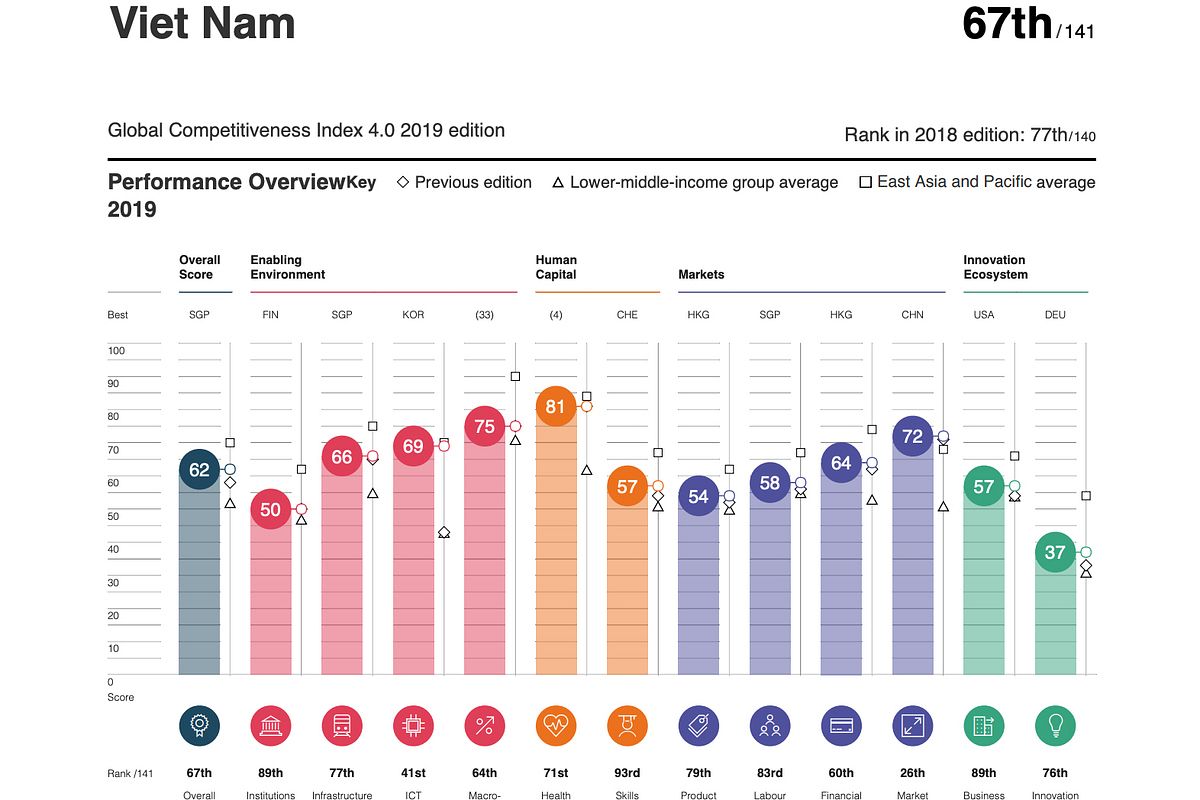 Vietnam was ranked 67th globally in the report, up 10 places from last year. This made Vietnam the most-improved country globally, according to the WEF. The two pillars where Vietnam has the best rankings are market size and ICT adoption, ranked 26th and 41st in the world, respectively.
The score for market size is determined by gross domestic product (GDP) and imports of goods and services, while information and communications technology (ICT) adoption was measured by the number of internet users and subscriptions to mobile-cellular telephones, mobile-broadband, fixed-broadband internet and fiber internet.
The pillars where Vietnam performed the worst according to the WEF are skills, institutions and business dynamism. Skills are measured by examining the education and skill set of the current and future workforce in the country. Vietnam scored 57 out of 100 points in this pillar, a ranking of 93rd globally.
Institutions scores are determined by factors such as security, transparency, corporate governance and the performance of the public sector. Vietnam's institutions were ranked 89th out of 141 with a score of 49.8 out of 100. The country also ranks 89th out of 100 in business dynamism, which is determined by how relaxed administrative requirements are towards businesses and how robust the country's entrepreneurial culture is.
Another highlight of the WEF's ranking is that in terms of the number of terrorist incidences, Vietnam was ranked best in the world, together with 25 other countries. The country scored 100 out of 100 in this area.
[Photo via World Economic Forum]