As China and India ready ambitious reforms to enhance their efforts to combat climate change, large corporations are responding by looking to offshore their operations to lower-wage nations.
Rising labor costs in China and India mean an increasing number of industries are moving to smaller countries like Vietnam and Bangladesh – a trend that risks undermining global climate change goals, according to Wired UK.
It has been established wisdom for the past decade that China is one of the world's manufacturing behemoths. However, recent years have seen a shift in that understanding, as manufacturers like Adidas and Nike have steadily pumped more investment into factories in Vietnam.
One of the biggest factors has been lower labor costs in Vietnam and other Southeast Asian nations in the face of China's transition towards a service economy.
A consequence of these trends has been the offshoring of carbon dioxide (CO2) emissions from countries like China and India to smaller economies like Vietnam and Bangladesh, a study headed by Jing Meng at the University of Cambridge warns.
"China is moving away from low value-added manufacturing, and its labor-intensive production has moved to other countries already," the report's co-author, Dabo Guan, told Wired. Guan is a professor of climate change economics at the University of East Anglia (UEA) in England. "If you buy a pair of Adidas or Nike for GBP60 or GBP70, they're made in China. But if you buy at the lower end, for GBP20 or GBP30, it's really made in Vietnam."
The shift in manufacturing locales is evidenced by the dramatic increase in CO2 emissions in textiles exported from other Asia and Pacific regions – which includes Vietnam – of roughly 21-22% annually between 2004 and 2011, the researchers find. Meanwhile, the same figures for China and India are more stable, varying from 2-8%.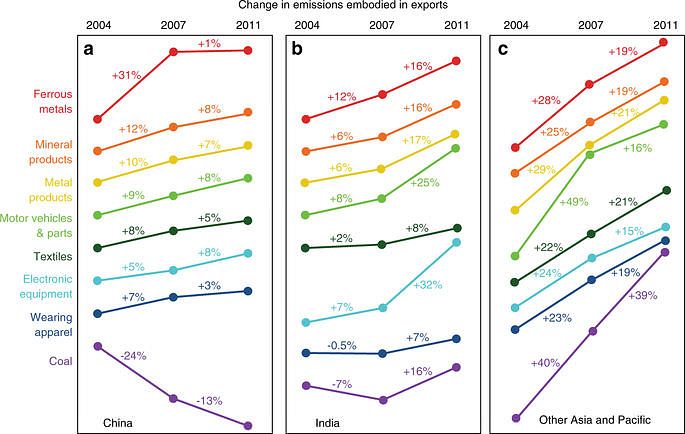 Another notable contributor to China's declining emissions is its decreasing coal exports, having fallen 13-24% annually between 2004 and 2011. This is a pattern corroborated by the Brookings Institute, a US-based think tank. Yet other Asia and Pacific countries observed the reverse, with coal production rising at a staggering 39-40% in the same period. This is chiefly due to Indonesia's establishment as a major coal producer, with the nation ranking fifth in the world, according to BP's 2017 energy review.
A part of the emerging narrative involves China's "Blue sky" initiative, which saw over 80,000 factories closing across the nation in 2017. Chinese President Xi Jinping said of the plans: "Clear waters and lush mountains are as valuable as gold and silver."
The report observes that these developments will have implications for global progress on the Paris Agreement, given cooperation between Southeast Asian countries will become of greater importance in the future, as the South China Morning Post reports.
"The future of climate change mitigation is, to an important degree, in the hands of South-South cooperation," Guan told reporters at the newspaper, expecting a crucial role for the Southeast Asia region in the battle against climate change.
"Otherwise, countries like China and India may meet their nationally determined contribution (NDC) under the Paris Agreement by hollowing out low-value, energy-intensive manufacturing, and offshoring those activities to emerging markets elsewhere with less stringent policy measures," the report concluded, with words of caution to the international community.
[Photo via Nikkei Asian Review]
---

Related articles:
---