Chinese oil platform Haiyang Shiyou 981 has retuned to the East Sea to conduct oil and gas exploration.
---
Related Articles:
- Students Make Giant Pizza to Protest Chinese Oil Rig
- Authorities: Woman Sets Herself on Fire in Front of Reunification Palace to Protest Chinese Oil Rig
- U.S. Military May Send Aircraft, Ships To Disputed East Sea Zone
---
The rig, which caused a fray in Sino-Viet relations before it was removed nearly one year ago, is currently located at 17°03'75'' North latitude and 109°59'05'' East longitude, west-northwest of Vietnam's Hoang Sa archipelago and south of the mouth of the Gulf of Tonkin, reports Tuoi Tre, citing the Chinese Maritime Safety Administration (MSA).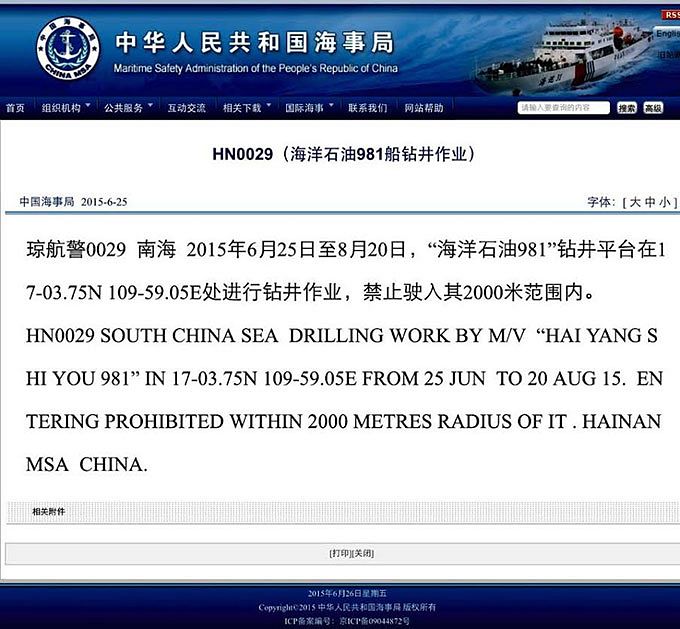 According to the MSA, the rig will carry out gas exploration activities from June 25 to August 20, 2015. The administration requested that vessels stay 2,000 meters away from the platform to "ensure the safety of the facility's operations."
When Haiyang Shiyou 981 was placed 80 miles deep into Vietnam's continental shelf and exclusive economic zone last May, it remained there until July despite protests from Hanoi and the international community and resulted in self-immolation, some unique pizzas and sunken ships.
Its presence last year also served as a catalyst for rising tensions in the East Sea prompting a spate of Chinese island building and the possibility of deployment of U.S. military assets to the area.

[Photo via The Japan Times]