From the Australian International School to top universities around the world.
The current cohort of Year 13s at the Australian International School (AIS) have just finished their IB Diploma exams. It was a challenging 22 months! But with their friends beside them motivating them and their teachers guiding, supporting and mentoring them, they have sailed out the other side having not only learnt about themselves, but prepared for the next chapter – university!
We spoke to five graduates from the class of 2017 about their experiences at AIS and what it takes to master the IB Diploma and get into the University of their dreams.
Tran Khanh Linh, Commerce, Vice-Chancellor's Scholarship, University of Sydney, Australia
'The IB diploma was a very significant experience. I don't think I've ever been so stressed and had fun at the same time. AIS was great. I got to be a prefect during my senior years and through this I improved my leadership skills. AIS has shaped me in being more active, open and hardworking. As there is a lot of work in the IB, you have to start early in researching your choices for university and get a good counsellor to help and advise you.'
Jung Seung Won, Liberal Studies, Seoul National University, Korea
'I didn't find the IB too stressful and I didn't need to change the way I was doing things too much. I've been studying at AIS since Year 7, so I was prepared. Everything I've been doing has been for this moment – report writing, the Theory of Knowledge, the IGCSE, volunteering. But I didn't do it all alone. I've done it with my friends and teachers. Without them I wouldn't have done what I have done.'
Karou Yoshizawa, Political Science, Waseda University, Japan
'There are challenges when you enter the IB. It seems like you can't see your future. I looked at what I needed to do and organised my time to finish subjects and prepare for exams. Planning and meeting deadlines, knowing the curriculum and working with the teachers helped me a lot. They motivated me to study. I really appreciate them. If I had any question at all, I asked them and they always made the time to answer me and help me. To prepare for university, I went to Japan and gathered information. There were three universities in Japan I wanted to go to. All three accepted me and I chose the one I wanted.'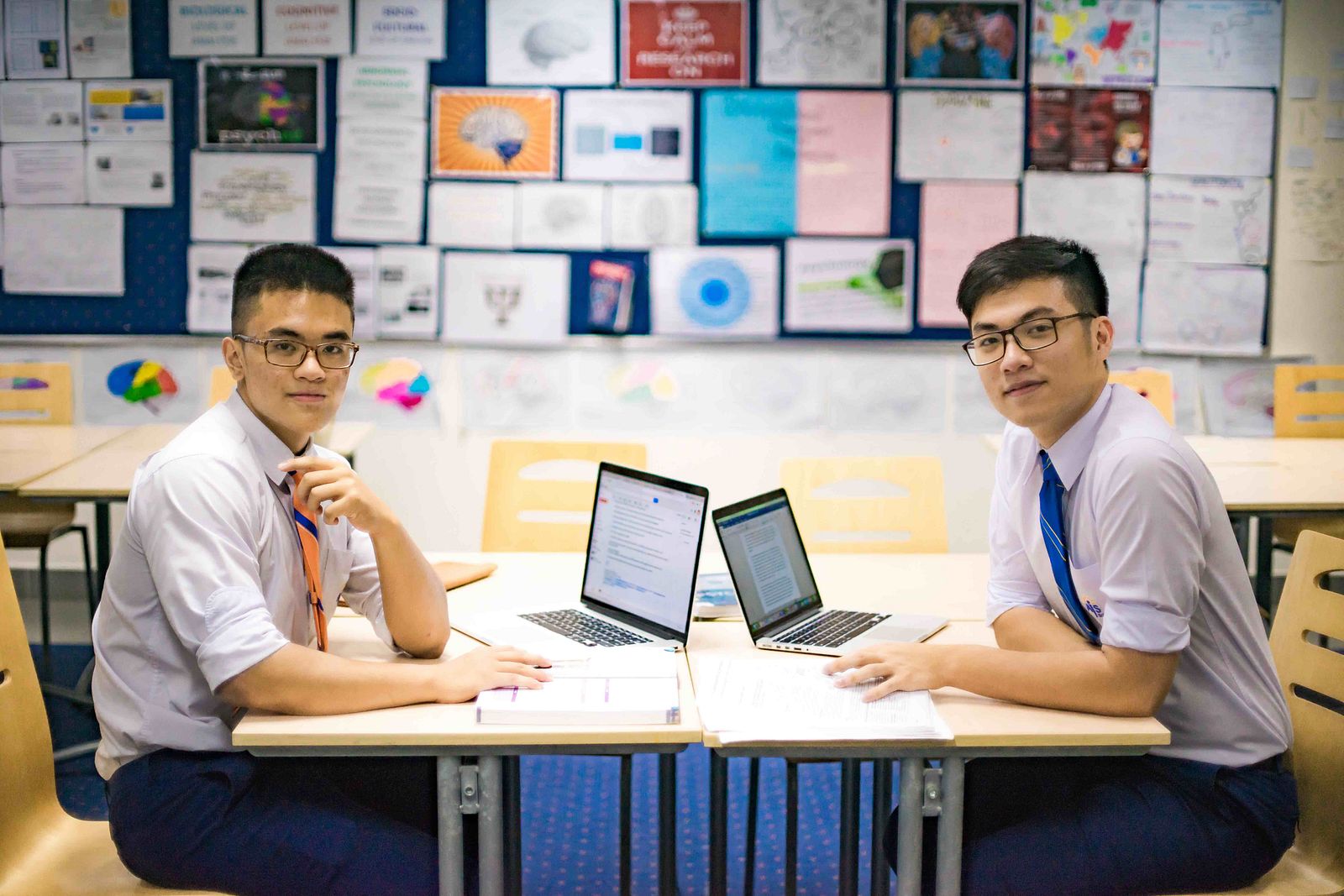 Vu Le Trung, Finance, New York University, USA
'I am aiming for top grades in the IB Diploma and I chose IB subjects according to what I want to do at university. You have to do what aides your pathway and definitely prepare your application in advance to get the university you want. My teachers helped me a lot too. They were not only there to teach me but to give me the mental support and the advice I needed to succeed.'
Van Duy Bao, Computer Science, Duke University, North Carolina, USA
'The AIS community is the most transformative from my time here. The teachers and students are really collaborative and energetic, in school events and academically, which has really pushed me to grow as a student and a person. During the IB, my friends motivated me and my teachers were the resources to help me achieve my goals. As the IB is intense, you have to prepare your university applications early. Create your road map and choose the subjects that will help you get there.'
And their words of advice for the students following in their footsteps: 'Stay positive and don't procrastinate. Don't forget to enjoy yourself and don't stress too much, because everything will work out in the end.'
+84 8 3742 4040 | +84 8 3744 6960
7:30am – 4:30pm
Xi Campus | 190 Nguyen Van Huong Street, Thao Dien Ward, D.2, Ho Chi Minh City
Thao Dien Campus | APSC Compound, 36 Thao Dien Road, D.2, Ho Chi Minh City
Thu Thiem Campus | East-West Highway, An Phu Ward, D.2, Ho Chi Minh City