"Is there any food we can eat for breakfast, afternoon snack and supper?"
While we're sitting together, my friend blurts out this seemingly random question. This sparks a boisterous discussion among us. Everyone agrees that such a dish must be able to satisfy these criteria: easy to eat, easy to find, just enough to quell our peckish stomach, but can't be too filling. On my part, my nomination goes to trứng vịt lộn.
Indeed, one can find a vịt lộn stall anywhere at any time across the nooks and ngõ of Hanoi. Still, because of this omnipresence, it usually doesn't matter much which stall you pick, especially when you're just there for a quick snack. I used to think this, until I visited this special vịt lộn eatery on Vũ Thạnh Street.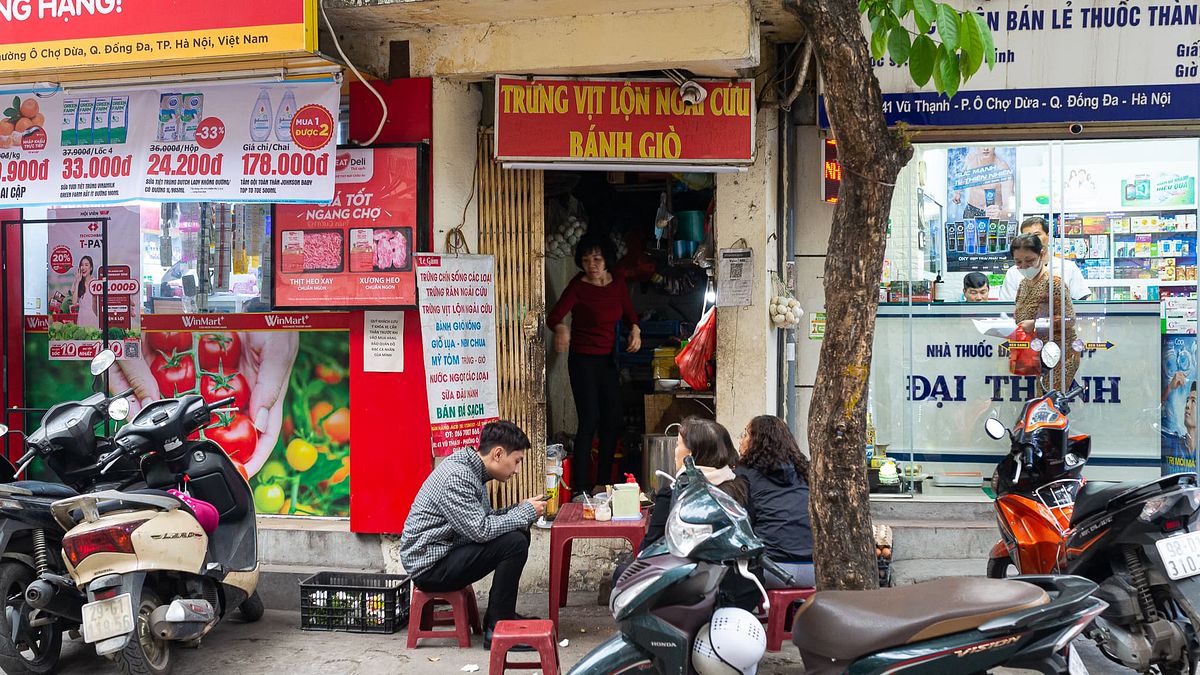 Adjacent to a small house opposite a huge tenement, chị Gấm's vịt lộn place is quite tiny at approximately three square meters, just barely enough to set up a small stove, pots, and accouterments. The entire stall has one plastic table, the rest are plastic stools. "If you come in a group, you get the table, but if you're alone, just a plastic stool is enough to put things on," Gấm chuckles when she sees that we're confused by her setting.
"We've been selling eggs for 24 years. This stall might even be older than y'all," she tells me while preparing for business hours. "We" here refers to two sisters: Gấm is in charge of the stall from the late afternoon until 1am, and then chị Nhâm, her sister, takes over. "It was common back then for our parents to come up with flowery names like that. My dad is Điền, and my brothers are Thiện and Chiến. My mom is Xuân. So we have Điền, Thiện, Chiến, Xuân, Nhâm, and Gấm."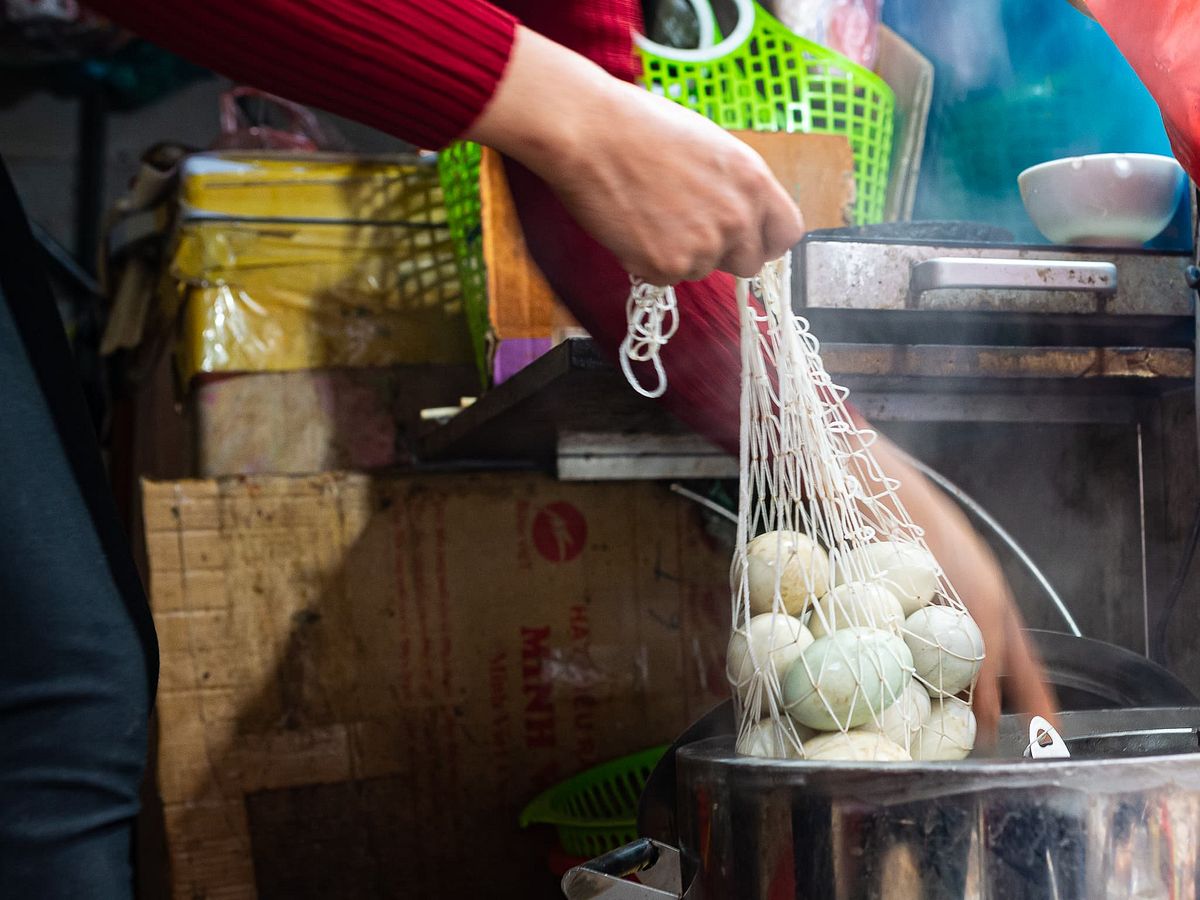 She explains the rhythmic names of the family while swiftly handling the freshly boiled duck eggs in the steaming pot of water. According to Gấm's advice, you should eat your first egg the traditional way. Unlike in Saigon where trứng vịt lộn are perched on tiny short glasses, in the north, duck eggs are cracked and put into a small bowl. Only one egg is cracked and then eaten at any point in time because they must be enjoyed hot. A sprinkle of salt, chili, rau răm, and julienned ginger add in a touch of sourness, heat, saltiness and sweetness to complete this rustic sidewalk snack.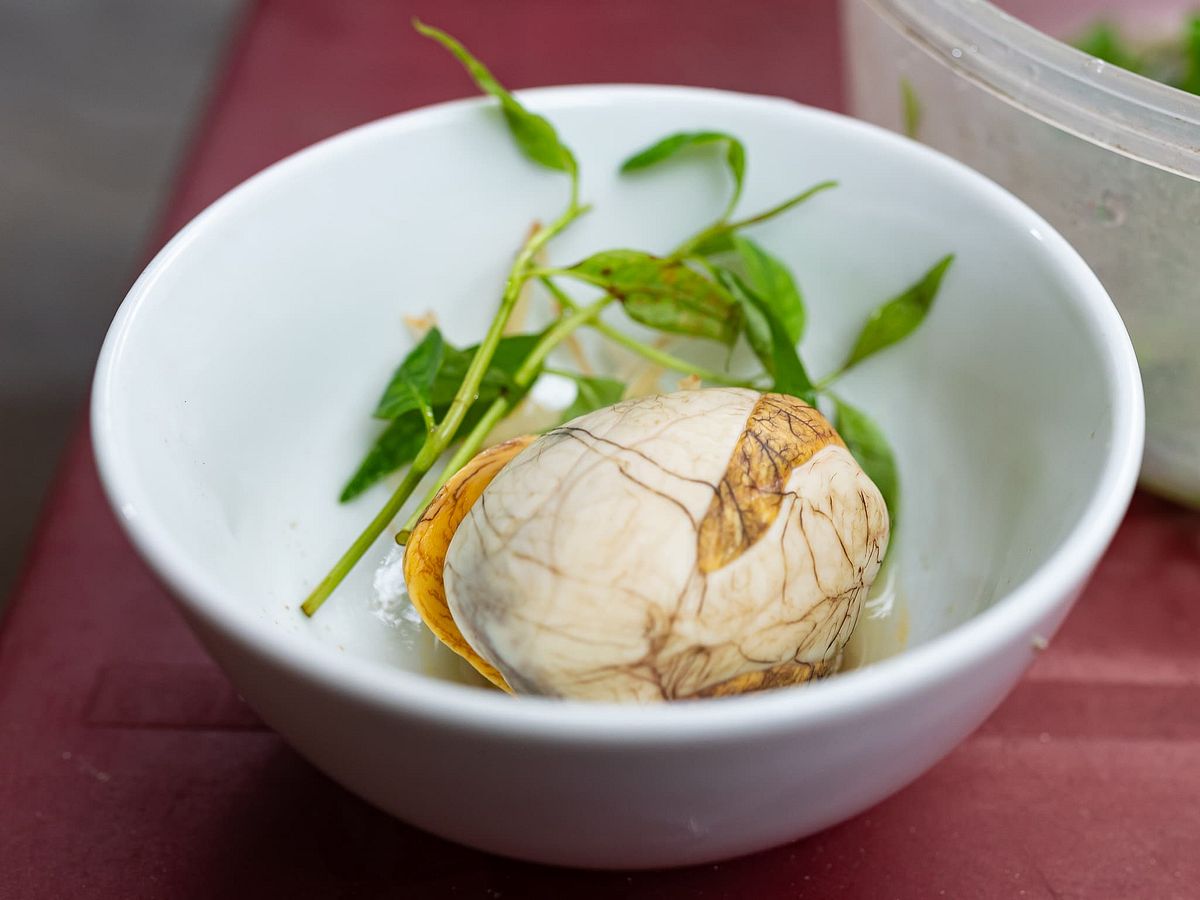 I am particularly fascinated by the boiled egg white of trứng vịt lộn here — what I refer to as "cùi dừa" (coconut core). The white core here is especially more tender than at other stalls I've been to. I usually discard this tough bit, but this is the first time I polish off every part of the egg. At my raving review, chị Gấm gushes that her trứng vịt lộn are all young eggs that she completely sells off during the day, so everything is fresh. "Not just the eggs, every garnish is also new and green," she explains while preparing our second course: trứng vịt lộn braised with ngải cứu (mugwort).
Compared to the traditional way, this braised egg is easier to enjoy because of how balanced the elements are: the warmth of the mugwort and the "coolness" of the vịt lộn. The umami of the egg is lifted up by the light bitterness of the young mugwort — the perfect harmony that Vietnamese gastronomic rules refer to as the yin and yang of food.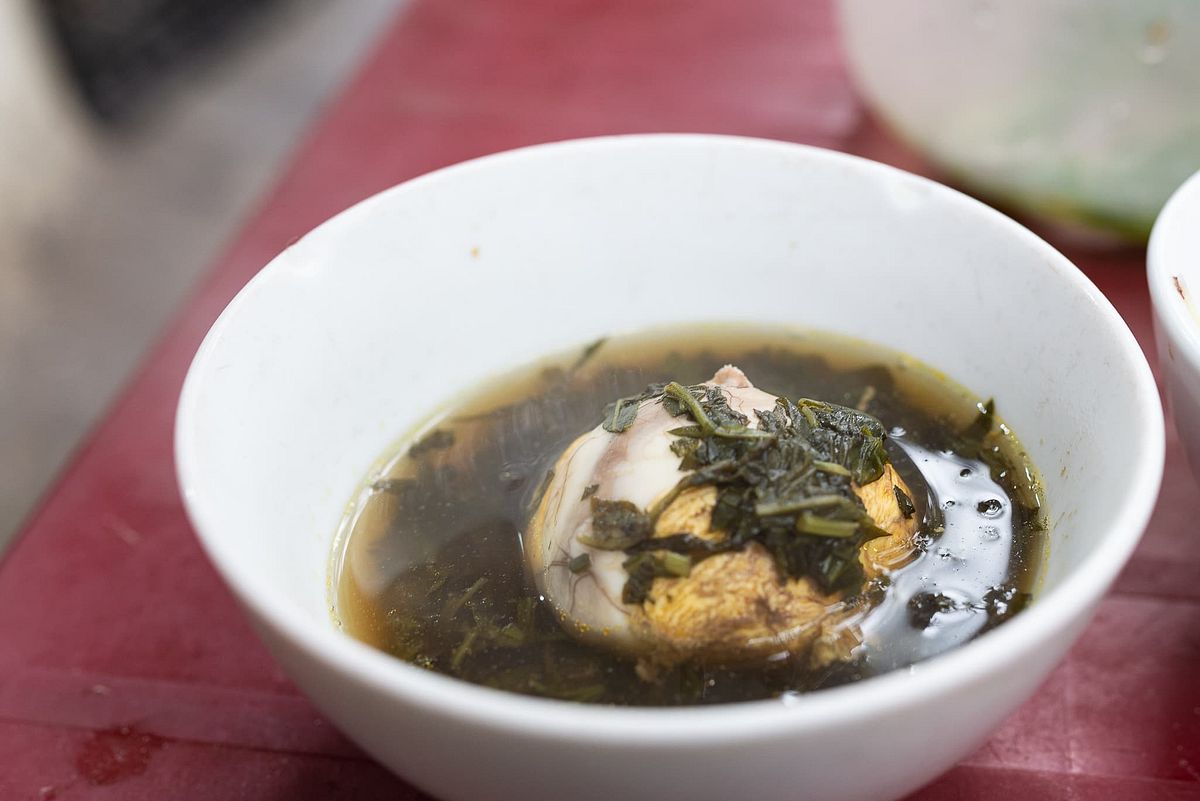 Not stopping with the baluts, we order for ourselves a mugwort omelet and bánh giò too, because one should try as many dishes as possible. Each dish starts with our unbridled anticipation and ends with hums of contentment as our tiny little spoons finish off the food. The omelet is golden brown outside but moist inside while our bánh giò is silky smooth without being mushy.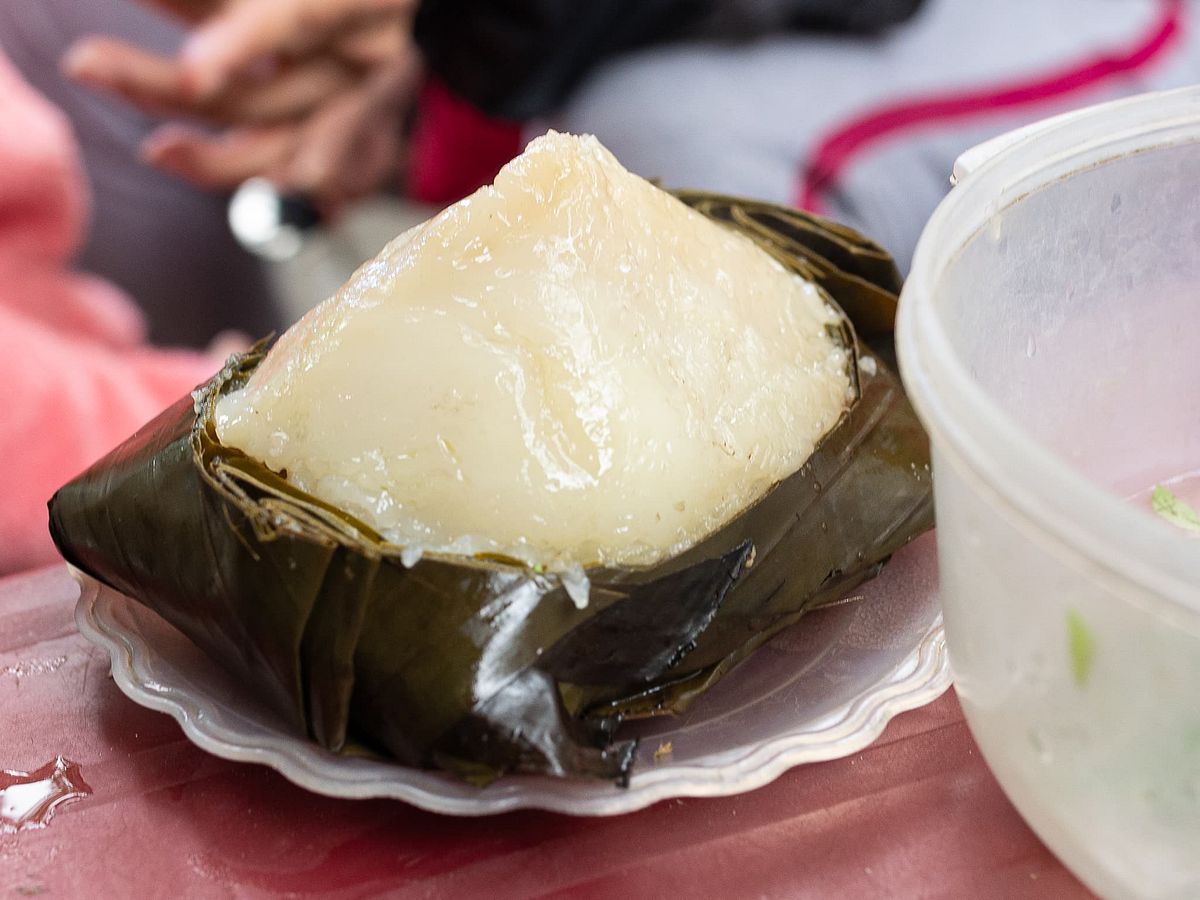 If you ask me why these seemingly unrelated items are the stars of the menu at a vịt lộn place, my answer is their freshness and incredible texture, be it the bánh giò or vịt lộn. They are also amazingly affordable at just VND8,000–15,000 per dish per person. That, along with the bright demeanor and crackling laughter of chị Gấm while talking about her craft, is the standout quality of this stall. All of it has convinced me to leave behind my belief that "we can just go anywhere for vịt lộn" and make frequent return trips here as a regular, be it for breakfast, an afternoon snack, or supper.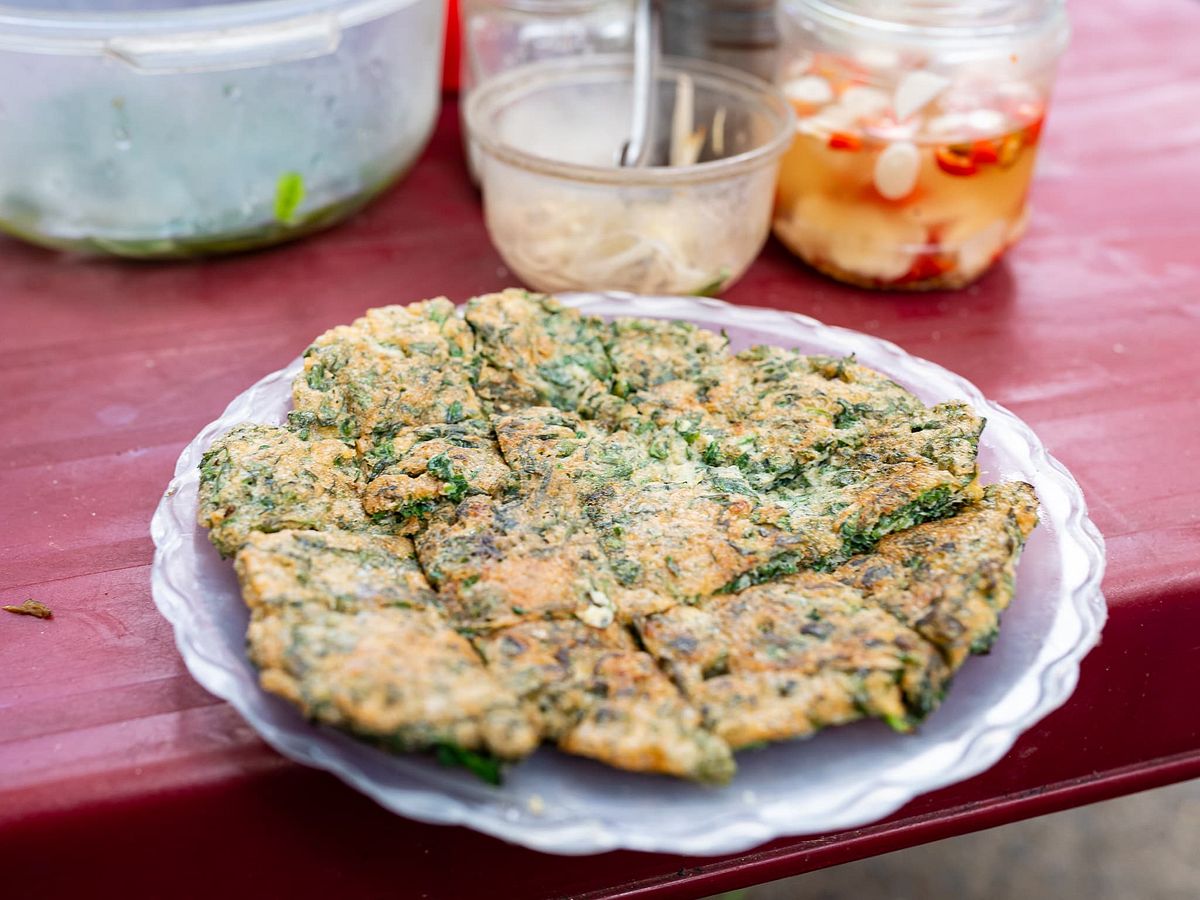 Hàng trứng Lê Gấm is open all day.
To sum up:
Taste: 4.5/5
Price: 5/5
Atmosphere: 4/5
Friendliness: 5/5
Location: 4/5
Hàng trứng Lê Gấm
41 Vũ Thạnh, Chợ Dừa, Đống Đa District, Hanoi