Houses and schools aren't the only tricks Award-winning Vo Trong Nghia Architects have in their bag. Completed late last year, their renovation of Viet Vuong Co. Ltd.'s HCMC garment factory is their second commercial project. Using simple materials like bamboo and brick, the designers were able to redefine the company's identity.
From the architect:
Textile and garment is one of the biggest industries of the country, where more than 4,000 apparel manufacturers operate mainly for export markets.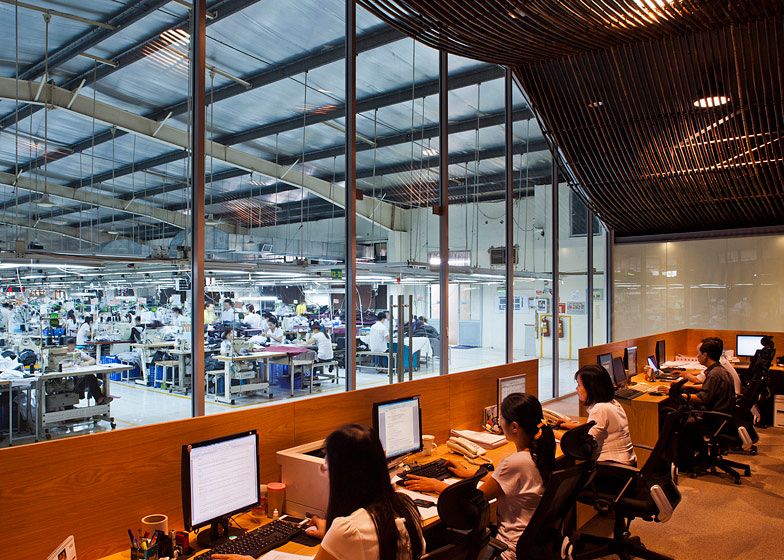 The existing factory is a two-storey steel building (25m x 90m). The refurbishment is concentrated on two sections, one on the upper floor for administrative office and another small one on the ground floor for the reception. The remaining space is left for manufacturing work that was kept operated even during the construction period.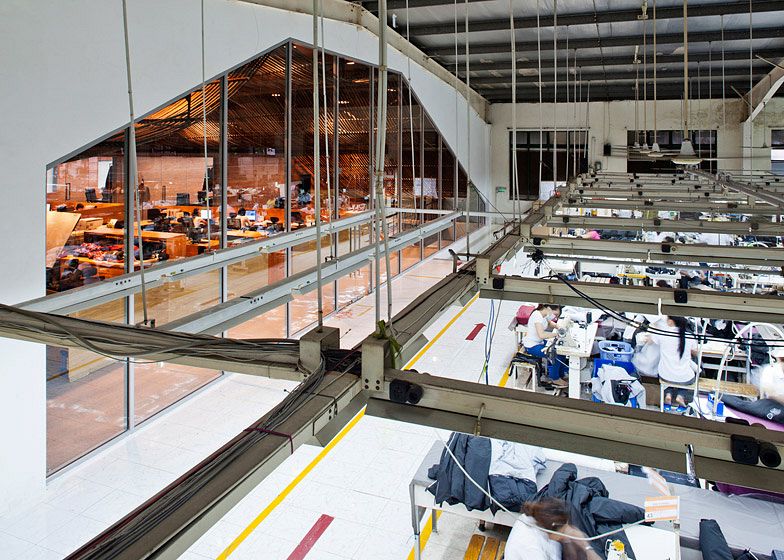 A theatrical juxtaposition of the existing factory and new office was proposed to emphasise the well-managed factory environment and its dynamism, say, a spectacle of 1,200 skillful workers sewing numerous ski-wear in a tropical climate.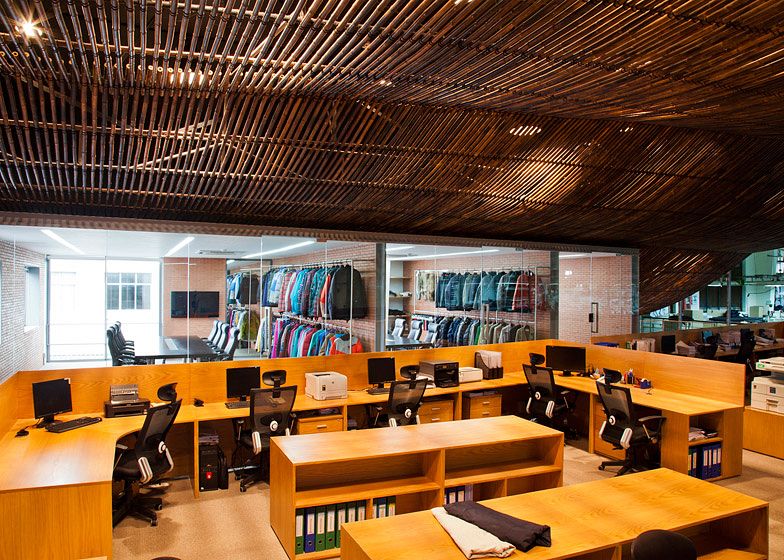 The central administrative office space is designed as a passageway. By opening up a large window on its existing envelope, this passage conveys insight view to the factory space which was formerly mostly enclosed. The large glazing between the factory and the office enhances the communication between administrative staffs and factory workers.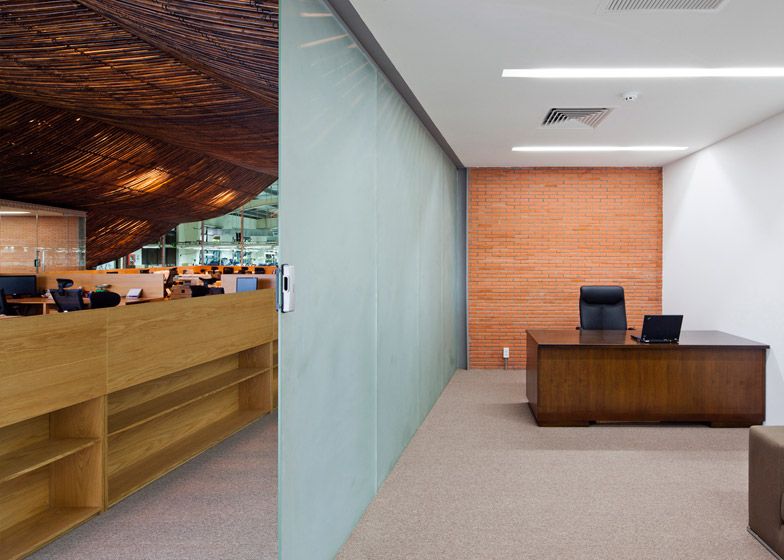 Closed rooms, such as the directors' rooms and meeting rooms, are positioned along the aisles of the central office space. These rooms and the office are separated by transparent glass partitions, which showcase the company's products and samples like shop windows.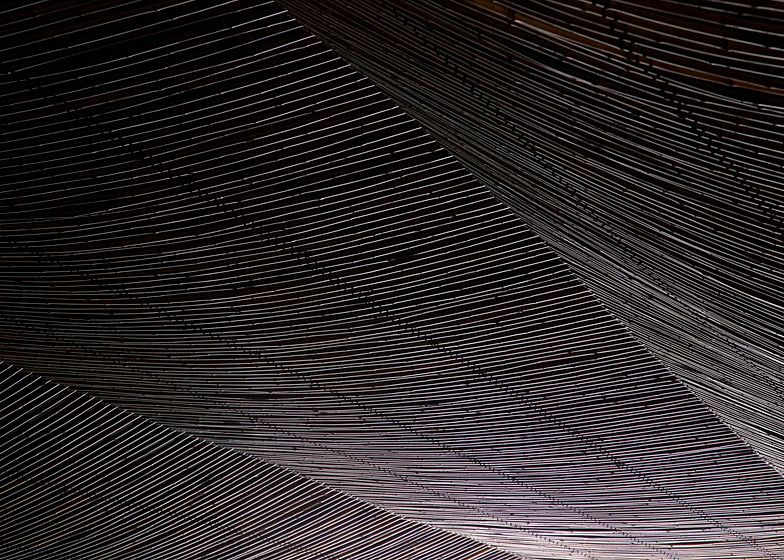 Local materials are used throughout the project such as exposed bricks and bamboos to express the local identity and environmental consciousness. A pliable bamboo ceiling, concealing mechanical equipment and lighting fixtures, is designed for the central office space to simulate a textile surface. A part of this bamboo ceiling flows into the ground floor and becomes the ceiling of the reception area to welcome the visitors.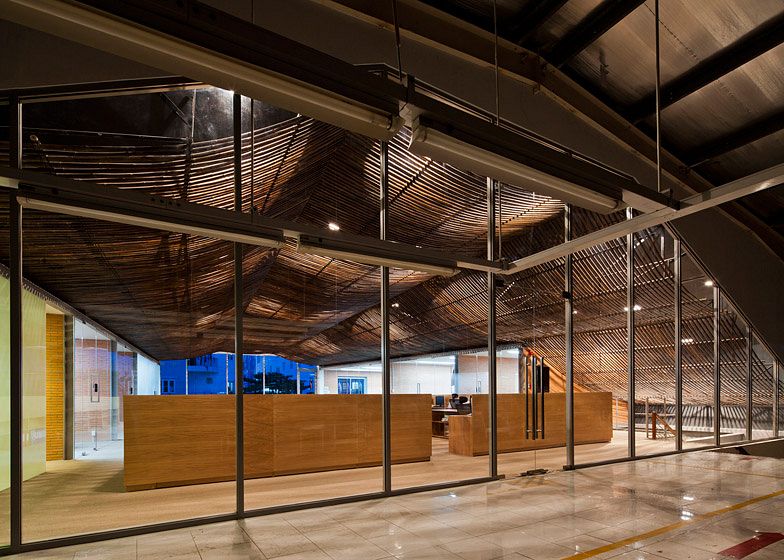 Stainless wires are attached to existing facade and expected to be covered with bougainvillea in the near future. The warm natural materials and greenery provoke a stark contrast to the existing steel structure of the factory.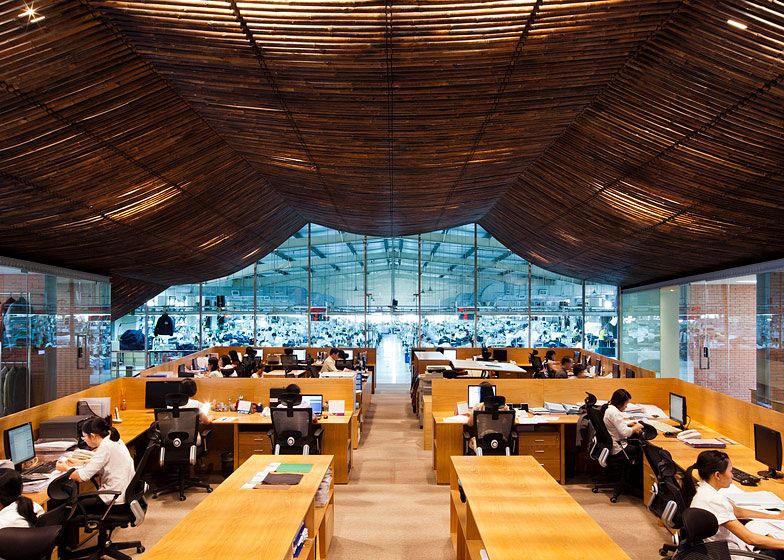 Client: Viet Vuong Co., Ltd.
Contractor: Wind and Water House JSC
Architect Firm: Vo Trong Nghia Architects
Principal architects: Vo Trong Nghia, Masaaki Iwamoto
Architect: Kuniko Onishi, Nguyen Viet Hung