While there's no saving the Tax Center which will soon be demolished to make way for a new 40-story tower, there are those that are calling for elements of the 90-year-old building to be preserved.
The Honorary Consul General of Finland in Ho Chi Minh City, Phung Anh Tuan, has petitioned the HCMC People's Committee and the Ministry of Culture, Sports and Tourism to make plans to save the Tax Center's ornate staircase, floor mosaics, among other elements.
According to Tuoi Tre, Tuan submitted two proposals:
"The first, and most ambitious, plan, aims to "completely reserve the lobby lounge, with mosaic tiled floor and the main staircase of the center," so that the "whole structure will be integrated into the design of the new building.
Meanwhile, the second proposal aims to map out different solutions to dismantle, remove and retain the main design elements, including mosaic floors, balustrades, handrails and the banisters in the shape of a laurel flower and the "Gaulois" (Gallic Roosters) cockerel found on the main staircase and lobby lounge."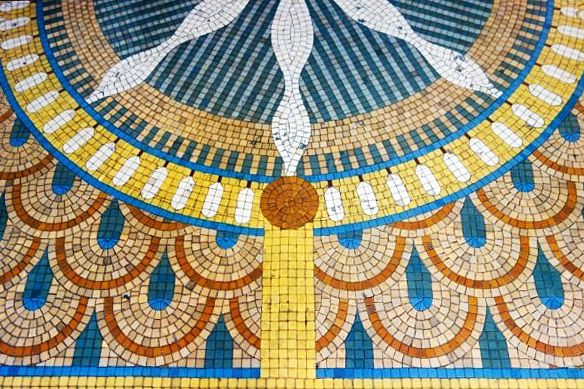 If the second option is accepted, the architectural elements will be "integrated into the museums or embellished in a systematic and professional way rather than be demolished and/or dismantled into pieces without reservation," over a period of 15-20 days.
In addition to Tuan, the Cultural Heritage Department under the Ministry of Culture, Sports and Tourism has also sent a letter to HCMC authorities to point out the interior's historic value, much of which dates back to 1924.
Satra, the building's owner has previously said that it plans to incorporate elements of the Tax Center into the new building though it "cannot determine which elements will be preserved, as the project is still in the design phase."
Say what you will about the Tax Center's exterior, but there are elements of the interior that ooze history and should be saved.