While the concrete pylons that comprise the above ground portion of Saigon's first metro have lined the North-South Expressway for years, things are finally ramping up on its subterranean stations.
---
Related Articles:
- Completion Of HCMC's First Metro Line Delayed 2 Years
- Girders Installed On Saigon's First Metro Line
- Future Saigon: The Bến Thành Market Metro Station
---
The city government recently approved the technical designs laid out for Package 1A, including the underground track that will link the Ben Thanh Market and Opera House stations, reports the Saigon Times.
"Package 1A of the city's first metro line, which connects Ben Thanh Market in District 1 and Suoi Tien Park in District 9, includes force-bearing structures, architecture, mechanical and electrical equipment, and tunnel for the underground section," wrote the paper.
The approval of the package also overlaps with structures of Metro Lines 2 and 4, such as the Ben Thanh Market station which will act as the city's urban rail hub.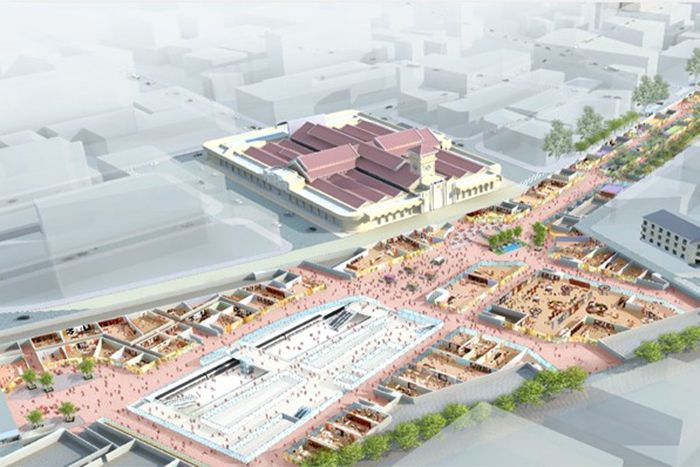 The underground tubes will have a shelf life of 100 years and will house 1,435 meters of railway track designed to allow trains to run at speeds of 80kph.
Saigon's Management Authority for Urban Railways (MAUR) had previously been given the nod to dig underground stations via the "cut and cover" method wherein shallow trenches are dug and roofed over with overhead support system strong enough to carry the load of what is built above the tunnel.
The city also called on relevant agencies to ensure traffic congestion and pollution are kept to a minimum during tunnel construction and that they draw up plans for tree removal in the area.
The Department of Planning and Architecture has suggested restricting the number of cars in downtown Saigon and is responsible for "…a comprehensive evaluation of the urban architecture and cityscape in the downtown area to make suggestions for improvements."
Saigon's first metro line is scheduled to open in 2020 at a cost of US$2.2 billion though the metro's management panel recently said that the 17km above ground section might go into operation in 2018.