Shocking news from Nghe An Province.
According to a press release shared with Saigoneer by Save Vietnam's Wildlife (SVW), on August 1, the Environmental Police Department of Nghe An asked Pu Mat National Park to receive seven live Indochinese tiger cubs that had been confiscated from the illegal wildlife trade.
SVW joined the Pu Mat staff, and the tigers were taken to the national park's rescue center where their health could be checked and monitored. After being given milk, the tiger cubs — which had been in a state of shock — began to recover and play with one another.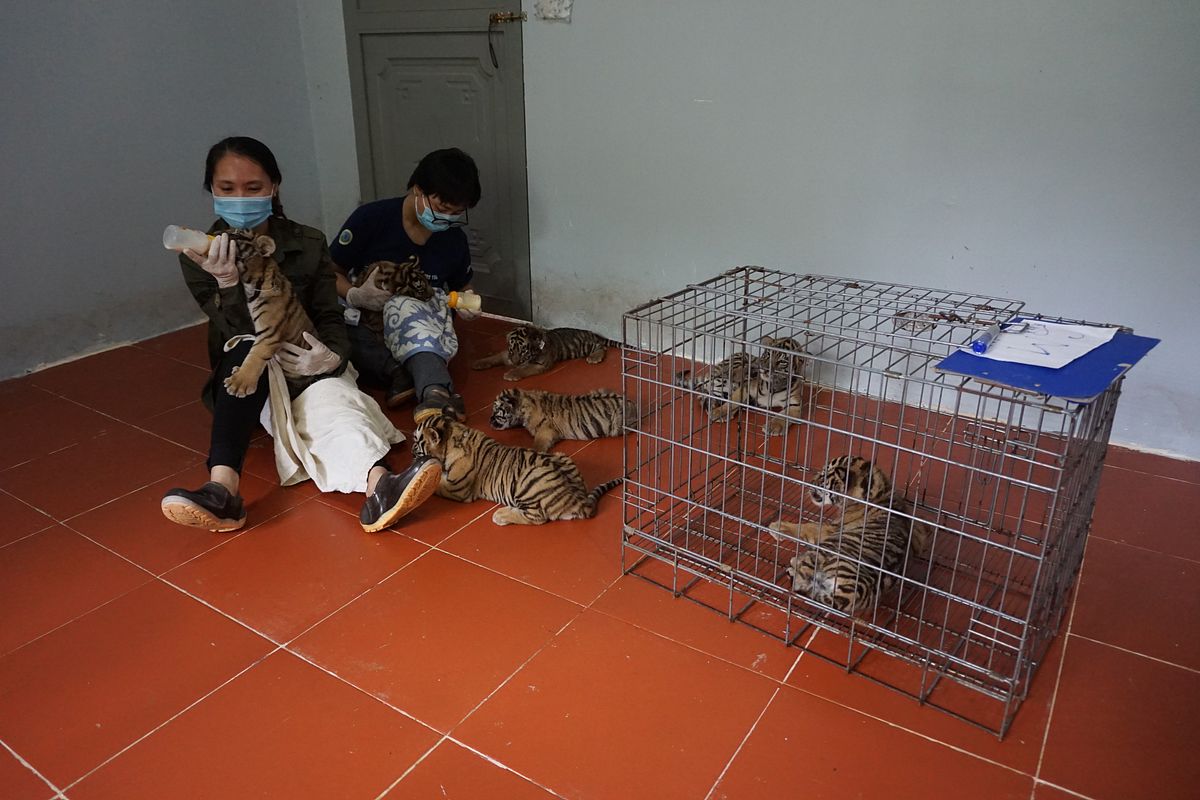 According to SVW, "These animals will be fed exclusively with imported cat milk, and gradually will be switched to meat feeding. Veterinarians will also check health, test for viruses and bacteria to treat all 7 animals. In addition, they will be given supplemental drugs and products to increase calcium and are encouraged to participate in exercise activities to help develop good bones and joints. [sic]"
While the rescue of any animal from the wildlife trade is good news, there is a problem: a wild tiger has not been seen in Vietnam in over 20 years, meaning there are limited rescue facilities equipped to handle such massive animals.
"However, Pu Mat National Park still agreed to coordinate with SVW to decide on the immediate solution of saving the 7 tigers above to keep their chance to live, and at the same time, they are trying to take care of 7 individuals. After that, the authorities will be proposed to transfer to the appropriate unit with full conditions and facilities to take care of the tigers. [sic]"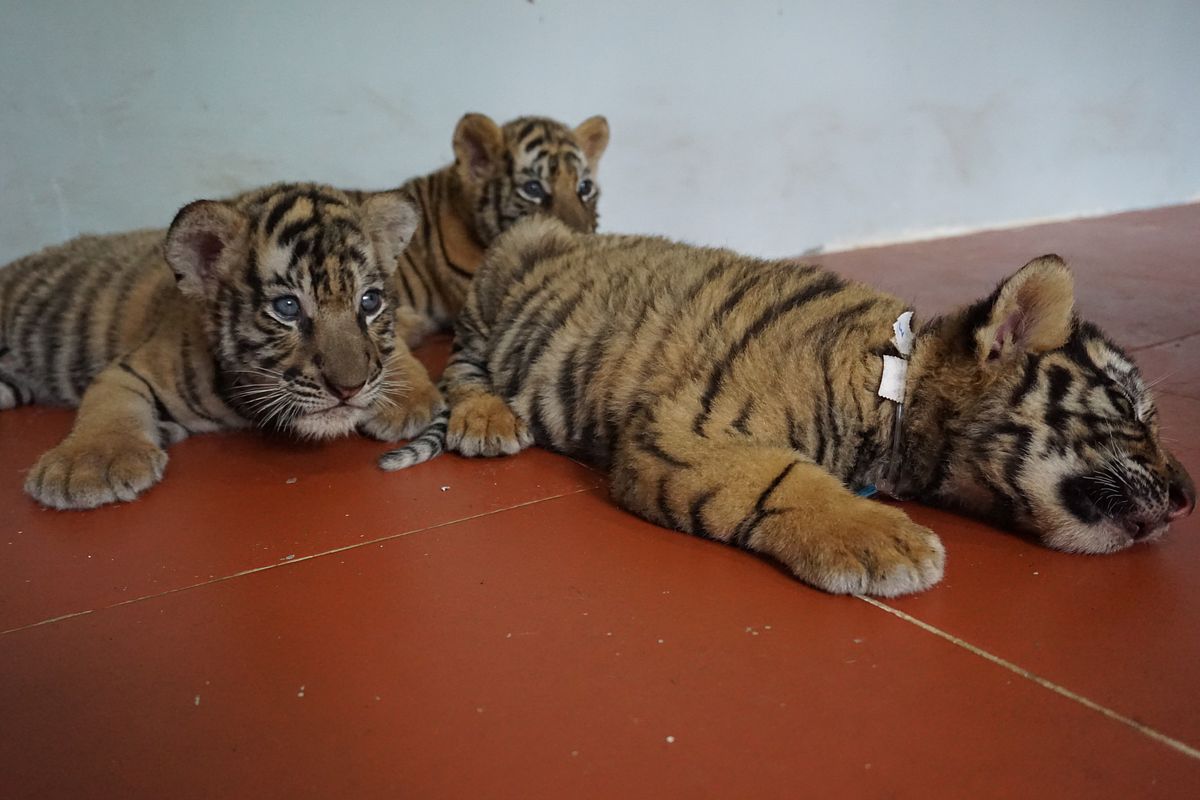 SVW adds that in 2016, the World Wide Fund for Nature estimated that fewer than five tigers remain in Vietnam's forests, while there are 302 tigers legally living in captivity at 21 registered farms, zoos and rescue centers.
Nguyễn Văn Thái, SVW's director and recent winner of the Goldman Environmental Prize, said: "There is no longer a chance to rescue tigers in the wild. So there is no Rescue Center in Vietnam that is eligible to rescue the above 7 tiger cubs at the present time. The fact that SVW, an NGO that directly carries out rescues and supports other rescue centers in Vietnam and ready to receive the above 7 tiger cubs has shown that we are always ready to bring the best solution to help caring and rescue wildlife in time. [sic]"
For their immediate needs, SVW has issued a call for donations, as they estimate that VND100 million is needed per month care for the seven cubs, a figure that will increase as they grow. The NGO emphasized that, unfortunately, releasing the tigers to the wild is not feasible since they have lost their hunting instinct in captivity and are too used to humans.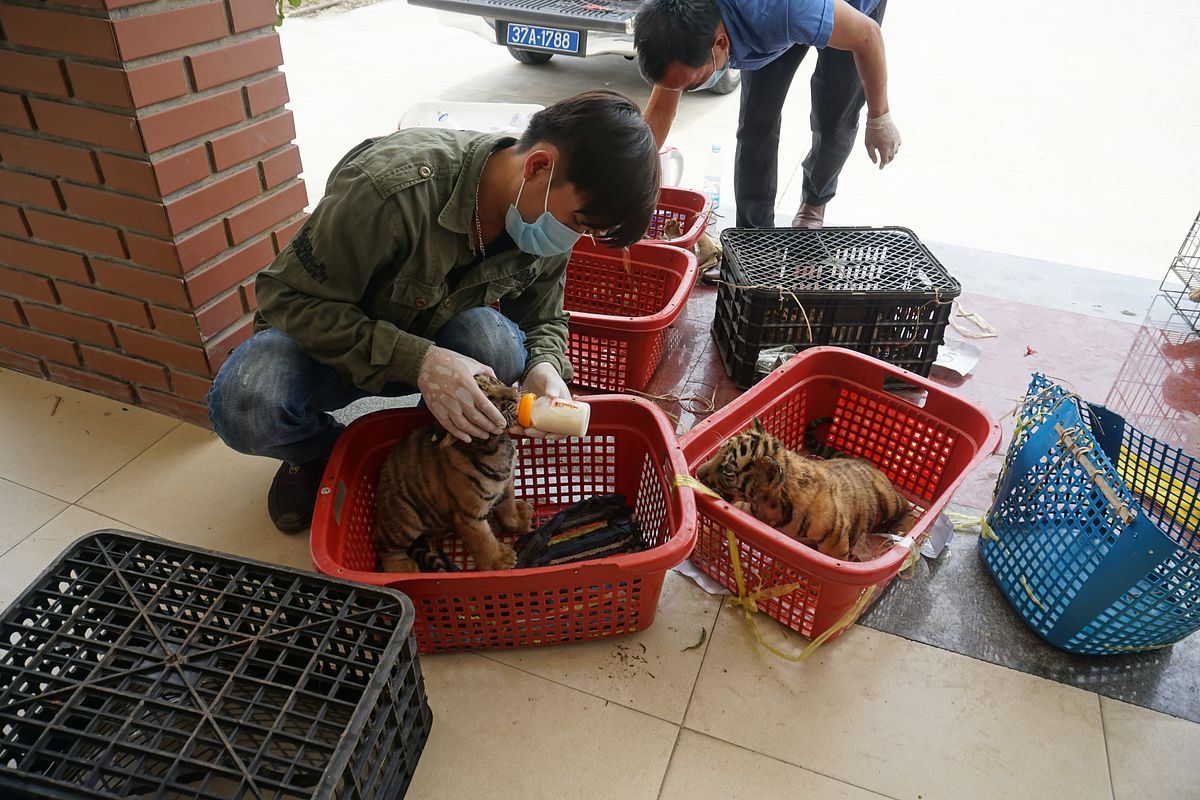 Astonishingly, while news of the rescued cubs was still being digested, police in Nghe An Province confiscated 17 live adult tigers from illegal breeders this morning, August 4. SVW is involved with those rescues as well, but given the challenges involved in caring for seven cubs, this developing situation just became far more difficult for the conservationists involved.
You can make a donation here to help Save Vietnam's Wildlife take care of the tigers.