Colonel Sanders' fast food remains the top choice of Vietnamese palates.
Saigon-based market research company Q&Me conducted a survey with 600 people to explore Vietnamese's food consumption habits. Kentucky Fried Chicken (KFC) was the most popular chain in the country with about 45% of respondents claiming to visit the fried chicken franchise often.
Number two in the survey was Lotteria with 17% of surveyed individuals answering they visit the South Korean burger chain often. Lotteria has approximately 200 locations in Vietnam while KFC operates 135. McDonald's and Pizza Hut trailed far behind with 6%. To put it in context, the country is home to 7,000 fast food restaurants but 430,000 street vendors, 80,000 restaurants and 22,000 cafes and bars as of 2018.
Around 87% of respondents order fast food online often. Among these, KFC is once againt the most popular choice followed by Lotteria and Pizza Hut. Users most commonly pick food delivery app Now to order their fried chicken (24%), followed by GrabFood (20%).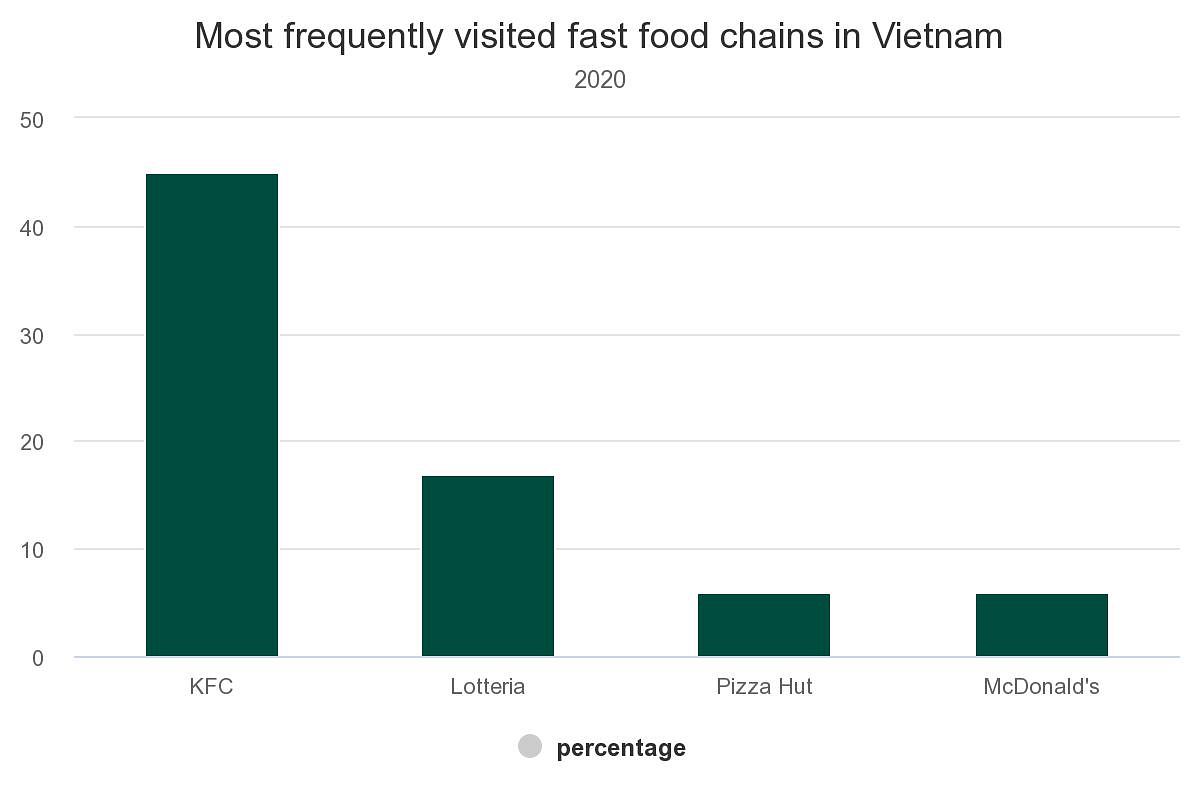 Graph via VnExpress.
Reflective of KFC's popularity, the business posted VND1.5 trillion (US$64.3 million) in 2019 revenues, a 1.3% increase over the previous year. But despite the financial gains, growth for KFC and its fast food competitors is relatively slow. It took KFC 23 years in Vietnam to reach its current prominence while global beef big weights like McDonald's and Burger King have only managed to expand to fewer than twenty locations nationwide each.
Experts theorize that the lack of sustained success is due in part to fast food's price point compared to local alternatives; cultural preference for foods that can be shared; the emergence of new competitors including convenience stores and increased interest in eating healthy.
A separate survey found that customers consider purchasing nutritious and organic foods a "top priority." Meanwhile, in the fast food survey, respondents said they visit KFC because the food is delicious; the chain has convenient locations suitable for families and young people; and their menu features variety. The healthiness of the meals was not a leading motivation to visit.
[Top photo via WikiMedia]