Customers ordering phở tái to go were confused to receive raw beef, not understanding they were expected to cook it, and responded with cruel reviews.
Pho Real Kitchen and Bar in Des Moines, Iowa attracted media attention in the US after they posted a public message responding to a crass review that accused the small business of being "lazy," "dangerous," "disgusting and in violation of the health code," regarding their order of takeaway phở tái that included uncooked slices of beef in a plastic bag.

Vy Nguyen, the restaurant manager and daughter of the owners, said it was not the first time customers have offered offensive comments disrespectful of Vietnamese cuisine and culture, and she felt compelled to speak out. "They said that we were lazy and that upset me a lot. I know my parents. They work 12 to 13 hours a day," she explains. Vy's parents grew up in Vietnam where her mom had a small mom-and-pop cafe.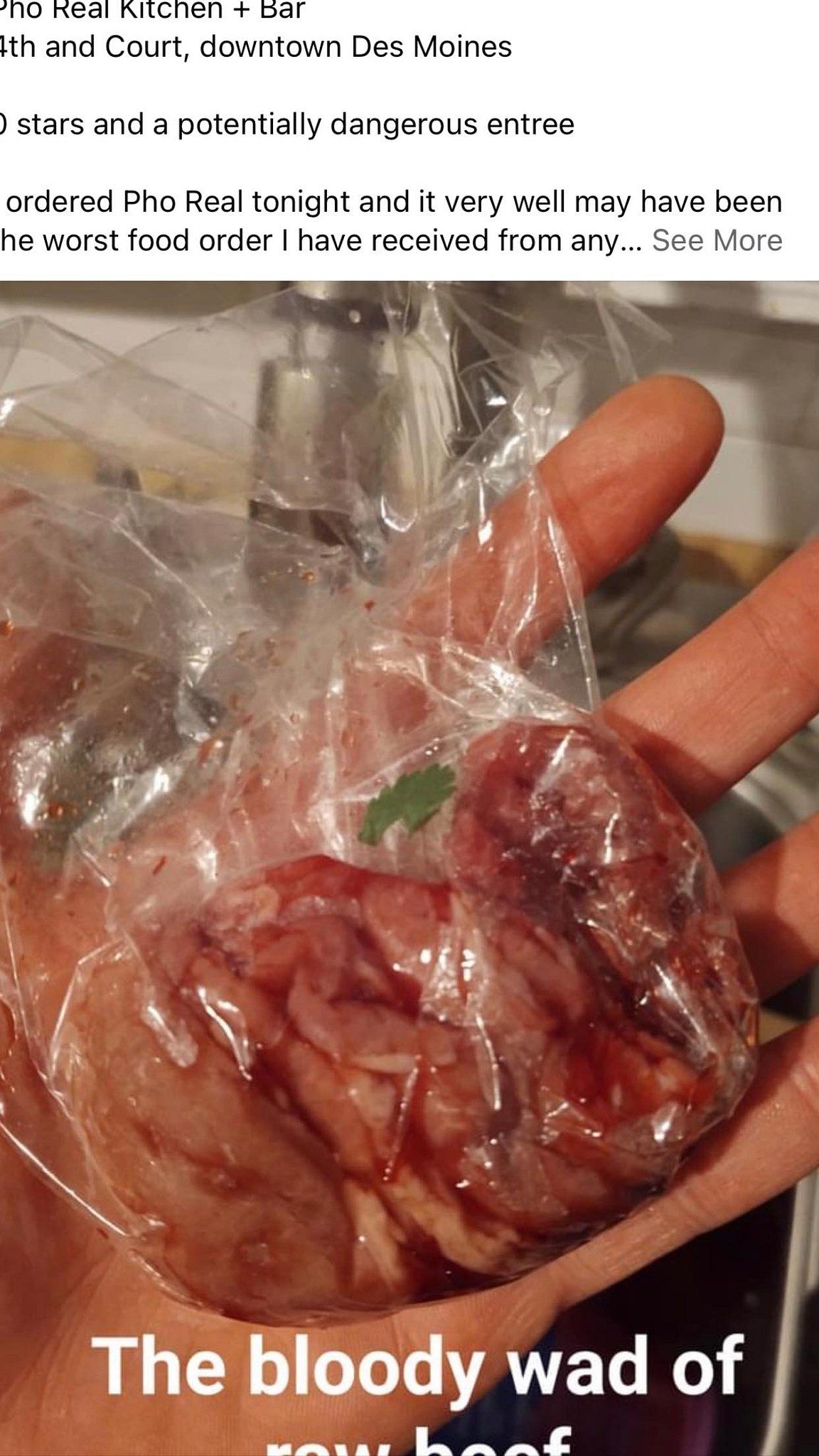 A note published on the restaurant's Facebook page states, "We realize that not everyone knows how to prepare Phở at home when they order it to-go as many are confused to see the packaged raw steak. We understand that not everyone wants to do the extra cooking when they order takeouts, but Phở was never intended to be a takeout food, especially in Vietnam before any delivery service existed." It goes on to explain why it should be cooked at home and how to do it, and also recommends other dishes for those that want pre-cooked beef. Read the full post here.
Since the message went online, the restaurant has received an outpouring of support from netizens, most chastizing the furious reviewer for their ignorance of Vietnamese culinary customs and praising Pho Real Kitchen's diplomatic response. While Pho Real Kitchen has overwhelmingly positive reviews, there are some negative takes, including one Yelp user who compared their boba to "frog eyes." Vy and the staff typically respond to them in person, and the majority of Yelp reviews praise the service and food.
She explains to local Iowa media that Pho Real Kitchen and Bar is a source of pride for her family and they are honored to share Vietnamese cuisine and culture with others. "I think it's just important to be open-minded and expand. Be adventurous with your palate and you'll come across a lot of good people, good food, very interesting cultures," she says.
Des Moines, the capital city of Iowa, has a population of less than 250,000 people, less than 6% of whom are of Asian descent, with fewer than 3,500 of Vietnamese descent. It is not surprising then to see on the menu beside traditional Vietnamese dishes like phở and bún bò Huế, a smattering of dishes from across Asia including pad Thai and bibimbap. There is also crab Rangoon, a deep-fried dough pocket stuffed with a glob of cream cheese and fake crab meat that is a staple at Asian restaurants in America despite its non-Asian origins.
[Top photo: A bowl of phở tái/Flickr user tmab2003]