Hanoi-based visual artist Le Giang is an educator and co-founder of Six Space, an artist-run venue dedicated to exhibitions, workshops, film screenings and talks. Her practice spans installations, sculptures and drawings that feature recurring preoccupations with architectural ruins and barren landscapes.
Prior to her TEDx talk this weekend, writer-translator Nguyễn-Hoàng Quyên sat down with Le Giang to discuss her artistic journey, influences and gender issues in contemporary Vietnamese art. The following interview was edited for clarity and translated from Vietnamese.
Could you discuss your appearance on Forbes Vietnam's 30 Under 30 2018, and your upcoming TEDx talk?
I do enjoy art education and social engagement as much as I love making new works. The Forbes nomination came along when I was narrowing down the scope of Six Space, but I accepted it because I think Six Space deserves that public recognition. And I'm interested in TEDx because I like connecting with cool people from different disciplines.
For TEDx, I plan to talk about art education and my work with Six Space, where people who aren't at all involved in the arts could join the conversation. I want to talk about the importance of maintaining such open spaces. It's also a public speaking challenge, which I like. But I do realize I am appearing so often on social media I might become a Nghệ Sĩ Nhân Dân (People's Artist) soon!
What was the environment that nurtured your journey into art?
It came to me quite naturally. When I was in seventh grade, my father took me to my first drawing class at the Viet-Soviet Cultural Palace, a casual club for teenagers my age and older students who wanted to apply to art school. We were introduced to lacquer or oil painting. So since I was young, I never considered anything else but art, but in my mind at the time, it was mostly painting because I didn't know other mediums.
Also my father really believes in Tử Vi (purple star astrology). My path said I had to do art, so my father was really keen on that idea. But when I applied to art school, my parents kept me from majoring in printmaking. They instead wanted me study art pedagogy and become a nice cultured woman – marriage material. But I guess I haven't exactly turned out the way they wanted.
Are there any stories you are happy to share from college?
At the University of Fine Arts in Hanoi, I was very hard-working. I would draw all day, and constantly wanted to get better. Partly because my father was obsessed with grades. On the first day of college, during the skull-drawing session, the professor came by my desk and asked, "You are the girl who got the highest entrance exam score? And you draw like this?" Then he critiqued my drawing very harshly. I felt so embarrassed. I had to excuse myself and went to the bathroom to calm down.
That was quite a slap in the face. But it made me want to improve and I gradually got better grades. And even when I got an A+, my father would ask if anyone else got the same grade. He wouldn't be satisfied until I was the only one with an A+. It was a misguided way of encouragement. Later on, the same professor came up to me and said, "See if I hadn't said what I said, you wouldn't have become so good."
That's a common pedagogical strategy here. 'Tough love' that blurs into public humiliation.
On top of that, another hard thing was how expensive it was then to get materials. A tube of oil paint — the $3 type – was out of reach. Students had to go to galleries to pitch works and often got rejected. Artists often have such big egos and yet always have to do these miserable things to make a living and get exposure.
So when I was applying to study abroad, I wanted to make a gallery. I wanted to change the art scene here and help promote artists. But when I got into studio practice in the UK, I saw alternatives to galleries. After coming back to Vietnam, I taught drawing classes and workshops, and later teamed up with Do Tuong Linh to found Six Space, a space for art education, exhibitions and community-oriented events. Besides exhibiting conceptual works, we held workshops on embroidery or photography where people with no prior art experience could participate.
Let's talk more about your practice. Could you share some works, projects or moments that have marked major shifts in your path?
After graduating from college, I was still painting 'cheesy' subjects. Studying in the UK changed that. I began to read texts, make statements and include quotations from Western theory. And I also started to struggle because without a deep understanding, I realized I was superficially coating my practice with Western knowledge.
Later, when I went to the Philippines to make work, I was fortunate to discover plaster, a material I really like. I also realized the importance of knowing a country's particular culture in addition to theory. Since 2016, I have been making works related to my family and Vietnamese traditions. For example, at the 2016 edition of the project Into Thin Air, my work was an installation of plaster "cửa võng," the spiritual wooden gate at pagodas or communal houses.
My friends who research Sino-Vietnamese texts have also fueled my interest in older traditions, like the architecture of Vietnamese pagodas and temples. I've learned that our own structures are different yet equally as beautiful as European cathedrals. It's just different aesthetics. So now I want to spend more time familiarizing myself with local knowledge and merge that with different angles of Western theory to arrive at a more holistic approach.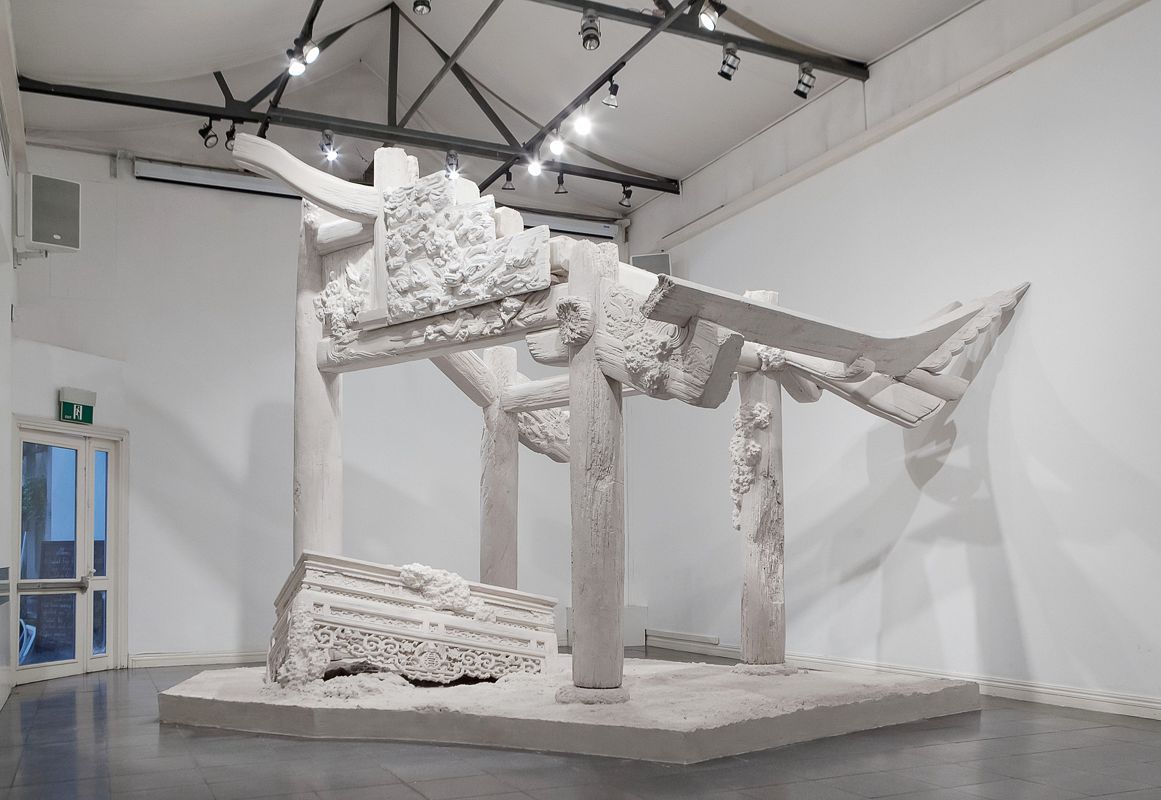 Besides exploring theory, were there other experiences or encounters in the UK that influenced your artistic practice?
My final thesis was about architectural space in the works of Won Ju Lim and Julie Mehrehtu. Both work with landscapes and cities, especially cities that seem hollow. My departure point, recommended by my thesis advisor, was Piranesi, an 18th-century printmaker.
I remember his fictitious ruins.
Exactly! And it's all etchings, which means his works were painstaking, very admirable. And only recently did I think of that thesis when I came across two books on Piranesi at AGOHub's library. I saw the connection to my latest works, which also have to do with ruins.
So [Piranesi and my thesis] were imprinted on my mind and evolved in me, and I totally forgot about it. It's funny how memory works. So I think when artists just work and don't agonize too much over theories to back up their ideas, the most honest impulses emerge. It's better than getting overwhelmed by too many readings.
Who are your artistic influences? Are there artists or thinkers who have been important?
During my MA, I really liked Anish Kapoor after seeing some of his solo shows. I also like Anselm Kiefer. There's an excellent documentary about him, called Over Your Cities Grass Will Grow. It just speaks to me and my practice, how he constructs his own post-war-esqe landscape of buildings and debris. I also like the Belgian painter Luc Tuymans. Those three artists, I really look up to them.
Speaking of these three great male artists, does the label "woman artist" or "Vietnamese artist" bother you?
Yes. When I was in the UK, I was really sensitive about these labels. Fellow students would come up to me and say things like, "I've been to Vietnam. I've had trứng vịt lộn." I was so sick of such narrow stereotypes of Vietnam. So for a while I avoided making works that had anything to do with Vietnam.
Similarly with being a woman — at my graduate show, I worked with the subject of holes in the wall. A female critic came and immediately assumed it was about femininity. I was quite offended by that. I don't want people to think that female artists could only work with concepts related to their female body.
The discrimination continues in Vietnam. Recently, when I got the opportunity to exhibit at the Goethe Institute, my own friends told me I got it because I was a woman. I talked to one of the juries later, and she said they chose me because my proposal was well-written and well-researched. Not because I was a woman.
If you think about it, in Vietnam, many art spaces in Vietnam are spearheaded by females. It is super annoying that people still think that being a woman is something like an underdog advantage, or always assume that woman artists have to work with feminine subjects.
Truly capacious works transcend or at least complicate gender.
Right, and actually, when people look at my works, some still discern feminine aspects. I look up to those male artists because their worldviews overlap with mine. I also admire Pipilotti Rist.
I am with you on Pipilotti Rist. Last question: what are you currently reading, or wanting to read?
There's this book, recommended by the same advisor I mentioned earlier. It's called In the Dust of This Planet by Eugene Thacker. A dark book, which is quite at odds to my general optimism. Maybe deep down I still harbor lots of questions about humanity, and whatever personal, even gloomy energy that remains inside, I rework them into art.
Le Giang will give a talk on art education at TEDx Hanoi - Toward A Global Community on June 2, held at UNIS Hanoi.