Have you ever been in front of a painting, a photograph, a video installation or any other form of artistic creation, for that matter, and asked yourself "What was the artist/author thinking?", "What is he trying to say?"?
Despite having attended many artists' talks and finding them often interesting, I have never really been keen in wanting to know what artists were thinking or what they wanted to say. What I find more compelling is to observe and see the creative process in the making - that seemingly irrational connection of ideas that, in truth, comes from a combination of linking experiences, emotions, knowledge and the subconscious. It is like a mine that explodes in various random directions and the gift of an artist is to be able to explore, develop and finally reconcile all the elements in an organic piece of work.
This is what's happening now at San Art Laboratory with artists Nguyen Hong Ngoc (Hanoi) and Phan Thao Nguyen (Ho Chi Minh City), who recently opened their studio for visitors to get a sneak preview of what they have been working on.
San Art Laboratory is a residency programme (this is the 3rd) for young local artists, who are offered the opportunity to live, work, create and experiment new ideas for 6 months; living expenses and all the materials' costs for the projects are covered by San Art. The philosophy behind the Laboratory is, not only to give young artists an opportunity to freely explore their creativity in a safe and dynamic environment, but also to sponsor projects that otherwise could not be made.
So I went to meet Ngoc and Thao at the studio; the atmosphere was very relaxed and informal which is ideal for people that often feel 'scared' of talking with artists or about art. Both artists were so pleased to answer questions from the public and to show what they were working on. I think I spent over an hour talking with them. Their residency started on the 1st of June, so they are still at the initial stage of their work.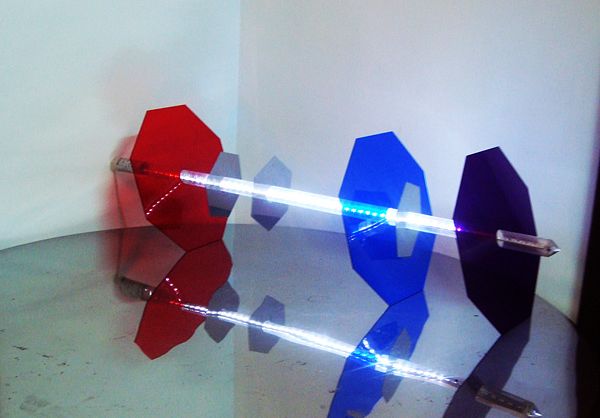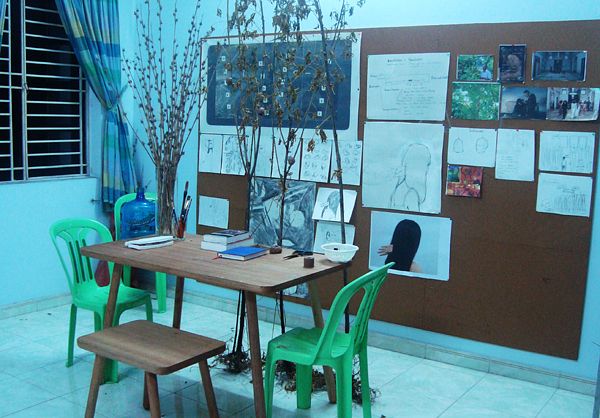 Here is your test - can you find a link between Pier Paolo Pasolini, a carpet, jute, 1945 Vietnamese famine and small terracotta bells? Or light, carbon, diamonds, sunburns and a hexagonal neon light sculpture?
A few years ago Thao was introduced, by a friend, to the controversial and shocking film "Salo', or the 120 days of Sodom" by Pasolini. The horrific events presented in the film take place in a decadent and beautiful villa; one element in the villa caught her eyes, the carpets in the wedding scene. From here she started thinking about how something beautiful and ornamental can be associated to violence and torture. In Vietnam, jute is a very common plant that is used to make fabric and carpets. During World War II the Japanese invaded Vietnam and forced the farmers from the North to start growing jute instead of rice, the consequence was a period of famine where, it is estimated, millions of Vietnamese died.
Thao is still exploring different mediums and concepts to convey all these ideas: she has been working on an installation made with jute, she has worked on a painting and she is also planning on going to the countryside to make an installation by placing small bells (representing people's hearts) on jute plants.
Ngoc Nguyen's interest relies in exploring the idea and collective perception of light. She started her research by giving different people a survey with a simple question to answer: what is light? When she told me that, I naturally looked around her studio and noticed that all the different installations and pictures of sunburnt people on displayed were quite 'dark'. She started laughing and agreed that in fact, to most people light would normally evoke lightness, peacefulness and happiness. She wants to explore all the facets of this simple but yet intricate natural phenomenal that affects us in our life.
For instance, she has been working on the idea of light coming through diamonds and the colours that are reflected in it but diamonds, if we think about "blood diamonds", also carry with them controversial and moral issues. Hence, she has produced an installation made of carbon shaped diamonds to represent both aspects.
The collage of portraits is one of the first experiments that she did. The people in the picture are the same ones that filled out the initial survey then each picture was pierced, placed against the light and finally photographed again.
Ngoc told me that she is still playing with different mediums to try to capture her concept.
San Art Laboratory will have another Open Studio for people to meet with the artists before their final exhibition at San Art Gallery. The organisers are planning the opening reception for the exhibition on the first week of November but the date is yet to be confirmed.
For more information about San Art Laboratory and to enquiry about visiting the studio, visit their website.