Satire and humor have long been recurring tropes employed by artists to deal with uncomfortable topics, to challenge people to discover on their own the object and meanings of their satire. Nowhere could this be truer than in contemporary Vietnamese art.
An emerging figure within the national art community and a creator of surrealist artwork, Nguyen Manh Hung's second solo exhibition, Farmers Got Power, at Galerie Quynh is a humorous and satirical joy ride from beginning to end, covering the ambiguous dynamics of social and political powers within a historical frame.
Manh Hung is not the only artist in Vietnam using wit and irony in his practice, but his ability to create broader narratives that are left open to mutating interpretation have placed him among some of the most intriguing artists to follow.
The paintings, photographs and sculptures that fill the gallery's space mainly depict imperial guards, soldiers and people from the past accompanied by oversized bucolic animals – chickens, hens, turtles and snails – on a leash. These figures seem almost superimposed on a modern background, where the world is swarmed with invisible cataclysms whose existence is only proven by blazing sirens, helicopters surveying the road and the presence of military airplanes and tanks.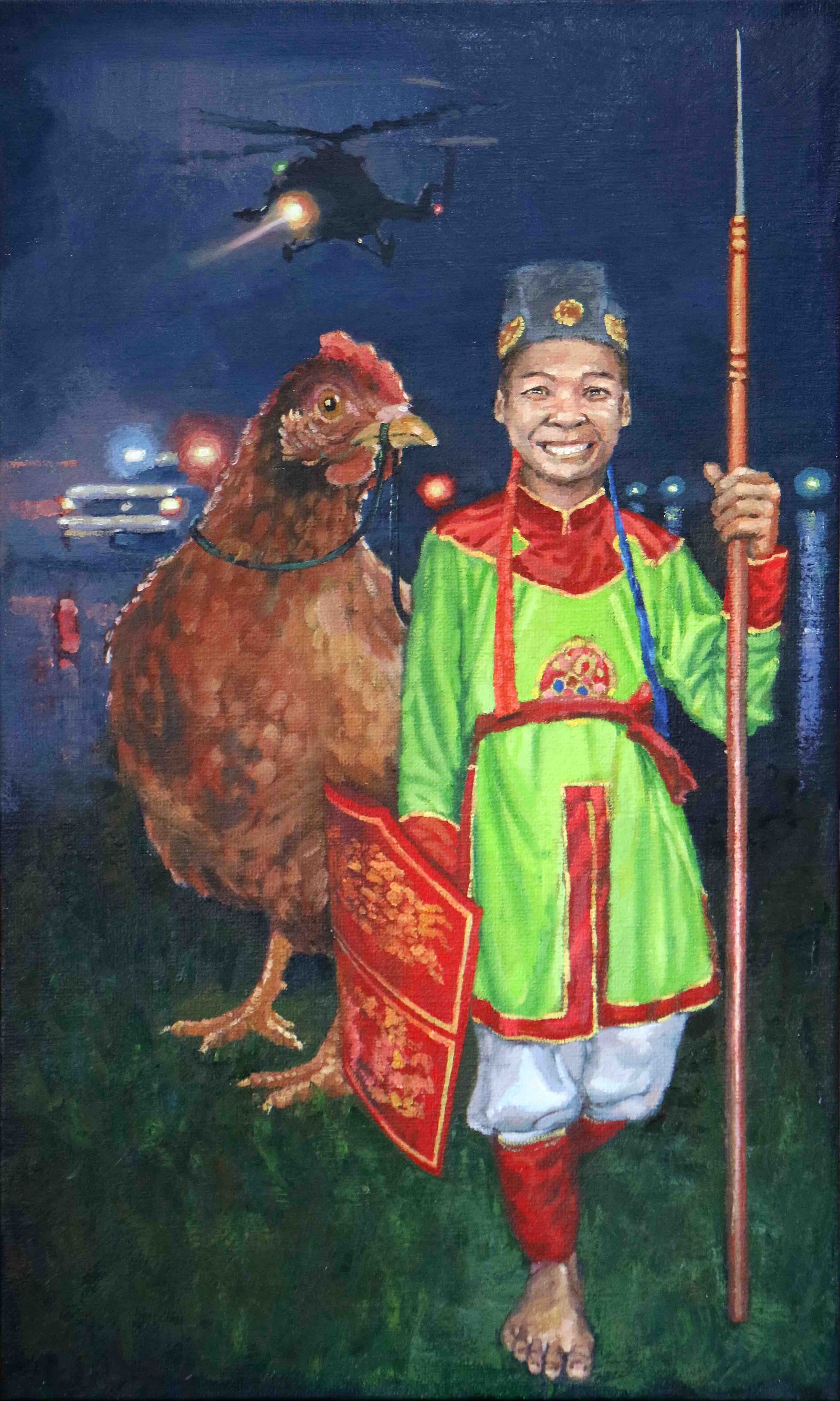 The precariousness and absurdity of this surreal world is poignantly portrayed in A Happy Soldier. In the background, what appears to be a full-blown manhunt by the authorities is underway; meanwhile, an imperial soldier and his gigantic, peaceful rooster walk carelessly in the opposite direction. The soldier's broad smile appears sinister: his joy and pride for the role he occupies in society are the kind that harken back to instilled nationalism, of elevation above other classes and citizens. The animal, instead, continues undisturbed in its existence.
It is almost as if three disconnected realities have been coexisting together – in part because they stayed out of each other's turf – but now, as they overlap, are on the verge of collapse.
The exhibition's title, which pokes fun at the TV program Vietnam's Got Talent as well as today's celebratory attitude towards the mediocre abilities of the masses, suggests that the farmers – represented here by the animals – might be the only solution to unforeseeable wars and upcoming upheaval in our society. The cause of this turmoil is not important, what counts and what creates the absurd in Manh Hung's pieces is the way in which we will deal with them.
The animals, calm and at peace, are conscious of their separation from and impotence toward the circumstances surrounding them and passively carry on with their lives.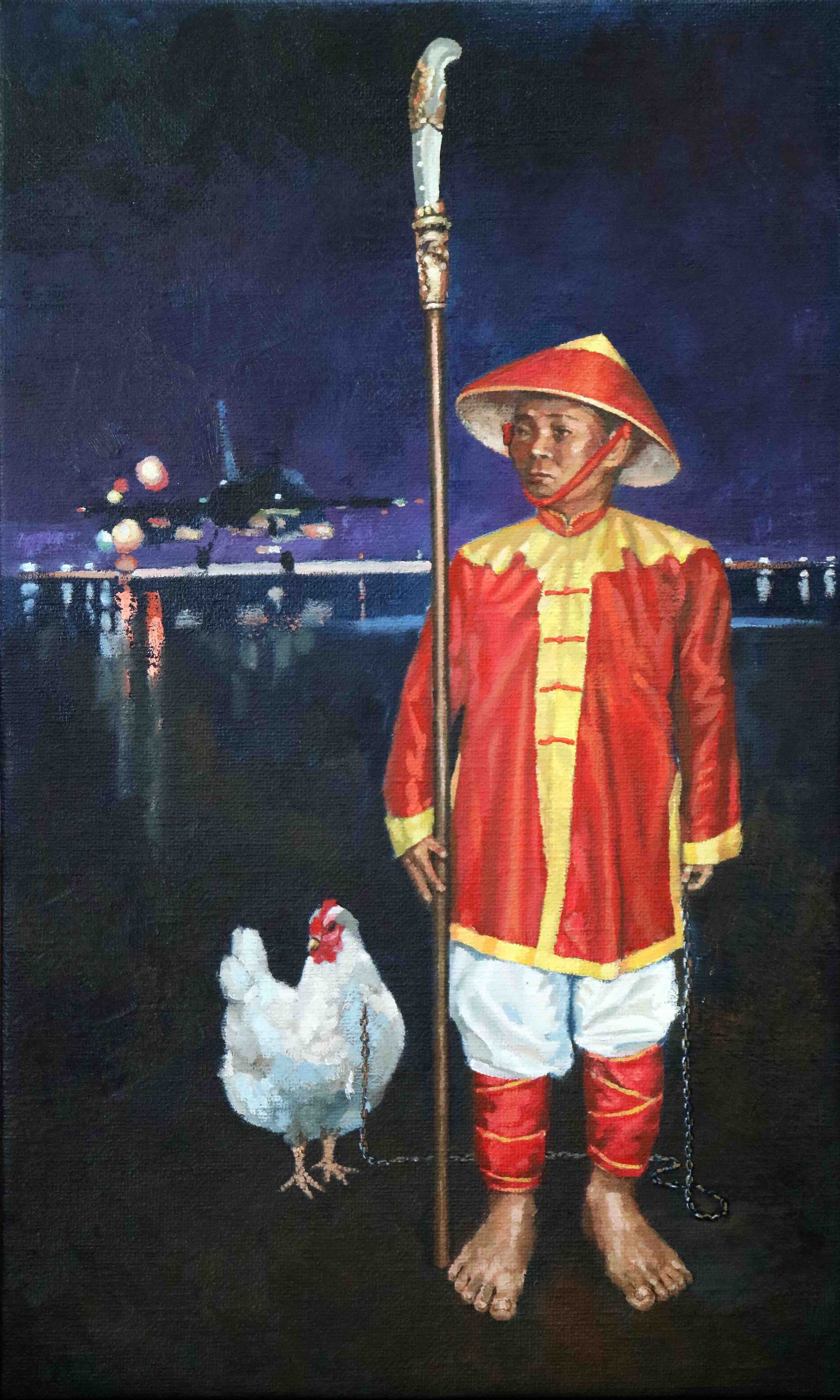 Are the farmers/animals the saviors of Vietnam? As always, Manh Hung looks at the whole situation as a farce and leaves the interpretation open to the sensibility (and sense of humor) of each viewer without giving too many explanations. In Protecting the Location, the grim mist filling the landscape invokes desolation. The soldier solemnly guarding a crashed car carries an aura of authority and control, while the desolate fighter riding a rooster is both melancholic and hilarious enough to make the viewer burst out laughing at the idiosyncratic scene.
This is perhaps one of the greatest joys of Manh Hung's work: as with any great satire, it can be read in so many different ways and the messages are deeper than appearances suggest.
Farmers Got Power also offers photographs and small-scale sculptures of previous artworks which have made the Hanoian artist famous internationally, such as his iconic image of a military truck (which was seen this year at Sweden's Mien Meo Mieng / Contemporary Art from Vietnam) and Barricade, which was selected along with Living Together in Paradise at the 7th Asia Pacific Triennial of Contemporary Art.
In Barricade, Manh Hung draws from his personal with a handmade, miniature complex of buildings stuck together, recreating the lack of privacy and often of basic needs – electricity and water, for instance – that many people endure in Vietnam.
With this and the artist's other works, Manh Hung confirms his unique creativity in describing Vietnam's layered society.
If riding chickens, snails and four-turtle-wheeled trucks are Nguyen Manh Hung's way of symbolically illustrating the disparity in social classes and the omnipresent fear of war, then this is certainly a liberating way to go about it and we welcome more of his work.
Farmers Got Power will be on display until April 23 at Galerie Quynh.
151 Dong Khoi, Ben Nghe Ward, D1
10am – 7pm, Tue to Sat
[Top image: Nguyen Manh Hung, Protecting the Location (2016), oil on canvas, 100 x 100 cm. Courtesy of Galerie Quynh]
---
Related Articles:
---